All is well once again (for now, anyway) around a rested and refreshed Vegas Golden Knights team, who have emerged from the All-Star Break as winners of four straight. The club has taken advantage of something of a weak spot in their schedule, recording victories over the Nashville Predators, Minnesota Wild, Anaheim Ducks and San Jose Sharks while outscoring their opponents 19-5 over that stretch.
It wouldn't be the Golden Knights if there wasn't some injury-related drama in there, but Logan Thompson's lower-body injury isn't expected to be long-term and backup Adin Hill has held things down admirably over two replacement starts thus far. Against Anaheim and San Jose, he went 2-0 with a .941 save percentage and a 1.50 goals-against average.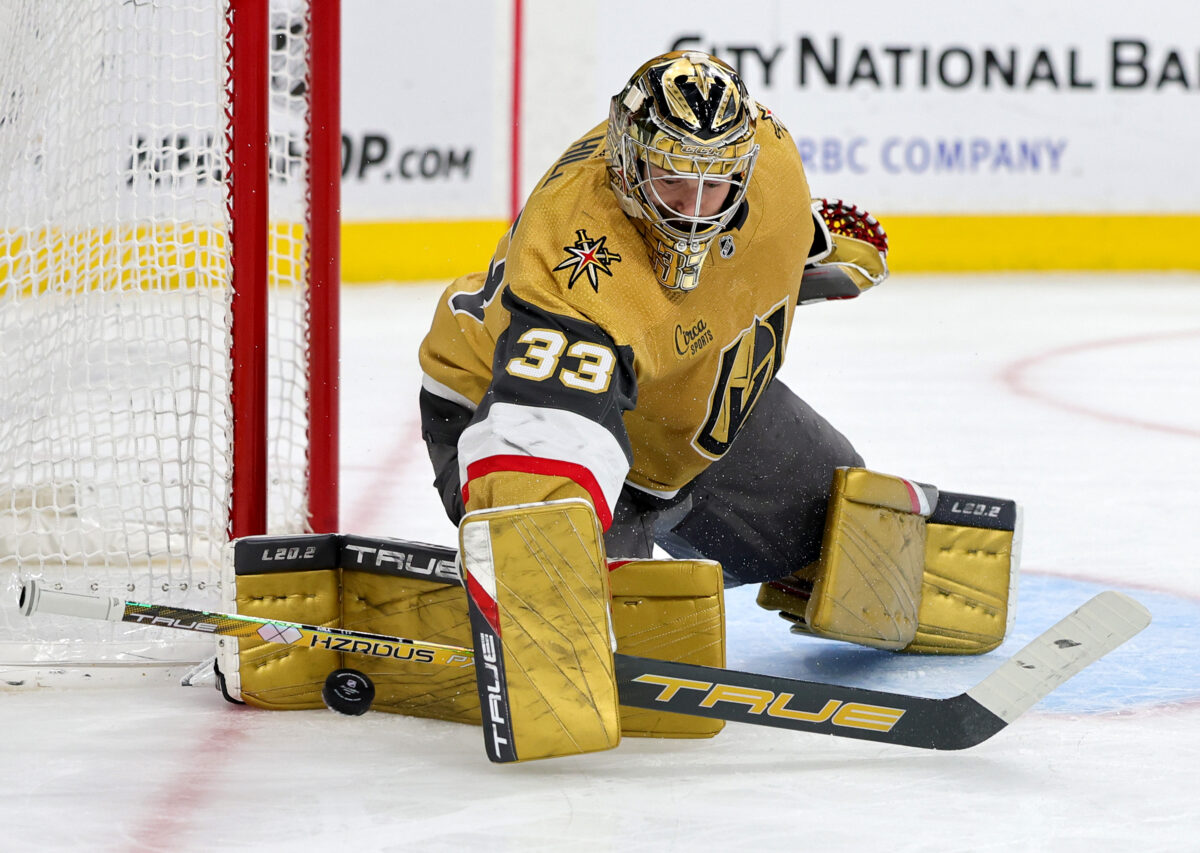 With a much-needed shot of momentum following a pre-break swoon, trade talk ahead of the March 3 deadline starts to take a more hopeful tone. Where some discussion had begun to drift into whether to sell off assets, now we can get back to dreaming about landing a Patrick Kane or a Timo Meier.
But while Vegas and general manager (GM) Kelly McCrimmon are no strangers to big game hunting on the trade market, the usual challenges tied to the salary cap still loom large. Of course, Golden Knights brass has proven before that they can be resourceful in order to add the right player and still have the tools to do it again. With that in mind, here are the three basic options in play for the front office as the deadline draws closer:
Option 1: Use Other Teams' Cap Space
Why It Works

Although Vegas hasn't been down this path in a few years now, they are more than familiar with having other teams absorb part of their incoming player's salary to keep them cap compliant. In consecutive seasons, the Golden Knights acquired Robin Lehner and Mattias Janmark while leaving the teams that surrendered them – or a third team – on the hook for most of the money owed. If you want to get into the nitty-gritty of it, The Hockey Writers has an excellent breakdown of how retained salary trades work in the NHL.
The advantage to such a deal is obvious: your team gets the services of the player at a number that is much more manageable under the cap than the full value of their contract. If the Golden Knights have any hopes of adding something more than a minimum-salaried player and still feel optimistic that Mark Stone will return before the end of the regular season (more on that later), it becomes pretty hard to avoid the 'retained salary' option.
Why It Doesn't Work

Look, no team is going to pay for a player to play elsewhere out of the goodness of their heart. If the Golden Knights chart this path, they will do so knowing that they will have to pay up beyond the simple acquisition cost of the player to avoid the full cap hit. If Kane is worth, say, four draft picks and three prospects, then they better be ready to part with an extra asset or three to encourage the Chicago Blackhawks to eat up to half of his $12 million salary. For a team that currently holds one of the thinner farm systems league-wide, how much more are they prepared to part with in futures?
And that's just for this season, of course. Kane, an unrestricted free agent at season's end, and Meier, a soon-to-be restricted free agent, will both be owed new contracts, with no further shared responsibility possible. The 34-year-old Kane and 26-year-old Meier are clearly at different stages of their career, but both figure to land pricey deals that could be beyond Vegas' budget heading into next season. If paying a premium to be cap compliant sounds unappealing, then what about doing the same thing while adding a short-term rental player?
Option 2: Swap Out Salary
Why It Works

The Golden Knights' current 23-man roster is just $4,000 clear of their already-bloated $96.7 million long-term injured reserve (LTIR)-boosted cap ceiling. Maybe sending out a contract before taking one in might be prudent? This is a rare move for contenders given that they don't want to sacrifice depth, but dealing from a position of strength could expand their potential list of trade partners to include contending teams.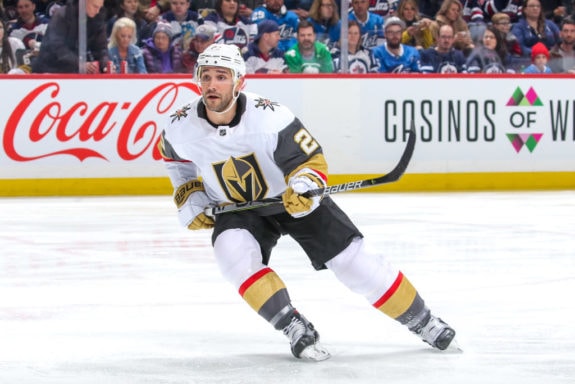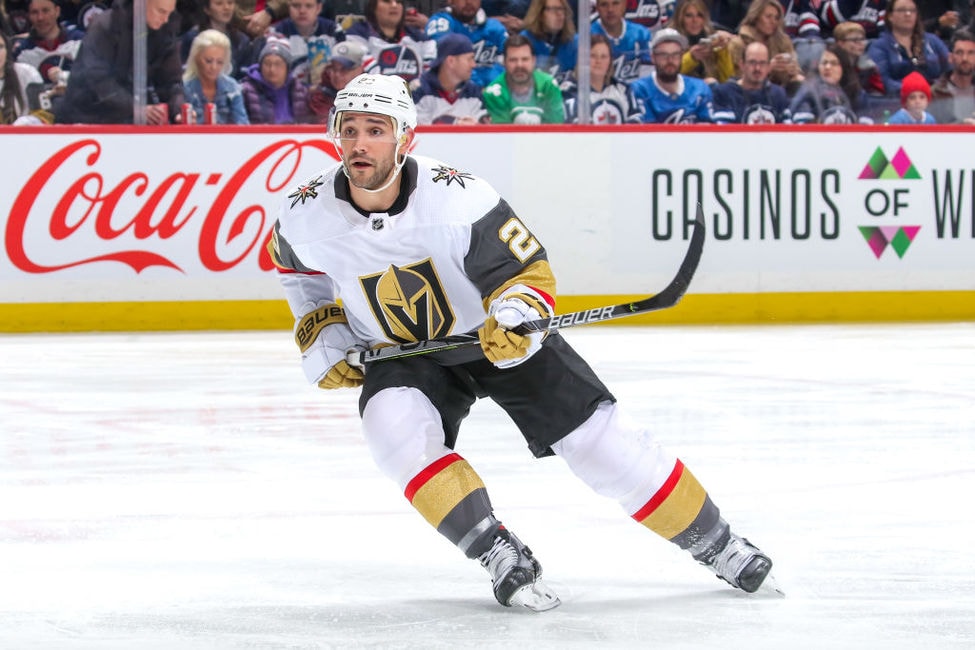 Take the blue line, for example. Given the plethora of clubs seeking defensive help, a trade market that looks to include Jakob Chychrun, Erik Karlsson, Vladislav Gavrikov, John Klingberg and potentially not much else could be turned on its head if the Golden Knights make, say, Alec Martinez available. Martinez carries an exceptional playoff track record, but has also dropped down the depth chart, culminating with just 12 minutes played against the Sharks on Thursday. Even if he only counts as a neutral trade asset right now, using his $5.25 million cap hit to take in another player makes sense.
Why It Doesn't Work

If your reaction to the hypothetical in the last paragraph was "oh no, we can't lose Martinez", then you are illustrating the difficulty in a mid-season swap of this nature. Everyone on an NHL roster carries some degree of importance, and the Golden Knights are no exception. Sure, there may be some questionable long-term money committed to members of the roster, but there is no one on the Golden Knights that you can point to who isn't contributing something to the current Pacific Division leaders.
Trading Martinez would mean surrendering defensive depth. Trading Laurent Brossoit and his $2.35 million contract would mean putting immense pressure on Thompson in net as he returns from injury. Trading William Karlsson creates a significant void in the top-six. Creating further cap headaches doesn't sound like much fun, but neither does sacrificing productive players.
You Might Also Like
Option 3: Stand Pat and Do Nothing
Why It Works

As the rumor mill continues to churn and trade speculation heats up, it's undeniably fun to watch your team make moves. But as the old saying goes, sometimes the best trade is the one you don't make. The two aforementioned scenarios highlight how McCrimmon would likely have to overpay to make salary work or lose a key current piece to facilitate any significant deal. At that point, is a trade even worth it?
An extra forward would surely be nice, but the Golden Knights haven't demonstrated a pressing need for more scoring up front, particularly in the last few games. Sunday's seven-goal outburst against the Ducks saw seven different players find the back of the net. On Wednesday, William Carrier and Paul Cotter each scored for the second time in as many games. The organization is currently enjoying production throughout the lineup.
And then you have the Stone factor. Team president George McPhee struck an optimistic tone during a recent interview when he said of the deadline, "if Mark comes back we may not do anything." With clarity still lacking in Stone's status post-back surgery, the prospect of a pre-playoff return makes the proposition of moving his $9.5 million contract into LTIR risky and problematic. Doing nothing may not be sexy or exciting, but it might be prudent.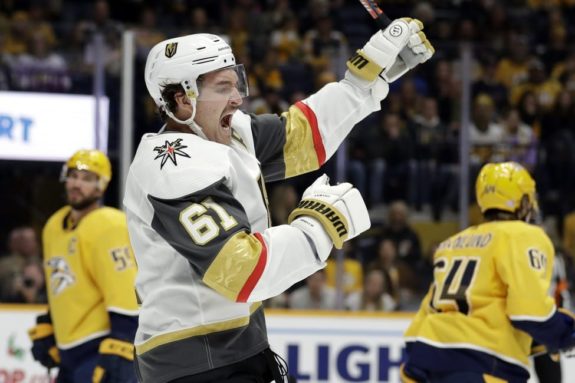 Why It Doesn't Work

Especially around deadline time, trades don't happen in a vacuum. Even as the best front offices avoid making reactionary moves based on what their rivals do, there remains a tendency to examine deadline activity in relation to that of your division foes. At a time when a paltry four points separate the top four teams in the Pacific, this is especially true.
We obviously don't yet know how busy the Seattle Kraken, Los Angeles Kings, Edmonton Oilers and maybe the Calgary Flames will be, but they're all in a position to make noise in the coming weeks. Seattle has plenty of draft and prospect capital, the Kings have been linked to Chychrun and the Oilers have been connected to Karlsson for weeks. In a tight-but-unspectacular division that offers a pretty opportunistic path to the Western Conference Final, losing ground could be problematic.
Despite a quiet 2022, McCrimmon and the Golden Knights have earned a reputation for being active at deadline time. It was deadline deals that landed the likes of Stone, Martinez and Lehner. If the front office decides they want someone via trade, they've been finding a way of pulling it off. Now, with Stone's murky status post-surgery making cap concerns even more pressing, the Vegas brain trust may not have the luxury of running head-long into this year's deadline.
---
---