The Winnipeg Jets' power play is slumping badly, going just three for 33 in its past eight games. It will be a detriment to sustained success for the rest of the regular season and beyond if it doesn't get corrected.
Failed Five-on-Threes Lead to Loss to Lowly Jackets
When's the last time you can remember a team having three five-on-threes in one game? Can't recall? Neither can this author.
That's how many the Jets got in their most recent contest, on Feb. 16 against the last-in-the-NHL Columbus Blue Jackets. They failed on all three of them, which combined for 2:05 of five-on-three time.
The power play finished one-for-seven — Kyle Connor scored at five-on-four in the final seconds of the first period after the first five-on-three expired — but the lack of special-teams success from there loomed large. The Blue Jackets captured a 3-1 victory, beating the Jets for the second time this season.
It was a huge missed opportunity, not only to win the game, but also to start the four-game eastern road trip with a win before facing much stronger opponents. The Jets, coming into Columbus, were just 10-11-0 against Eastern Division teams, and are now 10-12-0.
Head coach Rick Bowness lamented the team's failures up two men in his post-game comments.
"The power play's gotta come through there. The five-on-threes, that's the difference in the game. There's no question about it. You don't get five-on-threes very often. When you get them like that, you've got to take advantage of them and score a couple goals, and we didn't. Simple as that," he said.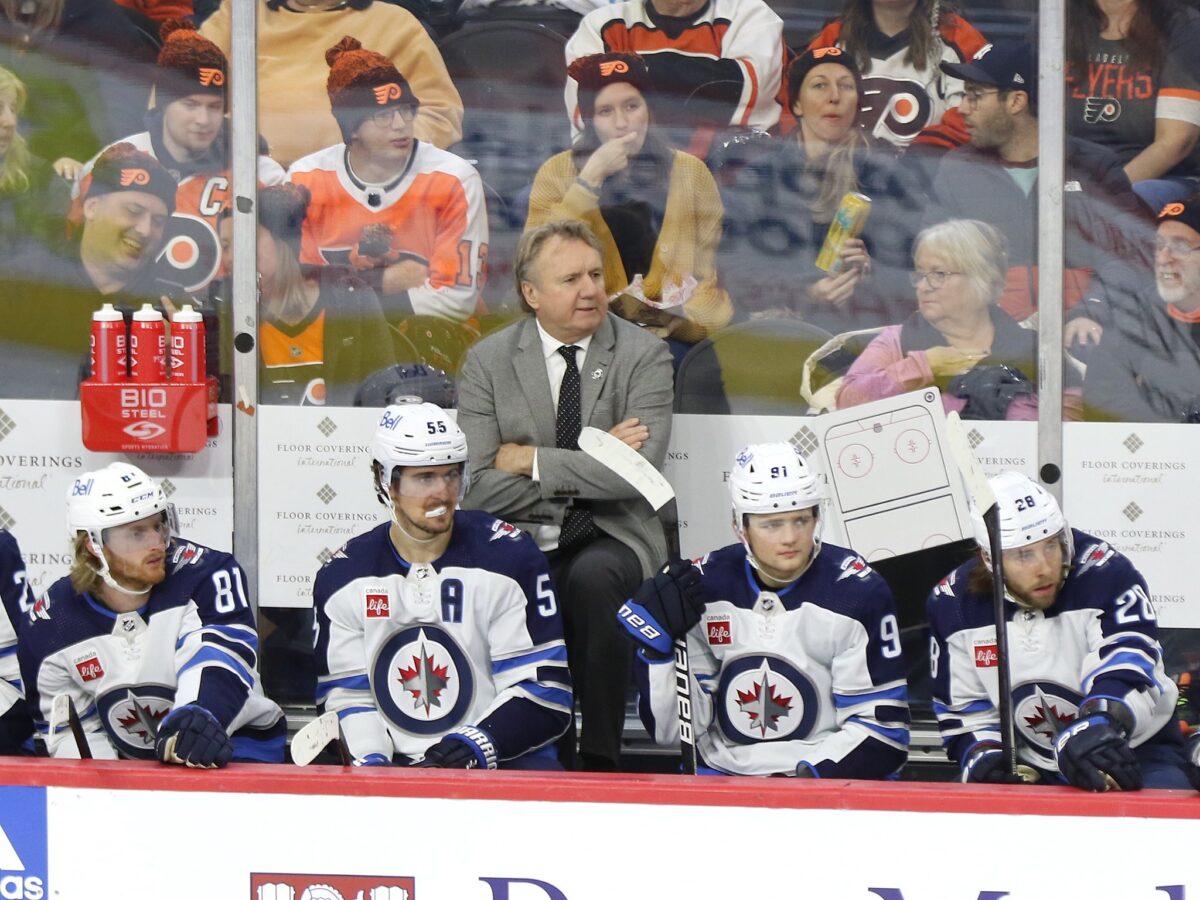 "Regardless of opponent, we've got to take advantage of those opportunities," he continued.
Regardless of opponent, the Jets have not. This wasn't a one-off bad night — the Jets were 0-5 against the Philadelphia Flyers on Jan. 22, 0-3 against the Nashville Predators on Jan. 24, 0-3 against the Flyers on Jan. 28, 0-6 against the St. Louis Blues on Jan. 30, and 0-3 against the Seattle Kraken on Feb. 14.
In addition to Connor's goal against the Blue Jackets, the Jets scored once on the power play against the Buffalo Sabres on Jan. 26 in garbage time of a 3-2 loss, and once against the Chicago Blackhawks on Feb. 11 in a 4-1 win. The goal against the Blackhawks was a fluke, as the puck deflected off Blake Wheeler's skate and in, and came after another failed five-on-three that was nearly two minutes.
Power Play Is Pass Happy, Predictable
The Jets have plenty of offensive firepower at their disposal, but the power play regime they're under is doing their most talented players a disservice. It's obvious things needs to be revamped on both personnel and strategy fronts; the basic umbrella style they play does not allow for much creativity or flow.
One thing that stands out is how stationary everyone is as they pass and pass around the perimeter to try to set up the perfect shot, but often don't end up getting one at all before something goes wrong and the opponent clears the zone. The set plays have all become predictable, and they don't cause enough havoc in front of the net or set many screens. When they do get a shot, the opposing goaltender generally has a clear view.
Players such as Connor, Josh Morrissey, and Mark Scheifele should be given more leeway to freelance and add more motion that could open up new shooting and passing lanes. Big, strong guys such as Dubois and Wheeler should be allowed to park themselves in front of the net and get in goalies' lines of sight.
Ehlers Is Being Drastically Underused
The most confounding aspect in all this is that the Jets' most dynamic and game-breaking forward is for the most part, on the bench, watching the futility.
Nikolaj Ehlers, a member of the second power play unit, logged just 2:11 of power play time against the Blue Jackets, compared to more than seven minutes for the first unit of PIerre-Luc Dubois, Scheifele, Connor, Wheeler, and Morrissey.
---
Latest News & Highlight
---
Bowness is a much better coach than Paul Maurice in many ways, and his positive impact on the team has been obvious. Sadly, one similarity he has to his predecessor is that he doesn't know how to use the Dane his maximum potential.
Ehlers missed 36 games earlier this season with a sports hernia that required surgery, but has been back in the lineup for more than a month. Despite that, he continues to be sheltered and is fifth among forwards in ice time at 16:33. Ehlers, for the record, declared himself 100 per cent after the game Thursday and Bowness said he wasn't limiting Ehlers' minutes due to that injury at all.
The Winnipeg Free Press' Mike McIntyre asked Ehlers: "you just play when you're told?" Ehlers responded simply: "Yeah."
Bowness promised he'd change up the power personnel going forward. He didn't elaborate, but the changes must include Ehlers being moved to the first unit. His speed would help with zone entries, and his creativity could lead to more chances for Connor, Morrissey, and others in different spots than usual.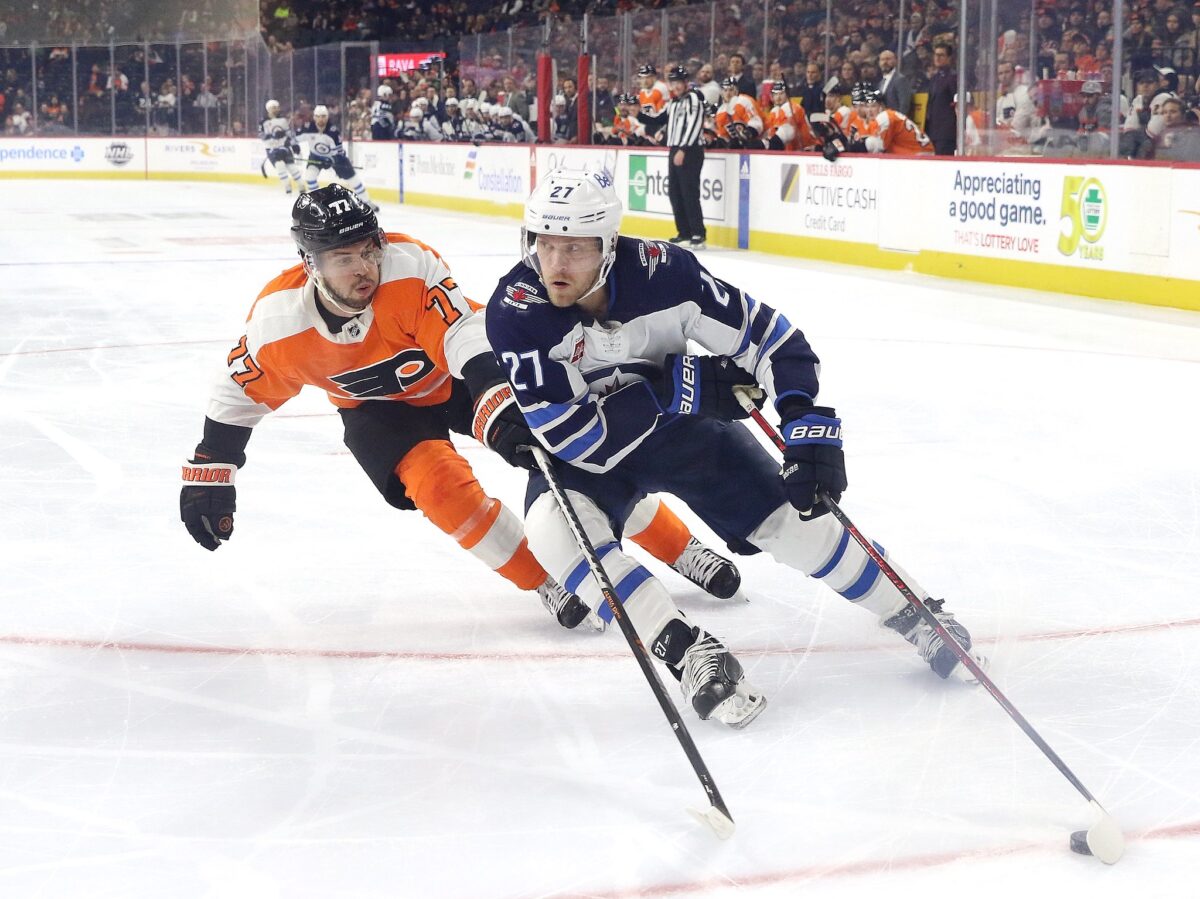 Bowness should also consider giving Cole Perfetti time on the first unit to try to get him going again. Perfetti is a member of the second unit with Ehlers but has been held pointless in his past six games.
Related: Jets 2023 Trade Deadline Rumour Rundown
A power play revamp can't come soon enough, and it'll be interesting to see what the units look like Sunday as the road trip continues in New Jersey against Devils. While the Jets have managed a 4-4-0 record even with their poor power play, they cannot expect to win consistently with such an important facet of their game in neutral, nor can they expect to make it far in the postseason if they squander so many opportunities.