Although it's the holiday season, all is not merry and bright in the Chicago Blackhawks' world. It seems like the news went from bad to worse in the span of 24 hours. We knew that the upcoming season was going to be a trying season, regardless, but we certainly didn't expect to be where we are right now. My colleague, Gail Kauchak, had written her News & Rumors article on Friday, which was not a happy one. Unfortunately, this one isn't going to be much better. Here's the latest from Chicago.
Toews Out Indefinitely
The most significant Blackhawks' news came from Dec. 29. The team and Captain Jonathan Toews came out with a statement that he is encountering some health issues and will be out indefinitely. This was part of his statement:
This offseason, I've been experiencing symptoms that have left me feeling drained and lethargic. I am working with doctors so I can better understand my condition. Until I can get my health back to a place where I feel I can perform at an elite level and help my team, I will not be joining the Blackhawks for training camp. I do not have a timetable for when I will rejoin the team.
I really have no words for this. This news is a gut punch. He is only 32 years old. A young, healthy athlete experiencing debilitating symptoms is worrying. I really hope that this isn't something that is career-ending. The team certainly won't be the same without our Captain, but health always comes first. Whatever the circumstances may be, get well soon, Toews! And know that the whole city of Chicago is behind you in wishing you a speedy recovery.
Dach Injury Update
Blackhawks' fans may have been aware of the fact that 19-year-old center Kirby Dach injured his wrist while playing with Team Canada at the World Junior Championship. However, the injury was worse than expected. On Dec. 28, the team announced that he underwent surgery for a wrist fracture and will be out four to five months. On Dec. 29, he spoke to The Sports Network about his condition.
All I could think of when I read that was, "Ouch!"
I am not only crushed for the Blackhawks, but I am crushed for him in general. The World Juniors is such a special occasion for players to represent their countries. He was named Captain of Team Canada and it stinks that his experience was cut short. I'm also disappointed that he won't be able to participate in the regular NHL season.
I know Blackhawks fans were looking forward to seeing his development and I'm sure he was just as excited about playing in the upcoming season. All-in-all, it's a really unfortunate situation. But I have no doubts that he will bounce back. Get well soon, Kirby!
Hello, New Friend
On Dec. 26, the team announced that they signed center Carl Söderberg as a free agent. It's a one-year, $1 million deal. If your favorite team is in the Central Division, then you are probably familiar with the name. The 35-year-old played for the Boston Bruins, Colorado Avalanche, and was recently with the Arizona Coyotes. At first, the signing seemed like an insurance move because of two factors: Dach and Dylan Strome.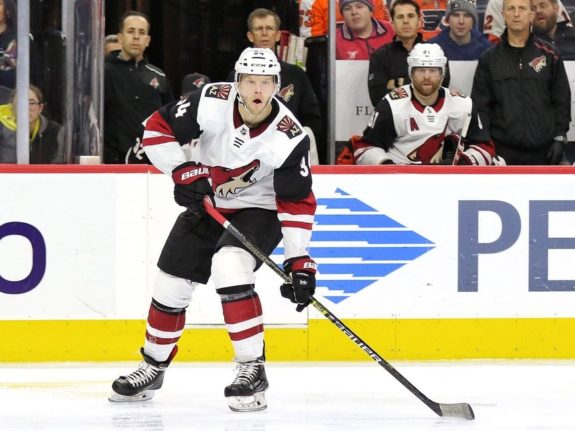 Insurance for Dach, because the team was probably made aware that his injury was severe. And insurance for Strome, because it could signal that negotiations to re-sign him are not going well. Now, it seems evident that this could be an insurance move for Toews. All three of those situations are less than ideal, which justifies general manager Stan Bowman's decision to sign Söderberg.
I feel indifferent towards the signing – I don't love it or hate it. Last season, his 35 points with Arizona was more than Brandon Saad's points at 33, ironically. He can be an asset. It seems odd to add an older player into the mix of the "youth movement" that the team has been striving for. But extra security at any position is never a bad thing.
Final Thoughts
It's tough to hear when players have injuries. 22-year-old left wing, Alex Nylander is also dealing with a knee injury and will be out four to six months. We wish him a speedy recovery as well! It seems like the team is collapsing all around us. Let's hope there is no more bad news to report before the start of the 2020-21 season on Jan. 13. Until then, I encourage fans to send out positive vibes because this team needs it!
Looking for more Blackhawks' content? Tune in on Monday nights for our weekly 'Blackhawks Banter' show on Youtube and Facebook. We talk about everything related to the team. We stream live at 7:00 PM CST on The Hockey Writers Youtube Channel. Be sure to like, follow, and subscribe so you don't miss out! You can check out our latest show below.
---
---