After last week's losing effort, I encouraged you to tune in this week in hopes the Chicago Blackhawks might win a game or two. And win they did, with a 3-1 victory over the New York Islanders Saturday night. Of course, this was after they lost to the Colorado Avalanche 5-1 last Tuesday, and the Vancouver Canucks 5-2 this past Thursday. But hey, a win is a win, right? After five straight losses, we'll take it. This is what we've been reduced to in the twilight of a dismal season. On that note, let's get to the ups and downs from one of the final weeks of this 2017-18 campaign for the Hawks.
Winner of the Week: Brent Seabrook
Yes, you are reading this correctly. After a largely disappointing season, Seabs is trying his best to end things on a high note. In the five months of October through February, he contributed only three goals and 15 assists. But in March, Seabs has already posted three goals and three more assists. Two of these goals and one helper came in this past week's games.
Seabrook got the Hawks on the board with a power play tally against Colorado last Tuesday. It was the first goal of the night, so the team continued their theme of scoring first. Unfortunately, it was the only goal they managed for the rest of the contest. Against Vancouver, Seabrook earned a primary assist on Nick Schmaltz's goal in the first period. Finally, Seabs scored the insurance empty-net goal against the Islanders to get them back to a two-goal lead, and eventually the win.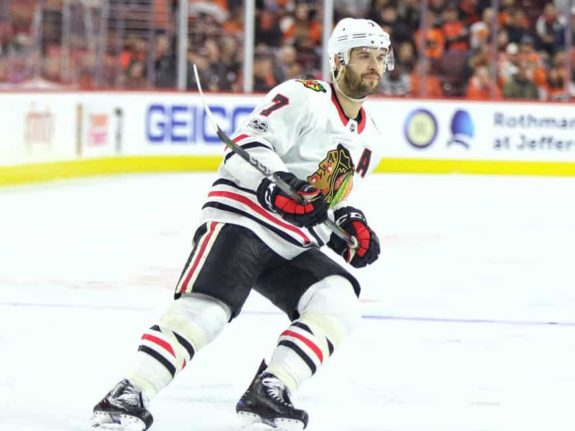 In the last two tilts, Seabrook has actually been reunited with Duncan Keith on the top defensive pairing. He was the player with the highest ice time in the most recent tilt against the Islanders. In the last three games, he's only been on the ice for two of 10 goals against (not counting an empty netter) for the Hawks. And one of those goals against was a power play goal.
Seabrook has been anything but a savior this year. As a matter of fact, he's been somewhat of a defensive liability. So for him to step up at this point is somewhat ironic. Yet this is exactly what he's done, and it's been nice to see.
Loser of the Week: J-F Berube
It's been a rough season in net for the Hawks. After Corey Crawford was announced out in late December, Anton Forsberg, Jeff Glass, and then Berube have all been given their chances to prove themselves. Nobody has done so.
Berube started against the Vancouver Canucks this past Thursday. He was promptly yanked after allowing four goals on 18 shots. His save percentage was a lowly .778. This was another bad performance in a string of mostly bad performances. In 11 games played, Berube has only recorded two wins. He's averaged 3.93 goals allowed, and a .891 save percentage. Yes, you could point to the defense in front of him, but Berube has to take some of the responsibility as well.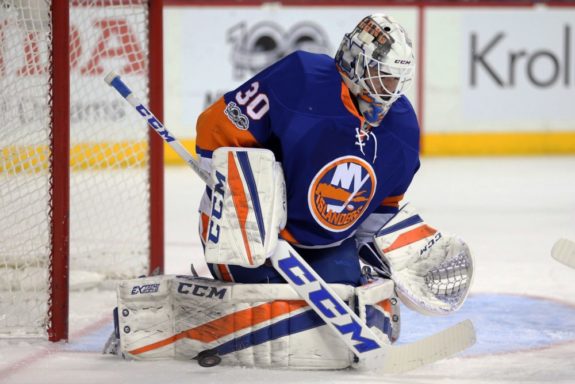 Needless to say, Berube did not get the start the following game against his old team, the Islanders. With Forsberg playing well of late, and with only six games left, it's safe to say Berube has missed his chance to prove himself.
What Went Right for the Blackhawks: Everyone Getting Opportunities
These last games of the season are like one big long tryout for next year. Coach Quenneville is taking advantage of this opportunity to see what he has in his young players, and how they might fit with his veteran players. The lines and defensive pairings have been all over the place.
With Jonathan Toews out with an upper-body injury as of this past Thursday, both Nick Schmaltz and Patrick Kane (no, not a typo) have covered the top line center position. Vinnie Hinostroza and Matthew Highmore have gotten looks as top six forwards. Heck, even Andreas Martinsen, who has only participated in three games, spent some time on the second line against Colorado. Everyone is seeing over 10 minutes of ice time per game, as they take on more minutes and bigger roles.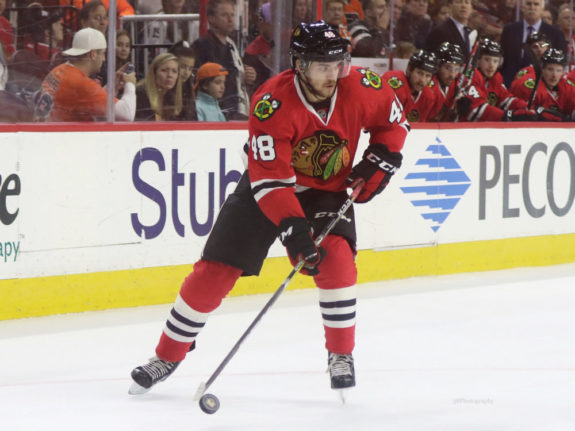 On Sunday, forward Victor Ejdsell was recalled from Rockford, and Dylan Sikura signed a contract with the Hawks. He is expected to join the team immediately. It will be interesting to see how these two new players fit into the mix.
On the defensive end, Jan Rutta got a shot on the first pairing with Keith against Colorado. As mentioned earlier, Keith and Seabrook played together on the top pairing for the last two games. As with the forwards, the defensive group is seeing their ice time spread much more evenly.
If the players are smart, they will work and play hard to prove they deserve a spot on the team for the upcoming season. Whether the Hawks win or lose down the final stretch, this is something to keep an eye on.
What Went Wrong for the Blackhawks: Goals Against
Good golly, the goals against! In the last six games, the Hawks have given up five or more goals five times. They were finally able to staunch the bleeding by only allowing one goal on Saturday against the Islanders. I went back and watched all the goals against (11 of them) from the last three games. Let's just say it wasn't the most uplifting 20 minutes of my day.
What were the results of this analogy? Rutta was on the ice for six goals against. Keith was on the ice for five goals against. Jordan Oesterle's shifts included three goals against, while Connor Murphy and Erik Gustafsson had two goals against.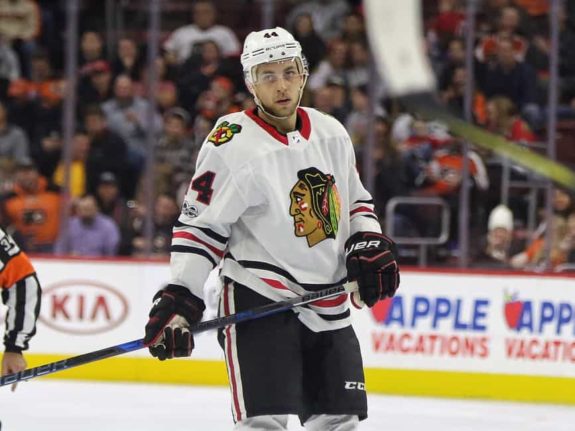 Of course, this doesn't tell the whole story. It's harder to defend against power play goals, of which there were two. Some goals were the result of the offense not back-checking and the opponent getting behind the defensemen with good passing. Other scores came from rebounds given up by the goaltender. Either way, the Hawks really need to work on tightening up in this department.
Related – Blackhawks Offseason Targets: RFA Forwards
Blackhawks Goal of the Week
Enough of this depressing talk! Let's end on a positive note, shall we? The goal of the week comes from Kaner. It was a power play tally during the Islanders game.
This was Kane's 26th goal of the season, which leads the team. But the season isn't over yet, and rookie Alex DeBrincat is only one goal behind him. The race is on! Who will win this good-natured contest? It's something to keep us going to the end.
---
This Monday the Hawks will host the San Jose Sharks. Then they have a few days off before back-to-back tilts against the Winnipeg Jets (home) on Thursday, and the Colorado Avalanche (away) Friday. After that, we turn the page to April, and the last three games of the season. As discussed above, there are still points of interest to keep us watching the Blackhawks as they finish out their season. And then we can look forward to offseason moves, and progression towards a brighter 2018-19.
Gail Kauchak has covered the Chicago Blackhawks as a content writer since 2014. She previously wrote for Fansided's Blackhawk Up, and has been part of The Hockey Writer's team since 2017. It's not always easy to balance life's responsibility's with one's passion, but Gail's doing her best to make it happen. Let's put it this way; she's probably reading and writing about hockey instead of cooking and cleaning. Shh, don't tell her husband!
Follow Gail for her unique commentary about this storied franchise. And be sure to catch her and the rest of the Blackhawks' crew on their weekly Blackhawks Banter show, as well as follow her on Twitter.