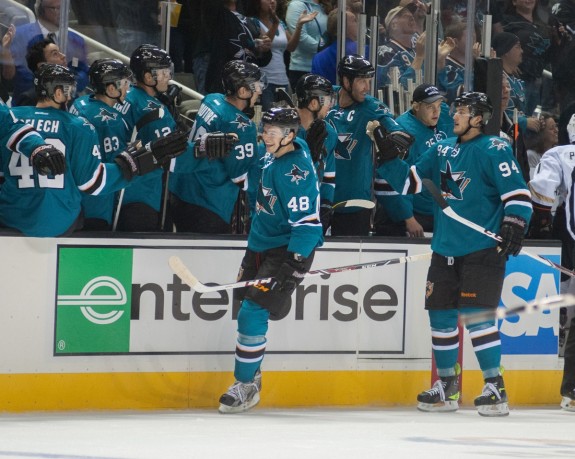 When Joe Thornton played his first career NHL game in 1997, Tomas Hertl was just three years old, being raised about 4,000 miles away in the Czech Republic.
Sixteen years later, Thornton and Hertl are linemates on the San Jose Sharks, creating a dangerous mix of savvy experience and energetic youth that has played a major role in the Sharks' scorching 10-1-2 start.
Although his production has slowed down a bit as of late, Hertl still leads all rookies in points (11) and goals (8). Thornton's stats are pretty much what anyone would expect out of him: just one goal but 12 assists in 13 games.
Look up and down the Sharks' line combinations, and you'll find similar blends. Patrick Marleau and Logan Couture anchor the second line, Joe Pavelski and Tommy Wingels on the third line, and Dan Boyle and Marc-Eduoard Vlasic form the top defensive pairing.
Marleau may be getting up there in age, but you wouldn't be able to tell by watching him on the ice. His superior speed is what has made him so successful throughout his career, and he's still got it, tied with Hertl for the team lead in goals.
On the flipside, Couture and Pavelski are entering the prime of their careers. Couture leads the team in points, and, despite being relegated to centering the third-line (because of Thornton and Couture), Pavelski still has 14 points, good enough for third on the team.
Then, some surprises in Wingels and Vlasic. Wingels has had a strong start playing alongside Pavelski, and Vlasic, who is known for his defensive prowess, is fifth in points in the league among defensemen. Of course, it doesn't hurt to be paired with Boyle, one of the leaders on the team, the catalyst on the power play, and still among the best skating defensemen in the league.
And we haven't even mentioned goaltender Antti Niemi, who has been Vezina-worthy in the early goings.
So when people ask how much longer the Sharks have until their core dissipates, the answer is simple: it won't. Boyle is 37, and both Thornton and Marleau are 34, but Couture, Pavelski and Vlasic are waiting in the wings, along with the youngster Hertl.
But right now, the Sharks are in a nearly utopian situation, with their veteran core still producing and the young stars entering the limelight of their careers. That combination has formed one of the deepest and talented rosters that the league has to offer.
Eric is a journalism student at the University of Southern California and a sports editor at the Daily Trojan. He grew up in the Bay Area and has followed the Sharks since a young age. He served as a beat writer on the team for SFBay.ca during the 2014-2015 season. Previously, Eric has worked at FanSided and Bleacher Report.