Jordan Schmaltz is a 20-year old sophomore defenseman that plays for the University of North Dakota. Schmaltz was drafted 25th overall by the Saint Louis Blues in the first round of the 2012 NHL Entry Level Draft.
This year, Schmaltz has been one of UND's best defensemen along with senior captain Dillon Simpson (Edmonton Oilers). Simpson and Schmaltz have proven to be a calming force on a young defensive corps, which includes four freshmen defensemen that have rotated through three roster spots, during the first four games of the season. Simpson, Schmaltz and junior Nick Mattson (Chicago Blackhawks) are the elder statesmen, in a talented the group of defensemen, that's very young.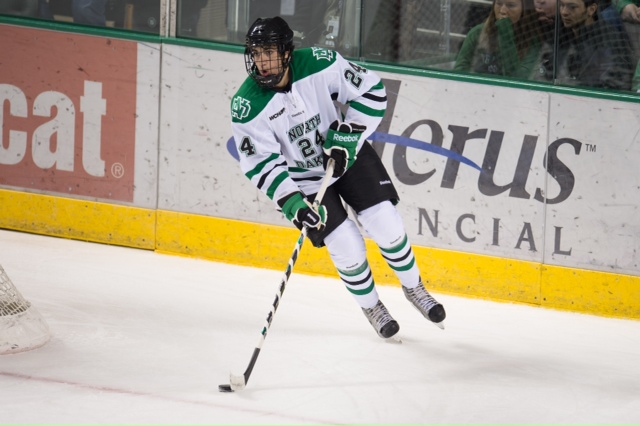 Schmaltz's game is simple; he isn't going to make a lot of mistakes. On the season, Schmaltz and Simpson are a combined plus-3. All of the other UND defenseman on the roster are a combined minus-10.
After having a semi-tough freshman season with UND, Schmaltz has come out and played a solid, disciplined game. He's also shown a lot of poise on the backend and has yet to take a penalty through three games. You can see why Blues picked him in the first round of the 2012 draft.
Coach impressed with d-man's play
This is what UND head coach Dave Hakstol had to say about his young defenseman Jordan Schmaltz.
"Much like any young prospect coming into the program it's a process," Hakstol said. "I think that Jordan is doing a really good job of working through that process. I always judge things… if you look back on some of my comments on other players. I guess I judge the way a player is practicing on a consistent basis, I think we're starting to see a real maturation in Jordan in terms in of his work day habits. His practice habits, he's been very good over the last two to three weeks. That will transfer to his game performance, which has been pretty good. I think he's about where he should be and I think he's pushing the envelope hard to continue to work towards the next level."
On the back end with Dillon Simpson
This is what Dillon Simpson had to say about his defense partner.
"For me coming in, this is my first time, really playing with him this year," Simpson said. "I think we've grown a lot the first month and a bit. He's a great guy to play with. We keep each other accountable, but we have some fun with it too. He's come a long way as well. Even this year, he's starting to play really well, perform really well, every day in practice. It makes it easier for me when your D partner is on his game."
I interviewed Jordan Schmaltz and this is what he had to say.
Eric Burton: What's it like playing with Dillon Simpson on the top defensive paring?
Jordan Schmaltz:  Dillon is a special player, he's really smart player with a high hockey I.Q., and it makes my job pretty easy. We have some pretty good chemistry and it's only going to get better.
EB: I would describe your game as simple, you don't make a lot of mistakes, you get the puck out of the zone, and you have a nice shot on net. Is that an accurate description?
JS: Yeah, I think so. Like you said, especially last year, I learned to make the simple play, and as long as you can get the puck out moving north, it makes the game that much easier. Sometimes, you don't have a play and you have to go off of the glass. If I can't make a play, I let my skill take over. Those are things that I try to focus on.
EB: Last year, did the game against Yale leave a bad taste in your mouth? Do you have something to prove this year?
JS: Yeah for sure. I think that it left a bad taste in everyone's mouth. Obviously, it was disappointing. We felt like we underachieved. This year, you come back with a chip on your shoulder and you got to build towards the tournament. Hopefully, by April your whole team clicking and you're playing your best hockey.
EB: Did that loss motivate you in the offseason for your training?
JS: Yeah for sure. Anytime you lose out, you're a little pissed off, a little more hungry, so like you said, you're a little more motivated to work even harder.
EB: What was your impression of the first weekend (in Miami)?
JS: I think it was good. They're a good team; they have a lot of good forwards. They're fast; they come fast on the fore check. It's going to be a good league; I think it's only going to be separated by a couple of points. We have to take what we can get every night. It's going to be a war every night.
EB: Do you think they (Miami) kind of mirror UND in a way?
JS: For sure. They come hard, just like us, they have good goaltending. When they come up here it's going to be another battle.
In conclusion, what has stood out to me is that Jordan Schmaltz has been doing it quietly, meaning he hasn't gotten a lot of press or fanfare, but he's getting it done on the ice and he's making an impression on his head coach and his teammates and that's all that matters.
Eric is a 1996, 1999 graduate of the University of North Dakota. Eric covers the University of North Dakota Hockey and Division I college hockey. Eric is the Contributing Editor for Inside Hockey.