As Nick Kypreos recently reported, Dion Phaneuf is seeking a lengthy contract extension. And if the Leafs aren't careful, it could become costly:
https://twitter.com/RealKyper/status/395154155289186304
Phaneuf is not worth that kind of money.
Anytime a contract extension is in play, one of the best measures is cap hit comparables. So let's take a look at Phaneuf's cap hit comparables if he were to be paid $7 Million plus per season:
[table id=240 /]
So which name stands out? Is it the Stanley Cup winning, Gold medalist, Norris trophy nominated stud Drew Doughty? Is it the Stanley Cup winning, 3-time Norris nominated mammoth Zdeno Chara? Maybe it's the young Swede Karlsson, another Norris Trophy winner?
Some could argue that Pietrangelo stands out, because he does not have the accolades of the above three defensemen. His personal accolades even fall short of Phaneuf's. But there is little doubt that Pietrangelo is one of the best all-around blueliners in the game, and that he will one day win a Norris trophy or two himself. I believe the Blues got a steal at $6.5 Million. Does Phaneuf have any Norris trophies in his future? Not by my calculations.
Don't get me wrong, Phaneuf is a good player. He is a three-time all-star, who has amassed 44 points or more five times in his career. He is the captain of the Toronto Maple Leafs and logs the toughest defensive minutes. He is off to a great start with seven points in 14 games and a plus-10 rating. His Corsi For % is even third best on the team while 5on5.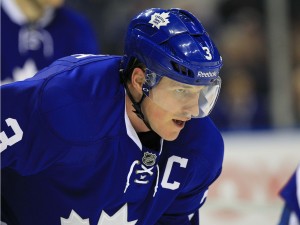 But let's hold on a second and take a breather.
Phaneuf for seven more years? He turns 29 this coming April, which means he will be 36 years old in the last year of his contract with a cap hit of $7 million. Sound familiar? (David Clarkson ahem David Clarkson… His contract SCREAMS buyout).
Phaneuf for more than $7 Million dollars? Yes it's a modest raise over his current contract but isn't his current contract way too much to begin with? There is no way Phaneuf should have the 8th highest cap hit of all defensemen in the NHL.
And just because Phaneuf's actual salary will likely be less in the final years does not make it worth it. In fact, when a salary dips in the later years, it makes a buyout count more against the cap for that season. Liles for example, would count almost $2.3 Million against the cap in 2015-16 if he were bought out because his salary dips to less than $3 Million that year. If it stayed stagnant at $3.875 Million, the buy out would only cost $1 Million and change pear year against the cap. I'd rather take a lower constant cap hit per year than save a bit one year and have it balloon the next, especially if I'm the Leafs and enjoy spending to the cap.
Now, there are certainly other factors at play here. For one, there is a relatively weak free agent class in terms of defensemen this summer. Also, the cap is going up next season, and so a bigger salary may actually account for a lower percentage of the teams cap hit. Most importantly however, is the fact that the Leafs will clearly have no suitable replacement if we let Phaneuf go. But that still doesn't warrant over paying for someone who has yet to prove themselves in the playoffs.
If I'm Nonis, I wait and see how Phaneuf looks in early 2014. If I still like what I see, I offer a modest (not even so modest) five-year, $30 million dollar contract extension. Phaneuf likely counters with more and hopefully, they can settle on something around $6.5 per year for a term that is hopefully not seven years long (but is likely to be). Seven and eight year contracts are no good unless you are a bona fide star (i.e. Kessel) and five years gives plenty of security.
Nonis did wonderfully with the bridge deals of RFA's Franson and Kadri. He spent a ton on Kessel, but that was warranted. Hopefully, he realizes Phaneuf's request isn't quite warranted. That way, he won't make a costly mistake.