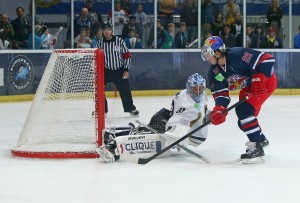 Meet Matthew Keith, the second round pick of the Blackhawks in 2001. The 30-year-old forward is currently playing in the Erste Bank Hockey League with E.C. Red Bull Salzburg.  The 2013-2014 season is Matthew's second in Austria.
Keith's journey to Salzburg resembles a ping pong match. Since 2008 he has played in Sweden, Germany, the Czech Republic, and America. Keith's first taste of European hockey came with ERC Ingolstadt of the DEL. Keith talked about why he went to Germany in 2008 saying, " After five years in North America, I was an unrestricted free agent. I realized when I was in Germany, I was going to do whatever it took to get back to North America."
While in Germany, Keith's 28 points in 46 contests captured the attention of the Chicago Blackhawks. Chicago assigned him to their top development team, the Rockford Ice Hogs. The former Norfolk Admiral padded his resume finishing the 2009-2010 campaign with 21 goals and 20 helpers.
His 41-point season in Rockford opened the door and allowed him to sign with Calgary's top development team, the Abbotsford Heat of the AHL, whose home arena is 8 miles away from Aldergrove, BC which is Keith's hometown.  The homecoming was made a little sweeter as the right handed shot netted 20 goals and was an Assistant Captain. Matt spoke about his time in Abbotsford saying, "It was an honor to play in Abbotsford because it's my hometown and it's where I grew up."
After failing to score another contract in North America, Keith embarked on his second tour in Europe with stops in Sweden and the Czech Republic before planting himself in Salzburg, Austria this season.
The British Columbia native is one of ten imports on Red Bull's roster, but a majority of the roster is bolstered by players who were born and raised in Austria. According to Keith most of the Austrian skaters speak English and will translate for them if they don't understand rather it is on the playing surface or in the room.
Transitioning to any league in professional hockey is tough no matter the league. Throw in a different style of play and a different country and the transition can be a rocky one. Keith talked about the troubles adjusting in Europe, "The biggest adjustment for me a couple years ago was knowing there is no where to get called up to. While playing in the AHL, you always have that in the back of your mind that the NHL can call you up."
With the high tempo of play that is required in the Erste Bank Hockey League talent has to be present to compete and the versatile forward chatted about the talent in the Austrian league, "There is a lot of really good hockey players over here. Not just the North Americans that come over here, but there are a lot of European's that could be playing in North America. It makes for a very competitive environment. There is a lot of good hockey to be played over here."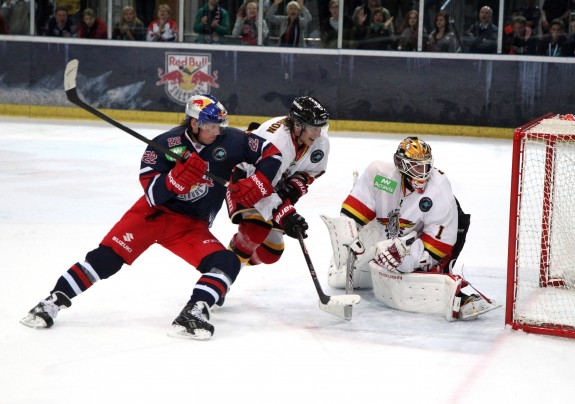 Austria is 5,000 miles away from British Columbia, the place Matt calls home. Some things that Matt has grown accustom to in Canada cannot be found in Austria. "Some foods that we get back home we don't get over here like Cheetos," stated Keith. On the flipside when Matt and his wife Chelsea return to B.C., they realize that the things they liked in Europe are not always present in North America.
Matt also added," Of course you miss the comfort level of being at home and there are certain things that are harder to figure out, but I think that's part of the fun. It's all a part of the learning experience."
Playing overseas has its perks like experiencing new cultures that you wouldn't find back home in North America. The big bodied winger shared what a typical off day is like in Austria. "Yesterday we had a day off so we jumped in the car and drove two hours to Slovenia where there was a castle and a pretty nice lake." Matt also shared, "Today after practice we drove 25 minutes from Salzburg to the Eagles Nest in Germany which was one of Hitler's lookout points. We try not to waste a day when we're here."
Keith who has 27 NHL games to his credit answered the question, "If an opportunity arose for you to play in North America again would you accept it?" The strong two-way forward replied, "If a situation came up where there was an opportunity to go back home and it made sense I would look at it." Matt also shared that he is one hundred percent focused and committed on giving it his all while he is competing with E.C. Red Bull.
Keith will continue to give it his all day in day out because every game is a tryout and you never know if an NHL team is watching and considering making a roster move.
Follow Ted on Twitter @Bauerhockeydude
Ted grew up in Virginia. Warren has a passion for the AHL and dishes out articles about the Norfolk Admirals and the AHL. Follow him on Twitter @bauerhockeydude