Less than a month ago, Manny Malhotra was wondering if his NHL career was nearing an end. A devastating eye injury and subsequent release by the Vancouver Canucks had scared off almost everyone. But then, as he has so many times before, Jim Rutherford came calling with an offer.
"Through free agency, nothing came up," Malhotra said. "It was a long summer from that standpoint. Even as the season began, things started to get a little bit dimmer. But I always believed that it was going to happen, that there was an opportunity somewhere. I'm just looking to make the most of that now."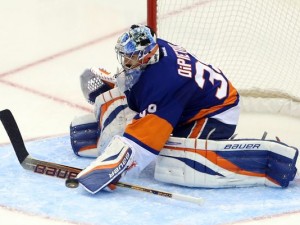 Malhotra is not the first to be afforded a second chance by the Carolina Hurricanes' general manager, nor has he been the last. A week ago, Rutherford offered the same tryout to former number one overall pick Rick Dipietro.
The message has been simple: prove that you can still play at a high level.
Throughout the last ten years, nothing has defined Carolina more than being a land of opportunity. Even the Stanley Cup winning team of 2005-06 was comprised of unwanted players. With a new salary cap in place post-lockout, the Detroit Red Wings bought out Ray Whitney, allowing the 'Canes to scoop him up for a paltry $1.5 million. Matt Cullen and Martin Gerber also landed in Raleigh for what amounted to pennies. All played significant roles in bringing the first professional sports championship to North Carolina.
The next time the Hurricanes made the playoffs, 2008-09, the story was similar. Both Sergei Samsonov and Jussi Jokinen went unclaimed on waivers in successive years before being acquired by Carolina. That spring, the duo combined for 12 goals and 19 points with Jokinen haunting the nightmares of Martin Brodeur.
Over the next few years the names continued to roll in — Alex Semin, Mike Komisarek, Dan Ellis, Radek Dvorak, Nathan Gerbe. All have just been looking for an opportunity.
In a way, Rutherford has had to rely upon these low risk, high reward players. For years he was forced to play to an internal budget rather than the cap. But now, with the new investors and a new television deal, the available money has risen.
Still, Rutherford continues to seek out the right players, rather than the most expensive. Malhotra provides a solution to a problem — an ineffective bottom six — that few others in the organization can. He's been grateful for the chance.
"I've never taken a day for granted in this league. I truly love coming to the rink. I enjoy every minute that I'm here. I love being a part of a team. I just have to make the most of every opportunity. I've been given a great opportunity here in Carolina and I want to prove them right."