Prior to the season, I wrote an article titled "5 Bold Blue Jackets Predictions for 2020-21." Now that the Columbus Blue Jackets have reached the one-quarter mark of the 2020-21 season, let's revisit those "Bold Predictions" and see just how accurate they were so far.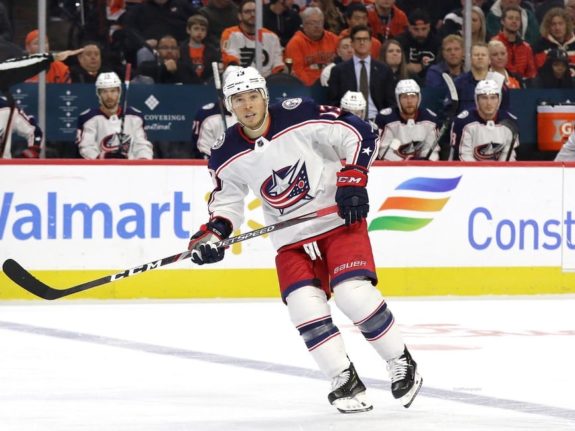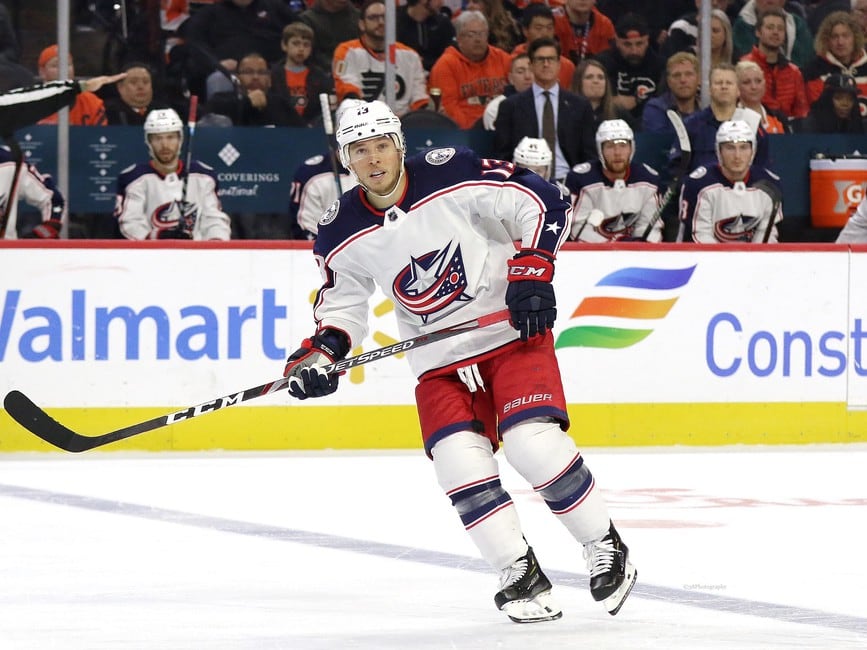 There's one prediction I didn't make that's had a major impact on everything Blue Jackets. I didn't foresee how topsy-turvy things within the organization would be. And a large part of that is due to my absolutely, horribly, terribly, embarrassingly wrong second prediction. We'll get to that.
Prediction #1: Atkinson Will Bounce Back (but Won't Lead the Team in Goals)
In 2019-20, Cam Atkinson had an off season, in part due to injury. Prior to the start of this season, he said his ankle felt fine on the ice and he was good-to-go.
Current Status:
Atkinson has three goals and three assists (six points) in 14 games. That's 0.214 goals (and assists) per game and 0.429 points per game. In 2019-20, he played 44 games, scoring 12 goals (0.273 g/gm) and 26 points (0.591 p/gm). Right now, this bold prediction is a miss in that respect – Atkinson's goals and points are actually behind last year's pace. On the bright side, the second part of the bold prediction is right on track: he's not leading the team in goals. (However, he's only one goal behind team leaders Oliver Bjorkstrand, Alexandre Texier, and Nick Foligno.)
Possible End-of-Season Outcome
This one's still up in the air. Atkinson still has plenty of time to "bounce back" for the season as a whole. And things are looking up – two of his three goals came in the three most recent games. And that included an extremely pretty (and confidence-building?) short-handed penalty shot. But I still don't think he'll lead the team in goals. I'm picking Bjorkstrand, bar injury, as the end-of-season leading goal scorer for the Blue Jackets in 2020-21.
Prediction #2: Dubois Won't Make Waves
With a trade request and a new two-year contract, I expected Pierre-Luc Dubois to act professionally and give his all for the Blue Jackets until they traded him.
Current Status:
Dead wrong. Absolutely, horribly, terribly, embarrassingly wrong. Hang-my-head-in-shame wrong. This is an actual quote from my bold prediction about Dubois: "However, he'll behave like a professional and do his best on the ice, game-in and game-out." (Feel free to laugh out loud.)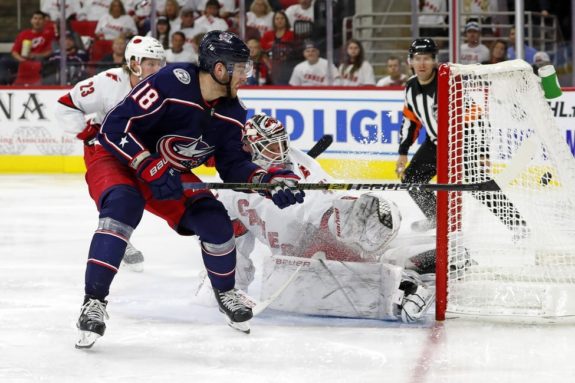 Part of me wants to cry, "It's not my fault that his past behavior didn't predict his future actions." But then I have to say to myself, "Dude, that past behavior is why you made this prediction. And, let's face it, dude, deep in your heart, you had to know this situation might blow up – that's why you made it a 'bold' prediction." (I don't always call myself "dude," but I'm channeling my internal Lebowski right now.)
Possible End-of-Season Outcome
There are no do-overs on this one. The subject closed when the Blue Jackets traded Dubois (with a third-round draft choice) to Winnipeg for Patrik Laine and Jack Roslovic. Let me say it again: Dead wrong. Absolutely, horribly, terribly, embarrassingly wrong. Hang-my-head-in-shame wrong. 
Prediction #3: Foudy Will Force Himself Into the Top Six 
Liam Foudy, a first-round draft pick (#18 overall in 2018, Columbus), debuted for the Blue Jackets in the 2019-20 playoffs. His speed and work ethic were impressive, and he had one assist in his two NHL games. However, in October, my THW Blue Jackets colleagues and I didn't include him in our projected opening night lineup for Columbus.
Current Status:
Foudy played in the Blue Jackets' first 11 games, was a healthy scratch for two games, then re-joined the lineup. So far he's played 12 of 14 games. His time on ice has ranged from a high of 17:24 to a low of 9:40, averaging 13:46 per game. That's not what we expect to see from a top-six forward.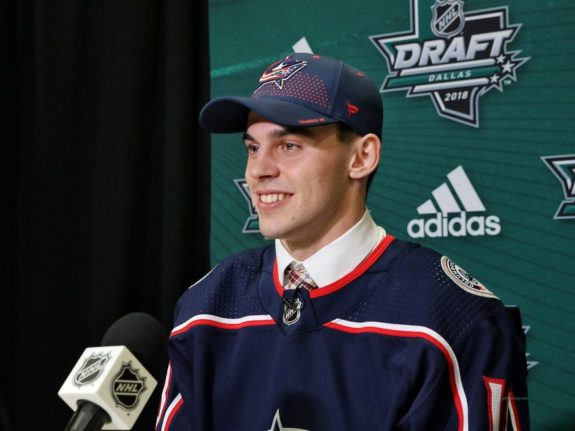 However, the way coach John Tortorella has been flipping players from line-to-line, both during and between games, Foudy has indeed seen some top-six time. 
Possible End-of-Season Outcome
Probably a miss on this one. The addition of Max Domi, Laine, and Roslovic, combined with the play of Bjorkstrand and Texier, means there's not a lot of ice time available on the top two lines. Foudy will likely have to bump Atkinson to stay in the top six – and that's assuming none of Nick Foligno, Boone Jenner, Mikhail Grigorenko, Emil Bemstrom, and Eric Robinson suddenly show consistent scoring.
Prediction #4: The Goalie Tandem Will Stay Intact
Just days before the 2020-21 season began, I wrote, "Blue Jackets Will Need Both Goalies for Compressed 2020-21 Season." In my Bold Predictions, I wrote that neither Joonas Korpisalo nor Elvis Merzlikins "will become a dominant No. 1 goalie" for the Blue Jackets this season.
Current Status:
My bold prediction was actually, "…barring injury, we'll see stretches when Korpisalo and/or Merzlikins is on a hot streak and holds the goal for several straight games. …" Up until Merzlikins' injury on Feb. 3, the two goalies alternated games. One on, one off. No hot streaks, no holding the goal for a stretch of games. So, while neither was traded, my prediction was, well, almost right. So far.
Possible End-of-Season Outcome
When Merzlikins returns to action, we'll see if the alternating games plan continues. Or perhaps Tortorella will start riding the hot hand for stretches at a time. The jury is still out on this prediction.
Prediction #5: Zach Will Outshine Seth
Based on the first 14 games of the Blue Jackets' season, it would not have been too difficult to outshine defenseman Seth Jones. He has only one goal and five assists, and tellingly, he has a minus-9 rating.  But Zach Werenski couldn't "outshine" him. 
Current Status:
Werenski suffered an injury in the 12th game of the season and remains on the injured-reserve list. During the 12 games he played, he scored one goal, contributed three assists, and was minus-8. Including only the 12 games in which Werenski played, Jones had one goal, two assists, and a minus-9 rating, so technically, Werenski was a hair better statistically. But there's a major difference between "outshine" and "stink slightly less."
Possible End-of-Season Outcome
Time to fess up on this one. To quote from the original article, "My bold prediction here is that Jones will indeed have a great season in 2020-21, but his defensive partner Werenski will out-play him." Unless things turn around very quickly, neither will have a "great" season in 2020-21.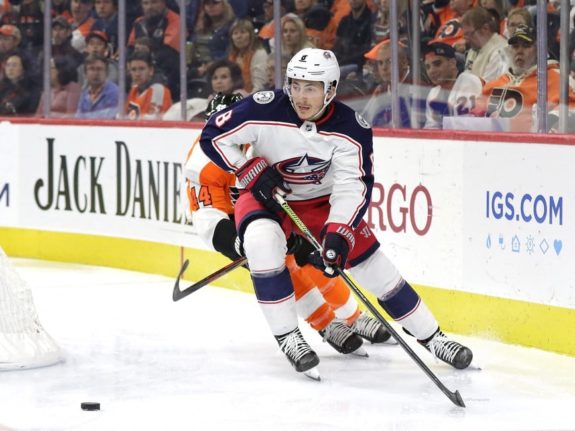 The good news is that Jones has started to look more like what we expect from him recently, with a goal and four assists in his four most recent games. We'll see if that continues. And we'll see if Werenski, when he returns from injury, can shine brightly enough to not only match Jones but also make us forget those first 12 games.
Predicted End-of-Season Score
It's not looking good here. Perhaps I need a new crystal ball. Bold prediction #1 is still possible – Atkinson can still get hot. Bold prediction #2 turned out to be laughably wrong. Bold prediction #3 is a long shot. I don't think Foudy will be a regular in the top-six with all the current competition. Bold prediction #4 is looking pretty good (other than the Merzlikins injury). And that Bold prediction #5? Remember, the original prediction was based on Jones having a great season. Right now, I'll score it one bold prediction on track, one possible, two longshots, and one completely dead. Ouch!
---
---
Pete Bauer is both a hockey fan and player. As a columnist for The Hockey Writers.com, he covers the Columbus Blue Jackets, NCAA hockey, and NHL trends, statistics, and history. He's considered the go-to guy for info on the NHL's Collective Bargaining Agreement with the NHL Players' Association and other hockey-related legal mumbo-jumbo. He's a frequent guest on a variety of podcasts.  You'll find all of his THW columns here. Pete is also the author of over a dozen books on photography, digital imaging, and graphics, including "Photoshop CC for Dummies."