Nazem Kadri isn't to everyone's taste as a player, but you can't fault him for playing it safe. He's seldom played safe, and that often got him into trouble. He was all in, all the time.
Related: Toronto Maple Leafs: Revisiting the Nazem Kadri Trade
When he played with the Toronto Maple Leafs, which he did for 10 seasons, he wore his heart on his sleeve. No matter how big the opponent, if that opponent went after one of his teammates, Kadri took them on. That's one reason he remains a fan favorite in Toronto even now.
COVID-19 Has Halted the Colorado Avalanche This February
Kadri's now in his second season with the Colorado Avalanche team. In this post, I want to take a look at how his season is going so I can help those who are both Maple Leafs fans and who remain Kadri fans informed about one of their favorite players.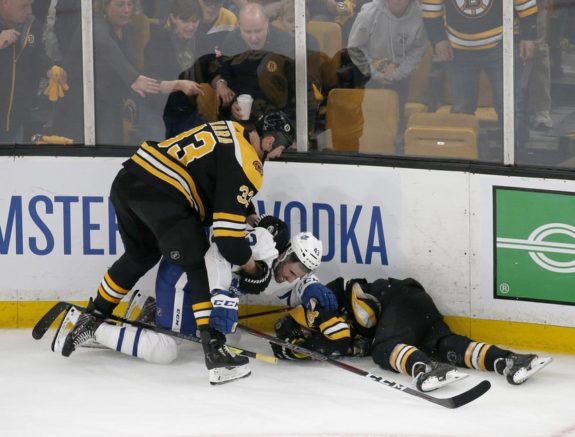 In truth, this is a great time to catch up with Kadri's season. First, for now, his season has been halted because of COVID-19 issues. The Avalanche actually played a game early in February, but since then all their games have been postponed. Second, Kardi just hit a milestone in his career. He hit the 400-point total.
Last season, in Kadri's first in Colorado, he scored 19 goals and 17 assists (for 36 points) in 51 games. Prior to the beginning of this season, it was planned that he would partner with Gabriel Landeskog and Brandon Saad. However, when those two players were deemed "unfit to participate" in practices, he centered a line with Tyson Jost and Shane Bowers on the wing. That changed as the season progressed, but it did foreshadow what would be coming on the Avalanche's horizon.
Kadri's Season Begins Poorly
The Avalanche lost their first game of the season by a 4-1 score to the St. Louis Blues. It wasn't a game for Kadri to write home to London, Ontario, about because he was on the ice for each of the Blues' four goals. To put it simply, both the 30-year-old Kadri and his entire team were outworked by the Blues. 
Kadri Improves His Second Game
Obviously, both Kadri and his Avalanche teammates took the loss seriously. They came out roaring against the Blues in a rematch the very next game on Jan. 15. The score tells the story. The Avalanche won in a blowout 8-0 over the Blues. Kadri and his team bounced back nicely.
Related: Darryl Sittler's Magical 10-Point Game
The 30-year-old scored an assist on a power-play goal by teammate Mikko Rantanen and then added a goal of his own during the third period. Kadri began the season with the team's top six and was used on the power play. Things were looking good. 
Kadri Goes Three-Straight Games Without Scoring
After that strong second game, Kadri's play soured, and he went three straight games without scoring. After completing five games of the season, he'd scored only two points – a goal and an assist. To shake up the team and to create more scoring depth, Colorado coach Jared Bednar moved Kadri to a role on the team's bottom-six playing between Matt Calvert and Valeri Nichushkin. He was replaced on the team's second line by J.T. Compher.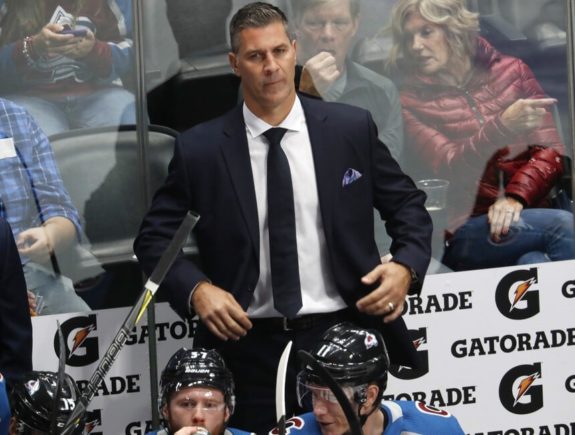 On Jan. 26, the Avalanche beat the San Jose Sharks by a score of 7-3. Kadri was given credit for a secondary assist on Saad's second goal of the game. Although Kadri was still playing big minutes and ranked third among Avalanche centers with 16:20 of ice time, he didn't have a strong start to the season. Expectations were that he'd have more than only three points in seven games. 
However, he had started to build chemistry with linemates Saad and Andre Burakovsky during the big win. He was skating in the second-line center position. As Maple Leafs fans know, Kadri seldom played top-six minutes in Toronto.
Kadri Comes Alive in 3-0 Win Over the Sharks
During his very next game, Kadri came alive. He scored three points in a 3-0 win over the Sharks and was part of every goal the Avalanche scored. Until Kadri scored in the middle of the third period, the game had been a goaltending duel between the Avalanche's Philipp Grubauer and the Sharks' Martin Jones.
Related: 2012 NHL Draft Top 10: Where Are They Now?
Kadri ended all that halfway through the third period. His first goal was also the first goal of the game, and it came with only 10 minutes left to go in the game. Less than two minutes later, Kadri registered the primary assist on a goal by Burakovsky to put the Avalanche up 2-0. 
Finally, with just over one minute left in the game, Kadri scored his second goal of the night on the power play to pad Colorado's lead and ice the game. Suddenly, Kadri had three goals and three assists in eight games played. In one game, he'd doubled his scoring total to six points in eight games. 
Kadri Hits a Milestone 400 Career Points
Then came Kadri's milestone point. In a 4-3 overtime loss to the Minnesota Wild, Kadri picked up the 400th point of his career (183 goals and 217 assists) when he had an assist on linemate Saad's third-period goal. Could he leverage that milestone into a more-productive season?
Although Kadri was looking forward to moving up to the team's top line when Nathan MacKinnon suffered an injury, that wasn't to be. Because of COVID-19 protocol, the Avalanche's games were canceled. The team hasn't played since the start of February.
 So far, Kadri's Having an Up-and-Down Season
For those who remain Nazem Kadri fans, he's having a ho-hum season with the Avalanche in 2020-21. Currently, no one quite knows when the Avalanche will play again, but it's probably a good bet Kadri will be part of the team's top-six when the season restarts.
Related: Maple Leafs | How Is Nazem Kadri Doing with the Colorado Avalanche?
From the perspective of their record, the Avalanche are playing well. They have a 7-3-1 record so far and are a favorite to see postseason play. Kadri is a huge part of that success. Congratulations to Kadri on his 400th career point.
· 
·  
The Old Prof (Jim Parsons, Sr.) taught for more than 40 years in the Faculty of Education at the University of Alberta. He's a Canadian boy, who has two degrees from the University of Kentucky and a doctorate from the University of Texas. He is now retired on Vancouver Island, where he lives with his family. His hobbies include playing with his hockey cards and simply being a sports fan – hockey, the Toronto Raptors, and CFL football (thinks Ricky Ray personifies how a professional athlete should act).
If you wonder why he doesn't use his real name, it's because his son – who's also Jim Parsons – wrote for The Hockey Writers first and asked Jim Sr. to use another name so readers wouldn't confuse their work.
Because Jim Sr. had worked in China, he adopted the Mandarin word for teacher (老師). The first character lǎo (老) means "old," and the second character shī (師) means "teacher." The literal translation of lǎoshī is "old teacher." That became his pen name. Today, other than writing for The Hockey Writers, he teaches graduate students research design at several Canadian universities.
He looks forward to sharing his insights about the Toronto Maple Leafs and about how sports engages life more fully. His Twitter address is https://twitter.com/TheOldProf