The statistical milestone of 50 goals scored in an NHL season has been an elusive and formidable target. Those who have reached the plateau join an elite club. And while there's a little bit of magic to the number 50, some players have risen above that to even higher levels. They've smashed through the 60, 70, 80 and even 90-goal barriers.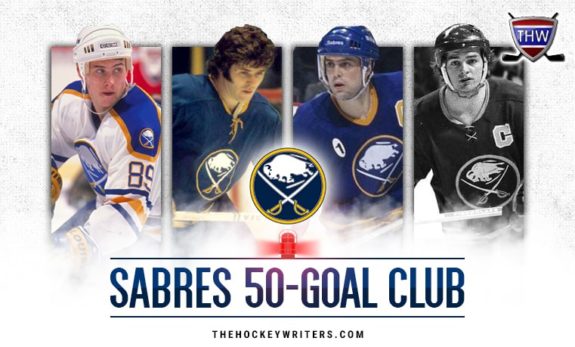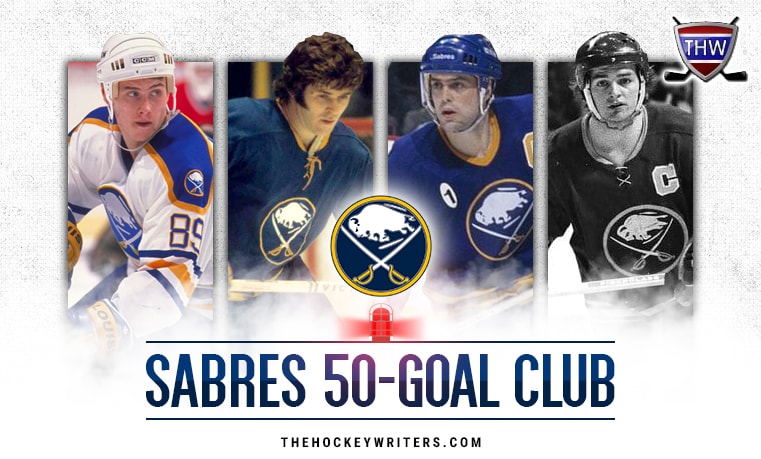 There are four Buffalo Sabres who have reached the exclusive 50-goal club, one of them even made it to the remarkably extraordinary 70-goal level.
Rick Martin: Two-Time Member of the Sabres' 50-Goal Club
While Gilbert Perreault scored 512 goals, the most of any Sabre, he never became a member of the 50 club. However, one of his linemates did: Rick Martin. The left winger played with Perreault in juniors and was selected by the Sabres in the 1971 draft – becoming the second piece in the famed French Connection line.
"Rico" scored 52 goals in consecutive years: 1973-74 (44 of them at even strength and eight on the power play) and 1974-75 (31 at even strength and 21 on the power play). He came close to a third 50-goal season, hitting 49 goals in 1975-76.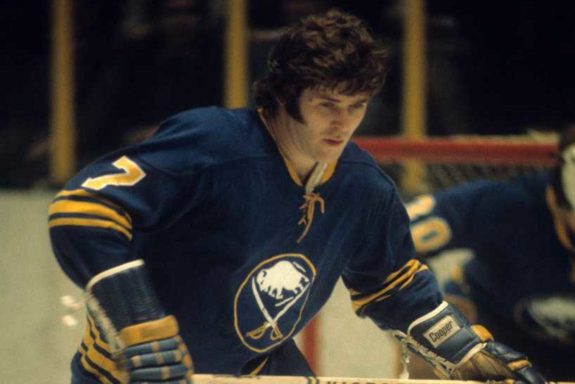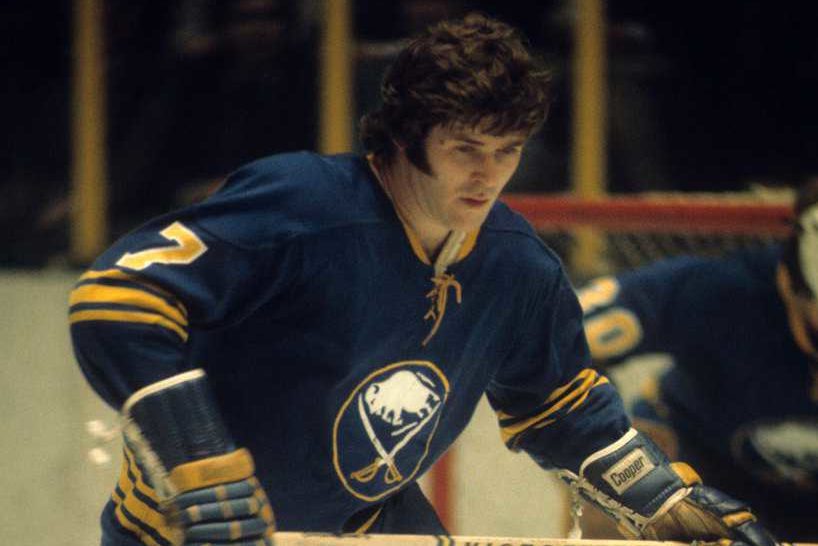 On many occasions, Martin's howitzer of a shot would beat a goalie, go into the net and rip back out so fast that it was missed by everyone including the goal judge.
Martin Scores 52 Goals in 1973-74
The 1973-74 season started strong for the Sabres; they won six of their first nine games. However, a series of unfortunate and tragic events overcame the team, preventing them from making the playoffs. Gilbert Perreault suffered a broken leg and missed two months, goaltender Roger Crozier was diagnosed with pancreatitis, and, in February, fan favorite Tim Horton died in a car accident on the Queen Elizabeth Way while driving home from a game. Despite the team's ordeals, Martin cracked the 50-goal barrier for the first time in his career, leading the Sabres with 52 goals and adding 34 assists.
Martin Scores 52 Goals in 1974-75
The 1974-75 season was magical for the upstart Sabres, who were playing in just their fifth year since joining the league. The team poured in 354 goals with 131 coming from the French Connection. Martin had his best year: 52 goals and 95 points in just 68 games.
In all, the late, great Rick Martin netted 382 goals for the Sabres, ranking him second all-time in franchise history. He had five seasons of 44 or more goals during his career. Though the first ten years of his career, Martin notched 60 more goals than any other Sabre during that span, including his center, Perreault. And he did it in 50 fewer games. He was unstoppable for opponents.
Martin's astounding 0.561 goals scored per game is the 11th-highest in NHL history, even better than all of these Hall of Famers: Phil Esposito, Maurice Richard, Cam Neely, Marcel Dionne, Pat LaFontaine, Guy Lafleur, Howie Morenz, Mike Gartner, and Teemu Selanne. Rico was inducted into the Sabres Hall of Fame but was never bestowed the honor of being named into the NHL Hall of Fame.
Related: The French Connection
Danny Gare: Two-Time Member of the Sabres' 50-Goal Club
Right winger Danny Gare hit the 50-goal mark twice for the Sabres. As a young 21-year-old, he reached the 50-goal mark (41 at even strength, eight on the power play and one shorthanded) by scoring a hat trick in the final game of the 1975-76 season. He did this despite playing on what was widely regarded as a checking line with Don Luce and Craig Ramsey.
"We were a checking line and we always played against the top lines," said Gare. Both Luce and Ramsey were the first set of forwards on the ice for every Sabres penalty kill and since retiring as players of the game have succeeded at hockey coaching and managerial positions.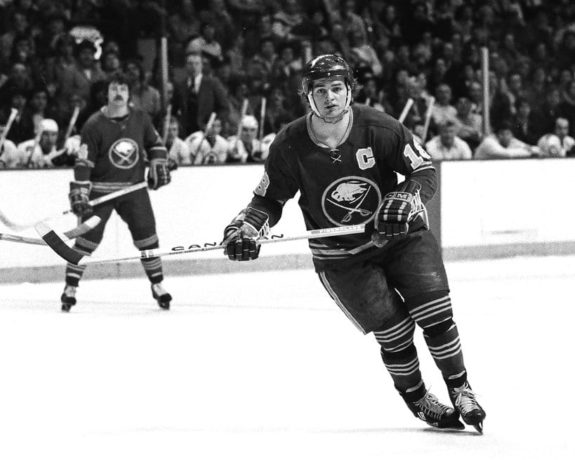 Four years later, in 1979-80, Gare filled the net 56 times (39 at even strength and 17 on the power play). His 11 game-winners led the team that season.
All told, Gare scored 267 goals in a Buffalo Sabres sweater, ranking fourth all-time in franchise history. In 503 regular season games, he scored 500 points, with an impressive 15 percent career shooting percentage. He was a spirited, feisty player with tremendous popularity with fans and teammates evidenced by serving as captain on two occasions.
Born in Nelson, British Columbia, Gare was drafted with the 29th pick in the 1974 NHL Draft. At only 5-foot-9 and 175 pounds, Gare was pound-for-pound one of the toughest players on the team. He racked up 129 penalty minutes during his 50-goal campaign and 90 penalty minutes during his 56-goal season.
Gare's teammate Larry Carriere gave him the nickname "Tickets" because as a player he was constantly giving away more than his allotted two tickets to home games.
Alexander Mogilny: Member of the NHL's Eight-Player 70-Goal Club
At the young age of 23, Alexander Mogilny scored a franchise-record 76 goals during the 1992-93 season. The Russian also added 51 assists for 127 points. Of his 76 goals, 49 came at even strength and 27 came on the power play. That year, 11 of his goals were game-winners.
"It just seemed like Alex and I knew where each other was and Dave [Andreychuk] came in and cleared the zone in front of the net and picked up a lot of rebounds," said Pat LaFontaine. "There was a sixth sense with guys knowing where to be and none of us even had to look … it was kind of reactionary."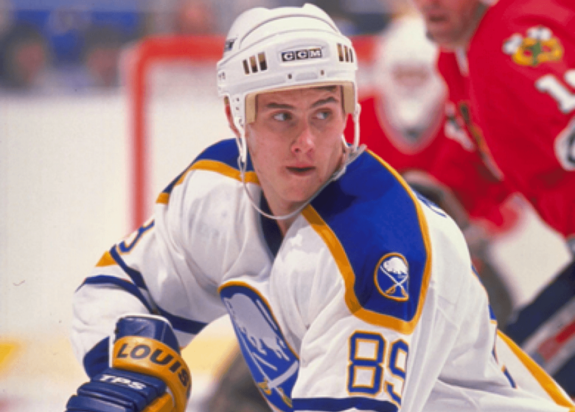 Mogilny had a terrific shot, playmaking hands and great acceleration. His speed wowed his centerman. "I would just get the puck and look and knew he was taking off," said LaFontaine. "And once he got the engine running, it took only four strides before he was already at full speed."
"The way he was scoring, it was pretty incredible to watch," said Bob Sweeney, Mogilny's teammate. "He had such a quick release for his wrist shot. He would go from backhand to forehand and then snap it top shelf. I think the goalie probably knew where it was going but it was tough to stop. You felt bad sometimes for the goalies."
The right wing had a knack for scoring, netting 473 goals in 990 career NHL games. In 1995-96, he scored 55 goals for the Vancouver Canucks and chipped in a healthy 43 goals for the New Jersey Devils in the 2000-01 season. For his career, he had an eye-raising 21.1 shooting percentage. Every fifth shot he took went in the net.
Mogilny Joins the NHL's 70-Goal Club
Of the eight players that have reached the 70-goal mark in a single season, all but Mogilny and Bernie Nicholls of the Los Angeles Kings have been inducted into the Hockey Hall of Fame. Nicholls poured in 70 goals to go along with 80 assists in the 1988-89 season. Not taking anything away from his achievement, but he had the benefit of a pretty good linemate: Gretzky, who had 54 goals and 114 assists that year–an ordinary year by "The Great One's" standards.
Pat LaFontaine: Member of the Sabres' 50-Goal Club
LaFontaine, the captain of the Sabres from 1993-97, reached the 50-goal mark once with the Sabres. He notched 53 markers in the 1992-93 season; 31 at even strength, 20 on the power play and two shorthanded. He posted a career-high 148 points that year, finishing second only to Mario Lemieux (160 points) for the league lead. Amazingly, Lemieux did it in only 60 games, having missed some time while battling Hodgkin's lymphoma.
LaFontaine's 148 points remains the NHL's highest total recorded by an American-born player in a single season. The next closest is 131 by Brett Hull in 1990-91.
"It's nice to know you had one of those seasons where everything went right as far as the regular season," said LaFontaine. "But I would have traded all those points if it meant a victory over the Montreal Canadiens in the [Stanley Cup] Playoffs that season."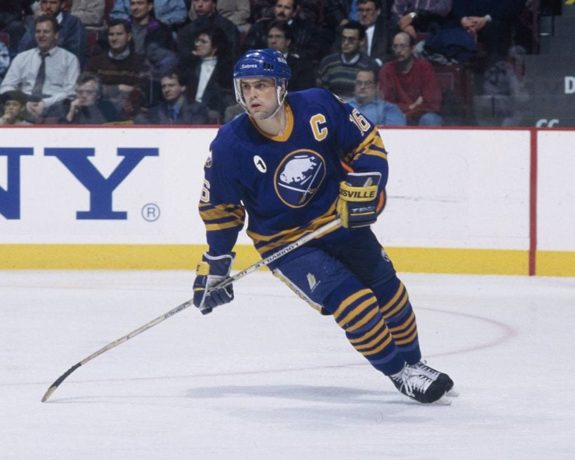 The native of St. Louis, Missouri had eight straight seasons of 30-plus goals, starting in 1985-86, including a run of six 40-goal seasons. He also scored 54 for the New York Islanders in 1989-90. For his 15-year career, LaFontaine lit the lamp 468 times and had 1013 points in 865 NHL games.
Sabres Triple Threat Line: Andreychuk-LaFontaine-Mogilny
The Hall of Famer centered a line with speedy Mogilny and Hall of Famer, Dave Andreychuk as his wingers. "That season was really special," LaFontaine told NHL.com. "I played on that line from day one when I arrived in Buffalo and knew it would be hard to duplicate that year…having those guys as linemates."
The line of Andreychuk-LaFontaine-Mogilny in 1992-93 was as dynamic a line as any in the history of the NHL. Had Andreychuk not been dealt to the Toronto Maple Leafs in February, for goalie Grant Fuhr, the line most likely would have achieved something never been done in the NHL: have all three players on a line score each 50 goals in the same season.
Andreychuck added 25 goals for the Maple Leafs, bringing his season total to 54. So, at the end of this one year, with Mogilny's 76 and LaFontaine's 53, these three linemates scored a staggering 183 goals. "I guess you can say I was able to feel what it might have been like playing for the Edmonton Oilers in the 1980s," added LaFontaine.
Related: Remembering an Old Friend: Buffalo's Memorial Auditorium
Scoring 50, Then and Now
The NHL's First 50-Goal Scorer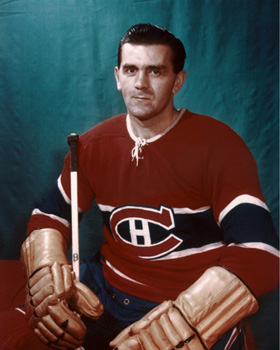 Maurice Richard, the Montreal Canadiens' legendary sniper, was the first player to score 50 goals in a season. In 1944-45, an era when goal scoring was not rampant by any means, "The Rocket" tallied the milestone achievement in just 50 games–the exact number of regular season games teams played in that era. Richard finished with 50 goals and 23 helpers. Incredibly, the winger did not win the Hart Trophy that season –that honor went to teammate Elmer Lach, who scored 26 goals and added 54 assists for 80 points.
Richard's mark of 50 in 50 was matched by New York Islanders great Mike Bossy, then destroyed by Edmonton Oilers phenom Wayne Gretzky. "The Great One" needed just 39 games in 1981-82 to hit the mark en route to scoring an NHL record 92 goals that year. Gretzky had nine seasons of 50-plus goals, scoring in over three-quarters of every game he played in those seasons. New York Islanders sniper Mike Bossy eclipsed the 50-goal mark in nine consecutive years (and nine of his 10 seasons in the NHL).
50-Goal Scorers Since 2010
In the 1980s and early 1990s, the NHL's 50-goal club added several members every year. The game was played in a more wide-open style compared to the game these days. It's rarer now. Since 2010, only Steven Stamkos (60 goals in 2011-12), Alex Ovechkin (53 goals in 2014-15, 51 goals in 2013-14 and 50 goals in 2015-16), Corey Perry (50 goals in 2010-11) and Evgeni Malkin (50 goals in 2011-12) have hit the 50-goal plateau.
Enjoy more great hockey history and 'Best of' posts in the THW Archives
Jeff has been covering the NHL for over a decade for various sites. He's been with The Hockey Writers as a lead Sabres writer three years, while also writing a satire column called "Off the Crossbar."