The Columbus Blue Jackets remain one of the most interesting teams to watch as we move along in this offseason. They have cap space but they also have important business to take care of.
After trading for Max Domi and signing Mikko Koivu to a one-year deal, the Blue Jackets have been quiet. A little too quiet actually.
Related: Blue Jackets Offseason Receives Mixed Reviews
Could this mean that they are done for the offseason in terms of trades or free-agent signings? Their patience is not an indication that they're done. But it's clear that there are priorities they must take care of.
Both Pierre-Luc Dubois and Vladislav Gavrikov still need contracts. Until we know how this plays out, it's really hard to say what else could happen from a roster standpoint. Dubois' new contract could easily start with a six or seven. Gavrikov in my mind likely lands in the high two's to low three's on a multi-year deal. Depending on what the Blue Jackets decide to do with Brandon Dubinsky's contract, they may or may not have much more room on the cap.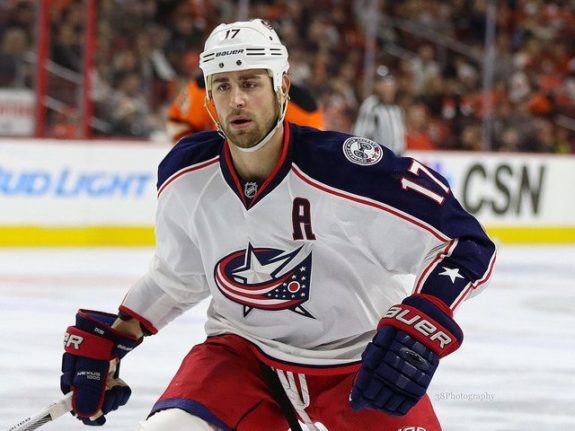 Unless the complete unforeseen happens, we know Dubois and Gavrikov are coming back. The question we now need to consider is should the Blue Jackets bring in a top-six winger or should they stand pat?
The short answer is, it depends. It depends on who is available, for what price and if it is a true upgrade to any internal options the team might have.
It's clear the Blue Jackets do have an Artemi Panarin sized hole to fill on the left side. So they will look for options but only if it fits the situation. We'll take a look at some of the top remaining wingers on the market and tell you if I feel they should go after them.
Mike Hoffman
We have to start with the obvious name. Hoffman is the most prolific goal scorer still available on the market. He's coming off a season where he scored 29 goals. It seems given that the Blue Jackets will do their due diligence here.
While we do believe the team has discussed Hoffman, I'm not sure they should actively pursue unless the price goes down. Given the offensive production, Hoffman could easily ask for over $6 million/season.
Imagine for a moment if the Blue Jackets signed Hoffman to a deal with an AAV of $6 million just as an example. That would put them at just $7.625 million away from the salary cap. With the two big RFA's out there, that would be a very tight squeeze. I don't suspect the Blue Jackets would be interested in that situation.
And while Hoffman is known for his offense and would be a tremendous help to the Blue Jackets, his defense is another matter all together. If there's a liability to his game, it's in his own end. Plus if his scoring starts to dry up, there won't be very much left. A multi-year deal here is very risky. But he can finish.
Given the current price point and what Hoffman brings to the table, I'm only going here if the price comes way down. I'm just not seeing a huge discount in this situation. If Hoffman was willing to take a one-year deal at a number starting with five, then I would consider it. Otherwise, I'm looking elsewhere. But not before getting Dubois and Gavrikov signed.
Mikael Granlund
Granlund is perhaps the most interesting one for me in terms of the top wingers available. Although he's coming off a down year, he still has a lot to give. Coming into a new situation like the Blue Jackets would seem to benefit him.
Like Hoffman, the issue is money and if the Blue Jackets can make Granlund fit under the cap. Granlund is not the goal scorer Hoffman is, but he is a more well-rounded player. Therefore his number likely comes in less than Hoffman's does. Should the Blue Jackets go for this opportunity?
Granlund is a case of buyer beware. Per Evolving Hockey, he went from producing almost 2.00 points-per-60 in Minnesota down to around 1.10 points-per-60 in Nashville. That's a clear bottom-six rate. Will he bounce back in a new setting? Or are we seeing a player in the midst of a sharp decline?
Again, I don't think you can commit to Granlund without knowing your exact budget. His contract likely starts with a five over multiple years. If he was willing to come down from that, then it becomes interesting. The question then would be are the Blue Jackets better with or without Granlund? If not Granlund, is Alex Texier ready to fill that spot full-time?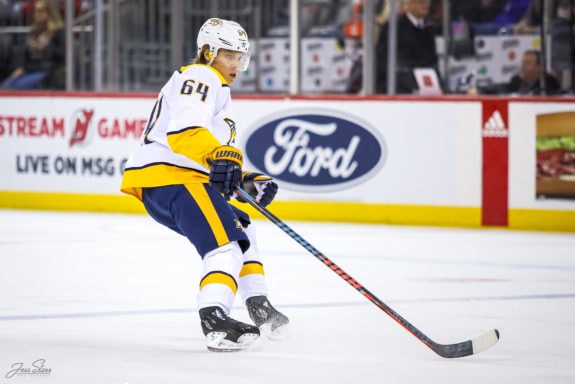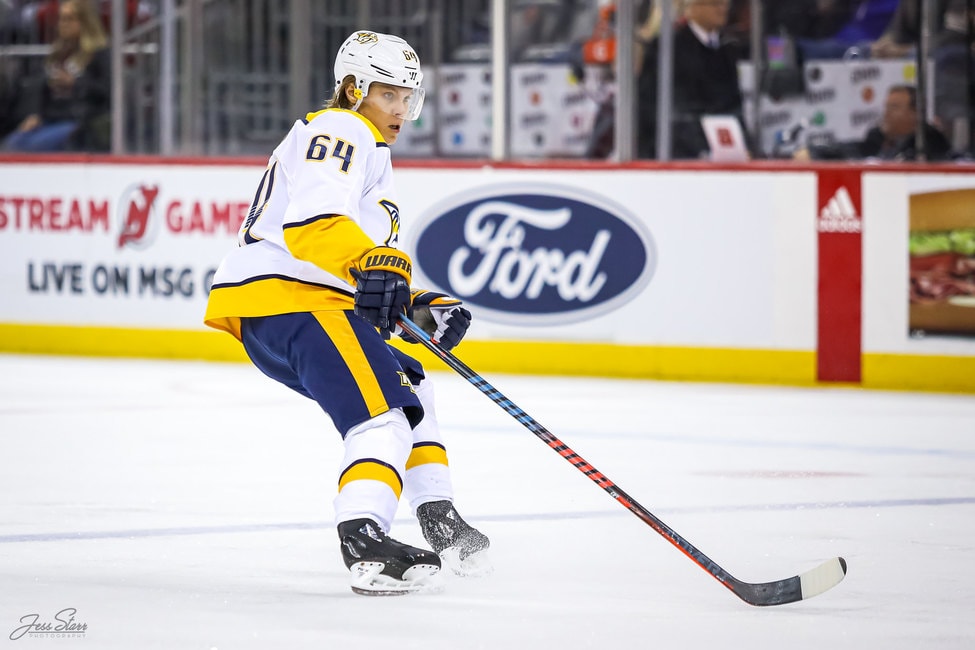 The other thing to consider is if there is an internal budget set by ownership. GM Jarmo Kekalainen was asked if there was an internal budget but he did not want to answer that question. So we are left to wonder if this will play a part in how the rest of the offseason goes.
I really like Granlund and he would be a great fit in Columbus. However if he gets what he's worth, that would put a strain on the Blue Jackets' budget. I think in this case, you either allow Texier to play in that spot or you save your money for a better opportunity perhaps in the trade market involving a team in cap hell. But if the price does down, you absolutely pursue Granlund.
The Best of the Rest
Here are some other wingers available that could be interesting if the price and term fall in place.
Alex Galchenyuk: I sort of feel like Galchenyuk has been forgotten about. There's no questioning how tough things have been. But on a one-year, team friendly prove it deal, I still have time for him.
Andreas Athanasiou: Only mentioning him because it was thought that the Blue Jackets had interest at the last trade deadline. It didn't work out in Edmonton. I do wonder if given a consistent chance on a good team would bring the best out of him. Still I'm only interested if the price/term fit. It would be for over $3 million per season. That's risky. Would this be Sonny Milano 2.0? His speed and offense is intriguing but is a major defensive liability.
Dominik Kahun: I'm still wondering how he landed on the market. The Sabres didn't tender a qualifying offer for some reason. He has produced points at a top-six rate. If the Blue Jackets want to add depth but not spend as much money, I'm not sure there's a better candidate to take that chance on than Kahun.
Note: Had Evgeny Dadonov still been available, he would have been at the top of the list. The Senators did good work landing him at the price point they did.
Patience Is For The Best
If the Blue Jackets could get any of the above at the right price, they need to consider it. If they could add another scorer to the fold, that would help solidify their place as a contender.
Patrik Laine might be heading out of Winnipeg. He'd be perfect on the Blue Jackets but they don't seem to have the pieces to complete that trade.
So if a trade or a free agent doesn't fit the situation, there is nothing wrong with being patient. Perhaps an unexpected situation arises that the Blue Jackets can pounce on.
While the need for a scoring winger is there, the Blue Jackets might find it in their best interest to wait things out. Even if they don't do anything else, they addressed center ice and still have some incredibly talented wingers on the roster.
But if I know anything about Kekalainen, he has a burning desire to win. He'll find something to help the team. But it won't be on a whim. It would be a well thought out decision that benefits the team now and later even if it is to stand pat.
They say good things come to those to wait. For the Blue Jackets, patience might be their best friend as they figure out their next move.
---
---