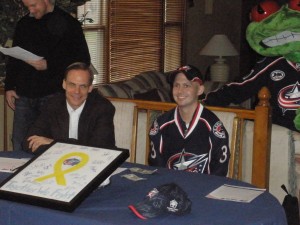 Ryan Salmons 1989 ~ 2009 
By Rick Gethin
The Hockey Writers
     Ryan Salmons, 19 years old, passed away today at Nationwide Childrens Hospital in Columbus, Ohio, after valiantly battling terminal cancer. He was the newest player to wear the Union Blue, having signed a one day contract with the club. Blue Jackets Defenseman Marc Methot was gracious enough to give Ryan his #3 for the day. Manny Malhotra and Jason Chimera were more than just passing aquaintances of Ryan and his family. They made almost daily trips to visit with this courageous young man who became not only an inspiration for an NHL team, but a whole city.
     From the Columbus Blue Jackets website: "Ryan was a very special and courageous young man and our deepest sympathies go out to his father, Brad, step-mother Susan, and all his family and friends," said Scott Howson. "Ryan made a significant impact on the lives of many people in his 19 years and he will be missed by all of us at the Blue Jackets. Not only have we lost a fan, but we've lost a friend."
     From Puck Rakers (Aaron Portzline and Tom Reed): "Howson said the actions of his players would have pleased the franchise's late patriarch, John H. McConnell." "Part of the reason Mr. Mac brought a team here was to reach out to the community and help people," Howson said. "They have lived up to Mr. Mac's goals."
     From Ryan's Fight – Refuse To Lose!, "Throughout the journey, Ryan continued to want to do for others. Ryan tried to help parents on J5 when their kids could not verbalize what the drugs did to them. He became friends with younger patients and treated them like family. Even when the Blue Jackets signed him to a contract, he turned it into how he could help push the team to the playoffs. It was not about him. That was Ryan's spirit. That is who he was."
     Ryan, we tip our hat to you and all that you've done to help make this world a better place. You will be missed.
     In your honor, we proudly Carry The Flag.
Rick Gethin was an Associate Editor of TheHockeyWriters.com.