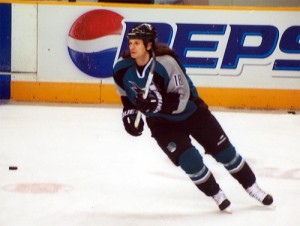 The San Jose Sharks season has ended, and I could tell from the way they played that they do not care as much as I do. It is not the first time I have felt that way, but it may be the last: I cannot put my whole heart into a relationship that does not give back.
It is not that they lose early every year, it is how they lose. No, wait, it is that every year they find a new way to lose.
No courage, 2006: Raffi Torres brought a high-hit on Milan Michalek that knocked him out of the playoffs. No one fought back, and that line, the Sharks' top scoring playoff line, folded…the team followed, and they did not win again.
No resilience, 2007: Robert Lang scores with 35 seconds left and the Red Wings win in overtime to avoid going down 3-1 in the series. The Sharks did not win again.
No effort, 2008: San Jose blows a 3-0 lead at home in the first series, leading to a seven game series that left them banged up. Then they fail to show up in its first two home games in the second round, digging a hole they cannot get out of and going down in six games.
Overconfidence, 2009: Jonas Hiller shuts them out in Game One and holds them to two goals on 40 shots in Game Two, but the team does not make adjustments, and needs to be down 3-1 in the series before they acknowledge they are not playing "desperate hockey."
The guy I feel sorry for is Ron Wilson. His squad was about $10 million under the cap without any Stanley Cup Champions on the roster and at least made the second round. Granted, he said after last season's dissapointing early exit that "we should be rejoicing."
But new coach Todd McLellan had a team tight against the cap with ten rings between them and could not even win three games. I am not saying he should be blamed—obviously the problem lies in the lack of player leadership, and I will be going through players one by one and saying who should stay and who should go.
For now, let's just look at the team collectively…
After losing their second at home, Joe Thornton is heard to say that if they keep doing what they're doing, their fortunes will turn around. Maybe that explains why they never get a body in front of Hiller consistently.
Once they won Game Three, they came out in Game Four as if they think that the Ducks must surely recognize the Sharks are better now and will quit.
No, that is what you do. Other teams realize that every game in the playoffs is important—in fact, that every shift is.
The Sharks think once they have a lead, they can rest on that. It happened even in the two games they won, and led to Anaheim tying Game Five with the Sharks at home facing elimination, even though they entered the third period with a 2-0 lead. It happened in the next game, when the intensity waned after the first period when San Jose had a 1-0 lead.
In fact, it happened all season long, and when I pointed it out, Sharks fans were as casual about it as their team. So like the annoying guy in the Verizon commercials, I ask, "Can you hear me now?"