Slumping seasons happen to the best of them. Even Wayne Gretzky had the odd season here and there with fewer than 100 points. Injuries which resulted in games missed were usually the blame for that.
For some, it can be a real nadir to miss a significant amount of time or just not find the level of consistency they are known for. The troubles may last one season or a couple of years.
To rise above it and put the past behind is truly inspirational. You show the world that you still have what it takes to be a star in the league.
When you look at each player on this list, you'll realize that the numbers truly tell the tale.
20) Dwayne Roloson (Edmonton Oilers)
2007/2008: 15-17-5, .901 save percentage, 3.05 goals against average.
2008/2009: 28-24-9, .915 save percentage, 2.77 goals against average.
The veteran net minder managed to corral the starting goaltender position back in Edmonton after losing it to Mathieu Garon the previous year. Roloson's 28 wins were a career high and he gave the Oilers a chance to win every night.
In particular, his 51-save effort against the Anaheim Ducks on Mar.27 stole a 5-3 victory. Conclusively, it was Edmonton's offense that caused the agony of missing yet another postseason.
There were many players to blame for the let-down. Dwayne Roloson wasn't one of them.
19) Christian Ehrhoff (San Jose Sharks)
2007/2008: 77 games played, one goal, 21 assists, 22 points.
2008/2009: 77 games played, eight goals, 34 assists, 42 points.
Forgotten amid the arrivals of Rob Blake and Dan Boyle was the progression of San Jose's younger defensemen. Christian Ehrhoff received little attention despite setting personal bests in assists and points.
One area of concern was his minus-12 rating which should improve given that the German is in his prime and becoming accustomed to logging heavy minutes. Quarterbacking the powerplay is another area he excelled in.
Ehrhoff began the season exquisitely in the opening months and finished in the same manner. It was the time in between where he was difficult to spot. The next step may be an entire campaign of noticeable play.
18) Jordan Staal (Pittsburgh Penguins)
2007/2008: 82 games played, 12 goals, 16 assists, 28 points.
2008/2009: 82 games played, 22 goals, 27 assists, 49 points.
Jordan may still need to learn a few things from brother Eric, but he made his sophomore slump a distant memory. Staal is known for his goal-scoring and penalty-killing sharpness.
Playmaking is where he is most troubled which is why the 27 assists are a surprise. The 22-year-old amassed just 29 helpers in his first two NHL seasons combined so this was an encouraging development.
Should he begin shooting the puck more often, Jordan may one day find himself with more goals than his older brother.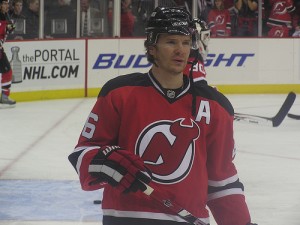 17) Patrik Elias (New Jersey Devils)
2007/2008: 74 games played, 20 goals, 35 assists, 55 points.
2008/2009: 77 games played, 31 goals, 47 assists, 78 points.
Over the past six years, Elias has repeatedly gone from a decent season (for his standards) to a terrific one on three occasions. In each of those two-year intervals, he has made at least a 20-point jump from the first campaign.
The Czech native's age means little to nothing when you see the offensive acumen he possesses. A life-long Devil, he became New Jersey's all-time leading scorer just this past March.
Elias is a leader the team covets especially during the postseason where he is so dangerous. Did I mention he is tied for the NHL record of most overtime goals scored?
16) Marc-Edouard Vlasic (San Jose Sharks)
2007/2008: 82 games played, two goals, 12 assists, 14 points.
2008/2009: 82 games played, six goals, 30 assists, 36 points.
San Jose's other defensive youth fell into an awful sophomore slump as is indicated by his statistics. Not only did Vlasic find himself this year, he proved to be a valuable commodity in a number of ways.
First, he rarely made mistakes in the defensive zone. Second, he took on plenty of ice time much like Ehrhoff and responded with a plus-15. Finally, his offensive contributions were merely a bonus.
The 22-year-old squared off against some of the game's elite talents and it was his maturity that ultimately earned his success.
15) Michael Ryder (Boston Bruins)
2007/2008: 70 games played, 14 goals, 17 assists, 31 points.
2008/2009: 74 games played, 26 goals, 27 assists, 53 points.
Revenge is one of the most satisfying attainments that one can earn. For Michael Ryder, the combination of joining the Boston Bruins and reuniting with former coach Claude Julien brought him that pleasure.
In addition to his fantastic numbers, he had a plus-28 rating which was fourth-best on the team. Sure, three assists in six contests against the Montreal Canadiens during the season was merely respectable.
The playoffs provided him the chance to really put his former team down. Ryder did just that with four goals and three assists leading all skaters in the sweeping of the Canadiens.
14) Patrick Marleau (San Jose Sharks)
2007/2008: 78 games played, 19 goals, 29 assists, 48 points.
2008/2009: 76 games played, 38 goals, 33 assists, 71 points.
I'd hardly call 48 points customary for a team captain. Patrick Marleau is someone I would list as a meant leader and scoring twice as many goals this year will verify that. His astonishing speed remains to be one of his greater assets.
Not that it makes a difference, but the veteran was one of San Jose's better playoff performers in the six games against Anaheim. He did score the game-winner in both of the Sharks' victories after all.
Set to become an unrestricted free agent in 2010/2011, Marleau will have a decision to make.
13) Tuomo Ruutu (Carolina Hurricanes)
2007/2008: 77 games played, 10 goals, 22 assists, 32 points.
2008/2009: 79 games played, 26 goals, 28 assists, 54 points.
Ruutu's best year came as a rookie in 2003/2004. In the three seasons that followed, he failed to establish himself as a force. Little did we know, a change of scenery was all the Finn required.
He had his best offensive season to date setting career highs in all categories. Along with the statistic input, Ruutu can galvanize the audience and team with his physical initiations.
Confidence has skyrocketed for the former first-round draft pick and the Carolina Hurricanes are benefiting extraordinarily.
12) Jamie Langenbrunner (New Jersey Devils)
2007/2008: 64 games played, 13 goals, 28 assists, 41 points.
2008/2009: 81 games played, 29 goals, 40 assists, 69 points.
Setting personal bests for yourself at the age of 33 seems odd. For Jamie Langenbrunner, it may have been all about proving himself as captain material after an average first season with the C on his chest.
Versatile enough to play where ever he's needed, the Cloquet, Minnesota native received tremendous support from his teammates. Langenbrunner had a streak in January of three consecutive two-goal games with the deciding goal in each contest.
The last player to accomplish such a feat? Wayne Gretzky.
11) Jason Blake (Toronto Maple Leafs)
2007/2008: 82 games played, 15 goals, 37 assists, 52 points.
2008/2009: 78 games played, 25 goals, 38 assists, 63 points.
Excuses were something Jason Blake never made. He didn't blame anything on the cancer or a lack of luck. Instead, he continued to go onto the ice and give 100 per cent every night.
For his efforts, Blake was awarded the Bill Masterton Memorial Trophy last year. This season, the 35-year-old led the Toronto Maple Leafs in scoring and resembled the sniper who was born as a member of Long Island.
Blake certainly proved the doubters wrong and here's to hoping that the good times keep arriving for him.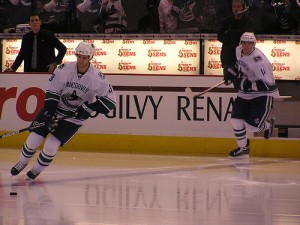 10) Kevin Bieksa (Vancouver Canucks)
2007/2008: 34 games played, two goals, 10 assists, 12 points.
2008/2009: 72 games played, 11 goals, 32 assists, 43 points.
Bieksa is one those players who you can tell the Vancouver Canucks sorely missed last year without postseason action. The fourth-year defenseman is an ideal caliber of a playoff performer.
This guy can score, defend reliantly and throw the body furiously. Not to mention he's also willing to fight openly. Prone to taking unnecessary penalties, Bieksa must learn to control himself better in certain moments of the game.
Other than that, he is a monster on the blue line for Vancouver.
9) Nikolai Khabibulin (Chicago Blackhawks)
2007/2008: 23-20-6, .909 save percentage, 2.63 goals against average.
2008/2009: 25-8-7, .919 save percentage, 2.33 goals against average.
The Bhulin Wall appeared to have a few cracks in it after a shift from Tampa Bay to Chicago. However, Khabibulin's numbers increased year-to-year with the Blackhawks. From an .886 save percentage to the .919 he posted this season.
At 36-years-of age, he is back from Russia with glove and looking to guide Chicago to a Stanley Cup much like he did with the Lightning. Can Khabibulin do it once again?
Having already shown the world he can steal games on his own, Vancouver has a massive challenge ahead of them.
8 ) Shea Weber (Nashville Predators)
2007/2008: 54 games played, six goals, 14 assists, 20 points.
2008/2009: 81 games played, 23 goals, 30 assists, 53 points.
Today, NHL defensemen can be just as menacing as forwards when the puck is on their stick (see Mike Green). Weber was second on Nashville in powerplay points (19) and goals.
Unafraid to pull the trigger, he fired the puck 251 times on net which put him in the top 30 for the regular season. As far as the Predators go, the rest of the skaters took a minimum of 55 less shots.
His mean streak is just as evident as his cannon of a slap shot. Keep this in mind: Zdeno Chara was the sole player to surpass Weber in the hardest shot contest at this year's SuperSkills Competition. A Norris Trophy may one day be in the hands of Shea Weber.
7) Michael Cammalleri (Calgary Flames)
2007/2008: 63 games played, 19 goals, 28 assists, 47 points.
2008/2009: 81 games played, 39 goals, 43 assists, 82 points.
Injuries slowed Cammalleri down in his final year with the Los Angeles Kings. Jarome Iginla was Calgary's leading goal scorer for seven consecutive seasons. That was until the 27-year-old arrived and scored 39 goals for the Flames.
Finishing in the top ten for goals scored, he also had an impressive 19 powerplay goals which tied Alex Ovechkin for second in the league. Only Thomas Vanek had more than the two.
A smaller player with dynamic determination, Cammalleri's offensive intelligence perfectly blended with Iginla on the top line.
6) Vyacheslav Kozlov (Atlanta Thrashers)
2007/2008: 82 games played, 17 goals, 24 assists, 41 points.
2008/2009: 82 games played, 26 goals, 50 assists, 76 points.
One of two former Russian Five members still wearing an NHL uniform (Sergei Fedorov being the other), Kozlov seems to only prosper with age. The veteran winger reached the 20-goal plateau for the 11th time in his fine career.
Health has never truly bothered him to a greater extent and maintaining an ability to post nearly a point per game is remarkable. Drafted nearly 20 years ago by the Red Wings, Kozlov is a natural scorer with outstanding hockey sense.
Out with the old, in with the new? Not in this case.
5) Chris Mason (St. Louis Blues)
2007/2008: 18-22-6, .898 save percentage, 2.90 goals against average.
2008/2009: 27-21-7, .916 save percentage, 2.41 goals against average.
Singling out the primary reason that St. Louis turned their year around is like searching for a needle in a haystack. Everyone contributed in their own areas of expertise.
Mason accepted the fact that he was meant to be a back-up goaltender with the Blues. When Manny Legace struggled continuously and was sent to the minors, the Red Deer, Alberta native was prepared to guide this group.
St. Louis finished the year strong and you know the rest of the story.
4) Todd White (Atlanta Thrashers)
2007/2008: 74 games played, 14 goals, 23 assists, 37 points.
2008/2009: 82 games played, 22 goals, 51 assists, 73 points.
White stood side-by-side on a line with Kozlov and Bryan Little for the majority of the year. The three were able to feed off each other and create explosive chemistry during game action.
Having not reached 50 points since his days as an Ottawa Senator, the 33-year-old validated himself as a playmaking force. His fantastic speed is perhaps only outmatched by the complete effort he brings to every shift.
Indeed, White has turned into a fine buy for the Atlanta Thrashers.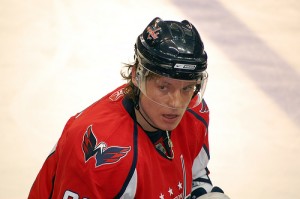 3) Alexander Semin (Washington Capitals)
2007/2008: 63 games played, 26 goals, 16 assists, 42 points.
2008/2009: 62 games played, 34 goals, 45 assists, 79 points.
Semin was asleep for much of last season and didn't quite get it into gear until the concluding months. Everyone knew he was capable of more after a 38-goal, 35-assist sophomore campaign.
The Russian winger could have contested for the Art Ross Trophy had he not missed 20 games due to injury. Like Ovechkin, Semin has lethal game-breaking ability and can be equally creative with the puck. Wicked and deadly are the best ways to describe his shot.
Three players who competed in a minimum of 20 games during the year held superior point per game ratios than Semin. Their names were Ovechkin, Sidney Crosby and Evgeni Malkin.
2) Sheldon Souray (Edmonton Oilers)
2007/2008: 26 games played, three goals, seven assists, 10 points.
2008/2009: 81 games played, 23 goals, 30 assists, 53 points.
Andrei Markov's emergence made Montreal Canadiens fans forget about Souray when he departed to Edmonton. After an injury-riddled opening season with the Oilers, his reputation seemed to drown.
Tied with Ales Hemsky for team leader in goals, the former New Jersey draft pick totaled more powerplay goals than any of his forwards. Souray's big shot remains a danger and he displayed fine leadership qualities on Edmonton's blue line.
Take note Dustin Penner. That's how you respond to a dreadful season.
1) Martin Havlat (Chicago Blackhawks)
2007/2008: 35 games played, ten goals, 17 assists, 27 points.
2008/2009: 81 games played, 29 goals, 48 assists, 77 points.
Healthy Havlat does have a nice flow to it. The veteran hadn't played 60 games in a regular season following the lock-out. That was the case up until this year when he set new career highs in games played, assists, points and plus-minus.
Unfortunately, he fell two-shy of his highest goal total. An astute and flashy winger, Havlat enjoys creating highlight reel goals. Make no mistake, he's one of the best in the business at what he does.
You can't teach the gifts this Czech carries with him and at full health he is a nightmare to the opposition.