With the help of some spectacular goaltending from Simeon Varlamov, the Capitals were able to win their fourth straight game and take a 1-0 series lead on their rival, the Pittsburgh Penguins.
Sidney Crosby got on the board first for the Penguins with a wrist shot that beat Varlamov on his glove side.  John Erskine was caught out of position and Crosby got separation from Brian Pothier on a 2-on-1 to give Pittsburgh a lead 4:09 into the first period.
The lead stayed that way until the Capitals' surprise of the playoffs–the third line–tied things up at one goal apiece.  David Steckel beat Penguins' goalie Marc-Andre Fleury from point-blank range on a deflection from a cross-ice pass from Game 5 hero (against the New York Rangers), Matt Bradley.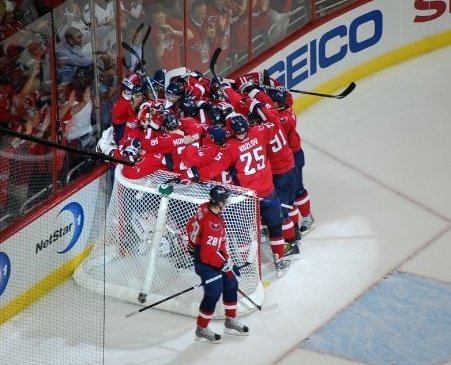 Washington would find themselves on a 5-on-3 man advantage when two former Capitals (Sergei Gonchar and Matt Cooke) were whistled for infractions 1:01 apart from one another.  On a brilliant passing play by Washington, Alex Ovechkin was left open on the wing and had no trouble netting his fourth playoff goal in the past five games.  The two penalties taken by Pittsburgh would be the only two all day.  Meanwhile, the Capitals were called for five penalties, and successfully killed off each one.
Shots were even 12 to 12 in the second period, but it was Pittsburgh who got the lone goal.  Mark Eaton proved to the world that Varlamov is in fact human by scoring from near the blue line on a shot that fooled the young Capitals netminder.  Eaton's shot handcuffed Varlamov and trickled into the net to tie things up with 12:54 remaining.  It was one of the first goals that everyone in the arena knew was Varlamov's fault.  So how would the 21-year-old bounce back?  Just ask Sidney Crosby.
Later in the period, Chris Kunitz and Crosby raced into the offensive zone and Kunitz fed Crosby who had a wide-open net to shoot on.  An off-balance and flailing Simeon Varlamov reached over with the paddle of his goalie stick to smack the puck as it was inches from crossing the goal line and giving the Penugins a lead.
The Ovechkin v. Crosby match-up lived up to the hype, but the most important goal was scored by Tomas Fleischmann.  He crashed the net and chipped in the game-winner with 1:46 remaining the in the final period.  A sprawling Penguins' defenseman delayed a brilliant pass by Nicklas Backstrom to 'Flash' who was leveled as the puck found its way through Fleury.
Here are some additional notes on today's game:
It was Fleischmann's first game-winning goal since January 14th, which also happened to be against the Penguins.
Evgeni Malkin finished with one assist but did not see a lot of chances this afternoon.
His fellow country-man, Alex Ovechkin, hit the  post at least twice, finishing with a game-high nine shots in 21:13.
Max Talbot left the game in the second period with what appeared to be an upper-body injury.  He later returned and finished with 11:04 minutes of ice time.
Pittsburgh out-shot Washington 36-26, and 13-6 in the third period.
The Capitals' had 22 giveaways to the Penguins' six.  Milan Jurcina and Mike Green both had four each.
Backstrom assisted on two goals, but was just 4/15 (27%) from the face-off circle.
Every Penguin who took more than one face-off was at least 50% or better.
Finally, here is Varlamov's jaw-dropping save on Crosby: