Johnny Gaudreau shocked the hockey world by choosing the Columbus Blue Jackets in free agency. He was happy about the selection when it first happened. Even despite being in 32nd place in the NHL standings now, he still has no regrets about the decision.
Gaudreau doesn't have regrets now. He won't have regrets later. That's because he's happy with where he's at and where the Blue Jackets are looking to go.
---
---
Fans of other teams from the outside are seeing how the Blue Jackets are doing and openly expressing their opinion that Gaudreau made a mistake or wants a redo in free agency. That couldn't be further from the truth. He not only loves it in Columbus, he's embraced the team and has become an ambassador for them.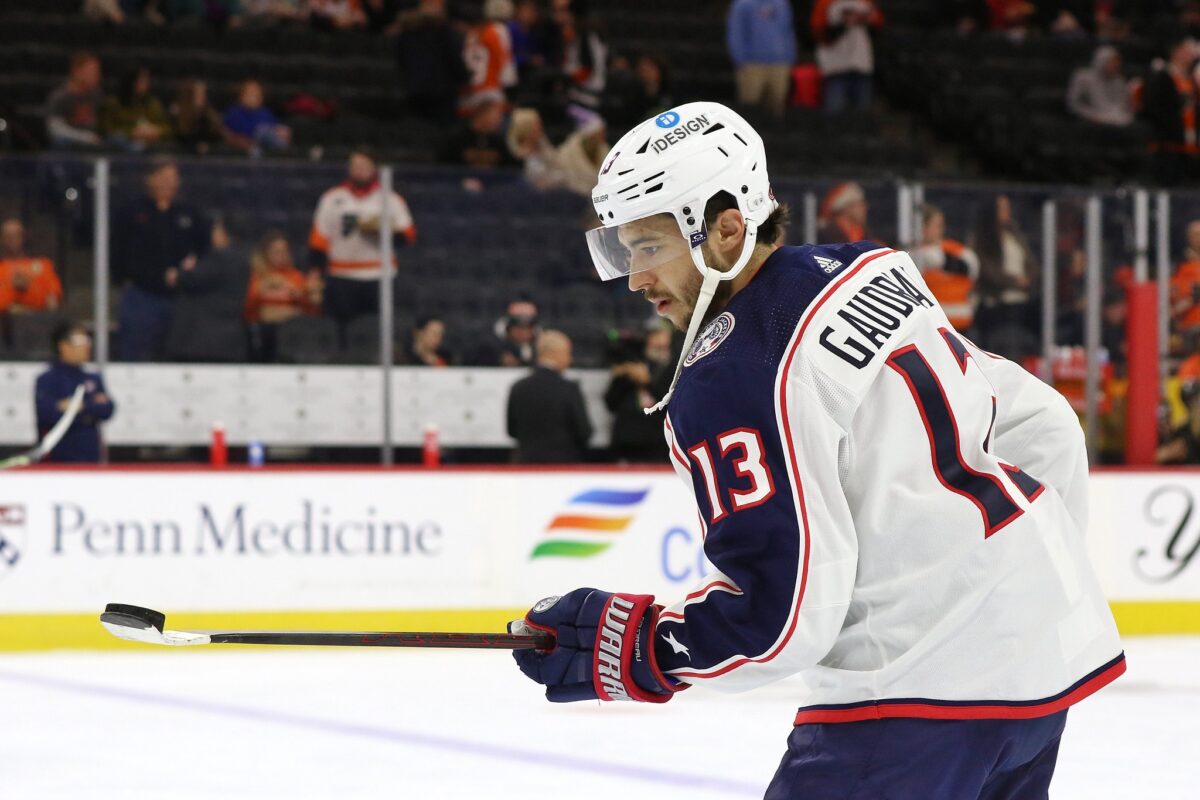 This was on full display this weekend at the NHL All-Star Game.
Gaudreau Represented the Blue Jackets Well
Gaudreau was named to his seventh All-Star Game after scoring 49 points in 51 games for the Blue Jackets so far in 2022-23. He is 18 points ahead of the next closest teammate in scoring which is Patrik Laine. Although this team doesn't have near the talent the Flames had in recent years, he continues to show why he's one of the best players in the NHL.
Gaudreau got the chance to represent the Blue Jackets in South Florida on Friday and Saturday. It started with him playing some golf at the Skills Competition. After getting on the green in two, he missed his birdie putt. That opened the door for Nick Suzuki to sink his putt to win the competition. That earned Suzuki some free Chipotle for a year. Montreal doesn't have any Chipotles there. But when in Columbus, you might know where to find him.
You could tell just how much fun Gaudreau was having with the whole thing. He followed that up on Saturday by scoring a hat trick for the Metropolitan Division. His team lost 10-6 to the Atlantic Division. However he went above and beyond in representing the Blue Jackets all weekend long.
Even in a down season, Gaudreau expressed that they have been some good moments for the Blue Jackets including an opportunity with so many newer players around the team.
"I think we have a really young team," Gaudreau said. "It's been great to work with the younger guys. (There have been) a lot of injuries so it's given me as a new guy on the team an opportunity to meet a lot of the players and play with a lot of players that sometimes wouldn't be there necessarily and you don't get to know a lot of players in the organization. A lot of players have been called up to play a few games throughout the year. I think that's really great for me getting to know everyone around the organization."
"Hopefully as the rest of the year goes on, we can hopefully get some guys back, start gearing up and then playing a lot better together as a team."
Family Matters
One of the biggest questions surrounding the decision by Gaudreau was why. Why did he choose the Blue Jackets? As he said in the beginning and is true today and moving forward, he wanted to be closer to his family.
---
Latest News & Highlights
---
While Gaudreau admitted he wanted to have some distance from his family on the East coast, he wanted to be closer to them. He also wanted to be in a place where it wouldn't take his family long to get to them for anything. As this season has played out, every word of what he's said has been true. He recently said it was great to have his father drop by his house sometimes unannounced. He hardly ever got that chance while in Calgary.
Gaudreau's family was on full display at the All-Star Game. They were able to be together to celebrate the weekend. Now with a few days off before Thursday's practice, they can spend time with each other on vacation. He now has the very thing he's longed for in his NHL career. That's to be closer to his family.
Gaudreau Embracing Leadership Role
The Blue Jackets play Game 52 on Friday night against the Toronto Maple Leafs. There is only one player who has played in all of the team's first 51 games. That's Gaudreau. His ironman streak has continued despite all of his teammates suffering some injury or situation throughout the season.
Gaudreau has taken on the role of becoming more of a leader on the team. While captain Boone Jenner was out of the lineup, Gaudreau wore an 'A' on his jersey. He has fully embraced the situation and has tried to help lead the team through a rough season. He only speaks up when he needs to. But he lets his play do the talking and leads by example.
That's why he has the trust of coach Brad Larsen. After an expected adjustment period to a new city, new team and getting to know new people, Gaudreau is starting to get comfortable with the situation. He's on pace to have one of the best seasons in Blue Jackets' history. That's despite everything that has gone on around him. He doesn't get enough credit for how much of a leader he is both on and off the ice.
Things Will Get Better
Blue Jackets' fans are sick of that statement. They've waited for them to get better since the day they took the ice for the first time in 2000. While those are feelings are legitimate, it's also true that the team collectively hasn't had this much young talent together at the same time. There's a reason why the team were viewed well by Gaudreau.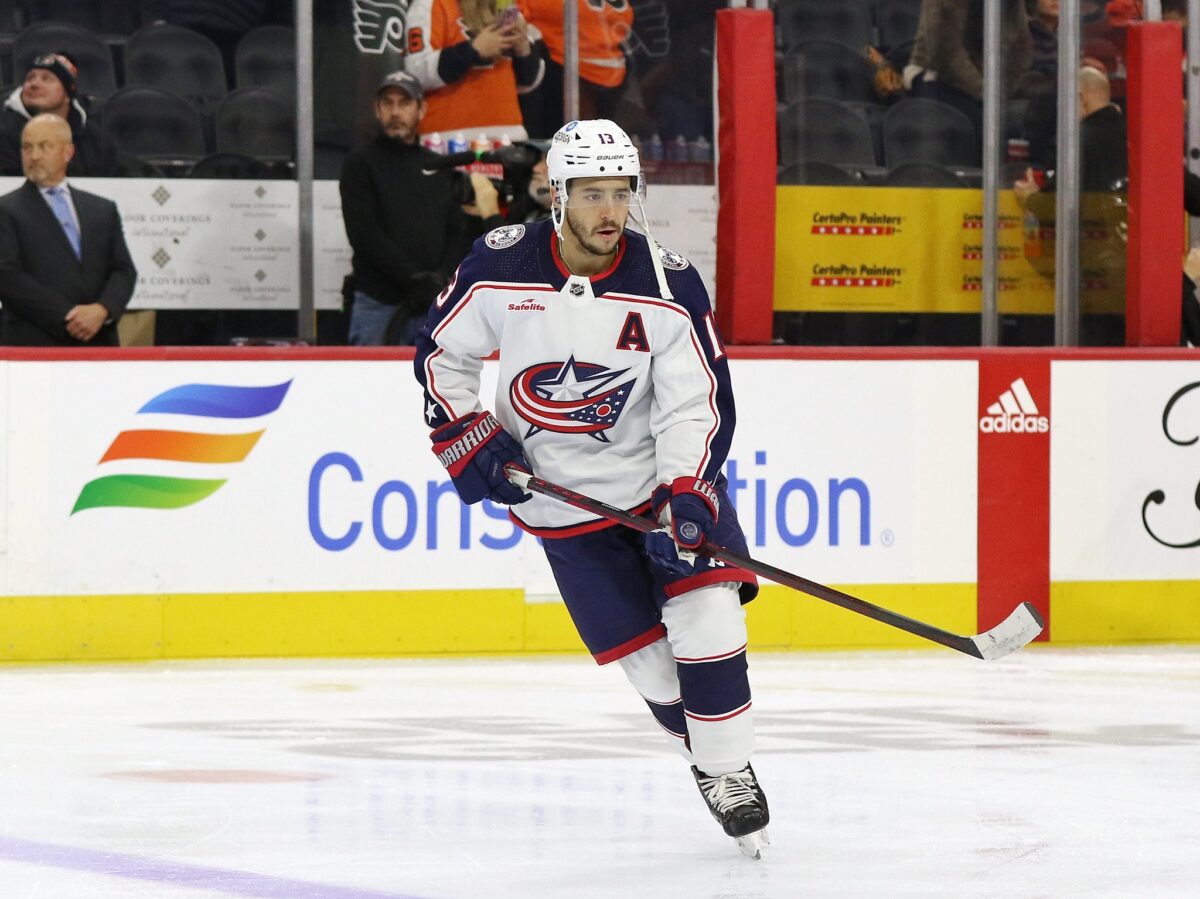 The Blue Jackets boast a top-five prospect pool in the NHL. They have core pieces in place. Some targeted moves coupled with development from the young talent should mean good things for the Blue Jackets eventually.
You Might Also Like
But until that happens, there is still plenty of good to celebrate around the Blue Jackets. That starts with Gaudreau. He has been everything and more for the team since his arrival. He chose them. He's fully embraced them. He's been their ambassador on the big stage this season. He's come as advertised.
Don't let outsiders convince you otherwise. Because them suggesting Gaudreau is not happy with the Blue Jackets is simply not true.
Gaudreau is closer to his family. The Blue Jackets will learn from this season and get better. It's no wonder why he's so happy with where he's at. He's exactly where he wants to be. That's in Columbus.