With the all-star break about to conclude and the NHL Trade Deadline less than a month away, rumor season is about to kick into high gear. The New Jersey Devils have already had their name attached to scoring wingers such as Timo Meier and Brock Boeser. And in an article on Jan. 27 with Pierre LeBrun of The Athletic, general manager Tom Fitzgerald stated he's in the market for a top-six winger, specifically one with term (From "LeBrun: Devils 'willing to give' to get at the trade deadline — for the right player" – The Athletic, 1/27/2023). 
However, things don't always work out the way you want. The Devils won't give up their best assets for a rental. That much is clear. But one player they've pursued in the past is St. Louis Blues winger Vladimir Tarasenko, who would be a rental at this deadline. On the Feb. 3 episode of 32 Thoughts: The Podcast, Elliotte Friedman mentioned he could see all three New York City area teams among the suitors for Tarasenko. He'd be a fit for what the Devils need up front, but a trade for him may not be so simple. 
Tarasenko Still Has Offensive Value
The Devils' pursuit of Tarasenko goes back to July 2021, when he first requested a trade from the Blues. The reason for the request was his displeasure with how the Blues handled his multiple shoulder surgeries (three, to be exact). At the time, The Athletic reported the Devils were one of the teams interested in Tarasenko (From "Blues sign Brandon Saad: What it means for the forward lineup and how it could spark a Vladimir Tarasenko trade" – The Athletic, 7/29/2021). 
Though the Devils never ended up with him, their pursuit of Tarasenko did not stop. On the Jan. 27 episode of 32 Thoughts, Friedman reported that if the Blues acquired Matthew Tkachuk over the summer, Tarasenko could've ended up with the Devils. It ended up being moot since Tkachuk got dealt to the Florida Panthers, but Friedman reiterated the Blues and Devils discussed it. 
It's obvious Fitzgerald and the Devils like Tarasenko. He's not the elite offensive player he was before the shoulder surgeries, but he still has something to offer scoring-wise. He has ten goals and 29 points in 38 games coming out of the all-star break — a pace of 22 goals and 63 points over 82 games.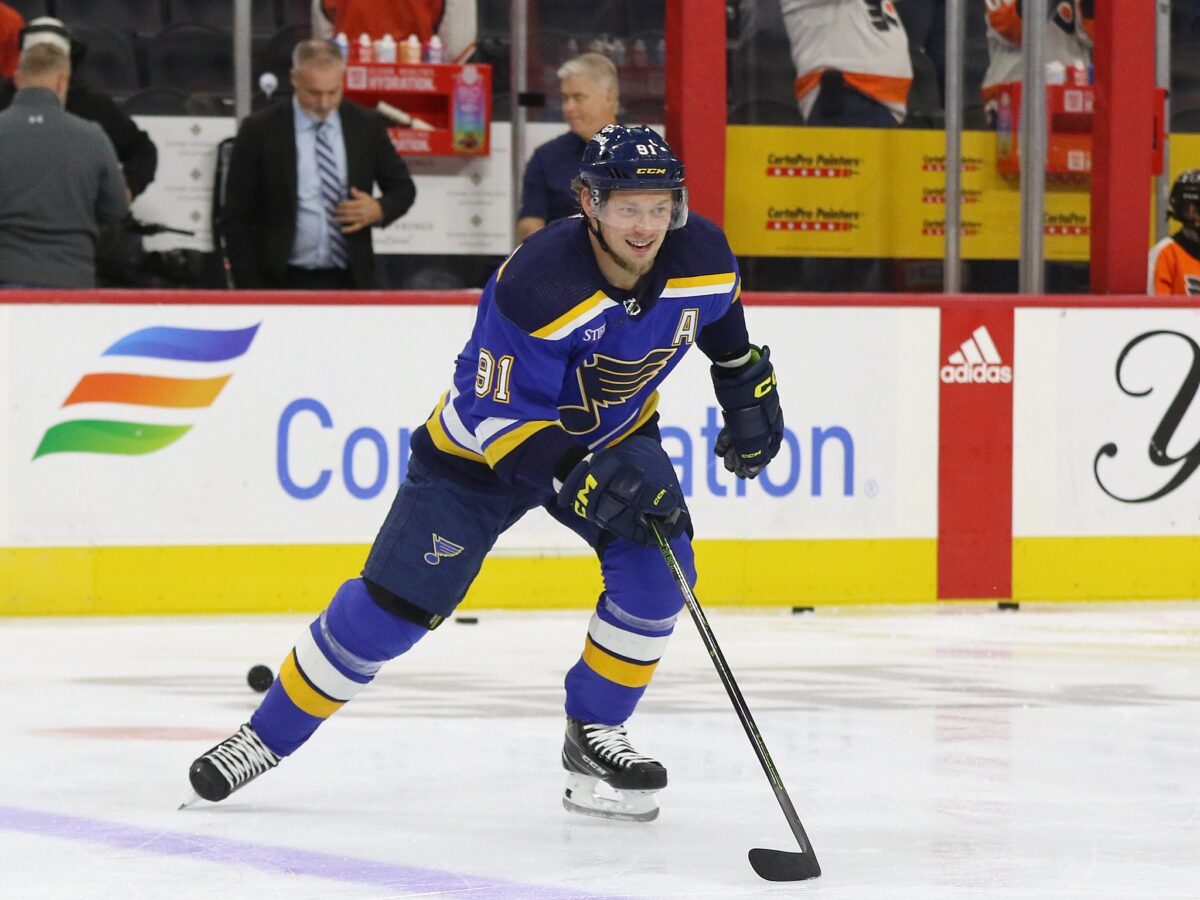 That's pretty solid, considering the Blues are one of the weaker teams in the NHL this season, but his underlying numbers are a mixed bag. His defensive game is practically non-existent at this point; his even-strength defense has been worth an expected goals above replacement (xGAR) of minus-3.6. That could be the product of playing on one of the worst defensive teams in the league. Nonetheless, it's a concern. Because even if team impacts are playing a role, it's clear his defensive game is problematic. 
However, Tarasenko still has positive value offensively. His even-strength offense has been worth an xGAR of 3.2, nearly matching his actual GAR of 3.5. His five-on-five scoring has been solid, as he's averaging 1.85 points per 60 minutes. And it's worth noting that his 9.7 shooting percentage is a bit below his career 12.7 mark. His 9.38 shooting percentage at five-on-five is the lowest of his career, so his shooting luck should regress positively. 
Related: Vladimir Tarasenko Trade Talk Heating Up: 4 Early Contenders
---
Latest News & Highlights
---
As a rental, Tarasenko makes sense for the Devils. However, it depends on what the cost will be. And that's where things get a bit complicated trying to figure out what Fitzgerald would have to give up to add him to the roster. 
Tarasenko Controls Where He Goes
No-trade clauses can make dealing a player tricky. Some only have a five-team no-trade list, while some have ten or more teams on their no-trade list. In Tarasenko's case, he has a full NTC, meaning he has almost all of the control over where his next destination will be if he gets dealt ahead of the March 3 trade deadline. 
Let's say Tarasenko tells Blues general manager Doug Armstrong he'll only play for the Devils, New York Rangers, New York Islanders and Vegas Golden Knights — the four teams Friedman mentioned as possible destinations — that *should* knock down his trade value a bit. 
The first major trade of this season was the New York Islanders acquiring Bo Horvat from the Vancouver Canucks. The Canucks received a conditional 2023 first-round pick, Aatu Raty — the Islanders' top prospect — and Anthony Beauvillier. This was for a player in Horvat who's in the midst of a career season and is on pace to finish with 52 goals and 90 points.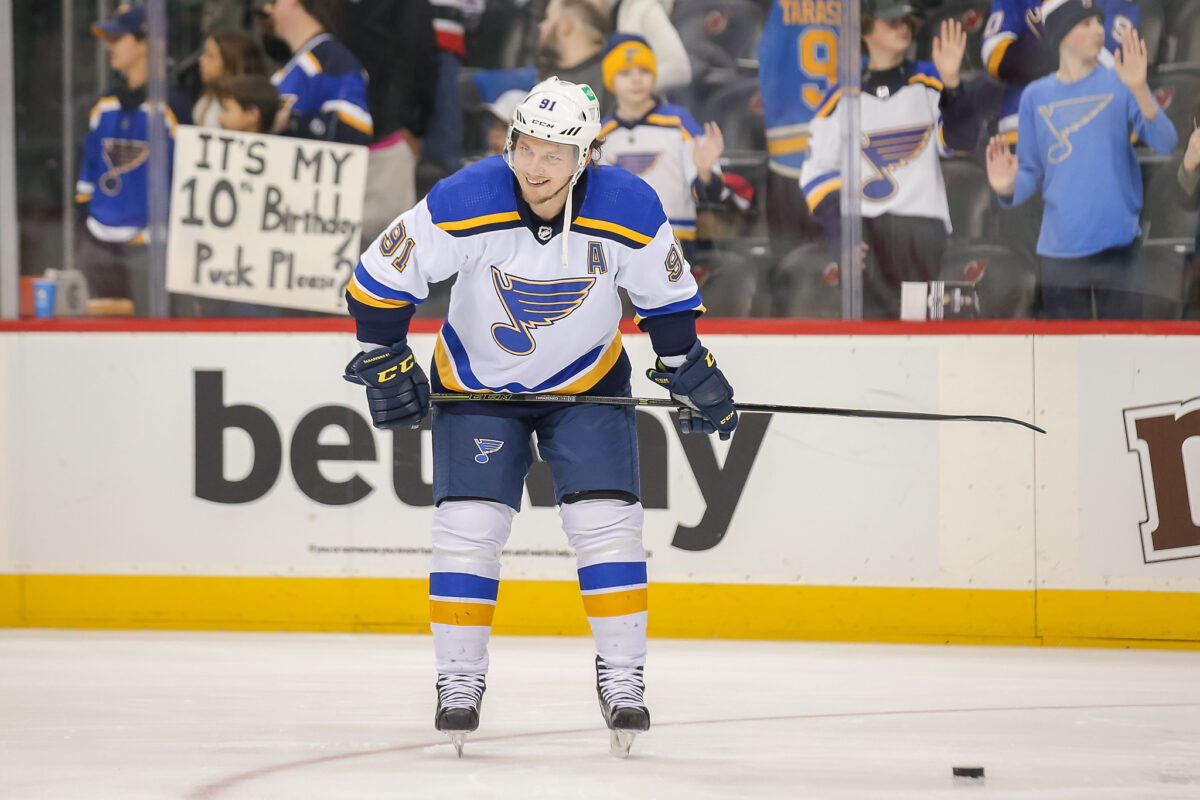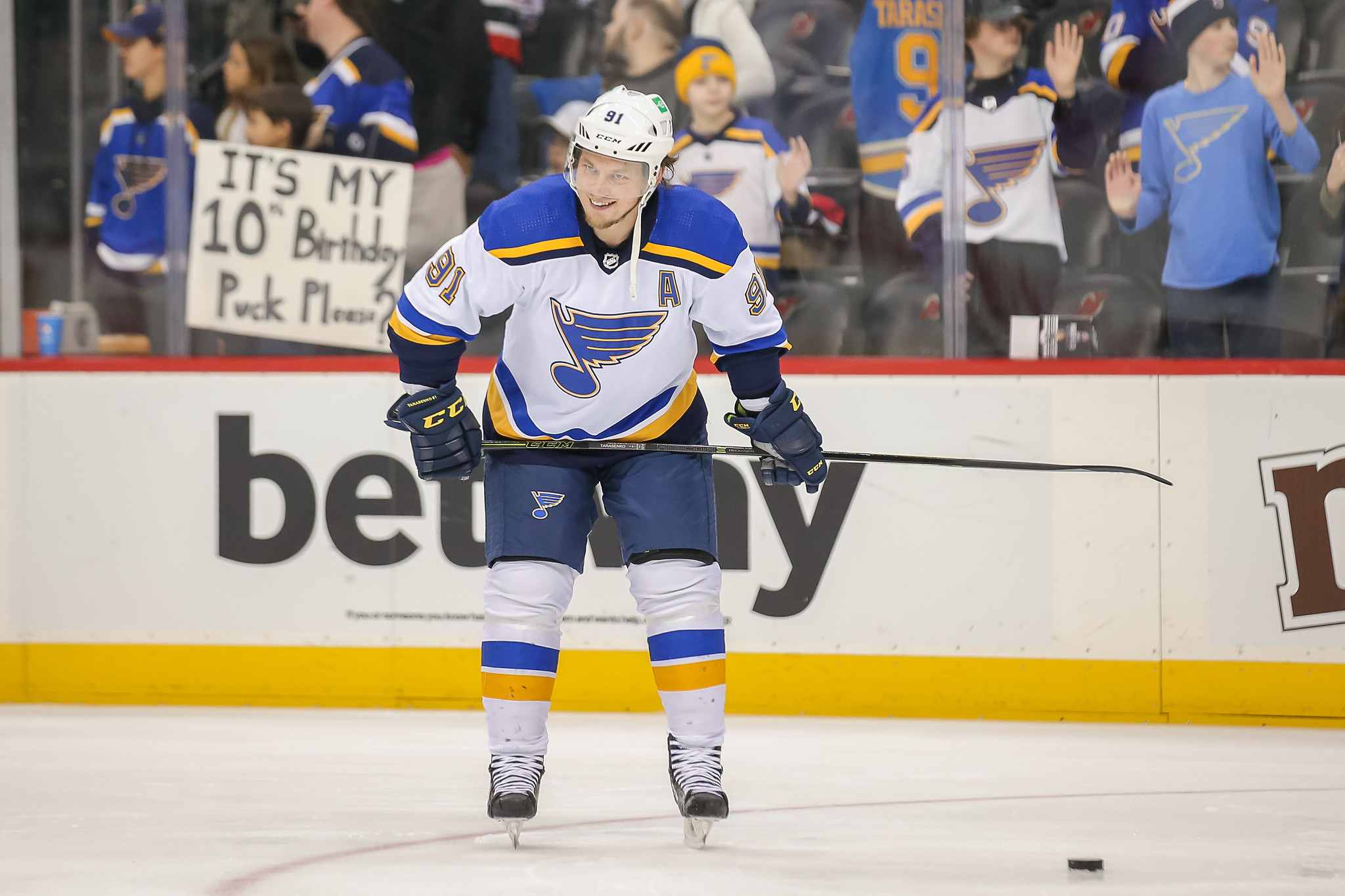 But given the situation, Horvat is probably not the right baseline. One interesting trade comparable would be when the Buffalo Sabres dealt Taylor Hall during the COVID-shortened 2020-21 campaign. Hall signed a one-year deal worth $8 million with the Sabres that came with a full no-move clause. That NMC turned out to be pretty influential in what the Sabres received for Hall — a 2021 second-round pick and Anders Bjork from the Boston Bruins. Hall did struggle a bit that season, but it's also because he shot just above two percent. The reality is that NMC limited what the Sabres could get for him. 
Tarasenko and Hall's situations aren't an apples-to-apples comparison since Tarasenko has spent his whole career with the Blues, but both players having either a full NTC or NMC is a notable similarity. Does this mean the Blues will receive a similar return the Sabres did for Hall? It's more likely a Tarasenko trade looks closer to that than what the Islanders gave up for Horvat. 
Related: Devils Prospects Report: 2023 All-Star Break
That would mean the Devils giving up a second-round pick and a fourth-liner like Jesper Boqvist or a mid-level prospect like Graeme Clarke. But it all depends on how extensive Tarasenko's NTC is. If he limits the Blues to only three or four teams where he'll accept a trade, a deal could look similar to what the Sabres got for Hall. If so, that's when I could see Fitzgerald and the Devils targeting a rental. It could help them win a series or two in the playoffs without mortgaging any significant future assets that will hurt them in the long run. 
Making Tarasenko's Cap Hit Work
The second issue here is Tarasenko's $7.5 million cap hit. As of this writing, the Devils project to have $2,042,500 in deadline cap space. That means 1) they will need the Blues to retain some of Tarasenko's salary. 2) the Devils will need to clear money of their own. The easiest way would be to include Andreas Johnsson's buried cap hit of $2.275 million in the deal. 
The Blues are tight on cap space themselves, but if they're planning to move Tarasenko, Ryan O'Reilly and a couple of other players ahead of the trade deadline, they'll be able to take back some money like Johnsson. That means the Devils may have to sweeten the pot a bit by either upping the draft pick or including one of the better prospects in their system, and I'm not sure that's a place they want to go for a rental. 
Unless…the Devils have plans to re-sign Tarasenko beyond this season, but that's a risky proposition. At 31 years old, it doesn't seem like he's the player he used to be, even though he still has something to offer offensively. Perhaps a change of scenery would make a difference, but re-signing him to a long-term deal has more risks than it doesn't since it appears he's declining: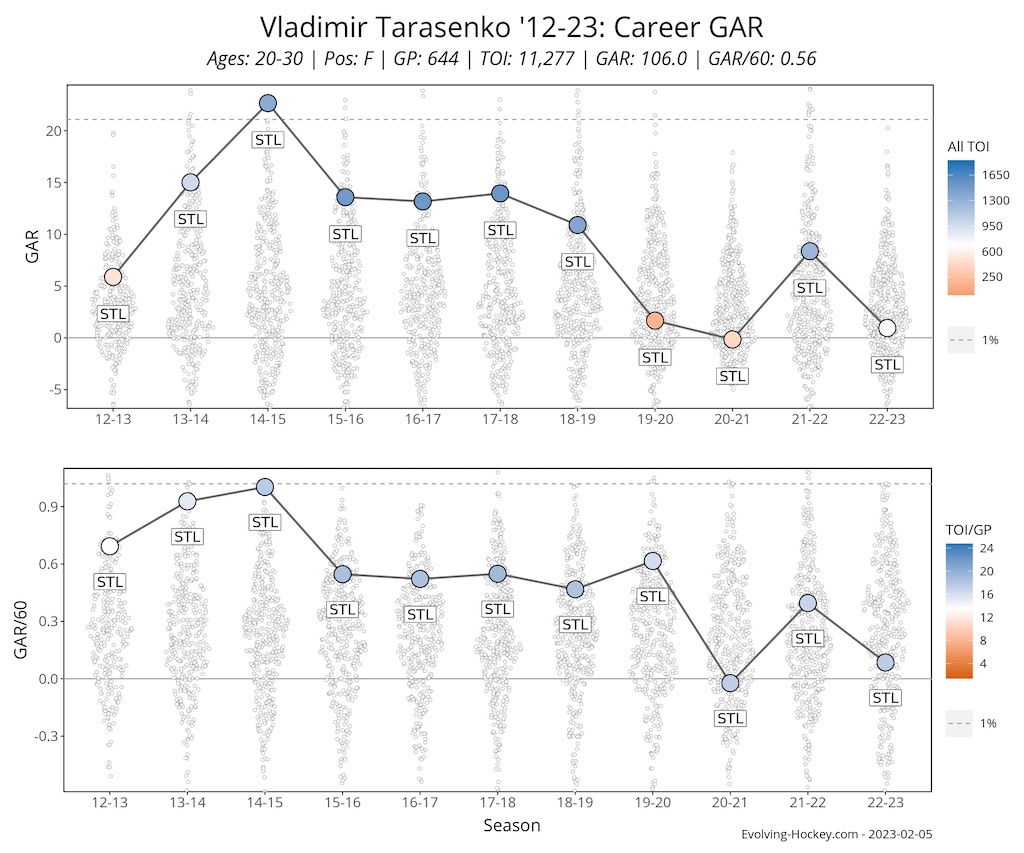 It's clear the Devils like Tarasenko, given how often they've had their name attached to him over the last couple of years. It all depends on cost, and it's hard to gauge without knowing what teams Tarasenko is willing to accept a trade to, given his full NTC. The Devils likely won't give up their best assets for rentals, but Tarasenko should come at a much cheaper price than other rentals because of the full NTC. Though he may not be their first or second choice, he'd still be a net positive and would give Jack Hughes a proven scorer on his wing, something that could be a difference-maker in the playoffs. 
* * *
Advanced stats from Natural Stat Trick, Evolving-Hockey