There have not been a lot of positives in the 2022-23 season for the Columbus Blue Jackets. Coming in on a high after signing the top free agent on the market, things sputtered to a halt pretty quickly when hard times hit the team. A swath of injuries, poor seasons from their goaltenders, and a lack of defensive structure put more tallies in the loss column early on. The Blue Jackets have not recovered and are now battling for the best lottery odds in the 2023 NHL Draft.
It hasn't been all bad for everyone though. Some players have benefitted from increased ice time, due to the number of injuries to the lineup. One such beneficiary is Liam Foudy, who has stumbled into quite a bit of success lately, but only after a prolonged period of adversity. The patient approach that the Blue Jackets have taken with Foudy has paid off.
Foudy's Last Few Years
Foudy had a rocky start to his career after showing a lot of promise. He was a product of the elite talent-producing pool that is the London Knights of the Ontario Hockey League (OHL) – known for producing other top players like Rick Nash, Corey Perry, and Patrick Kane. He proved to be skilled – as a two-time OHL All-Star – and a leader as the captain of the Knights. He was also highly regarded among his peers, being selected as a member of the gold medal-winning Team Canada at the 2020 IIHF World Junior Hockey Championship.
His speed and two-way play had Columbus excited enough to select him 18th overall in the 2018 Draft. Looking at his resume, it was hoped that he would one day slide into a key role in the top-six of the Blue Jackets' forward corps. The early return was promising during the 2020 Bubble Playoffs when he scored a key goal in their series against the Toronto Maple Leafs. Then his struggles began.
Under former bench boss John Tortorella, his defensive game needed too much work to stick in the lineup. Under new head coach Brad Larsen, he spent last season with the Cleveland Monsters or out with injury. Only playing about 30 games in each of those last two seasons didn't help his case to become an NHL regular and it surely hurt his development in those early years.
Related: 3 Blue Jackets Who Need to Prove Themselves in 2022-23
Once seen as someone who could be a leader in the team's forward corps, the bar for Foudy is now more realistically set as a bottom-six player, and that's okay. Four years out from his draft year and with a plethora of younger talented players on the way, this season was do-or-die for Foudy.
Foudy Has Grown This Season
This has been a year of growth for Foudy. Far from a perfect season, it's kind of been a microcosm of his career as a whole. He started out with some flash recording three assists in his first four games and then absolutely no appearances on the scoresheet for the next 31 games.
---
Latest News & Highlights
---
Then he broke that scoreless streak with his first NHL regular season goal, 923 days after his first playoff goal in 2020. He only needed eight days to score his second and now he has three goals and five points in his last seven games. So is this the level of production that we can expect from Foudy on a nightly basis? That possibility delights general manager Jarmo Kekalainen.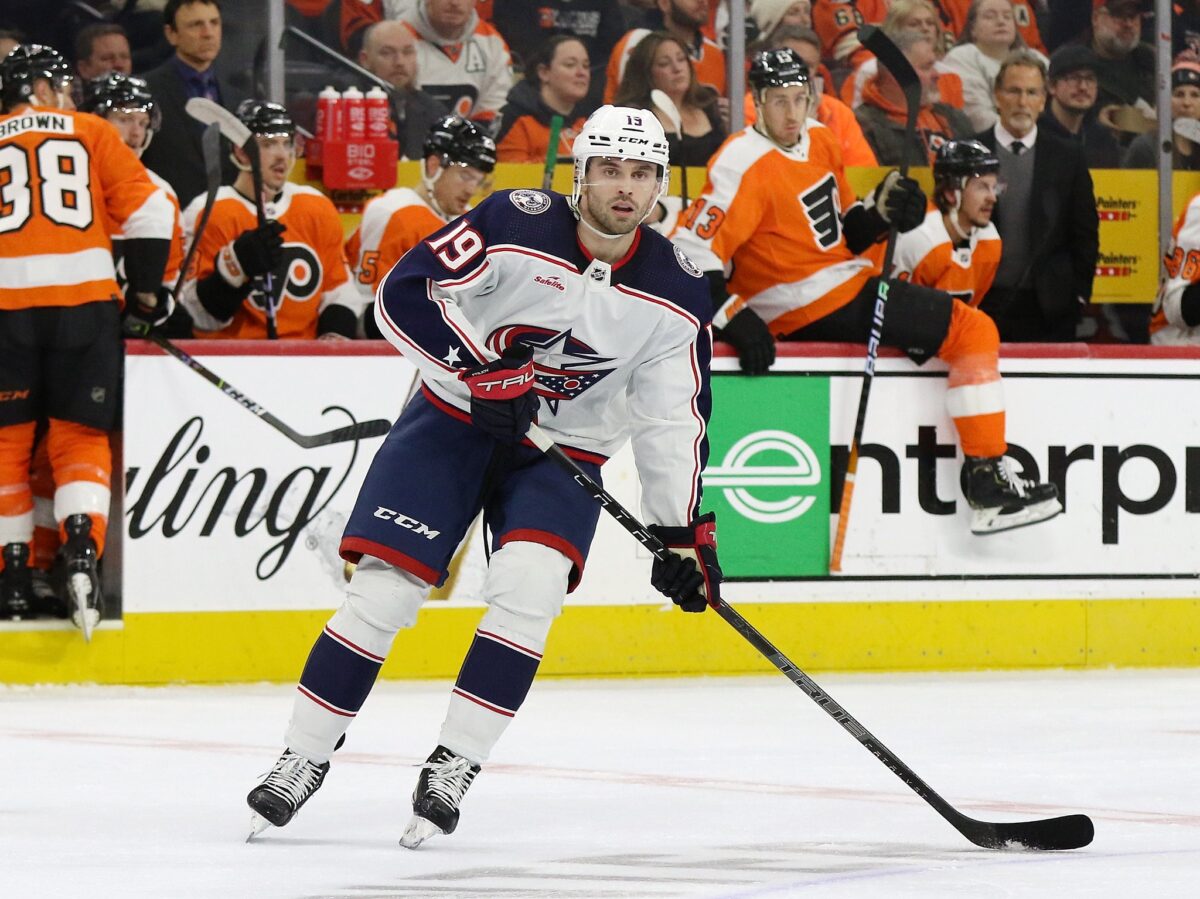 "He had the weight of the world probably on his shoulders because he hadn't scored a goal in regular season. Then all of a sudden he gets one and I believe he has four in the last 11 [as of March 17]. That's a pretty good pace. If you can be at a 30-goal pace for an entire season, that would be the Foudy we would be extremely excited about," said Kekalainen in an interview with THW's Mark Scheig.
"We've seen his potential. We'd be patient. We've given him chances and now he's starting to have some success, which is great to see. But again, confidence is an amazing thing and can turn the season around. And sometimes it happens in the offseason when you get the fresh start the next year. But he's been able to do it after he had some success and that's why he is getting more ice time."
Now, is Foudy going to explode and be the top-six forward he was expected to become when he was drafted 18th overall? Only time will tell. Regardless of what he eventually becomes, the Blue Jackets' patient approach has allowed him to successfully prove that he can be counted on as an everyday NHL player.