We continue our summer series, titled Blue Jackets Pressure Points, on the Columbus Blue Jackets. We ask hard questions about the team and attempt to answer them as it relates to the upcoming season and beyond. Last time, we looked at the backup goaltending. Today, we turn our attention to the captain Nick Foligno. Will he rebound in 2016-17?
In looking back to how a team performed the previous season, one has to look at the top. This starts with the leaders of the team.
The 2015-16 season for the Columbus Blue Jackets was the first time since the Rick Nash trade that anyone wore the "C." The team wanted to give the "C" to someone who demonstrated all the necessary traits of a leader. Coming off a career season in 2014-15 that saw him earn a spot at the All-Star Game, Nick Foligno rose up and earned the captaincy.
Prior to this, the Blue Jackets rewarded Foligno with a new contract after notching his first career 30-goal season. He signed a six-year, $32 million contract on the last day of 2014 right in the midst of his career season. Clearly, the team valued him as a player and a person and were hoping for big things in future seasons.
Then, the 2015-16 began in the worst possible way.
A Nightmare Start
Eight games into the new season and into Foligno's captaincy, the Blue Jackets didn't win a game. It cost coach Todd Richards his job. The team was shell-shocked. Absolutely nothing went right. It's easy to think that Foligno was in over his head as a first-time captain. He was asked repeatedly about the captaincy and if it affected his play in the midst of that losing streak. He admitted to us it didn't affect him, but you could see signs of intense pressure in his game.
There were many nights you could tell he was trying to do too much. That's a natural thing when you and the team struggle mightily. To the team's credit, they stabilized somewhat, but it was too little, too late for any playoff chances. As John Davidson put it, last season to them was "a kick in the teeth."
CBJ: Nick Foligno with a big step back, but lots of promise in the top right pic.twitter.com/epLDy6OLXW

— Carolyn Wilke (@Classlicity) July 16, 2016
It's easy to want to pass blame on Foligno. He went from 31 goals in 79 games in 2014-15 to just 12 goals in 72 games in 2015-16. Clearly by these numbers, many will say he had a down season and did nothing to earn his new salary of $5.5 million. It's fair to ask, will Foligno rebound in 2016-17? Or is this going to be the norm for him? We have some good and bad news about this.
Let's get the bad out of the way first. We shouldn't expect to see Foligno get to 30 goals again. That 2014-15 season saw him take advantage of his role. He was on the top line playing on Ryan Johansen's left. He also saw a lot of time on the power play. Foligno scored 11 power-play goals in 2014-15, while scoring ZERO last season.
In other words, Foligno's even-strength goal production dropped from 20 to 12. That doesn't seem as bad as first thought when you consider he didn't see much power-play time. Here is Foligno's even-strength goal numbers career-to-date: 6, 10, 7, 9, 14, 5, 15, 20, 12. That five was where the work stoppage took out the first half of the season.
This is where the good news for Foligno comes in. Remember when he played on Johansen's wing? He scored 20 even-strength and 11 power-play goals playing with a true, No. 1 center. He then scored 12 even-strength goals playing on the bottom-nine, sometimes even seeing time on the fourth line. In my mind, production is in line with the role he played.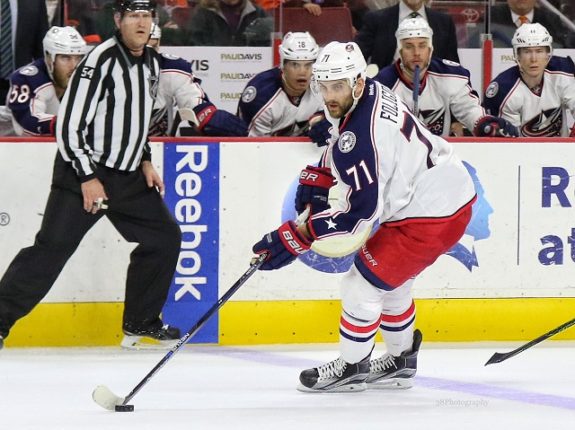 The most notable number that took a hit for Foligno was his shooting percentage. He went from 16.2 and 17.0 down to 8.1. He recovered late in the season just to get to 8.1, after spending most of the season around 3 percent. He scored six goals in the team's last 20 games, including a hat trick against the New Jersey Devils.
It's reasonable to expect that shooting percentage to drop when you have back-to-back seasons over 16 percent. It's also reasonable to expect that he will rebound from last season. His 8.1 from last season is a career worst for him, when his career average is 11.8.
Here's what doesn't get enough attention for Foligno. He's actually one of the better two-way players in the game. Even though last year was a "down" year for him, some of his underlying numbers suggest he still had a positive impact on the game for the Blue Jackets.
Take a look at this HERO Chart of Foligno. Notice his possession numbers.
Notice his designation of "Complete 2nd Line Winger." Given his overall impact on the game, this is a very accurate assessment of the type of game he plays. He generates possession for his team. He limits the opposition's chances. He also finishes his chances at a great rate. Also look at the impact he has on his teammates. Clearly, the Blue Jackets are better with him than without him both in generating scoring chances and in expected goals for.
https://twitter.com/DTMAboutHeart/status/755823090647478272
The Verdict
In our estimation, Foligno will rebound this season. His final numbers will depend on what role he plays. If he plays a similar role this season flipping between the second and third line, I'm expecting a line of around 15-30-45 for the season. If he sees time on the power play, his output could increase.
Last season wasn't on Foligno or being a first-time captain. The team had major issues. After enduring some rough stretches, Foligno showed some flashes of turning his game around. We fully expect this to continue in 2016-17.
Foligno is the perfect example of a player in which analytics and advanced statistics tell the real story. Many would look at his goal output dropping and say he had a terrible season. Although it was a down season for him, he did other things extremely well. He will be just fine this season and moving forward.