We continue our summer series with the Columbus Blue Jackets called Blue Jackets Pressure Points. We ask hard questions about the team and attempt to answer them as it relates to the upcoming season and beyond. Last time, we asked if Sergei Bobrovsky will rebound. Today, we dive into the state of the backup goaltending. Who will start the season behind Bobrovsky?
For the Columbus Blue Jackets, goaltending begins and ends with Bobrovsky. As he goes, so goes the team. But, as we all know, he isn't playing 82 games. Given his injury history, he might not get to 50 games. This possibility puts that much more pressure on the backup to help shoulder the load in 2016-17.
If you've followed the Blue Jackets the last few seasons, then you already know that the backup hasn't played well behind Bobrovsky. One could argue that the inconsistency of the backup is a major reason that the team couldn't overcome slow starts the last few seasons.
The Sad Reality
Just look at last season. Bobrovsky came out flatter than year-old soda. This was a perfect chance for Curtis McElhinney to give the team a much-needed boost. Although McElhinney played ok (by ok, he played better than Bobrovsky), it didn't translate to wins in October. In fact, McElhinney didn't record his first win until December 19th in that wild 7-5 game in Arizona. For someone who came in as the backup to start the season, that's not good.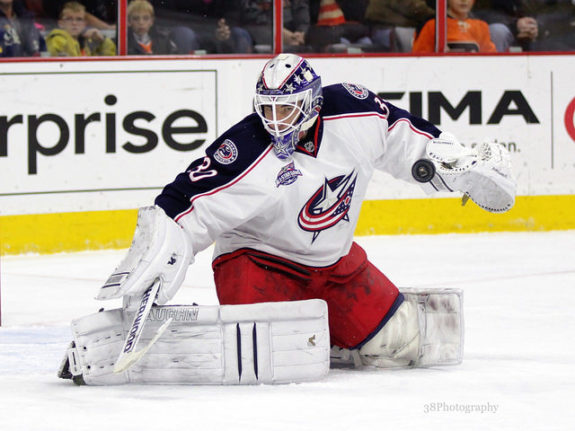 How many more wins did McElhinney get the rest of the season? That would be one. ONE. In fairness, he was injured for a good part of the season. But to get just two wins all season in 18 appearances is not good. He finished the season with a record of 2-7-3 with a 3.31 GAA and .890 save percentage. It's no wonder the Blue Jackets lost 16 of the 18 games he appeared in. He either wasn't good or came in when Bobrovsky wasn't good.
If the Blue Jackets want to make the playoffs, their backup goalie must win games they haven't won in past seasons. They cannot be a liability to the team. They have to keep the team in games.
A good backup goaltender does wonders for your team. Look at the Pittsburgh Penguins. One of the reasons they won the Cup was because Matt Murray played out of his mind. If not for him, do they win the Cup?
Now look at the St. Louis Blues. They played last season with a 1A/1B goaltending situation in Brian Elliott and Jake Allen. No matter who was in net, the Blues could win every game. Even if one got injured, the other could play starter and succeed.
How about the Philadelphia Flyers? Steve Mason gets hurt. In comes Michael Neuvirth, in the playoffs no less. He comes in and wins games against the best regular season team.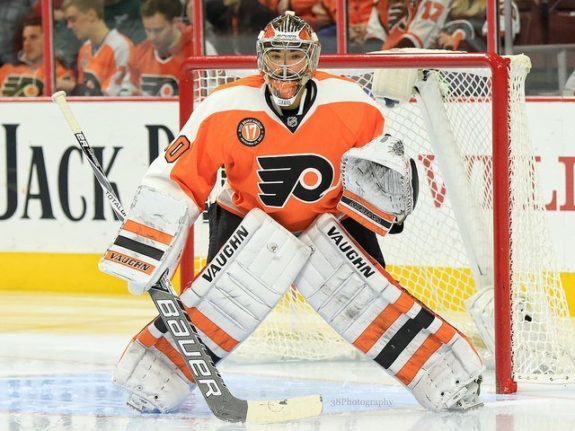 Of course, the team in front of those goalies had a lot to do with their goalie's success. But here's the point. They did the job they were asked to do. They came in and gave their teams a chance to win. The Blue Jackets need to find their way to this point if they hope to have a successful season.
Who Backs Up Bobrovsky?
Well, McElhinney has one year left on his contract. It's easy to think the team will turn to him again for one more season. It's very possible, but it's not guaranteed. There are two goalies waiting in the wings who could make a case that they should back up Bobrovsky.
The first is Joonas Korpisalo. He was put in a very difficult spot once Bobrovsky went down due to injury. After an expected slow start, he rebounded and turned in a very impressive performance for a young goalie. Korpisalo finished 16-11-4 in his rookie season with a 2.60 GAA and .920 save percentage. His .920 ranked 16th overall in the NHL. He then went to the AHL playoffs and got the Lake Erie Monsters their first six wins.
Korpisalo will have every chance at camp to earn the backup role. I actually consider him the slight favorite at this point. Considering how careful the team will be with Bobrovsky, I feel like the backup could see more games. If that's the case, I'd go with the player that gives me the best chance to win. Korpisalo proved he can not only win games but can put up impressive numbers in doing so. If the team goes to a 1A/1B approach, I'd keep Korpisalo up, especially with the number of back-to-backs on the schedule.
Korpisalo can't breathe easy, though. His good friend Anton Forsberg wants a piece of this action. Although he didn't get the NHL experience Korpisalo got, he made a major statement in the AHL playoffs. Forsberg came in for a struggling Korpisalo and didn't lose a game for the rest of the playoffs. He was especially impressive against Hershey in the Calder Cup Finals. I still think Korpisalo is ahead in the race, but it's not a gimme. The goalie who misses out could start in Lake Erie, depending what happens with McElhinney. Both Korpisalo and Forsberg could end up in Lake Erie to start, which would make for one of the best tandems in the AHL.
Who do you think starts the season as the #CBJ backup to Bobrovsky?

— Mark Scheig (@markscheig) July 15, 2016
Training camp will determine who Bobrovsky's backup is. If Korpisalo has a great preseason, it's very reasonable we will see him in Columbus to start the season. Don't forget that McElhinney's contract runs out after this season. He'll want to prove himself to get another contract. It's open season. May the best goaltender win (hopefully more than two games).