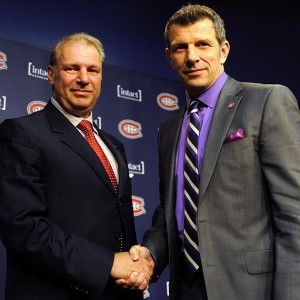 It's a sad state of affairs when the best-case scenario for Montreal Canadiens fans is that the team's front office internally acknowledges its defense got worse following the P.K. Subban trade. Then, general manager Marc Bergevin would only be lying to the public instead of himself as well and could actively go about trying to improve matters.
Granted, all the rumors as to why Subban got traded in the first place don't exactly instill confidence in the team's problem-solving abilities. Why bring in our working car for a regular tune-up when we can just trade it in? It may still run perfectly fine, but it's just too gosh darn flashy for our tastes. Let's get a gas-guzzling SUV instead! Those things are huge! Yay!
*For full effect, imagine Bergevin and head coach Michel Therrien waving their arms wildly while screaming out "Yay!" together*
The fact of the matter is, as explained in a previous post, sooner rather than later, the Canadiens will probably find themselves requiring a puck-moving left-handed defenseman to play with Shea Weber. If Nathan Beaulieu isn't the answer, they will probably have to look elsewhere.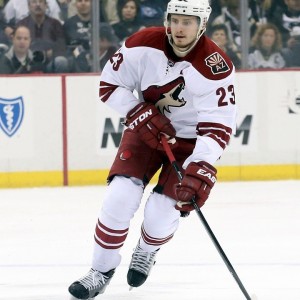 For an example, consider Oliver Ekman-Larsson as the perfect candidate. He's 25, under contract up until he's 28 at a cost-effective $5.5 million cap hit and is able to control the puck with the best of them. His SAT (shot attempts) Rel% (percentage relative to his teammates) was 5.5 last year, according to NHL.com.
In comparison, Weber had a SAT Rel% of -2.8.
In the interest of full disclosure, there are flaws here. Alexei Emelin had a SAT Rel% of 0.6 (Subban had one of 0.5). So, either Emelin was more valuable to Montreal than Subban and Weber to the Nashville Predators last year, or we're simplifying things just a tad for the sake of readability.
As such, it will remain the sole main advanced stat to be used below as a reference when evaluating, let's say, slightly more realistic options than Ekman-Larsson for the Habs to pursue. I mean, who the hell would trade away an effective and under-contract puck-moving defenseman in his prime? Am I right?
Here are five potential options.
Trevor Daley (SAT Rel% 0.5)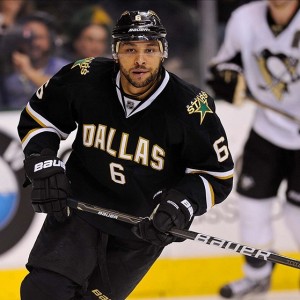 Consider Trevor Daley one of the worse options out there. Daley is well into his thirties at this point and isn't exactly known for his defense. He's also from Toronto like Subban, and, clearly, based on the trade, the Habs don't like Torontonians.
He's also one of the least likely to be available, considering he plays for the Stanley Cup champion Pittsburgh Penguins, who will likely want all hands on deck to defend their title.
Still, Daley will be an unrestricted free agent, his no-trade clause is no longer applicable this coming season and, it can't be denied, the Penguins were successful without him, going on to win it all after he got injured against the Tampa Bay Lightning in the third round. If Montreal were to make the Penguins an irresistible offer, who knows?
Calvin de Haan (SAT Rel% 1.3)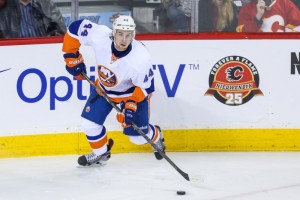 New York Islanders defenseman Calvin de Haan flies somewhat under the radar on a defensive corps that boasts Johnny Boychuk, Travis Hamonic, Nick Leddy and, more and more regularly, Ryan Pulock. Perhaps it's in part because his game lacks physicality. It doesn't necessarily make him less effective at getting the puck out, though, perhaps making him the perfect complement to Weber.
With John Tavares inching closer to unrestricted free agency (2018) and the Islanders under $4 million from the current cap, general manager Garth Snow could probably be forgiven for looking further ahead than he probably should. De Haan will be a restricted free agent due for a raise relative to his current $1.97 million salary next summer.
Again, it's even more unlikely in the league's current landscape that anyone will sign him to an offer sheet because his offensive totals don't exactly scream out at you, but the threat is there. Maybe Bergevin offers Snow a decent package in exchange to take him off his hands?
Tobias Enstrom (SAT Rel% 0.3)
Tobias Enstrom has definitely seen better days. Remember when he was one of the league's top up-and-coming defensemen with the Atlanta Thrashers? Well, remember the Atlanta Thrashers???
That was already five years ago, meaning, if my deductive reasoning is up to par, Enstrom is five years older as well. Indeed, his last 50-point season was 2010-11. Unfortunately, his output is declining at an exponential rate, with just two markers and 16 points in 2015-16.
Still, the Habs don't necessarily need a defenseman who scores regularly. That should be Weber's job, even if only on the power play as he gets older and less capable of bringing it up the ice at even strength. That's where Enstrom would come in.
Whether or not he would be available is anyone's guess, though. He's got a no-movement clause for starters. But, in a league where salaries are largely reflective of point production, Enstrom's $5.75 million seems kind of high. Can a small-market team like Winnipeg justify paying him that amount? How about when there's really no one else beyond him to play on that team's left side?

Oscar Klefbom (SAT Rel% 3.3)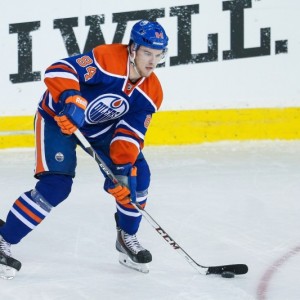 For the longest time, Edmonton Oilers defenseman Oscar Klefbom was part of the rumored return in hypothetical deals involving P.K. Subban. Everyone laughed, thinking along the lines of "there's no way in hell the Habs trade P.K. Subban," or "even if they did, they would have to get a hell of a lot more than Klefbom back in exchange."
Well, times change. Laughter has turned to hysterical tears, all the while curled up in a corner in the fetal position. The Canadiens should have been so lucky as to get even just Klefbom back instead of Weber, for a number of reasons, not the least of which is his age, at 23 (compared to Weber's 31). His puck-moving and mobility are also reportedly top-notch. Think Subban with greater defensive awareness, but less offensive ability, ironically perhaps making him the ideal defenseman in the Habs' eyes to play alongside Weber.
Of course, Klefbom shouldn't be available. Granted, Taylor Hall shouldn't have been either, but it's apples and oranges to a certain degree because the Oilers had plenty of forwards. They needed more defense. Now that they have Adam Larsson, their problems aren't completely solved, and it's unlikely the Oilers would trade away a potential top-pairing defenseman to play with him.
The only hope the Habs would have is the Oilers see a logjam on defense with Brandon Davidson, Andrew Ference, Andrej Sekera and Darnell Nurse being left-handed shots as well. Are they that shameful at evaluating talent that they would deal Klefbom before any of the first three? Remember: Jeff Petry.
It may have been a different general manager, but Peter Chiarelli has now more shamefully traded away each of the top two picks in the 2010 NHL entry draft for much less than market value.
At this point, it's not so much about the Canadiens and them needing a top-pairing left-handed shot. It's about hockey fans in general. What happens when Chiarelli and Marc Bergevin go head-to-head in negotiations? Assuming anything short of scorched earth, everyone absolutely needs to find out.
Éric Gélinas (SAT Rel% 5.4)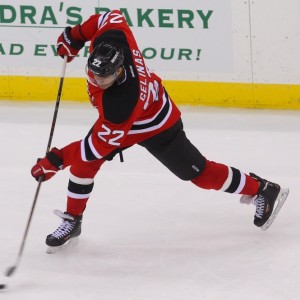 Going off the board a bit, the last entry on this list is Colorado Avalanche defenseman Eric Gélinas.
At this stage of the game, it's hard to picture him as anything more than a top-four defenseman (squinting all the while), but the Habs need to ask themselves pretty quickly how high Beaulieu rates in their eyes. Gelinas may very well be an upgrade. It wasn't too long ago (2013-14) that Gélinas put up 29 points in 60 games for the Devils.
What they would get in Gélinas is someone who's slightly bigger and older (closer to his prime), who is as close to rock bottom value-wise as he's ever been. This is a guy who was marginalized in New Jersey, regularly serving as a healthy scratch, before getting traded to Colorado and promptly getting injured six pointless games in.
But, ooh, look! He's got French acute accents in his name! David Desharnais doesn't even have any!
In all seriousness, Gélinas would be a work in progress, but a dirt-cheap one who has the potential for greatness. He may not be great defensively or physically (despite his 6'4" frame), but the advanced stats at least say for the past two seasons he's driven possession much better than his teammates (SAT Rel% 1.5 in 2014-15).
That admittedly may not take into account how sheltered he may have been by his head coaches, but, seeing as it shouldn't be long before Montreal has to do the same with Weber, it might make him an even greater fit.