The Columbus Blue Jackets will try anything at this point if it means getting help at center ice. They've now turned to a veteran hoping they can provide a spark.
Riley Nash has spent most of his Blue Jackets' tenure centering a line in the bottom-six. But with the desperation level at its highest point in some time, Nash is now getting a chance to play in the top-six. He spent Tuesday night there. For now, it appears he will continue in that role playing alongside Patrik Laine and Oliver Bjorkstrand.
This is not a new thing for Nash. In his time with the Boston Bruins, Nash filled in on occasion when there were injuries and played admirably in the top-six. This is a different situation though. In Boston, there was an established top-six. In Columbus now, that is still yet to be determined.
Nash spoke to the media on Wednesday and says he will play the way he knows how to play.
"I just try and be as consistent as possible to be honest," Nash said. "Lineups are gonna change. Guys are gonna get hurt. You're gonna get shuffled around after good nights, bad nights. So (I'm) just trying to be as level headed as possible and stick to what I do best. I feel like the last two weeks or so I've been playing much better, a lot more confident, wanting the puck, making plays with it."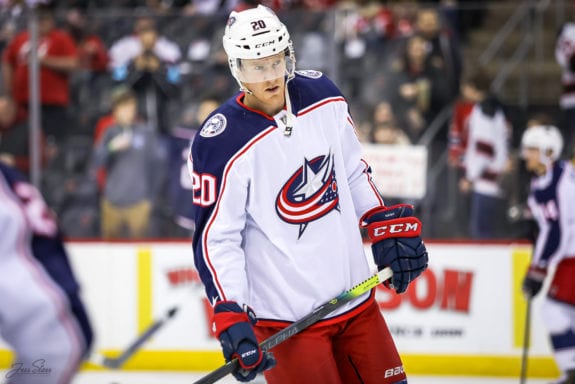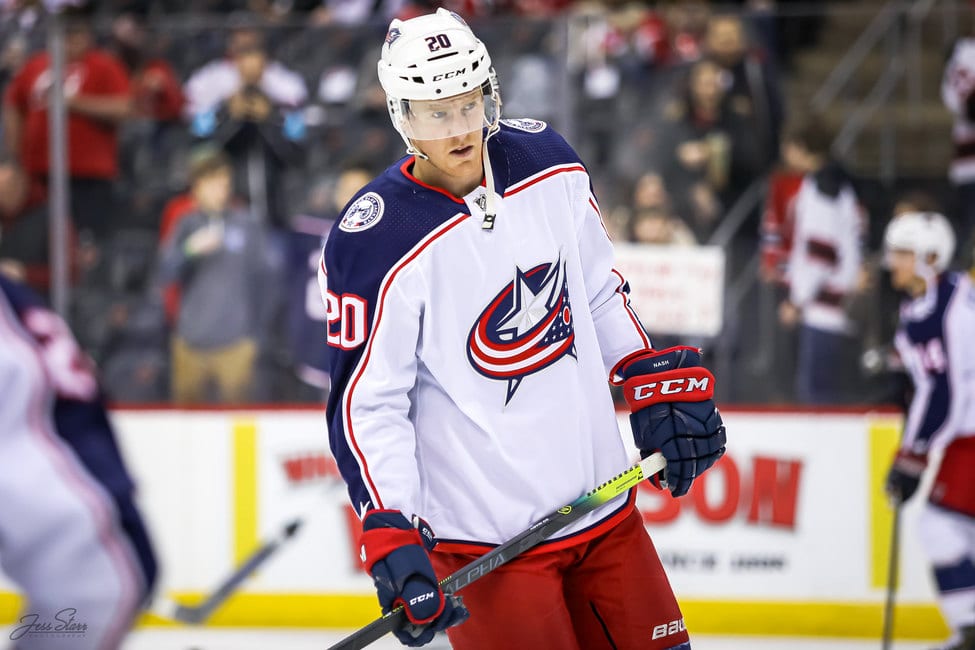 Nash also says he knows the kind of game that Laine plays. He knows he needs to get him the puck.
"I kind of know the way he (Laine) plays," Nash said. "If he's expecting me to be Connor McDavid for him, that's probably not going to happen. But at the same time I know I've got to make more plays for him and get him the puck (and) find ways to make that happen. For me if I can get it out of the D-zone as fast as possible and get it into their hands, that's a job well done. I'm just trying to create as much space in the O-zone as possible."
Head coach John Tortorella has been impressed with Nash's game as of late. He's earned this opportunity and has provided offense in the coach's sight.
"He's been one of our better centers," Tortorella said. "He's given us some good minutes. He's made plays. He's getting a position with some offensive guys because he deserves to be there. And other guys haven't done the job, a little bit of both. When we've given (Nash) an opportunity, he's made plays. He's very responsible. It's another part of some of our centers especially (Texier) and (Roslovic) is are you able to handle situations in our end zone defensively which is a very important part of that position. There's a lot of things that need to be learned with some of our inexperience. Nash is a very smart player below the hashes and I think he's provided us with some good offense. That's why he's getting the opportunity that he has."
So while Nash has earned this opportunity through his play, it also shines a light on just how desperate the center position is on the Blue Jackets. Are Texier and Roslovic centers at this level? That's a legitimate question the team will have to answer. For now, Nash will get a chance to continue in a very important spot on this team. He will also play bigger minutes as a result.
At this point, Nash is probably their most accomplished center. Whether this move works or not is to be determined. But it's easy to see why the Blue Jackets are trying it. It's out of necessity given the depth chart.
Laine played a good game Tuesday despite not scoring a goal. If this line can start to produce, that will be a huge lift for them. But for now, it's a big if. We'll see if this decision eventually pays off.
Side Dishes
Tortorella is all about the effort of a player. If you don't give it your all, you'll find yourself in a jam. It seems Roslovic is in that jam right now. Tortorella said postgame and reiterated on Wednesday that the issue with Roslovic was his effort. "The other stuff is going to take some time with him…but you better (expletive) compete." We'll see if he draws out of the lineup for a game as a result of this. Tortorella would not reveal his lineup as is customary on a non-game day. But it is something to monitor not only the competing part but the what position will he play part?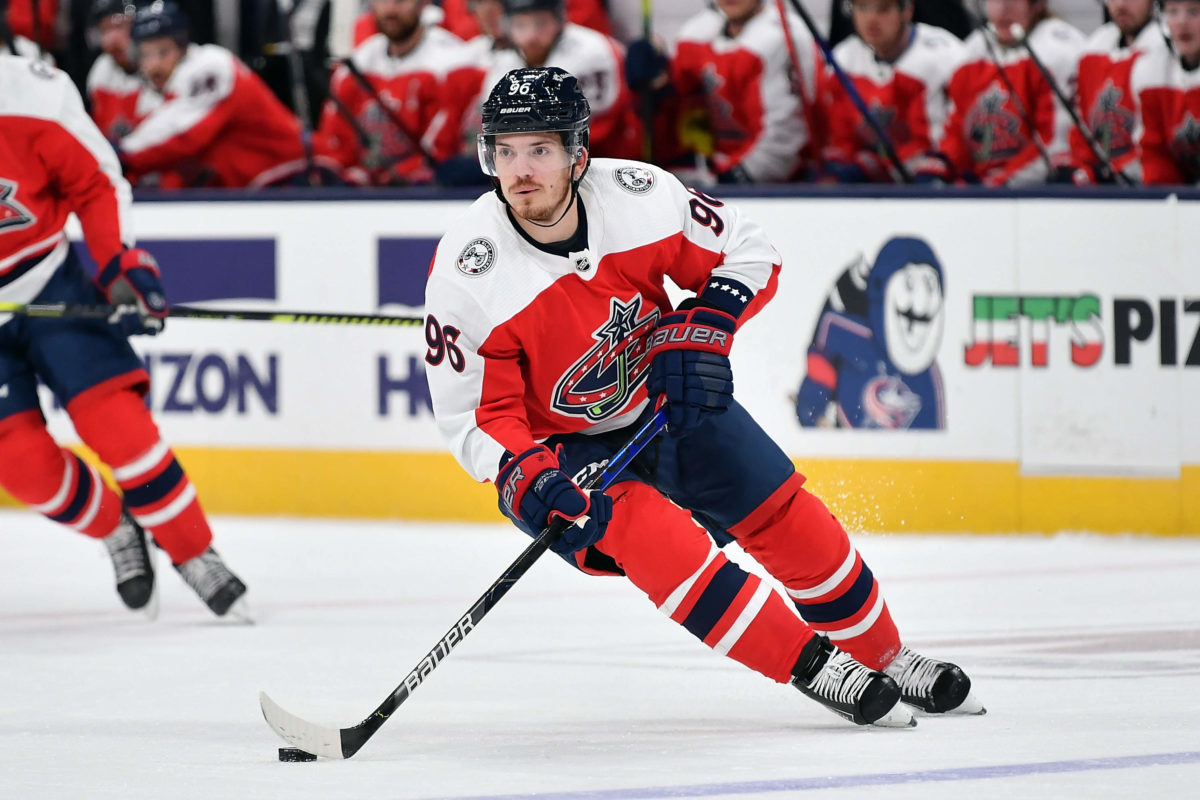 Alex Texier had a good game on Tuesday. You just wonder if at some point the Blue Jackets give him a chance with Laine to see if they have chemistry. But like Roslovic, questions surround him about if he's a center. If he consistently plays like he did on Tuesday, maybe we will see something sooner rather than later.
The line of Nick Foligno, Boone Jenner and Cam Atkinson will remain together on Thursday, Tortorella did admit. They generated chances and had chemistry. Of all the current lines, this is the one where you can at least say there's an identity based on what they want to do.
The Blue Jackets had one of their best games of the season Tuesday in terms of scoring chances created. Now they have to finish. But if they can continue down this path, there may be some better days ahead.
Gus Nyquist went through a full practice on Wednesday. He has been skating and participating in some things before this but the fact he went through a full practice is certainly encouraging. There still is not an exact timeline for his return but the team clearly misses him.
The Blue Jackets enter Thursday just six points behind the Blackhawks for fourth place in the Discover Central Division. Given the inconsistencies of the Stars, Blackhawks, Predators and Red Wings, this race is not over. But the Blue Jackets have to go now. These next three games at home aren't must-win by definition, but they might as well be especially the weekend set against the Stars.
---
---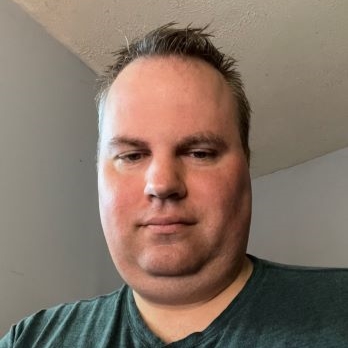 I am a fully credentialed writer who covers the Columbus Blue Jackets, Cleveland Monsters and Erie Otters as well as the Ontario Hockey League and NHL Draft. The 2022-23 season will mark nine seasons with the Hockey Writers. I am also the site's Credentials Manager. Please take note of the updated Twitter handle: @mark_scheig.