Blue Jackets contributor Mark Scheig answers questions from fans periodically throughout the year. Tweet your question or comment anytime to @THWMark.
Who do you think will be the biggest, positive surprise this season as far as performance goes?
@cbjsocial
This is a great question. With all of the moves the Blue Jackets made to improve their roster, there are many candidates for most surprising player. Some names that come to mind are Cam Atkinson, Boone Jenner, Alexander Wennberg, and Matt Calvert.
To me, there is one player on the roster that is on the verge of a major breakout that nobody is talking about. That player is David Savard.
The attention this offseason focused on the Blue Jackets' pursuit of a top defender. They haven't acquired one as of this writing. They already have one in Savard. He played in all 82 games, while playing 20 minutes or more in 74 of the 82 games. His biggest impact came on offense.
Savard tallied 11 goals and 36 points this past season, after recording five goals and 11 points the season before. Given the Blue Jackets improvement up front, Savard could become one of the better offensive defensemen in the game. A season of 15 goals and 50 points is possible. I expect Savard to have extra motivation given the talk of acquiring another defenseman. It's just the kick-in-the-pants he needs to produce a career season.
We have the C in Columbus now (Nick Foligno). Who do you expect will wear the A's this season?
@TheUBSoldiers
I think Brandon Dubinsky and Jack Johnson will each get an "A", given they've each worn it in the past. If the team handle this like they did in the past, others will also have an opportunity.
I think Ryan Johansen is ready for an "A". What a difference a year makes, right? This time last year, we were wondering about his contract. Now, he's on the verge of stardom. The way he handled himself last season showed a new level of maturity. We'll see if management agrees.
I could also see Jenner or Fedor Tyutin also wearing an "A" at some point this season. We'll see if the team uses different alternates for home and road games.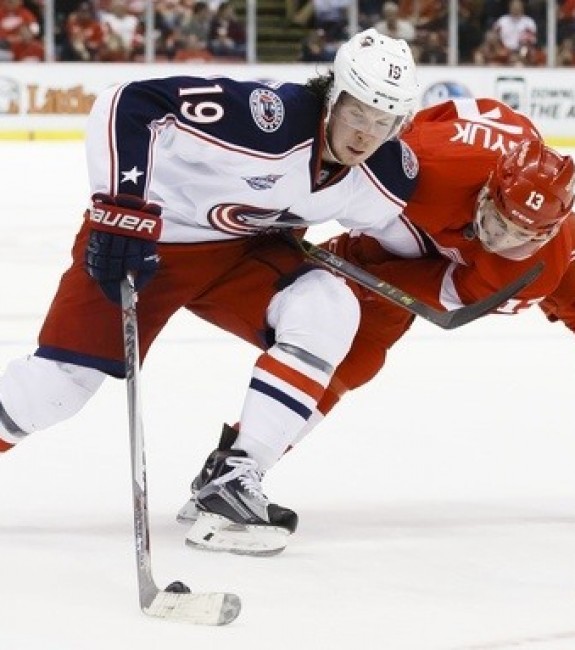 With the amount of forwards up now, who will have to fight to really keep their job?
@cbjfan04
Everyone. Management is on record saying as much. Granted, some players are safer than others. Training camp will have many great battles just to make this roster. It's not limited to just forwards.
Cody Goloubef is currently slated as the 7th defensemen. He signed a one-way contract. The battle for the final spots on defense is worth watching. Michael Paliotta is in the mix, along with Justin Falk, and Dalton Prout. Dillon Heatherington will also have a chance. Kevin Connauton will have a lot of competition to keep his job.
Up front, Jared Boll and Rene Bourque have a fight ahead of them. Prospects Sonny Milano and Oliver Bjorkstrand are going to push hard to make this roster. I ultimately think Milano and Bjorkstrand start in the AHL, but will have time in Columbus as injuries happen.
Given the depth on this roster now, the interesting thing to watch is how upcoming restricted free agents play this season. With top prospects making a push for a roster spot, these RFA's will fight for a new contract. Given the salary cap, there's hard decisions coming for the team. Nobody is safe. Enjoy what is going to unfold. There are many storylines to watch in Columbus this season.