The Columbus Blue Jackets opened Training Camp on Sunday with physicals and media availability. Here is a breakdown of some takeaways from that availability.
Here We Go Again (Dubois)
We thought we'd have a quiet start of camp this season for the Blue Jackets. And then an unexpected bomb was dropped.
Despite indications that talks between the Blue Jackets and star center Pierre-Luc Dubois were positive, reports came out indicating that Dubois might want a change of scenery in part because of how negotiations went.
On Sunday, there was nothing said that refuted these reports. Dubois, GM Jarmo Kekalainen and head coach John Tortorella all addressed questions about his possible desire to leave Columbus. Dubois did not want to get into specifics.
"Our goal was to get a contract before camp," Dubois said. "The team, my agent and myself have held private talks and they'll remain private."
It's not exactly a ringing endorsement. Clearly something is bothering Dubois. As to what exactly that is remains unknown. Regardless, he is under contract and ready to attack the season.
"I'm going to be the best player I can be, the best teammate I can be and the best person I can be," Dubois said. "I don't want it to be a distraction, so I think that's the only way. If I go out there and work hard in practices, have a good attitude, work hard in games, play well, I think it's not a distraction. If I don't do those things then it could become (a distraction) but I know the attitude I'm going to have."
The first obvious situation that will be monitored is can Dubois continue to improve and play at the level he has to play at without letting the outside noise get in the way? Artemi Panarin still enjoyed a great season despite his unwillingness to sign long-term. Dubois thinks he can do the same. He has to prove it now.
As for Kekalainen, he remained confident that a deal would get done. He took it even one step further on Sunday saying that negotiations with Dubois were smooth.
"I said all along through the whole process that I'm not worried at all (that he would sign)," Kekalainen said. "Actually our negotiations went very smooth. It's just the timetable was what it was."
Tortorella says they will treat this in a similar fashion to they way they treated the Panarin/Sergei Bobrovsky situation.
"This is the world we live in and we're transparent about everything, not just Bread and Bob," Tortorella said. "There's a number of things that go on during a hockey season that I think it's important that it belongs in the room where everybody's involved with it, in understanding what's going on."
"Everybody's going to understand where everybody stands, not only in Luc's situation but in other situations as we enter camp. And then we're going to get about our business and get ready to play."
Stay tuned on this one. This story will hover over the team and get red-hot should Dubois struggle for any reason. As for the question as to why this team keeps finding themselves in these situations, it's really hard to say. Every situation is unique. But it does seem like a pattern has developed.
Lines Are Not Set
We thought we had an idea of what the top-six might look like come opening night. Hope you brought your erasers.
The Blue Jackets have decisions to make all over the ice. Tortorella admitted on Sunday to having a conversation with Max Domi and telling him to not think he's pigeon-holed as the second-line center.
With the Dubois situation unfolding, Domi with a strong showing in camp could open as the top center. Even Tortorella admitted having a conversation with Mikko Koivu and the thought that he can't score and will only be relied upon for defense.
When it comes to offense, the Blue Jackets need to find more of it to enjoy any success. Tortorella will open this up for anyone that can provide it.
"We want to open this up to all the people," Tortorella said. "We need to be better offensively. Players need to believe that they can score goals."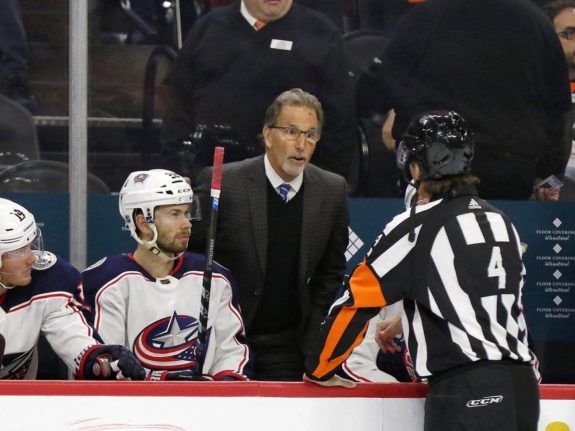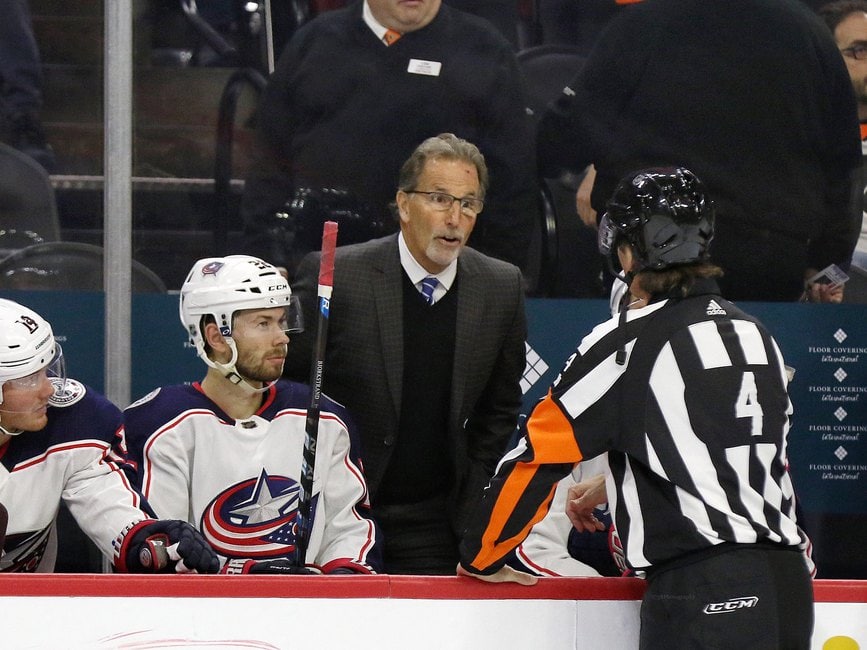 With camp not having any preseason games, players who show well during the practices could get a chance to show what they can do with more ice time and playing higher in the lineup. Just don't put anything in permanent marker yet. Nothing has been settled.
Quick Hits
The players seem excited about the condensed schedule and playing teams eight times this season. Boone Jenner admitted he was excited while Nick Foligno took it one step further. "I think I'm going to be in the penalty box a little more." This will be worth watching league-wide with teams seeing each other and becoming more familiar with each passing day. Will we see new rivalries born? Will games have extra spice in them? I tend to think so, but we'll see. Foligno believes the emotion will be there.
The ultimate wildcard is Mikhail Grigorenko. Watch him in camp and early in the season. The team is eager to see what he'll bring.
As for what the team hopes to accomplish in the 11 days of camp without preseason games, Seth Jones says they're ready to go now. They've had a group in town skating for the past few weeks. He says they will focus on systems and get a couple of scrimmages in so they can get that "game-like" feel back. With a shortened season on the horizon, they better be ready to go come Game 1. One long losing streak could end your season.
Just two injuries of note. Gus Nyquist is still recovering from surgery but is progressing well according to Kekalainen. And there is no change in the status of Brandon Dubinsky. He remains unable to play.
Finally, Kekalainen did reiterate the cap flexibility they have. Should an opportunity present itself, he said they will take advantage of it. He also said he has the support of ownership if that does come up. When Dubinsky goes on LTIR, that will leave the team around $10 million in cap space available. He mentioned it after last season. He mentioned it again today. They're on the hunt. It's just a matter of when not if.
Training Camp Schedule
The Blue Jackets have split into two groups. Group 1 will be your mostly NHL group while Group 2 will comprise everyone else. You can see the breakdown below.
Group 1 will generally in the morning (11 A.M.) while Group 2 goes in the afternoon (2:30 P.M.)
There will be two scrimmages at night on both Jan 6 and Jan 10. There is no practice on Jan 7 and Jan 11 (the day after each scrimmage.) Practices will not be open to the public. They will fly to Nashville after their Jan 13 practice in preparation for their opener against the Predators.
---
---