What's The Grind Line? Apart from the once-famous line of Kris Draper, Kirk Maltby, and either Joe Kocur or Darren McCarty, The Grind Line is also The Hockey Writers' weekly column about the Detroit Red Wings. This week Tony Wolak, Devin Little, Ian McNaughton, Patrick Brown and Peter Ploshehanski are the muckers who make up THW's forechecking unit and sound off on Red Wings topics.
Happy New Year! With 2020 in the rearview mirror, it's time to look forward to what 2021 holds.
This past year was rough on almost everyone, with the Detroit Red Wings being no exception. They of course finished the abbreviated 2019-20 season with an abysmal record, and then watched as the draft lottery knocked them down to the fourth pick in the 2020 draft. They then had a very busy offseason which should give fans plenty to be excited about in the new year.
In honor of that age-old tradition of setting New Year's resolutions, our Red Wings team here at The Hockey Writers are here to share what resolutions they have in mind for a team that has plenty they can work on in the new year. Will they be obtainable, or are they just as doomed as people's fitness resolutions? Let's find out….
Tony Wolak: Get Serious About Winning
The running joke in the Wolak household revolves around Detroit's rebuild.
Tony: "The rebuild is progressing – the Red Wings are going to be a good team in 2022." (Or something along those lines.)
Steph: "They've been rebuilding for like 10 years!"
Tony: "…well, actually… okay, that's fair."
This is Detroit's year. Not to go to the gym. Not to eat better or demolish debt. This year needs to be the year that the Red Wings emerge from their rebuild. No more rock bottom. The Red Wings need to start ascending, and it starts with being competitive every night.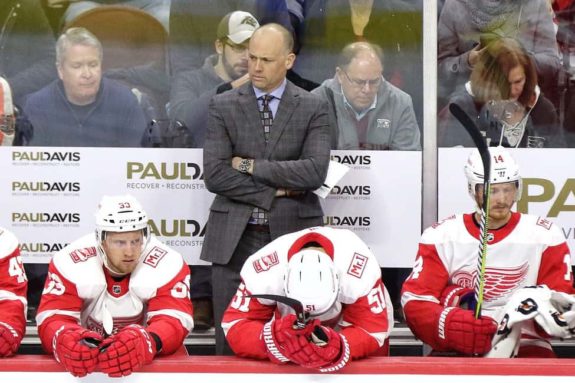 It sounds like the team is hungry to win more. Losing by four-plus goals should no longer be tolerated. Whether it's this season or the 2021-22 season, the Red Wings need to show the NHL that they're back.
Devin Little: Optimization
I referred to this word on one of our recent live shows (Friday nights at 8 PM EST by the way) while we were discussing head coach Jeff Blashill and our expectations of him. Since then, I've thought about this some more, and I'm prepared to make my case as to why this needs to be the Red Wings' resolution for this year.
We all know that Blashill is going to bring out the line blender at points during this season – every coach does it. This is partially why I say the Red Wings need optimization, not continuity. When your lineup is fully-optimized, you've got players plugged into the roles that best suit them. What does this look like? I'm glad you asked.
Luke Glendening is a bottom-six forward, therefore I don't want to see him in the top-six. Alternatively, Filip Zadina should be a top-six forward this season, so I don't want to see him skating with the fourth line. Of course, chemistry plays a big role in determining who plays with who, but you can clearly observe when that is the reason why a player is playing higher or lower in the lineup than they maybe should be.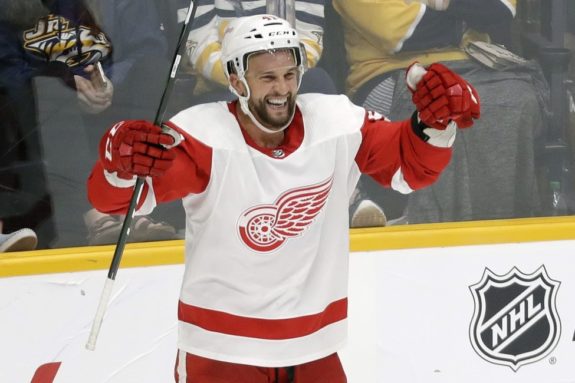 All other variables aside, optimization is about getting the most out of your players. Let your grinders grind and your scorers score. If everyone is in a position to do what they do best, you'll hear no gripes from me!
Ian McNaughton: Look Alive Out There! 
I'm going with a timeless classic that I've been told once or twice (ok maybe like 10 times) in my playing days. One of Detroit's goals this upcoming season should be to give a 60 minute effort every night. I know it's a cliché, but there were times last season when this team would give up an early goal and then look deflated for the rest of the game. Well, that stops here.
From now on, self-pity will not be accepted from this team. This is the Detroit Red Wings we're talking about, one of the most historic franchises in North American sports. No one is going to feel sorry for you if you're the worst team in the league again. 
I don't know how many times people made fun of me for being a Red Wings fan last season. That irritated me, and I didn't even play for the team. The players surely were more agitated that I was and I hope that shows when they hit the ice next season. As my dad would say "look alive out there, sport!"
Patrick Brown: Project Confidence and Hold the Lead!
The old SNL skit rings true more than ever this year: "I'm good enough, I'm smart enough, and doggone it, people like me!" This year's resolution needs to be centered around projecting confidence once the Red Wings jump ahead in a game.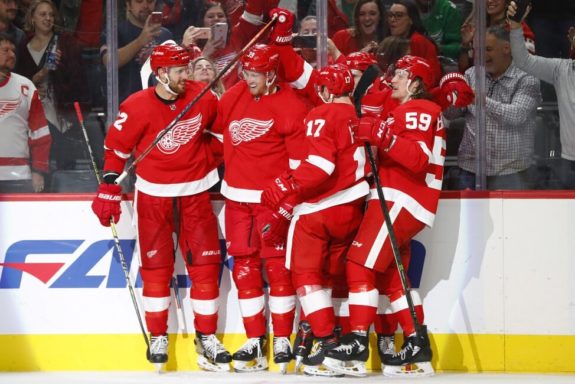 Last season, Detroit consistently sacrificed the lead moments after scoring, something that needs to drastically change in order to show any semblance of improvement. This season, once a goal is scored, don't let up off the gas! The team is in a much better position to do that with more secondary scoring options, not to mention a stronger blue line and goalie tandem, so it's time to take that next step and shut down the opposition's post-goal counter attack.
Last season it often felt like the Red Wings gave up goals in spurts, so controlling the puck and forcing the issue on offense after taking the lead should be a top resolution heading into the new year. Get the goal, get back out on the ice, and keep up the pressure! There's a real opportunity to illustrate lessons learned and finally come out on top in close games, because the Red Wings are good enough, smart enough, and doggone it, people like you!
Peter Ploshehanski: Cheer Them On!
I am actually going with my own version of a Red Wings New Year's resolution. I am no longer going to cheer for losses to lose out on points for better lottery odds. The dagger last year of being so bad and watching a playoff team get the first pick…man, it really hurt (I literally almost put a hole through my wall, but realized how mad my wife would be.) But after getting Lucas Raymond at fourth overall, which feels like a first overall pick – not to mention some gems from the later rounds – I am very happy right now.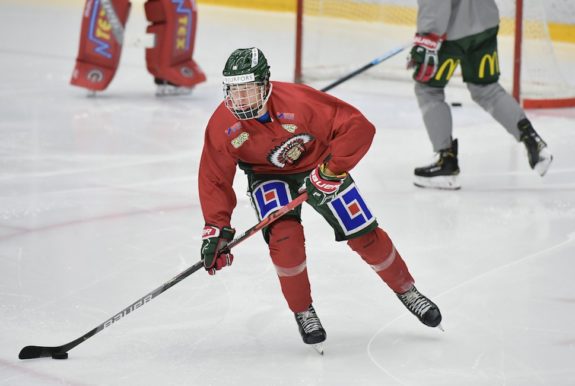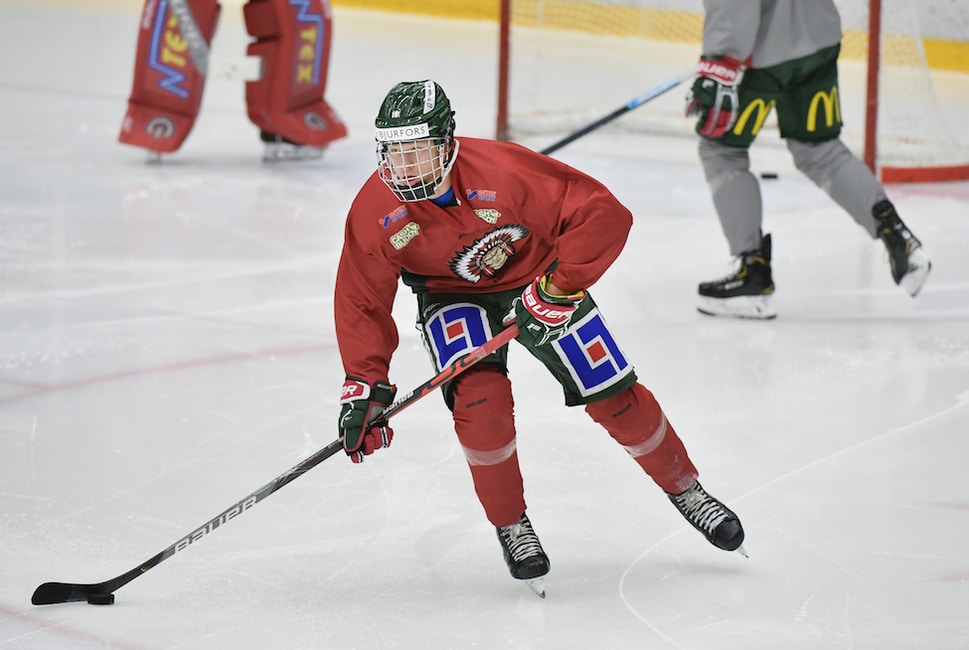 Some have argued in the past that I'm a bad fan for rooting against my team but I say nay – I am an ultimate super-fan. I'm willing to cheer against them. I want them to be as bad as possible so they can have a generational talent to build another dynasty around in the future. But that is all over with. From this point forward, I am only cheering for great Detroit hockey games and I promise to chirp every Hawks fan I see. Yes, even the 10-year-olds at Target.
More from 'The Grind Line'
Want more Red Wings content? Tune into The Hockey Writers' Grind Line — a new weekly live show on YouTube and Facebook. We stream Friday nights starting at 8:00 pm ET on The Hockey Writers YouTube channel. Check out our most recent show below, and make sure you subscribe to the channel so you don't miss any upcoming shows.
---
---