The rivalry between Chicago and Detroit is one that appears in every major sport. The Lions don't like the Bears. The Bulls and the Pistons have had some infamous playoff meetings. Whether you're a Cubs or White Sox fan, you're probably not a fan of the Tigers. And, of course, the Red Wings and Blackhawks take their rivalry all the way back to the Original Six era. 
Two of the most iconic sport franchises across the world, the Red Wings and Blackhawks have seen their rivalry morph as either team went through the ups and downs of team building. During the "Dead Wings" era, the Blackhawks were happy to kick their neighbor across Lake Michigan while they were down. During the early 2000's, the Red Wings more or less had their way in the Windy City. Fans won't always admit it, but despite all of this, this rivalry is at its best when both teams are competitive. 
Until the Red Wings' move to the Eastern Conference at the beginning of the 2013-14 season, these two teams were division rivals from 1981 and on. Prior to that, they had been division/conference rivals from the Original Six days up until 1970. With the NHL's recent announcement that both teams would be a part of the "Central Division" during the 2020-21 season, the excitement of a reignited rivalry has spread across both fanbases.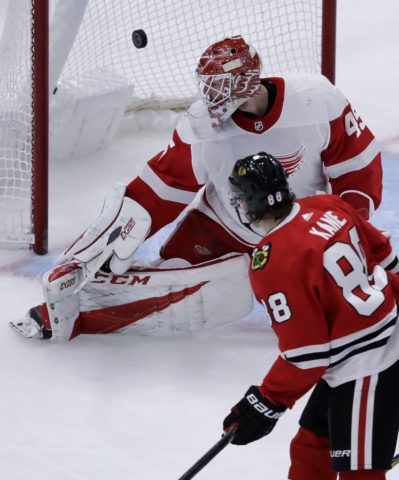 Today, we have gathered members from both the Red Wings and Blackhawks teams here at The Hockey Writers to look back on moments from this rivalry's past, as well as project what the future of the rivalry may look like given that these teams are set to play each other A LOT this season. Although the rivalry has seen fiercer days, it probably won't be long before things get testy between two teams and two fan-bases that absolutely love to triumph over one another.
What's Your Favorite Memory of this Rivalry?
Greg Boysen: There have been so many great games between these two old rivals. Unfortunately, during the late 90's and early 2000's, most of them didn't go the Blackhawks' way. Obviously, watching the Red Wings choke away a 3-1 series lead and lose Game 7 in 2013 is one of my favorites. I was at the United Center that night and thought there was going to be a riot after Niklas Hjalmarsson's goal was disallowed. Thankfully, we sent you guys packing to the Eastern Conference in style, courtesy of No. 7. 
However, my favorite game was the 2009 Winter Classic. Even though the Blackhawks lost that game, that was the day that the team was important again; not only in Chicago but nationally as well. There was an amazing atmosphere in Wrigley Field and the surrounding neighborhood walking up to the park. It just felt like an important event. It was 18 months later that the Blackhawks ended their Stanely Cup drought, but their days of being a relevant franchise again began on this cold afternoon.
Devin Little: When I was a little boy, I used to refer to the hockey team from Chicago as the "Chickenhawks" – clearly I hadn't mastered the art of a sick burn quite yet. But alas, even in my adolescence, I felt the passion of a rivalry that extends way beyond my existence, and even beyond my grandparents'. Living in Michigan, you're bound to encounter the rogue Blackhawks fan every once in a while, because even they know that the Mitten State has got it going on.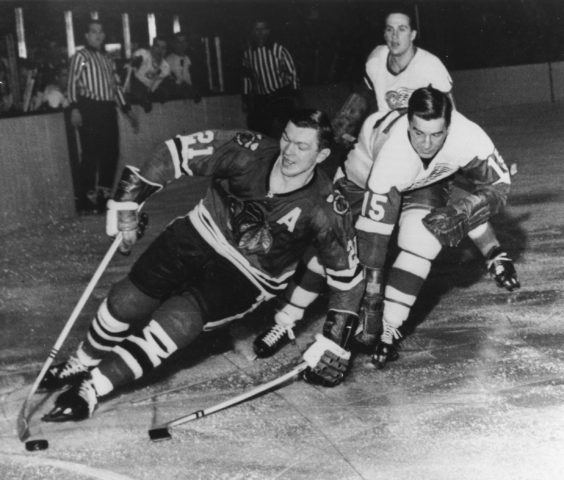 As for my favorite memory from this rivalry, I look back on the 2009 Western Conference Final where the Red Wings won their second-straight Clarence S. Campbell Bowl by defeating a young Blackhawks team in just five games. The embodiment of this series, to me, was the moment where Red Wings' winger Johan Franzen took Patrick Kane's mouth-guard right out of his mouth in Game 4. It was straight up bully tactics as the Red Wings had revealed themselves to be the better team in that series – like big brother picking on little brother.
There have certainly been more contentious moments throughout this rivalry, but this moment was one of the last times the Red Wings really "put them in their place" if you know what I'm saying. I miss those days.
Patrick Brown: Oh man, so many to choose from. Having grown up in the Chicago area as a Red Wings fan, I was exposed to the "Detroit Sucks" chant live and in person more than any Wings fan ever should. So, while I'd love to sit here and talk about how Darren Helm's 2009 Western Conference Final clincher is my favorite memory, I must instead defer to a little-remembered game back on December 23, 2005.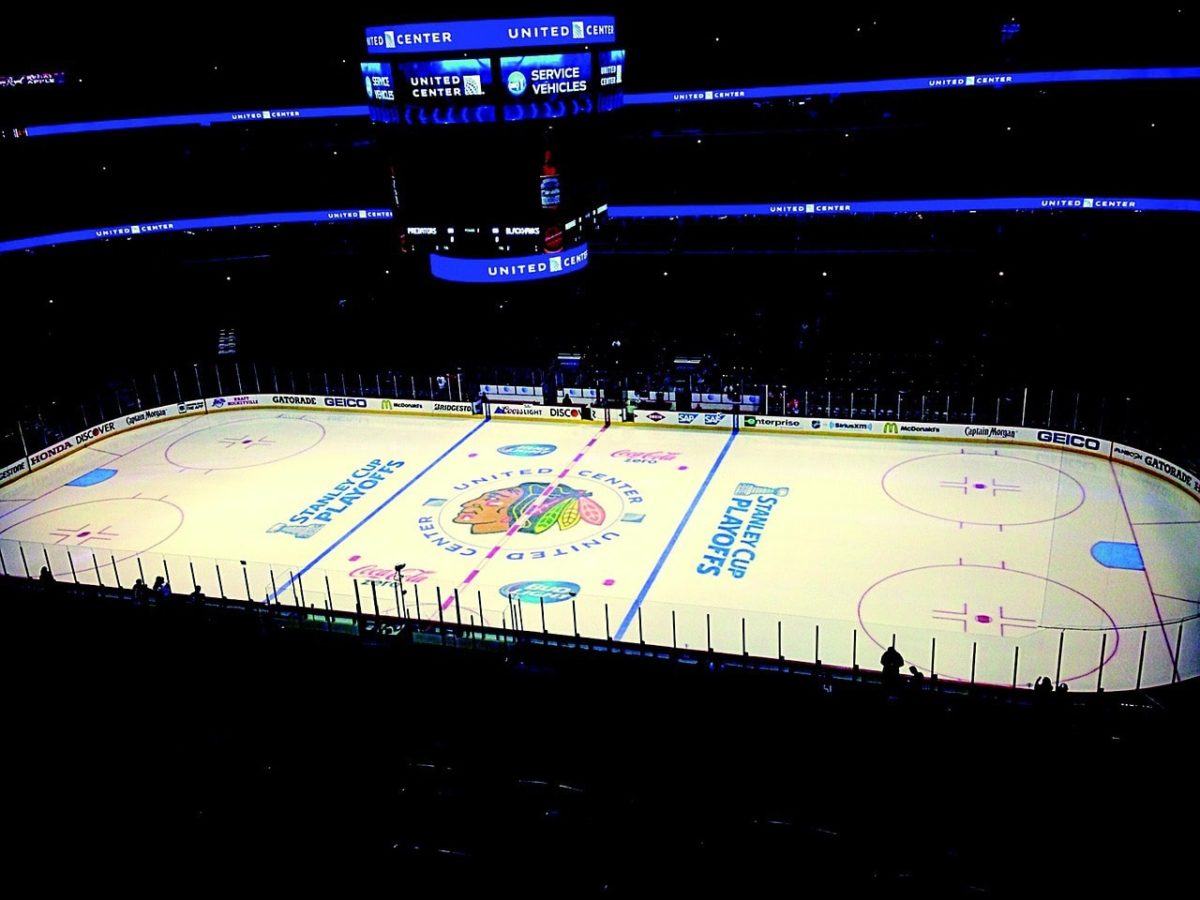 To set the proper stage, my brother and I (among others) ventured from the suburbs to the United Center for the game. Mind you, Chicago was not very good then, so any Hawks fans that showed up hadn't jumped on the bandwagon yet – they actually knew something about the sport. So, imagine their delight as I sat in my Shanahan sweater and saw Chicago powerhouse players Tyler Arnason and Martin Lapointe (yep!) help the team to a 2-0 lead, which the Blackhawks maintained right up to the final minute of the game.
Oh, the taunts. Even when Kris Draper made it 2-1 at 19:21, fans were in my ear reminding me of the inevitable outcome. That is until Nicklas Lidstrom tied it 30 second later, and then Pavel Datsyuk won the game with under one second left in overtime. I'd say the crowd fell silent, but given that over half the arena was made up of Detroit fans, that would be inaccurate.
That was, by far, the greatest walk my brother and I ever had out of the United Center, high-fiving other Red Wings fans while heading out towards Madison Street.
Brooke LoFurno: For my favorite rivalry memory, I am going to go more recent. In January 2018, Blackhawks' forward Alex DeBrincat scored his second career hat trick against the Wings. I love this moment specifically because of the fact that he is a Michigan-native. It feels like a round-about way of payback since the Wings passed on him in the 2016 NHL Draft. Of course, most teams did because of his size, but was a fun moment regardless, considering where both the Hawks and Wings are at now.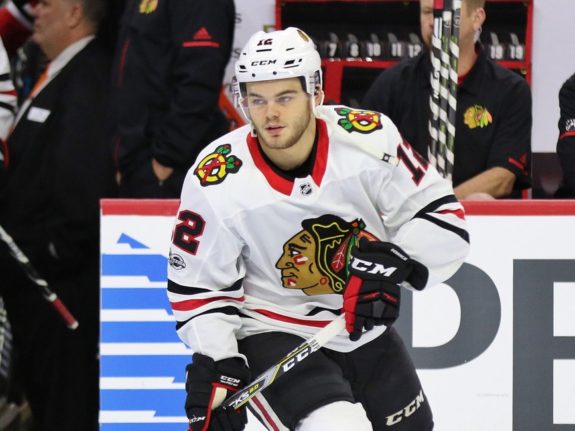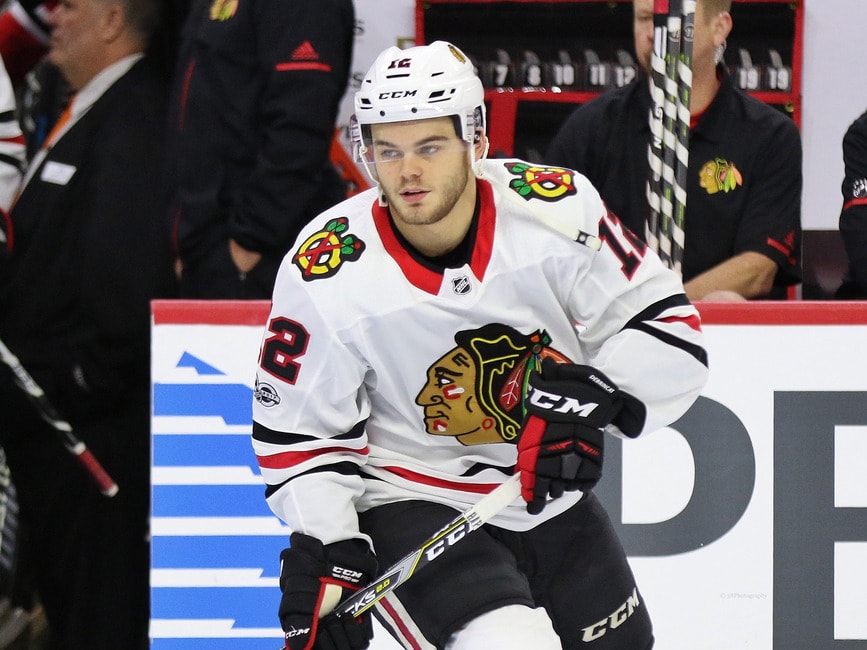 Of course, I can't leave out that my other favorite part of the rivalry, which Patrick just mentioned, is when Hawks' fans chant "Detroit sucks" during their matchups. It proves how deep the passion goes for this rivalry.
Players That Swapped Sides
Gail Kauchak: It's tough for me to acknowledge Marian Hossa was ever anything other than a Blackhawk, but he did spend a season with the Pittsburgh Penguins and then the Red Wings before coming to the Blackhawks. The irony is he lost in the Cup Final to the Red Wings as a member of the Penguins. Then he signed with the Red Wings and lost in the Final to his former team, the Penguins.
You can imagine Hossa thought he was cursed. But the curse finally ended the following season when he signed with the Blackhawks and helped them win the Cup in 2010. We all know it didn't end there, as Hossa and the Blackhawks won again in 2013 and 2015. Hossa was recently inducted into the Hockey Hall of Fame, but the ever-humble winger credits his time in Detroit playing with legends Pavel Datsyuk, Henrik Zetterberg and Chris Chelios as having helped teach him a more all-around game. Thanks for the help, Red Wings!
Peter Ploshehanksi: My Father Greg Ploshehanski was raised in Detroit proper. He HATED Chris Chelios with the burning passion of a thousand suns. Every time the Wings would play the Hawks he would call him every name in the book.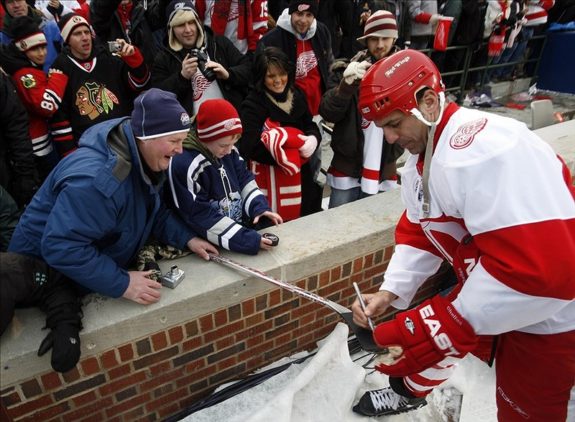 A crybaby, a diver, a chicken hawk, a big-nosed, fake-tanned goon. One time he said the guy can't even play defense! There were expletives peppered throughout these of course. But around 5 PM on March 23, 1999 when my dad got home from work, he burst through the door.
"We got him, We got him," my dad exclaimed. He smiled and danced around the kitchen, kissed my mom, and high fived me.
"Got who," asked my mother.
"CHELIOS, WE GOT CHELIOS for two 1st round picks and Anders Eriksson!"
"I thought you hated him," I asked.
"No, I just don't like the Wings playing against him, but now he's on our side, you know what I mean." I did not. That was the very moment I learned to be hated in sports means you are usually just jealous that they don't play for you. Chelios helped the Red Wings earn two more Stanley Cups in 2002 and 2008 and to this day, my dad loves him.
GB: Hossa comes to mind for most Blackhawks fans, but it wasn't like he was a life-long Red Wing that jumped ship. It wasn't like when guys like Bob Probert or Ted Lindsay came down from Motown.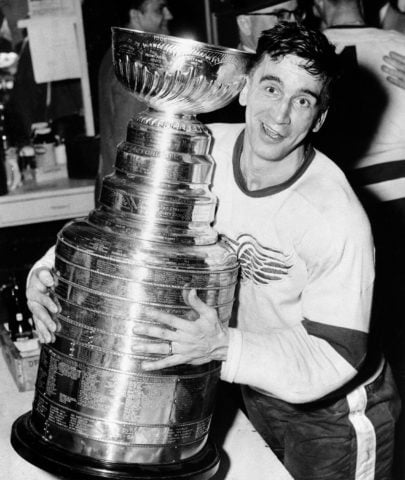 The best player the Blackhawks ever got from Detroit was goaltender Glenn Hall, who was part of the trade for Lindsay in 1957. He went on to play 618 games in Chicago and anchored their 1961 Stanely Cup championship team, who beat the Red Wings in the Final. 
However, growing up, my favorite Red Wing-turned-Blackhawk was Joe Murphy. He was a gritty forward who never lived up to the potential of being a number one overall pick in Detroit. The Blackhawks gave up Igor Kravchuk and Dean McAmmond to acquire him from the Edmonton Oilers in 1993. He had four productive years in Chicago, putting up 179 points in 210 games, including 31 goals during the 1993-94 season.
PB: Most know of Chelios, Probert, and Stu Grimson. "Chicago Native" Brett Lebda, though he never played for the Blackhawks, grew up a fan before ultimately winning a Stanley Cup with the Red Wings. But for this one I'll choose a bit of a wild card and take a moment to recognize one of former Red Wings general manager Ken Holland's favorite little-engine-that-could players, Dan Cleary.
Many newer-generation fans forget that Cleary was a first-round pick (13th overall!) by the Blackhawks way back in 1997, while Detroit was busy winning Stanley Cups. Little did anyone know that after notching just nine points in two years with Chicago, and 86 points in four years with Edmonton, Cleary would quickly become a mainstay in Detroit.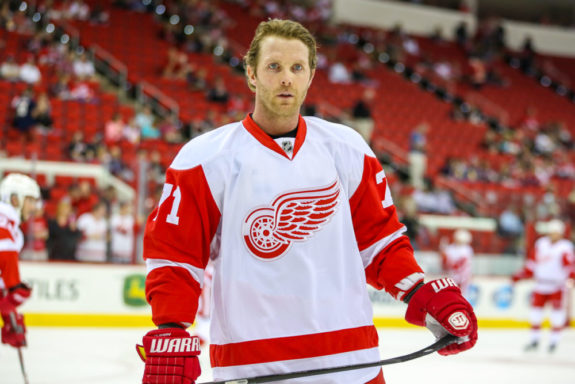 His career as a Red Wing was solid – he actually finished 15th in voting for the Selke during Detroit's 2007-08 championship season – and he recorded 275 points in his 609 games played in a winged wheel, spanning a decade. It all came full circle for him after scoring the series-clinching goal in Game 7 against the Anaheim Ducks, a goal that would lead the Red Wings to their Western Conference Final date with the Blackhawks.
Shaun Filippelli: First and foremost, I have to admit right off the hop that I'm not typically a fan of players that move from team to team in hopes of capturing a Stanley Cup. However, after Hossa made it into the Final two years in a row (as Gail mentioned) I was a little less harsh on my pre-judgement when he arrived in Chicago.
Having already witnessed his undeniable ability, I knew he was a special talent. But with a front row seat to see it game in and game out, it brought my respect for his work ethic and passion to a whole new level. Plus, he came across a lot nicer than I would have expected and although it's sports and we're cheering for the on-ice result, that does factor-in for me.
Hossa finally captured the Cup in that first year with Chicago after reaching the Final for the third year in a row. Clearly, he'd found a team well suited for his talents. The Red Wings, on the other hand, obviously didn't know how to optimize what the Blackhawks perfected with Hossa in the lineup. If that wasn't enough, he also went on to be part of an exclusive club of Chicago stars that earned all three they hoisted between 2010-2015.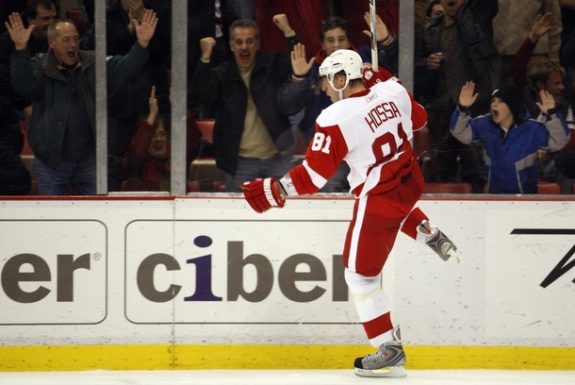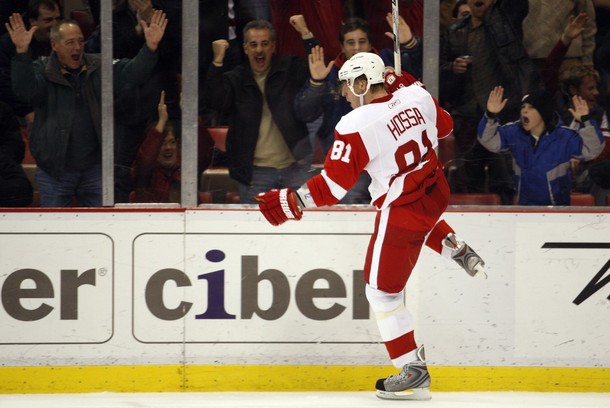 In that same span, Detroit would only go as far as the Conference Semifinals. They also embarked upon First Round exists three years in a row. Seems they really could have used their own Hossa to help. Oh wait….
How Will the Rivalry Look in 2020-21?
PP: I could not be happier that we are back in the Central Division and playing not just Chicago but the Nashville Predators, Dallas Stars, and Columbus Blue Jackets all year. When I was a kid I despised these teams! It feels good to be home even if it is only for a little while.
I was very excited to see us play Kirby Dach frequently because even though I'm a Red Wings fan, I'm a hockey fan first. I am excited to see how all of Detroit's new free agents will perform, especially Jon Merrill and Troy Stecher since our defense was abysmal last season.
I'm also hoping Moritz Seider and Lucas Raymond will be up in Detroit for at least nine games during the season. I know they are bound by their Swedish contracts until the end of their season there but we will see. I also want to see Filip Zadina in a full-time role. He and Filip Hronek looked very good in the Czech leagues before being called back for training camp. I don't think either team will dominate one another.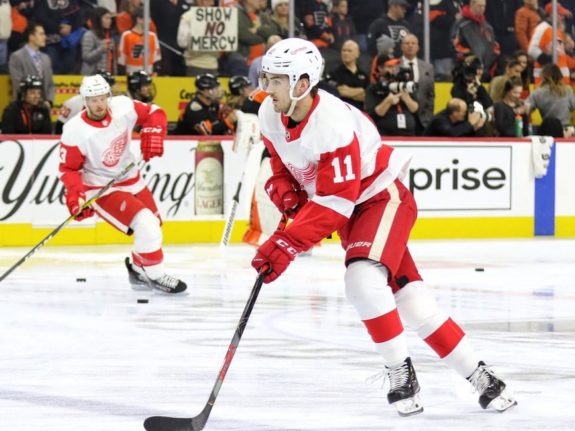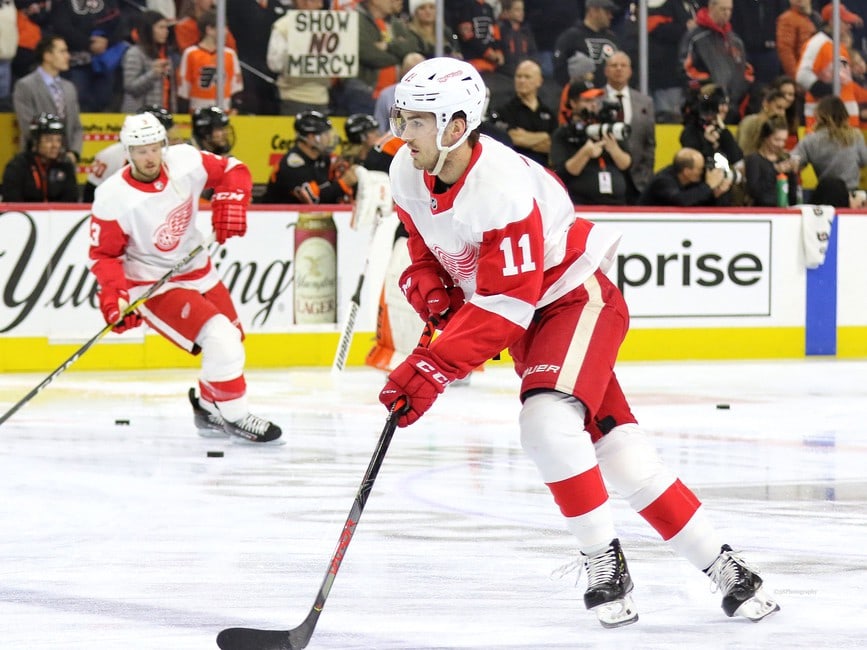 Dach is out for basically the entirety of the season with a broken wrist and nobody knows when Jonathan Toews will return after fans received vague news of his absence a few days ago. My guess is both teams are bottom of the barrel when it comes to the draft.
GK: It will be super fun to reignite this rivalry. If you look at the standings from last season, these two teams both finished lowest out of any of the other teams in the newly-aligned Central Division. Because of that, I believe both teams will try to make that most out of their matchups. They will have the attitude that this should be an "easy" win. Or an easier win, for that matter.
I don't think one team will dominate the other, but I do see the Blackhawks having the edge. Of the eight matchups, I predict the Blackhawks winning five or six of them. But they will be close, hard fought wins against a Red Wings team on the rise. It will make for good learning experiences on both sides.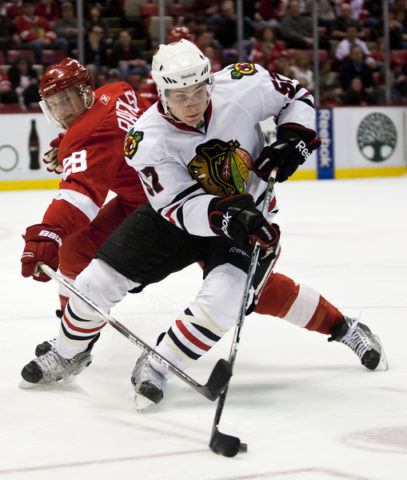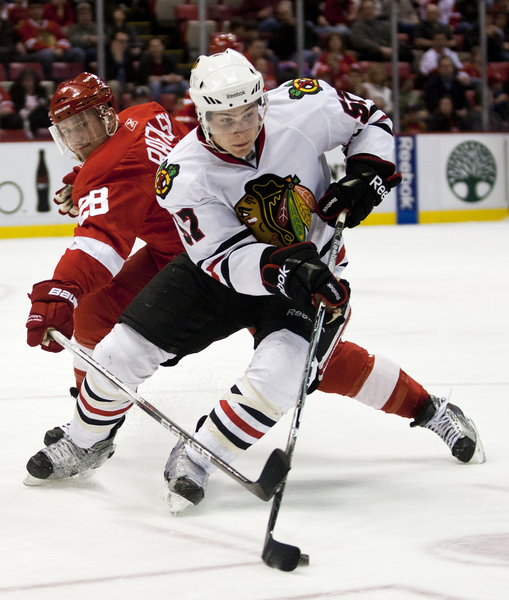 As far as a player to watch, Alex DeBrincat is from the Detroit area, as Brooke mentioned. He always has a number of family and friends on hand when the Blackhawks play at Little Caesars Arena. Look for him to not only dominate overall this coming season, but especially against the Red Wings. 
PB: The games were going to be good regardless, as it usually goes when two rebuilding teams play one another. Of course, the recent news of Jonathan Toews' indefinite absence due to illness (get well soon!) puts a damper on the matchup of two teams that seem to be heading in two different trajectories. 
The Red Wings don't have the defense to absolutely run away with the series, but I do see them helping their estranged little brother go to bed early this season by winning at least six of their eight matchups. The team's new arrivals will have enough of an impact in the box score to improve upon last season's abysmal numbers and, combined with a more steady goalie tandem, will be just enough to get it over the hump against teams like Chicago who are just entering rebuild mode.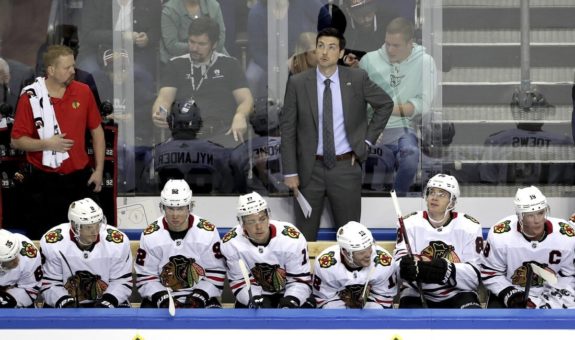 All joking aside, this rekindled rivalry is going to be a lot of fun to watch. That neither team is anywhere near Stanley Cup-caliber will only add fuel to the fire, because I-94 bragging rights will mean that much more in a division full of offensive juggernauts. Watching these games will sure make me miss living in Chicago, where my Metra rides to work while wearing a Red Wings sweater were always met with dirty looks, obnoxious heckles and even the occasional peace sign (well, half of it, anyways).
Sweet home, Chicago, indeed.
BL: I'm excited to see the Wings and the Hawks match-up against each other this season. 
They're both going through similar situations, so they're more evenly matched. This season is going to be a learning curve for both teams as they try to regain their dominance in the league. I think the rivalry will be properly reignited. I expect the matchup to be as feisty as always with all the prospects going head-to-head. This will be a fun preview to see which team will bounce back first. I think we can all agree that the league is better with a Hawks/Wing matchup. There's nothing better than this rivalry. It's full of history, pride, and energy, so it should be fun to watch. 
As far as Blackhawks' players to watch, I second what Gail said about DeBrincat because of his Michigan roots, but I am also looking at 20-year-old defensemen Alec Regula. He was brought here in a trade with Detroit for Brendan Perlini in October of last year. We don't know if he will make the roster this season, but GM Stan Bowman says that he expects him to play a role in some capacity.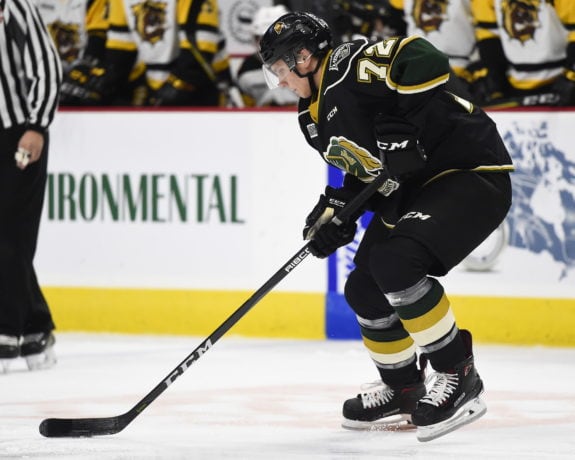 Lastly, I think the player to watch is Brent Seabrook. Recently, he has been dealing with injuries, but the team expects him to come back healthy this season. He seems like he enjoys beating up on the Wings, so I wouldn't count him out.
DL: A Blackhawks team with both Toews and Dach in their lineup is a better team than what the Red Wings have entering this season – it is what it is. However, the Wings should be a lot more competitive against a Blackhawks team with only Kane, DeBrincat and the skeleton of Duncan Keith, as well as a couple of boy scouts in net.
Don't get me wrong, the Hawks still have some pieces worth getting excited about. I'm big on defenseman Adam Boqvist, and I think this could be the year that he validates going eighth overall in 2018. If Regula plays himself into a role this season like Brooke suggests, I'm sure I won't be alone in being a little sour about the outcome of last year's deal (who am I kidding, I'm already sour about it.)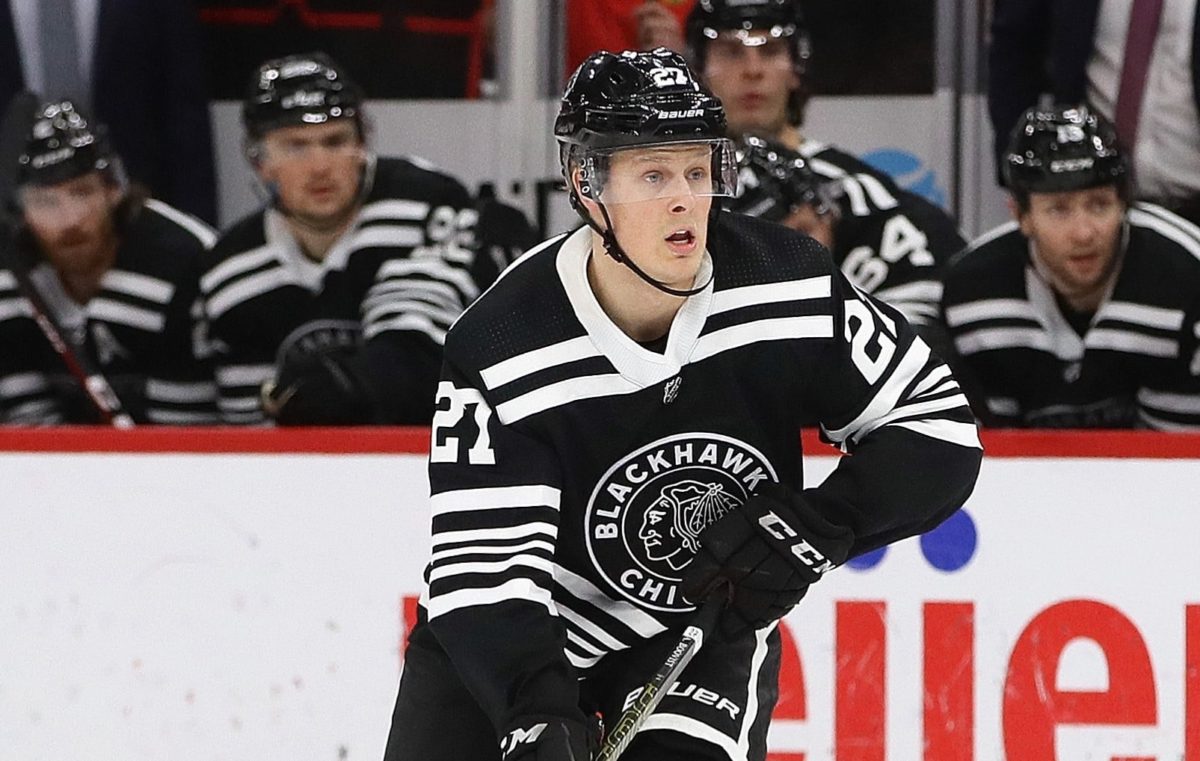 On the Red Wings' side of things, my buddy Patrick dropped the incredibly hot take on our live show that the Wings would be in the playoff hunt this season. While I laughed it off at first, I think this season's realignment makes it a bit more likely to happen. I point directly at Chicago as a team that Detroit could take advantage of in order to boost their record. All things considered, it wouldn't be a bad thing for this rivalry's health if the games between these two teams are competitive this season.
That being said, if the Blackhawks draft ahead of the Red Wings again in 2021, I'm going to lose it.
SF: The nice thing about talking hockey with Red Wings fans at the moment is that they are amongst the few franchises that also don't have a lot to brag about these days. While both franchises have enjoyed dynasties throughout recent decades, neither are quite there at the moment. Far from it, actually. But, let's face it, the winner when it comes to who's been the best loser has to be Detroit.
I do have to admit that the debacle that was the 2020 NHL Draft Lottery was tough to watch. I can only imagine how frustrating it was for Red Wings' fans to lose out on what seemed like a sure thing after a season full of such lows. Believe it or not, that's not a dig. I genuinely do feel for the franchise and their fans, especially knowing how passionate and proud they are.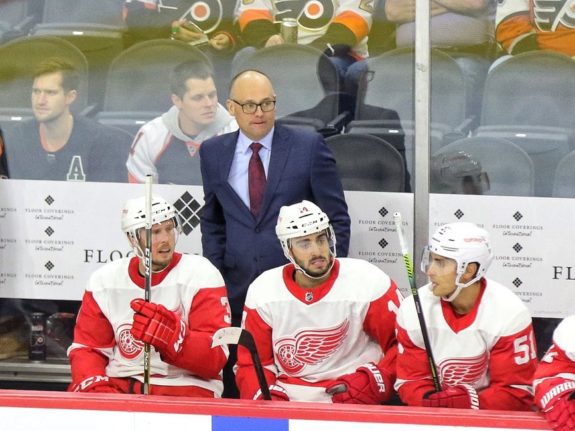 All is not lost, though. While Alexis Lafreniere is poised to become a generational player, it's not as though the Red Wings are short on talented youth of their own. What makes this renewed rivalry even more relevant is that the Blackhawks are in a similar position of their own. Both of these storied organizations have more than just a few potential stars, all under the age of 25 and looking to bring their team to the next tier of development through the prime of their careers.
Having already played 739 games against each other all-time, there is no issue of familiarity between the two. What is foreign, however, is the position each is in as they try to climb back to being contenders. With each side's youth fighting to steal the spotlight, what we do know for sure is that these games will be fun to watch. I'll say they split the season series.
Drop the Puck!
With the Red Wings' training camp underway and the Blackhawks' camp starting up in the coming days, anticipation for the 2020-21 season is at an all-time high. Once the season begins, the Battle of Lake Michigan can begin in earnest. While their rivalry is built on decades of history, this year's version will be built on familiarity – a lot of familiarity.
All season long, the Blackhawks team here at The Hockey Writers will be writing about their team's efforts against the Red Wings and the rest of the Central Division. But it doesn't stop there; they also have a weekly live show that is worthy of checking out. They go live on Monday nights at 7 PM CST.
The Red Wings writers will be doing the same with their weekly "Grind Line" articles, as well as their live show of the same name. They go live Friday nights at 8 PM EST.
Whether you're a Red Wings or Blackhawks fan, you've got something to be excited about this season. Neither team looks to be a contender this season, but both have plenty to play for. If nothing else, both teams should relish the opportunity to assert dominance over the other during this one-time realignment. Fans may not be in the seats at United Center or Little Ceasar's Arena, but that shouldn't stop you from trash-talking from the comfort of your couch.
It certainly won't stop us.
---
---