What's The Grind Line? Apart from the once-famous line of Kris Draper, Kirk Maltby, and either Joe Kocur or Darren McCarty, The Grind Line is also The Hockey Writers' weekly column about the Detroit Red Wings. This week Devin Little, Ian McNaughton, Patrick Brown, Peter Ploshehanski, and Ryan Guenter are the muckers who make up THW's forechecking unit and sound off on Red Wings topics.
---
In this week's edition of The Grind Line, The Hockey Writers' Red Wings coverage team sounds off on what player in the Red Wings organization is likely to represent the team as its next major award winner. Up for debate are the next recipients of the Hart Memorial Trophy (Regular Season MVP), Calder Memorial Trophy (Rookie of the Year), James Norris Memorial Trophy (Top Defenseman), Art Ross Trophy (Scoring Champion), and Frank J. Selke Trophy (Top Defensive Forward).
Let's dive in!
Devin Little: Keep Drafting
Hart: To be drafted
This isn't a knock on guys like Seider, Larkin or Lucas Raymond, I just think that the talent they could add down the road is a lot more likely to be in the running for this award. In my perfect world, the Red Wings will have an opportunity to draft either Brad Lambert or Shane Wright in the 2022 draft – one of those players absolutely have Hart Trophy potential.
Calder: Moritz Seider
The last time the Red Wings had a Calder Trophy finalist was in 2010 when Jimmy Howard became the team's top goaltender. To find a winner, you have to go all the way back to 1965 when another goaltender, Roger Crozier, took home the honors. I think that drought comes to an end in 2022 when Seider makes his full-season debut with the Red Wings. The kid just keeps looking better and better.
Norris: 2021 draftee
I am excited at the prospect of adding a Norris-caliber defender in the 2021 draft, whether that's Owen Power, Carson Lambos or Brandt Clarke. I love Seider and I think that he is going to be a sturdy presence on the Red Wings' top defensive pair for a long time. I just think the Wings will find an even better defender (believe it or not) in the upcoming draft. Should this come to fruition, the days of the blue line being the Red Wings' biggest weakness will be over before you know it.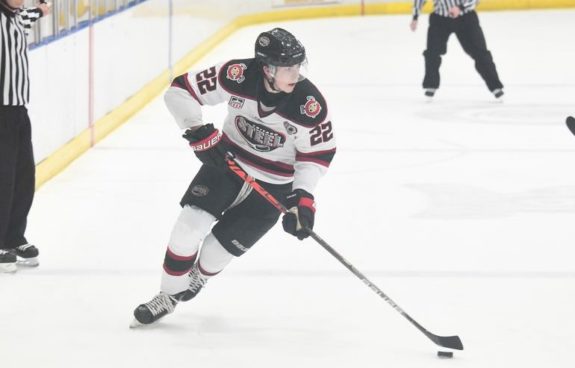 Art Ross: To be drafted
The thing about the Art Ross is that there's no interpretation necessary with it. You either score the most points or you don't. In a league where Connor McDavid, Nikita Kucherov and Nathan MacKinnon still dominate whenever they are on the ice, it's going to be difficult for any Red Wing to win this award until they can ice a competitive roster. If they can draft one of the kids I mentioned for the Hart Trophy, that should bode well for this category, but as of now, it's complete guesswork for me to pin down a player that can score more points than the captain of the Edmonton Oilers.
Selke: Dylan Larkin
As for the Selke, former Red Wing Pavel Datsyuk won his fair share of Selke Trophies, and for good reason. Nowadays, a lot of the Red Wings' hopes of turning around their fortunes depend on Larkin hitting his ceiling. I think that at 24 years old, he still has another level to his game, and if he finds it, he'll end up looking a lot like Jonathan Toews of the Chicago Blackhawks. The Blackhawks' captain won the award in 2013 at age 24; it might not be this year, but the next captain of the Red Wings has it in him to be that kind of defensive forward.
Ian McNaughton: Look Out For Lucas
Hart: Larkin
Although the Hart Trophy should go to McDavid every year until he retires, I'm going with Larkin as the next Red Wing to win the league's most valuable trophy at some point. I would argue that Larkin is Detroit's most valuable player right now and he seems like a solid candidate to take home the Hart in the next five years, assuming the Red Wings become a good team and Larkin can put up a 100-point season (all of which is possible).
Calder: Lucas Raymond
Only three D-men have taken home the Calder trophy since 2010 (Cale Makar in 2020, Aaron Ekblad in 2015, Tyler Myers in 2010) so by that math, the next D-man to win the Calder will be in 2025. I don't want to be held to picking any D-man to win the Calder five years from now, so I'm going with the safe pick of Raymond. He might not have enough games to qualify for the Calder this season, but I'm going to say he wins in 2021 when the team improves and he gets some quality NHL minutes.
Norris: Seider
Speaking of obvious choices, the only player I could put here is the sixth overall pick of the 2019 NHL Draft, Seider. If you haven't seen any action of Seider in Europe so far, I implore you to check it out. It's almost like he's brought a North American-style of play to Europe (not surprising since he played for Grand Rapids last year), but he's got 12 points in 17 games this season and has been "playing the hits" all year long. I love Seider's chances at a Norris in the near future.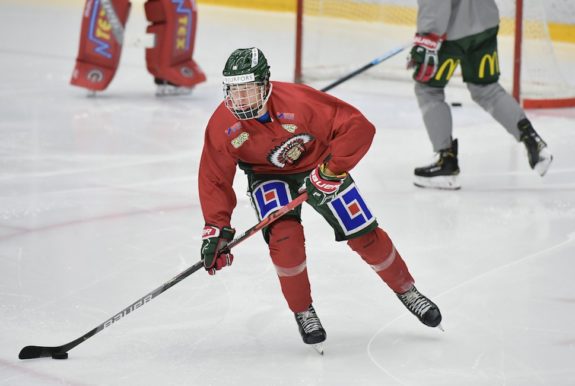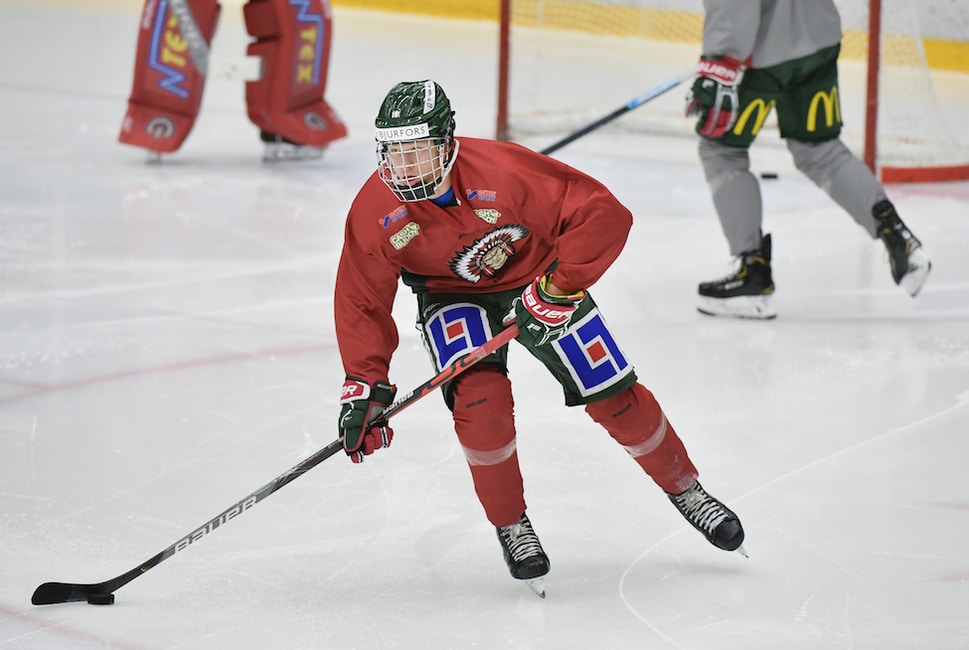 Art Ross: Raymond 
I mentioned earlier how I thought Larkin had the best opportunity to win a Hart Trophy for the Red Wings, but I believe their best chance for an Art Ross Trophy is in Raymond. He has a higher offensive ceiling compared to Larkin and has the explosiveness to put up multiple 100-point seasons, something I'm less confident in with Larkin. I also have a hard time getting my head around the fact that no Red Wing has won an Art Ross since Gordie Howe in 1962-63. Quite astonishing.
Selke: Larkin 
First, shout out to Luke Glendenning for getting as many Selke votes as Leon Draisaitl last season. Second, a winger hasn't won the award since 2002-03 and since I don't see a winger from the Red Wings breaking that trend soon, I had to pick center to fit that mold. That's why Larkin gets my vote but a dark horse name I want to throw out as a potential candidate is Theodor Niederbach. If he stays healthy and puts on a bit more weight, he could be a potential Selke candidate.
Patrick Brown: Drinking the Seider
Hart: Seider
Seider is going to tear it up, and it will only take him a few short years to become one of the most prominent defenders in the game. He'll become the first defenseman since Chris Pronger in 1999-00 to win MVP, and check out below because it doesn't stop there.
Calder: Seider
The Red Wings' shaky blue line gives Seider the opportunity to step in and make a difference immediately, which he will do. At just 19 years old Seider has 12 points in 17 games in the SHL, including 10 assists, and after a bit more refining he will step up to quarterback Detroit's powerplay. He'll capture the Calder after a rookie season in which he records at least 50 points, including 40 or more assists.
Norris: Seider
Bring me more Seider! As mentioned in the Hart Trophy bit above, Seider will become the first defenseman since Chris Pronger to win both the Norris and Hart trophies in the same season.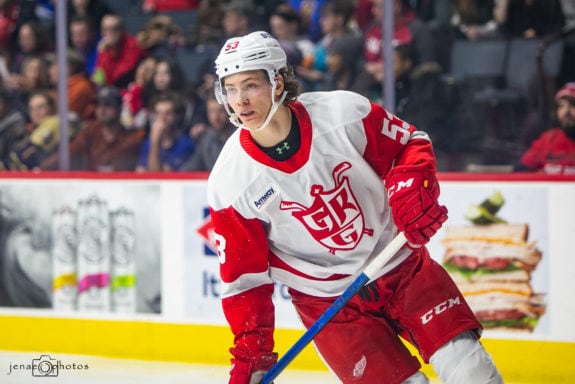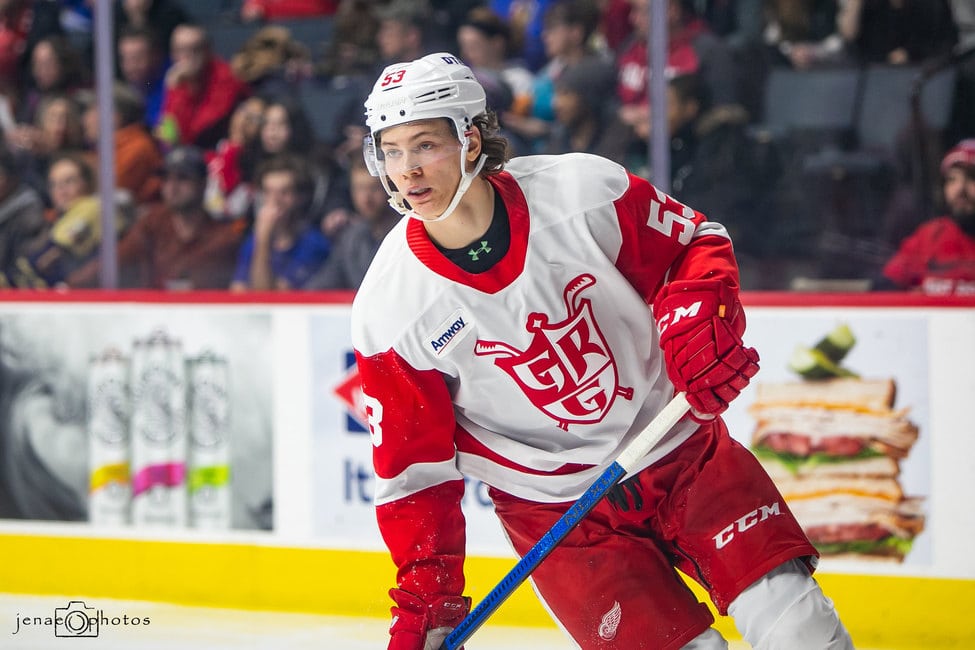 Art Ross: Jonatan Berggren
I'm going to deviate from the group a bit and pick a bit of a wild card, Berggren, to eventually capture the scoring title. He continues to open eyes with his stellar play in the SHL – to date he has recorded 24 points in 23 games, including 19 assists – which places him fourth among all active players. At just 20 years old he's the youngest player in the top-10 by at least five years, and if he can stay healthy, will create a lot of problems for the opposition in the NHL.
Selke: Larkin
Larkin is already known as a great two way player, and once he gets a supporting cast around him that can command as much attention as he does, look out. He'll be making plays at both ends of the ice – Devin's comparison to Toews is spot on, and once a stronger team is built around him, look out.
Peter Ploshehanski: Draft AND Larkin!
Hart: Larkin
He the best player that the Red Wings have. Even when he is eclipsed skill-wise he will still be the most important to the team for his leadership, much like Sergei Federov vs Yzerman in the 1990s.
Calder: Raymond
I'm predicting that he racks up between 45-55 points in his inaugural season, and we as fans will be elated.
Norris: Seider
Moritz Seider baby! This probably is not possible, because players who are ACTUALLY good at DEFENDING rarely win anymore. You have to be an offensive defenseman with minimal defensive skills to win this trophy now but hey, I can hope.
Art Ross: To be drafted
The Red Wings do not have that player yet…Shane Wright, Shane Wright (fingers crossed!)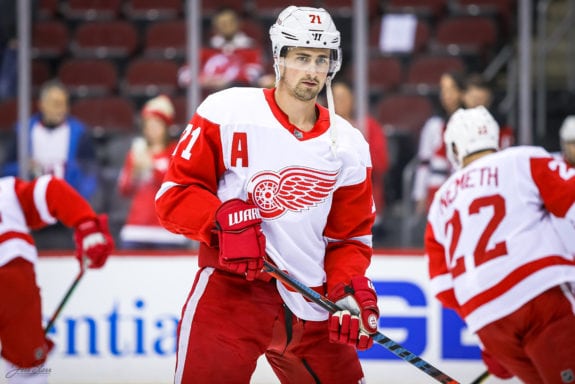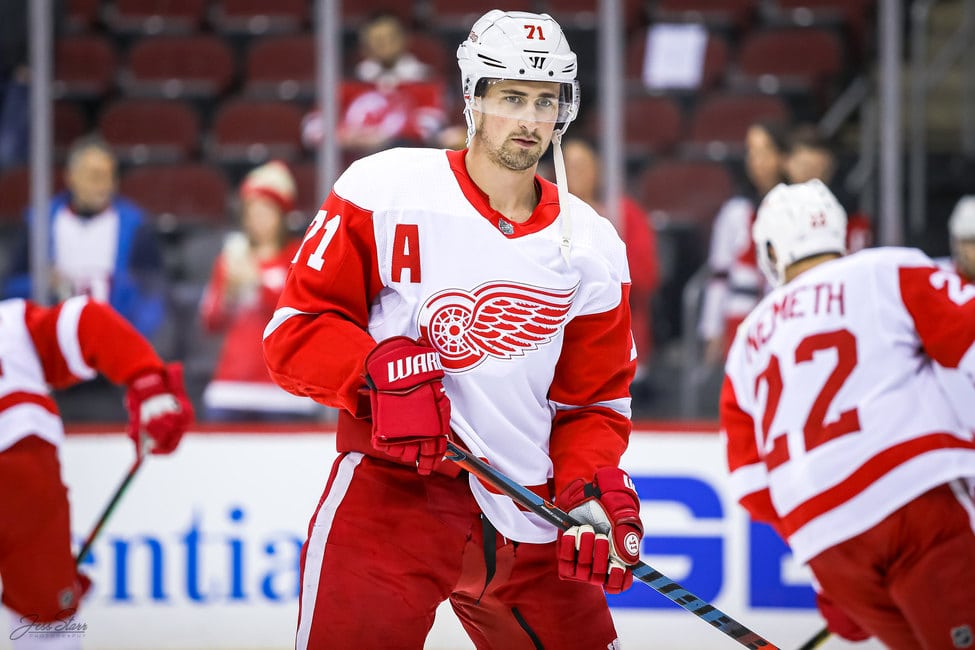 Selke: Larkin
He is already one of the best two way players in the game, and with former Selke winner (Yzerman) talking in his ear and having regular sit downs with the team's future captain, it's inevitable that Larkin will win a Selke.
Ryan Guenter: Hefty Expectations for the Lads
Hart: Raymond
Call it too high of expectations, bias, or the fact I have seen this player several times in person, but this kid is as dynamic a player that I have seen. It might take a while, but Raymond is capable of big things, and the Red Wings have good complimentary pieces around him.
Calder: Seider
Just watching highlights of him in Sweden – not even his home country – and he is asserting himself like a 10-year veteran in that league. As surprised as those in attendance at the 2019 draft were with this pick, Seider is going to continue to surprise in this league and soon!
Norris: Seider
Predicting a Norris winner is near-impossible, as it is the one position where young players can fool you on what their true long-term potential might be. That said, if there is any defenseman in Detroit's system with a chance to win the Norris it is big "Mozif." Otherwise, I will defer to Devin L's take and say not yet drafted.
Art Ross: Raymond
See notes above. His game is built on speed, skill, and tenacity, which fits this new NHL generation perfectly. Big time expectations, but he is a big-time player – hopefully!
Selke: Larkin
This is a rather easy choice, as the assumed captain has always been considered a great two-way player -it is also widely known that Larkin takes pride in that characterization.  One might also argue that he must be a leader in the defensive zone if the team is to be successful.
Who do you think will win the next set of trophies for the Red Wings? Sound off in the comments section below.
More from The Grind Line
Want more Red Wings content? Tune into The Hockey Writers' Grind Line — a new weekly live show on YouTube and Facebook. We stream Friday nights starting at 8:00 pm ET on The Hockey Writers YouTube channel. Check out last week's show below, and make sure you subscribe to the channel so you don't miss any upcoming shows. (Note – we will return after Christmas with new live shows. Happy Holidays!)
---
---