To some, Moritz Seider came out of left field when his name was called by Steve Yzerman and the Detroit Red Wings at sixth overall in the 2019 NHL Entry Draft. There was an audible gasp in the room and Seider's shocked expression said what everyone was thinking. Most Red Wings fans had their sights on a high-octane forward such as Trevor Zegras, Cole Caufield, or Dylan Cozens.
"Seider?! Seider," I heard a Red Wings fan exclaim at the local pub where I was watching the NHL draft. I, for one, was a Seider fan ever since I read a piece about him by The Athletic's Scott Wheeler. I liked him. I just was not sure I liked him at sixth overall. The NHL experts had not had him ranked until the beginning of the second round.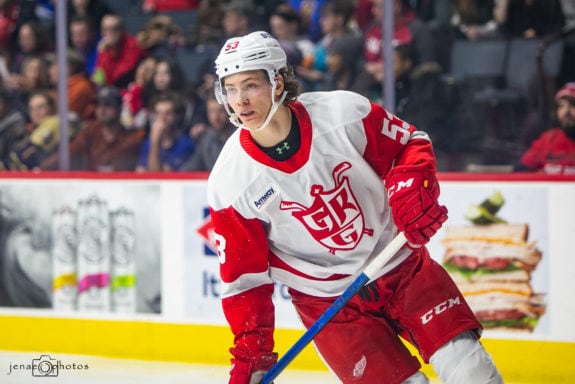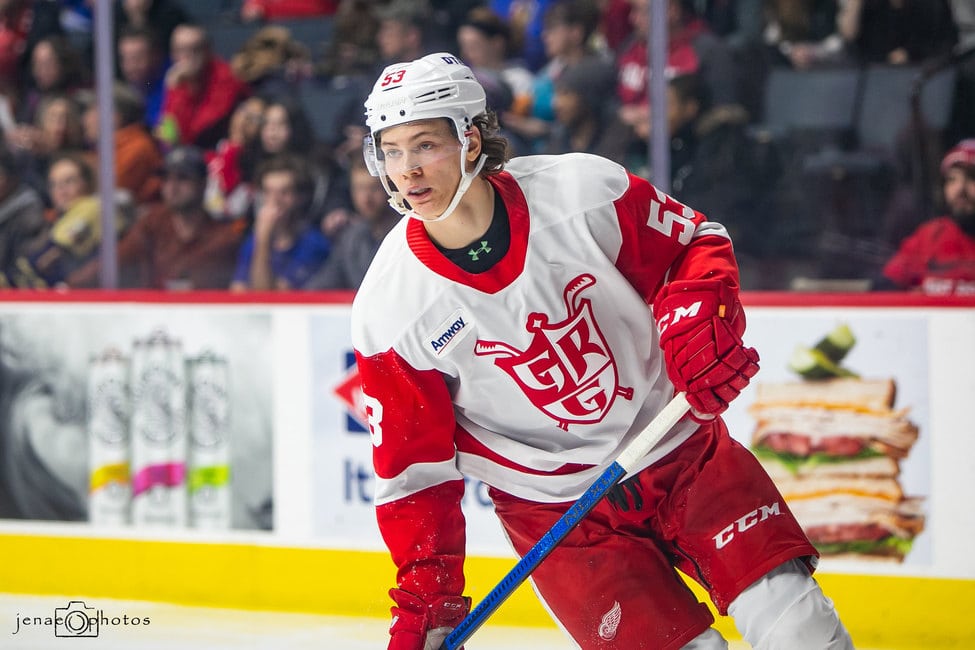 The earliest I saw him ranked was 16th overall. However, the nagging feeling in the back of my mind was Yzerman knows what he is doing. It was only later that we learned he was attempting to trade back to acquire Seider along with another asset or two.
Welcome to Hockeytown
As it set in that Seider was going to be a Red Wing, we got our first look at him in the annual training camp in Traverse City. Shawn Horcoff, Director of Player Development for Detroit said, "Jeez, he looked really, really good this week. It's not easy for a defensemen — it's not easy for anyone young, but it's not easy for defensemen — to come out and play like he is right now. It's only two games in but (he's) been good so far." (From "Early Impressions of Moritz Seider Max Bultman, The Athletic, 9/10/19)
Though he did have a strong showing in training camp, the Red Wings decided it best for Seider to gain some experience in the American Hockey League with the team affiliate, the Grand Rapids Griffins. After settling into Grand Rapids, Seider did not look out of place. At 6-foot-4 and weighing 207 pounds at 18 years old, he was already bigger than most of his opponents that doubled his age, and he let them know it.
"More-Hits" Seider
He would punish opponents every chance he got. Players will often attempt to finish a check on Seider only to be counter checked and knocked to the ice. He is a German tank and looks as though he is gliding across the ice effortlessly. He has excellent edgework and rarely make a defensive mistake.
In 49 games played in Grand Rapids, Seider scored two goals and notched 20 assists. In the same year, he captained Team Germany in the World Junior Championship avoiding relegation while assisting on six goals in seven games. However, Seider has made the decision to skip the World Juniors this year.
Seider seemed completely poised to make the jump to the NHL for the 2020-21 season until the novel coronavirus derailed national sports in North America. After the NHL and AHL paused, he was quickly loaned to Rogle Bk of the Swedish Hockey League (SHL) to continue his development. While Yzerman was originally planning to loan Seider back to his former team Adler Manheim, it became clear that he would have a better chance to play in the SHL. (From "Seider thriving in Sweden," Detroit Free Press, 11/10/20) Speaking with a friend and fellow German Dominik Bokk (Carolina Hurricanes) — who played for Rogle Bk during the 2019-20 season — it was determined that joining the SHL would be beneficial in terms of Seider's development.
Now, playing for his third professional club in three years, Seider is excelling and has not seemed to skip a beat. In 15 games played, he has accrued two goals and nine assists with a plus-seven rating. He also seems to be playing more physical than ever. There seems to be several highlights during every game of Seider laying down a big body check and clearing opponents from the crease after the whistle. He seems to be the second coming of, dare I say, Vladimir Konstantinov.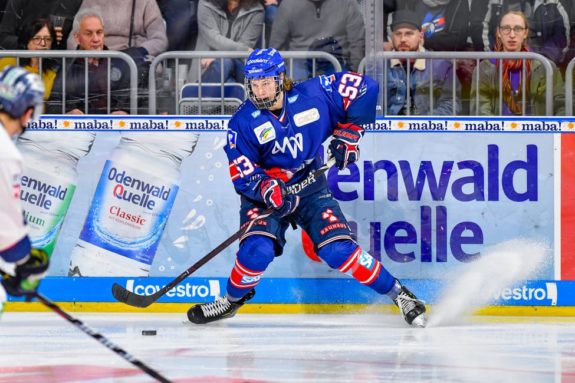 Seider has been playing with men since the age of 16 when he was promoted to the men's team of Adler Manheim in the latter part of his 2017-18 season — it shows. He is just so patient with the puck. Cam Abbott, head coach of Rogle Bk said of Seider, "He's ahead of his age as a defenseman in terms of decision-making… I mean, he's got, I want to say a roundness to his game. He's got a lot of different attributes that make him good in our league, and that will continue to make him good at the next level." (From "Moritz Seider, in his third pro league in three years, is impressing yet again," Max Bultman, The Athletic 12/2/20)
Final Thoughts
Rogle Bk is poised to make a deep run in the playoffs and this is in part due to Seider's sound defensive puck possession play. When he is on the ice, the team controls 60.5% of the shots on the ice, which is huge. Obviously, the season is not over, so that number is bound to regress slightly. However, when Seider is on the ice he is the general, commanding the game and the players on the ice.
The SHL loan contract he signed dictates that he must stay in Sweden until Rogle Bk is no longer playing for the 2020-21 season. The SHL season will end on March 11, 2021, and probably another month or two depending on how well the postseason goes for Rogle Bk. However, it is absolutely imperative that Seider sees NHL reps with the Red Wings this calendar year. I fully expect to see him on the opening night roster next October and my excitement can hardly be contained.
---
---