This is the début of a new column for the 2017-18 season called Blue Jackets Unzipped. Once a week or as needed throughout the season, we will discuss the latest happenings around the Columbus Blue Jackets mixed in with my deeper thoughts. Today, we recap a busy week in Columbus.
Wennberg Finally Signs
The calendar has turned to September. Hockey draws closer by the day. Training camp is just days away. Despite the expected optimism of a new Blue Jackets season, there was still unfinished business. Their two biggest restricted free agents in Alexander Wennberg and Josh Anderson were still without contracts. We weren't about to see another camp holdout, were we?
On Friday, the Blue Jackets took a huge step and locked down Wennberg for six seasons. He becomes the first player to have a contract for the 2022-23 season for the Blue Jackets.
BREAKING: #CBJ sign Wennberg!

→https://t.co/8swzDO8YNl pic.twitter.com/FZytSLi7GU

— Columbus Blue Jackets (@BlueJacketsNHL) September 1, 2017
My instant reaction? This is a great win for both sides.
Number-one centers don't come cheap. This was an important negotiation for the team to make sure they get Wennberg locked in without killing their cap. Mission accomplished.
The Blue Jackets locked Wennberg in at $4.9 million per season. That is a great number for someone with his upside. The deal bought the team two UFA seasons. This could look like a bargain by the time the deal expires.
There's two schools of thought about Wennberg. He's either reached his potential or has room for growth. Is he a dynamic playmaker who won't score many goals? Or is he someone who can round out his game and become a true, number-one center?
No matter the outcome, this is a great contract. You either get him at expected value or above at $4.9 million. When you think of good contracts signed by the Blue Jackets in the Kekalainen era, this is one of the best. Now it's on Wennberg to show he can play the role of top center.
For Wennberg, he gets a fair number and a good term. Six years show the team believes in him. Despite this going into September, both sides get an A for how they handled the negotiations.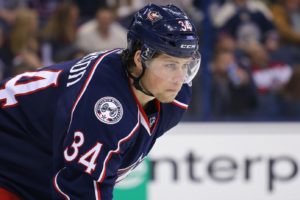 Josh Anderson
What is going on here? Why are we 12 days from training camp with Anderson not having a contract? Normally I don't worry about things like this as they generally work themselves out. But a recent report has my attention.
According to Aaron Portzline of the Athletic Cleveland, there's talk that Anderson might skate in Switzerland if he doesn't have a contract.
Seriously?
Let's look at this from both sides. From the Blue Jackets perspective, they have a player with no arbitration rights who primarily played a bottom-six role. Despite scoring 17 even-strength goals, this was his first productive season. They won't overpay him for one good season.
From Anderson's perspective, he scored 17 goals and had a nice season. His camp wants a contract that pays him like a 15-20 goal scorer.
Connor Brown recently signed a three-year deal with the Toronto Maple Leafs. Many looked at this contract as a comparable for what Anderson could get. Brown got a total of $6.3 million.
If I had to venture to guess, I wonder if the Blue Jackets are offering two years and Anderson wants three or more. Brown just got three years.
I also wonder if the Blue Jackets offer is around $1.5 million per season while Anderson is looking for $2 million or more. It wouldn't seem the sides are that far off.
I do think this gets done before camp. The sides have 12 days as of this writing to finish a deal. I expect Anderson to get a three-year deal similar to Brown, but for a little less money. I'm thinking three years, $5.25 million for an AAV of $1.75 million. You could see his salary go $1.5 million, $1.75 million, $2 million. This way, Anderson remains an RFA after the contract expires. Stay tuned.
Artemi Panarin Introduced
I have two takeaways from Panarin's first press conference since the Blue Jackets acquired him.
He's humble.
He's on a mission.
You could tell how humble he was in the way he delivered answers. His agent Dan Milstein translated questions so Panarin could answer. Panarin had good answers while sharing a few laughs. He even joked about bringing boxing gloves to settle who would wear number 72. He then said he had no chance to get 72.
You could also tell he's on a mission. Panarin answered questions about if his good seasons were a result of playing with other stars (Ilya Kovalchuk, Patrick Kane.) It caused GM Jarmo Kekalainen to jump in and say that Kane had his best seasons with Panarin. It works both ways.
Panarin also feels he will progress as a player and help the team to win many trophies.
The Blue Jackets are an easy target by some who only know them as a losing franchise. It's easy for them to ask if Panarin will fall off because he doesn't have a superstar on the team to play with.
That is such a lazy, crutch argument. Panarin is one of the most dynamic players in the league. He's not just a great shooter. He's a great playmaker. He makes the players around him better. Now he gets Wennberg at center, which is an upgrade from Artem Anisimov.
My bold prediction: Panarin will have his best offensive season yet. He's had 77 and 74 points in his two seasons in the NHL. I have him down for 35-47-82 which makes him a point per game player. He's motivated. He's ready to show everyone that he's not just a product of superstars around him. He's a superstar in his own right.
The Breadman is ready to roll.