The Columbus Blue Jackets' defense isn't going to be fully healthy for the remainder of the 2022-23 season. Zach Werenski and Jake Bean are out with torn labrums and aren't scheduled to return until training camp at the earliest. As a result, the remainder of the season will involve a rotation of players attempting to show that they deserve an opportunity to stick with the team moving forward. With an abundance of right-handed defensemen and almost no lefties, a move is also likely prior to next season in order to clear the logjam. Since we won't be able to see how the defense truly looks until next season, let's evaluate what it should look like when everyone is healthy.
First Pairing
Werenski will immediately come back into the lineup on the first pairing when he's fully healthy. The biggest question will be who should play alongside him. The most obvious fit will be a player who is currently not on the roster. David Jiricek seems like an ideal candidate to log quite a few minutes during the 2023-24 season. Many coaches will be hesitant to lean so heavily on a rookie, especially early in the season, but everything he has done so far in his career makes it seem as if he'll be able to handle it. The Czech defenseman had a phenomenal performance at the World Junior Championship and has been dominating the American Hockey League with the Cleveland Monsters. He's a star in the making, so it makes sense to give him a major opportunity as soon as possible.
Second Pairing
After the first pairing, things become a bit of a toss-up. The Blue Jackets are overloaded with an abundance of right-handed defensemen and one of the only lefties on the roster, Vladislav Gavrikov, is likely to be moved before the trade deadline. Bean likely gets the nod on the left side of this pairing, simply because he has the benefit of his handedness. It's not unheard of for players to play their off-side, however, it's best to avoid it if possible. The only way someone else gets the spot would be if a prospect like Stanislav Svozil has an impressive training camp and makes the roster, or if there is a trade between now and then. But it's likely going to be Bean's job to lose.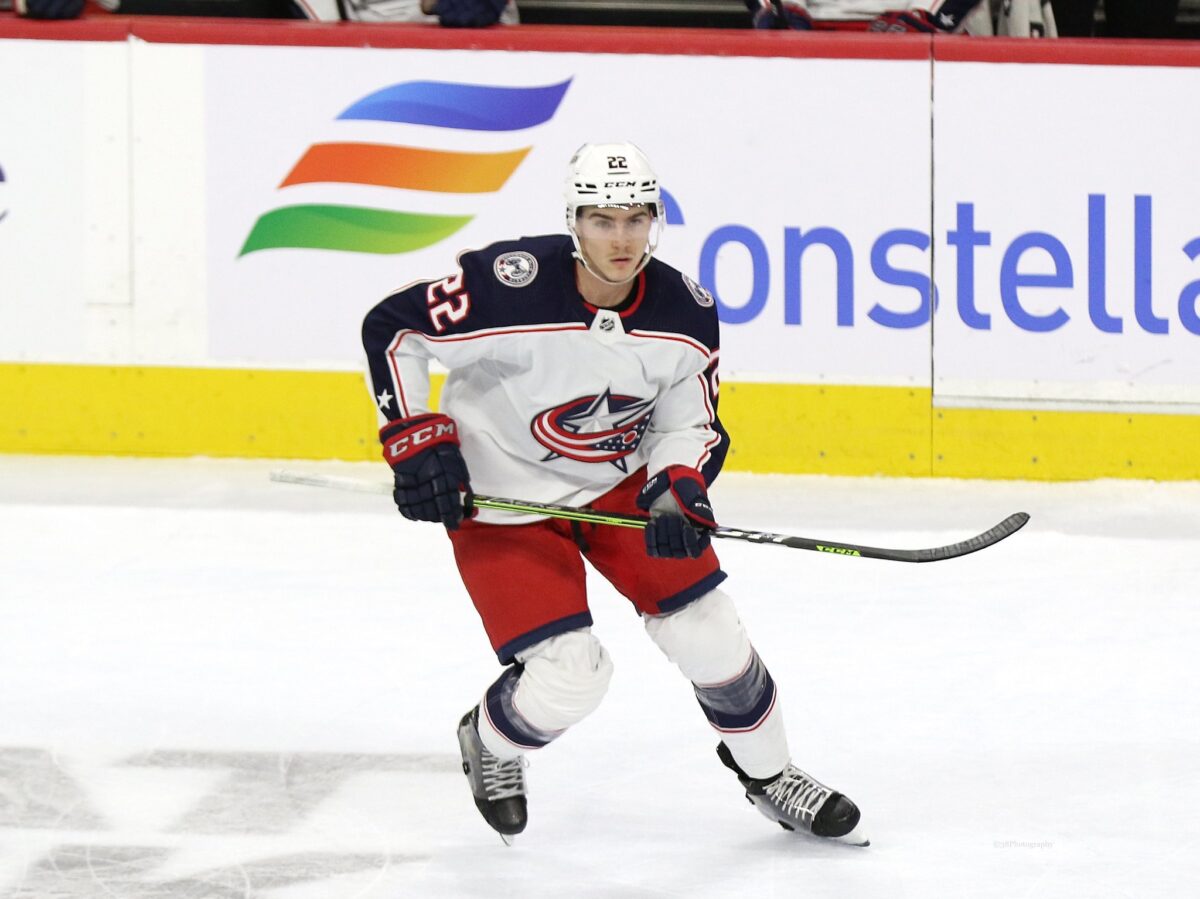 Considering Bean is an offensively-minded defenseman, it makes sense to pair him with someone who will focus on the defensive side of the game. Erik Gudbranson could be a logical choice, as it would give him a veteran mentor to play alongside. While fans haven't been happy with the signing so far, he's not going anywhere anytime soon, so the organization might as well get some use out of him. If the coaching staff decided to push him down to the third pairing, a logical replacement would be Nick Blankenburg who certainly deserves to be rewarded with top-four ice time. With that being said, there's another key reason why he'd be perfect for the third pairing.
Third Pairing
Blankenburg is one of the few Blue Jackets defenders who is trustworthy playing on the opposite side. He can play the left side of the ice with almost no issues and provides a solid defensive and physical presence while still being able to contribute offensively. As a result, he's the perfect player to depend on late in games and on special teams. The second and third pairing should receive similar ice time, and it allows him to rest a bit during even strength considering he'll get called on in nearly every situation.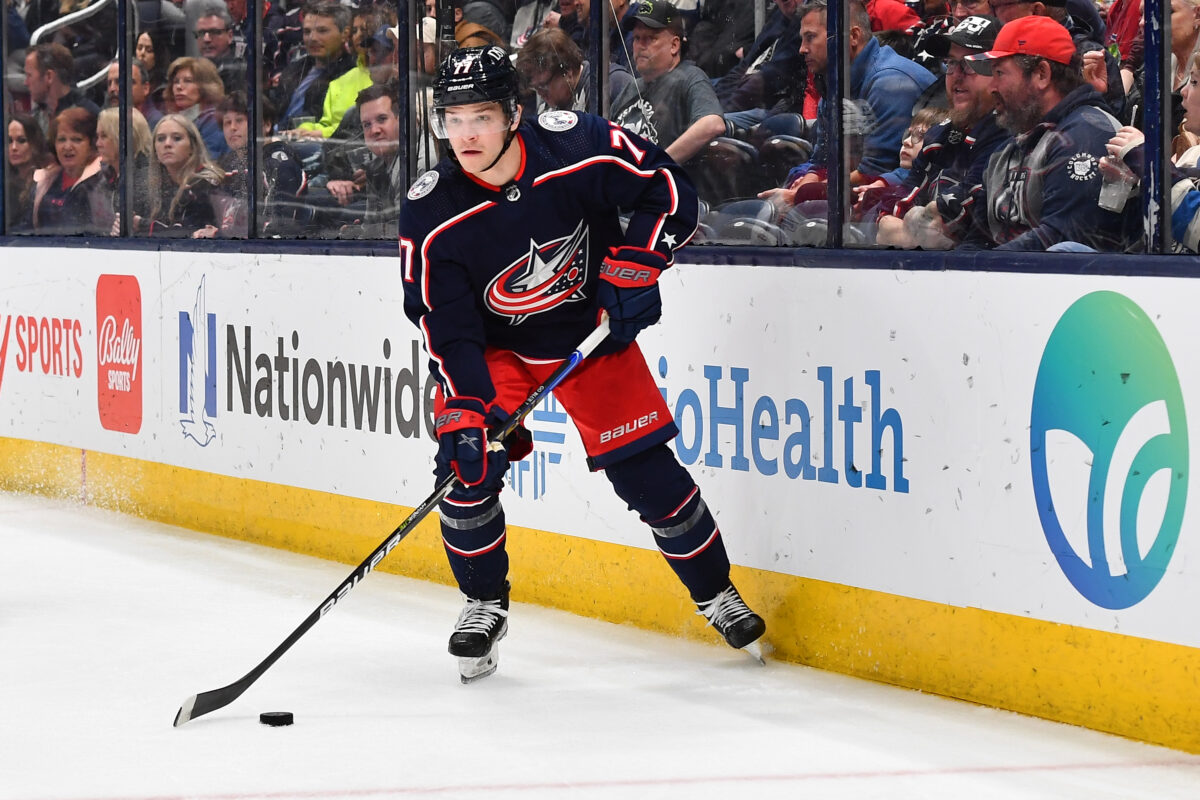 The right side of the bottom pairing is the most difficult spot to fill as there are plenty of deserving candidates. Both Adam Boqvist and Andrew Peeke were seen as important pieces of the future just a season ago. As it stands now, though, one will be on the outside looking in. They're not the only ones deserving of consideration either, Marcus Bjork wasn't considered a major acquisition during the offseason; however, he has performed well when called upon this season. Out of the three, Boqvist undoubtedly has the highest ceiling, it's just a question of whether or not he can stay healthy long enough to reach it. Oddly, he's not the first defenseman to have that issue while wearing the No. 27 for Columbus.
Related: Blue Jackets' Nyquist Faces Uncertain Future With Team
---
---
If he's completely healthy, Boqvist can develop into a star offensive defenseman, which has been the expectation since he was drafted by the Chicago Blackhawks. He's shown signs that he can get there, but he hasn't been able to do so for an entire season. The most games he has played in a season was last year, in which he played 52 of 82 games. For him to continuously have a spot on the roster, that's going to have to change quickly.
Peeke on the other hand has completely changed his game in order to fit the needs of the organization, which can't go unacknowledged. Prior to Columbus, he was known as an offensively skilled player who was also capable in his own end. He didn't have much of a physical side to his game; now he has essentially turned into a David Savard replacement. I'd expect Boqvist to get the job for the time being, however, if he is unable to stay healthy going forward, Peeke will certainly have an opportunity to take the spot back.
Having an abundance of NHL-caliber defensemen is a luxury and although it makes things difficult, it will create a competitive environment that should make everyone better as a result. There is plenty of time for things to change, as trades or even a surprise signing in the offseason can completely shake things up in an instant. The remainder of the 2022-23 season is essentially a try-out for all of the young defensemen on the roster and it'll be interesting to see who takes advantage of it.
William Espy is a graduate of California State University, Stanislaus. He has been writing about hockey since 2016 on various platforms. He currently covers the Columbus Blue Jackets but had a previous stint covering the Calgary Flames.