After a 2021-22 season in which he seemed to do everything right, Calgary Flames' head coach Darryl Sutter has really been testing fans' patience in 2022-23. The reigning Jack Adams winner has always been known to have a bit of an old-school mentality, but that approach seemed to really resonate with the Flames just a season ago, as they ran away with the Pacific Division thanks to a 50-win, 111-point campaign.
---
---
This season has been drastically different, however. While the Flames do sit in a wild card position, their 21-15-9 record is extremely underwhelming given the expectations entering the year. And, while there are a number of different reasons why things haven't gone as planned to this point, many believe Sutter himself is the main culprit.
Sutter Continuing to Give Markstrom Bulk of Starts
Throughout his lengthy coaching career, Sutter has been known to ride his number-one goaltender, and last season was no different. He played Jacob Markstrom a ton, as the Swedish netminder appeared in 62 of the Flames' 82 outings. While conventional wisdom in today's game says that giving your goalies close to an even split may be the best way of doing things, it was hard to argue the result as Markstrom put forth a Vezina Trophy-like season.
Through 45 games in 2022-23, Sutter has continued to give Markstrom the bulk of starts, but this season, his goaltender isn't responding to it nearly as well. Through 31 games, he owns a disappointing 2.81 goals-against average (GAA) along with a .894 save percentage (SV%) and a 13-11-5 record. Those numbers pale in comparison to his counterpart in Dan Vladar, who has recorded a 2.73 GAA paired with a .907 SV% and an 8-4-4 record. Despite that, Sutter has continued with Markstrom as his clear-cut number one.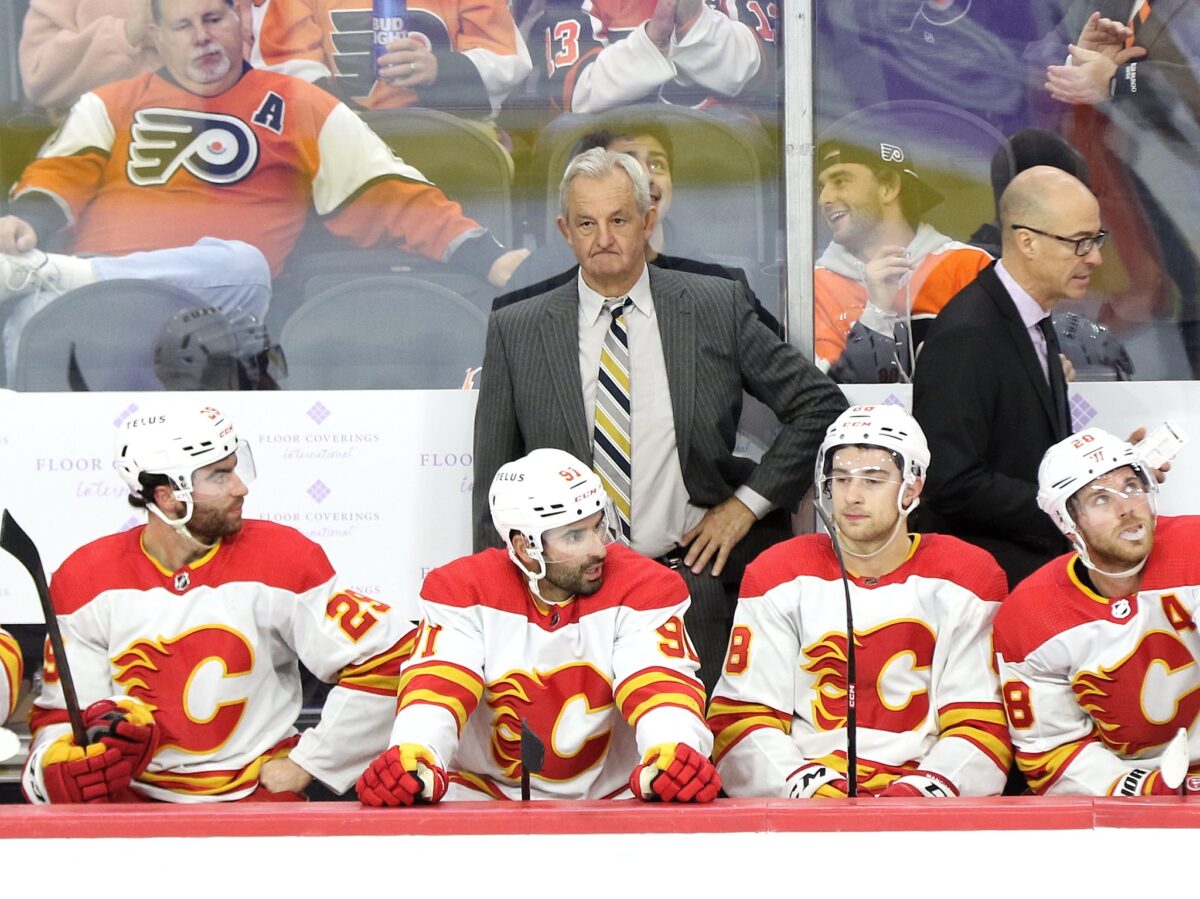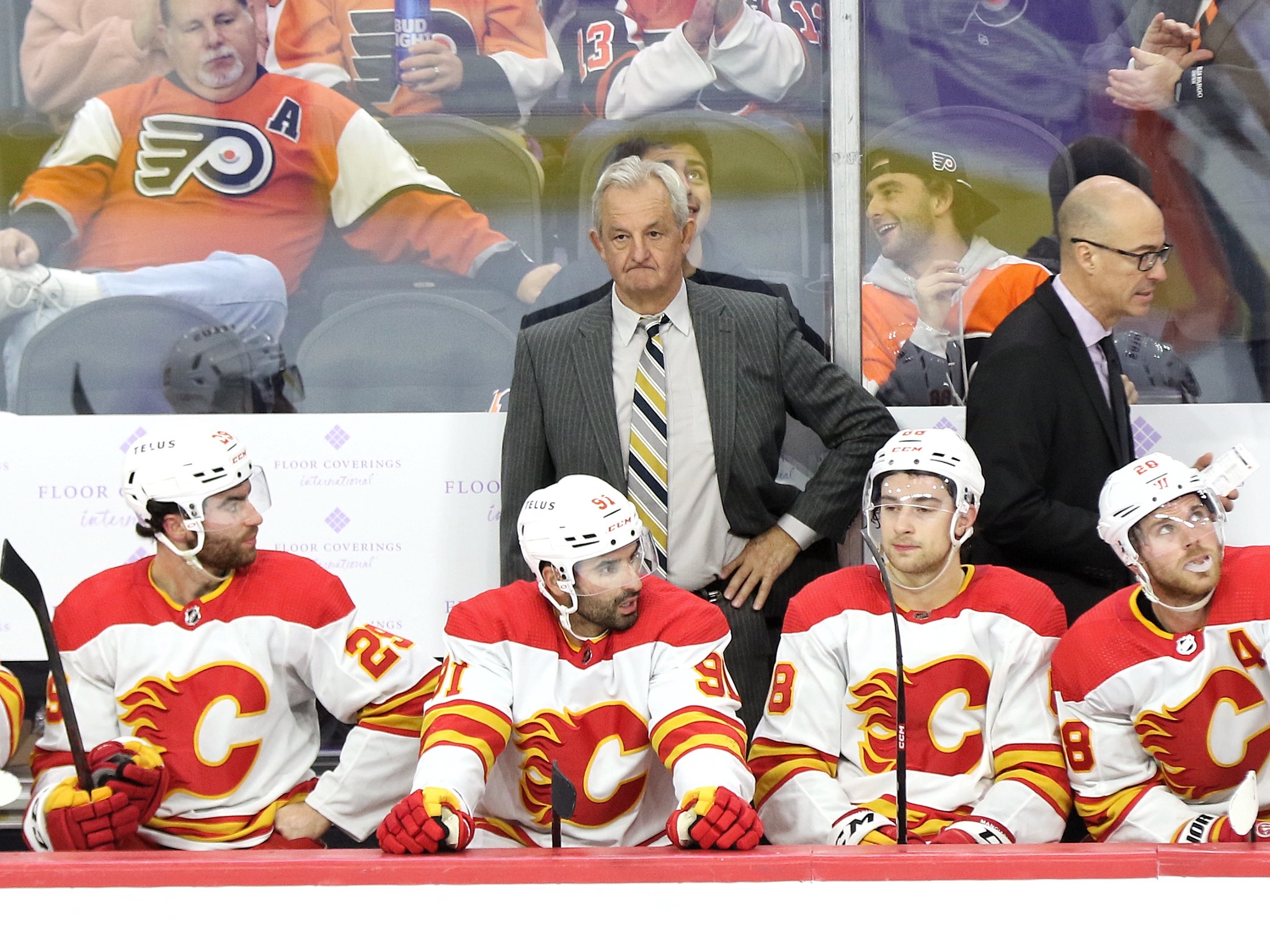 Perhaps the most egregious decision in terms of Sutter's goaltending usage came on Monday night (Jan. 16), as he chose to give Markstrom the start versus the Nashville Predators despite the fact that Vladar had picked up wins in both of the Flames' past two games against solid opponents in the St. Louis Blues and Dallas Stars. On top of that, Vladar had also come in for relief for Markstrom the game prior to those victories against the Chicago Blackhawks, after the latter was pulled due to allowing three goals on just 11 shots.
With Vladar having started back-to-back games against both the Blues and Stars, Flames fans were thrilled to see that Sutter finally appeared to be changing his stance by rewarding recent play. It seems that was never on his mind, however, as he told Sportsnet's Eric Francis he did so simply to make sure Markstrom was well rested for the upcoming stretch of games. Sure enough, his workhorse was back in the net against the Predators and was handed a loss in the process.
Favoritism for Veterans Growing Stale
This trend of preferring to go with the veteran, despite the results suggesting otherwise, hasn't just applied to goaltending this season, either. It has been no secret that Sutter has always been a fan of veteran, hard-nosed grinder-style players, and perhaps no season during his career behind the bench has proven that theory more than this one.
Related: Flames 2022-23 Trade Targets: Depth Defensemen
---
Latest News & Highlights
---
Despite having a surplus of young, offensively gifted prospects in the American Hockey League eagerly awaiting their opportunity, Sutter has instead continued to ice lineups that include older, less talented players such as Trevor Lewis, Milan Lucic, Brett Ritchie, and earlier in the season, Kevin Rooney.
In early December, the fans' public outcries to call up the AHL's leading scorer Matthew Phillips could no longer be ignored. Though, much to the chagrin of the fanbase, he wasn't given much of an opportunity. Instead of being given a chance in the top six to see what he could do, he appeared in just two games and saw extremely limited minutes. He has since been sent back to the AHL where he has a ridiculous 21 goals and 42 points in 29 games.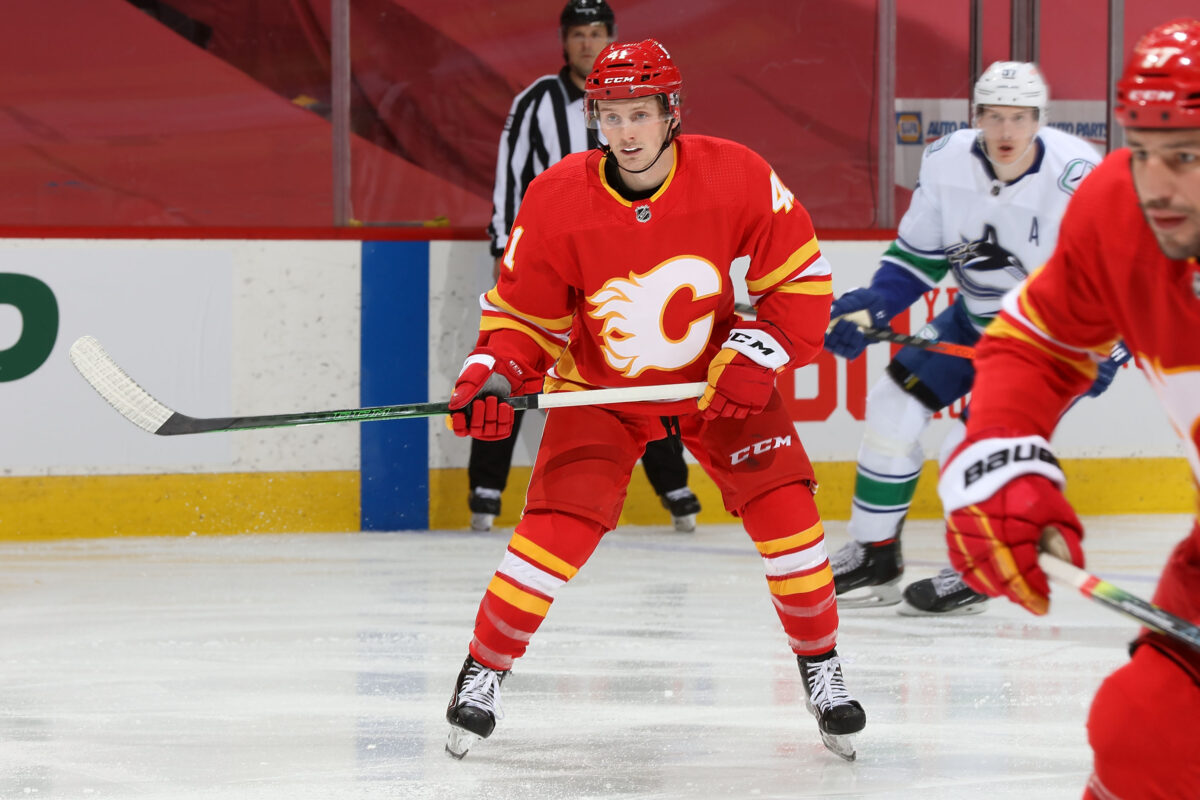 Another player Flames fans wanted to see get brought up and did recently was 2019 first-round pick Jakob Pelletier. The 21-year-old is just one of four first-rounders from his draft class that have yet to play an NHL game, this coming despite the fact he has a combined 42 goals and 96 points over 97 games in the AHL.
Thanks to his great production in the AHL, the Flames did choose to call up the young prospect over a week ago. Despite that, he has yet to suit up for any games, as Sutter has made him a healthy scratch for five straight outings. Making this even more infuriating for fans is the fact that while sitting out the talented winger, he is continuing to give Lucic an opportunity in the top six. On Tuesday, Sutter tried to explain why Pelletier hasn't been given a shot just yet.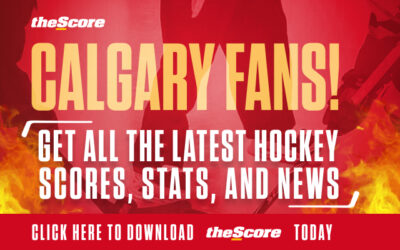 "He's excited to be here," Sutter said. "At the end of the day I want to get him in, but we're not 10 up and we're not 10 out, so, that's the way it works."
The most frustrating part about that explanation is that, if Sutter in fact gave some of his younger players an opportunity, the Flames may have several more points in the standings. And, while he is suggesting it has to do with his team's position in the playoff race, several have wondered if it instead has more to do with size, as both Pelletier and Phillips have small statures, far different from the big, bruising players Sutter has been known to be fond of in the past.
Game is Changing
At the end of the day, regardless of your personal opinion of Sutter, there is no denying that he is a brilliant hockey mind. He has proven that plenty throughout his coaching career and did so just a season ago. That said, the game is constantly evolving, and for a coach to remain one of the best, he needs to do the same. It is becoming more evident by the day that Sutter hasn't evolved in certain areas, and it is unfortunately costing his team points this season.
Colton Pankiw is a former Jr. A hockey player who now provides his knowledge of the game through writing. He's been a very active and reliable source for nearly two years at The Hockey Writers. He is a credentialed writer for the Calgary Flames but also does features on other teams throughout the league. Other writing contributions include: Yahoo Sports, Las Vegas Chronicle, Oil On Whyte, and Markerzone.com. Colton is also a co-host of both Oilers Overtime and Flames Faceoff podcasts. Any interview requests or content info can be made through him on Twitter. Take a look at his work here.