COLUMBUS, Ohio — Eight games played, several key players placed on injured reserve, a handful of visits from President Mike Priest at morning practices, one-on-one meetings for players and coaches…zero wins. All part of the dreadful October 2011 for the Columbus Blue Jackets.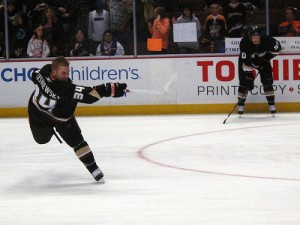 But hold everything, help is on the way.
It's time to hit the rewind button back to July 1st. The Blue Jackets announce the acquisition of defensemen James Wisniewski. A six-year contract worth $33 million. Wisniewski, 27, had his rights traded by Montreal to Columbus for a seventh-round draft choice just days prior to July 1, when he was set to become an unrestricted free agent.
"James is a player we identified very early on and we are thrilled to have him as a member of the Columbus Blue Jackets,"general manager Scott Howson said at the time. "He brings offensive skill and grit to our blue line, character to our dressing room, and will be a key contributor to our hockey club."
Anticipation of having the Canton, MI native putting on the Blue Jacket sweater when the regular season opened at home on October 7th against the Nashville Predators was surely flying high. It was the aggressive style of an opposing player in pre-season action however that landed Wisniewski in the press box for the first eight games of the 2011-12 season.
An intentional elbow to the face of Minnesota Wild forward Cal Clutterbuck prompted a call to the carpet from league disciplinarian Brendan Shanahan. A full explanation of the suspension:
While it seemed difficult to understand at the time, given the nature of a pre-season hockey game, Wisniewski's actions in pre-season indicate the character and leadership he will immediately bring to the Blue Jacket lineup.
Wisniewski will add an offensive presence to the back-end and supply a much needed punch on the power play as well. His aggressive style of play will be welcomed immediately.
Eight games are over and done with and Wisniewski's suspension is officially served. An eligible return date of October 25th at home against the Detroit Redwings is upon us. Until then, head coach Scott Arniel will have a new tool to implement into the lineup to help battle for the first victory of the season.
Exactly how he plans to use his new weapon remains to be seen.  But rest assured, a disciplined James Wisniewski will go a long way towards the Columbus Blue Jackets success on the ice. It all begins in nearly 48 hours.
Blue Jackets Notebook
~ Captain Rick Nash played in his 600th NHL game last night.