Through the first six games of the 2011-12 season, the New York Islanders have three wins, three losses and a major issue on their hands.
I can tell you, with absolute certainty, that those three losses did not stem from a shortage of talent. This Islander squad packs plenty of punch; they're just not playing their game on a nightly basis. That needs to change immediately or this team's going to be in trouble.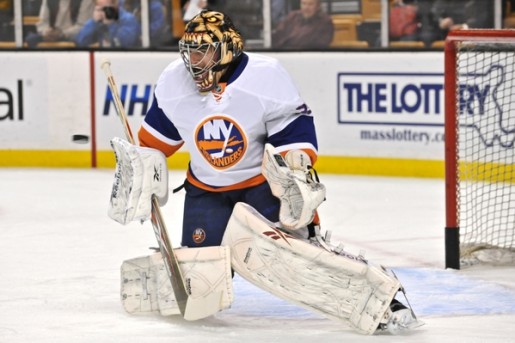 Consistency is everything in hockey, and the pattern thus far has been very simple: When the Isles generate offense, they're able to come away with the win. But when they turtle, don't get shots on net and squander offensive opportunities, they generally end up losing (with the exception of their 2-1 win over Minnesota, which goaltender Al Montoya deserves much of the credit for).
The good news is, not only is this problem correctable, it's also an invaluable learning experience for the younger faces on this Islander team.
When you go through and overcome adversity, that makes you stronger. These guys have the veteran guidance they so dearly missed last season, when they went on a 20-plus game losing stretch, and the other players who went through that rough patch last year are going to do everything they can to make sure that doesn't happen again now.
If you were wondering what Brian Rolston, Jay Pandolfo and Steve Staios are here for, you'll find out over the next several games. Those grizzly vets are here for situations exactly like the one the Isles are in right now.
There's a lot to be learned from the two losses against Florida and the one in Tampa. For me, there are three main areas of concern: A lack of pressure on offense, poor defensive play and a lack of discipline.
On offense, the Isles have been too cutesy with the puck, instead of simplifying the play and just making smart passes and generating shots on goal. They're trying to make the perfect play far too often, and that's led to a whole bunch of turnovers. This was not the case when the Islanders played against the Lightning and Rangers at Nassau Coliseum earlier on, and the result was a pair of wins.
It would also be nice if someone not named John Tavares, Matt Moulson, P.A. Parenteau or Mark Streit found the back of the net, or even the score sheet for that matter. A team with only one productive line is bound for disaster, the other guys have to step up. Michael Grabner has a pair of goals, but where's Kyle Okposo or even Frans Nielsen (who has one goal but hasn't done much since opening night)?
They've also had a tough time clearing the zone, much to the delight of the opposing team. In both games against Florida, the Panthers had a field day in the Islanders' zone, and it was practically open season for the Cats' forwards.
You can't give the other team all the time in the world to set up on offense, because eventually they're going to burn you for it, and that's exactly what happened in each Isles loss this year. Mike Mottau and Andrew MacDonald, in particular, haven't been playing well on the defensive side, and that has to change or GM Garth Snow may need to make a change.
The Islanders are also giving opposing teams far too many powerplay opportunities, which not only puts them at a disadvantage, it also severely hampers their ability to establish any sort of flow on offense, because they're spending vast amounts of time on the penalty kill. I understand this is a young team, but these kids have to learn sooner or later. The lack of discipline needs to be addressed, and that starts at the top, with the coaching staff. I'm not blaming the coaches for the three losses. I'll I'm saying is that they need to teach these kids to play smart, disciplined hockey.
For the New York Islanders, there's plenty of time, 76 more games in fact, to get back on track. But that time is now, not after a 20-game slide and a coaching change.
These young Isles are better than others give them credit for; now they have to go out there and prove it.
Comments are welcome.
I'm a columnist for the New York Islanders on The Hockey Writers.
I hail from West Hempstead, NY, I'm a Senior at Queens College and work at NBC Sports Network.
Follow me on Twitter @DFriedmanNHL