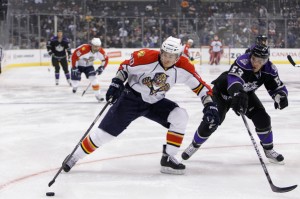 The Panthers started off the season nicely, winning 3 of their first 4 games.  Then, things quickly turned south with back to back losses (note, both losses were to teams that had lost a combined 1 game)!!!   How did Dale Tallon respond to this type of performance?  Well, within minutes of the start of Saturday night's game, it was announced that (fan favorite) David Booth was headed to Vancouver in part of a 4 player trade!  I had barely settled in to my seat and was checking the typical pre-game tweets from the @FlaPanthers when the BREAKING news was announced.  Only a few minutes later, the team casually announces "the puck has droppped."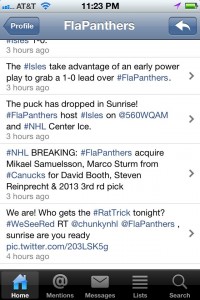 Wait, what?!  Booth has been one of the most exciting players to watch in South Florida!  Almost every home game includes "Boooooooooth!" cheers every time he touches the puck!  Twitter quickly lit up with shocked comments from Panthers fans, while the organization quickly moved on to business.  Upon the announcement, Tallon had this to say "We're in the performance business and I was not happy with our team's performance, especially the last two games. I wasn't going to sit still and let this fester and I want to send a message and I want to make changes and I want to get better. We felt as far as an organization we get two top NHL players and it allows David to rekindle his career and go to a winning team in Vancouver and regain the touch that he had in previous years."
Tallon wants to send a message!  What else did he have to say?  Well, when asked what he meant by sending a message, Tallon responded "You better play.  Whatever your capabilities.  I don't care who you are.  I don't care.  I'm not going to sit tight and watch two performances like the last two games."  Basically, what I heard him say was "I don't like losing!"
In the trade, the Panthers give up David Booth and Steven Reinprecht in exchange for Mikael Samuelsson and Marco Sturm.  Both are veteran players and both are coming off of injuries.  Sturm has had 8, 20 goal seasons, but has also had surgery on both knees.  Samuelsson was a part of Detroit's 2008 Stanley Cup winning team, but went through abdominal surgery after last year's playoffs.
Tallon brushed off the injuries and stated
"They're two useful NHL top-notch people that can play…They're solid defensively and offensively. Samuelsson won a a Cup in Detroit and is coming off back-to-back 50-point seasons. He's a real useful player. He can play the point on the power play and has size and a big shot that we sorely need. And Sturm gives us a player that can kill penalties. He's scored 20 or more goals seven times in his career and it just gives us more options and more depth in the organization."
Okay, Dale.  You sold us your blue-print.  As long as we buy that, then we must live by "in Dale we trust."  It would be pretty difficult to argue that he is not trying to build a winning team.  He's making changes, sending a message, and is acquiring guys who have experience and that he believes in.
Heck, I even saw a "Dale Tallon for President" sign at the game!  I wonder if that was made before or after the trade was announced.