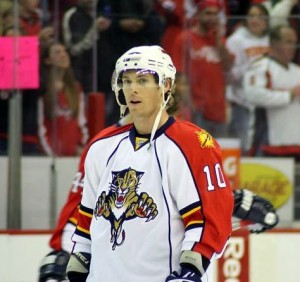 Mike Gillis and Dale Tallon have once again exchanged phone calls, the end result this time being Mikael Samuelsson and Marco Sturm heading to the sunshine state with David Booth, Steve Reinprecht and a 2013 3rd round pick coming to Vancouver.
The trade looks great on paper for Vancouver, who finally acquired the top-6 winger they were looking to partner Ryan Kesler with on the second line in forward David Booth. Steve Reinprecht will be expected to fight for a spot with Aaron Volpatti on the fourth line. The 3rd round pick is an added bonus for the BC team.
Florida seem to have received the shorter end of the stick in this deal. Marco Sturm looks slower than expected in his few starts for the Canucks, while Mikael Samuelsson is best known for being a streaky player — showing up for some games and not featuring in others. Thirty-three-year-old Sturm and 34-year-old Samuelsson will get a second chance in Florida, however, to perform. Both will be able to play with less pressure and expectations and can be expected to play larger roles in the Panthers team than they would have been given in the star-studded Canucks offence.
The 26-year-old Detroit-born David Booth will relish the chance to play for a very strong Canucks team alongside fellow Michigan native Ryan Kesler. Booth has a total of 166 points in 303 NHL games, 116 of those in the past three seasons for Florida. Booth also lead the Panthers with 280 shots last season, 12th overall on the league, a much-needed commodity for the Vancouver 2nd line. Booth has a cap hit of  $4.25 million per year and is signed until the end of 2014/15.
With the acquisition of Booth and the dumping of Marco Sturm, the Canucks have definitely become a stronger team. Though the loss of Samuelsson will be disappointing for some fans, the positives outweigh the negatives in this trade and the Canucks have GM Mike Gillis and Florida's GM Dale Tallon to thank once again, for getting their team one step closer to another Stanley Cup finals series appearance.