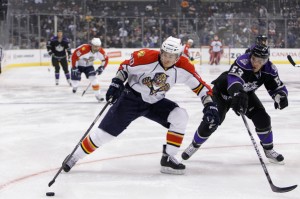 The Vancouver Canucks have gone back to the well again. And by gone back to the well, I mean traded with the Florida Panthers.
This time around, the Canucks have sent 30-something forwards Mikael Samuelsson and Marco Sturm to the Sunshine State in return for left winger David Booth, centre Steve Reinprecht and a third round pick in the 2013 draft. The turnkey in this trade for the Canucks is Booth, who at just 26 years old offers long-term upside. Samuelsson will be a UFA at the end of this season after a streaky stint in Vancouver. Sturm was signed to a one-year deal during the off-season, but had yet to score in 8 games as a Canuck.
Booth scored 40 points in a full season last year, and has 167 career points in 309 games for the Panthers. He was a highly touted junior who has only shown flashes of talent in Florida. Then again, the Panthers have not exactly surrounded the man with talent up front. The Canucks offer stability up and down the roster to hopefully challenge his game. Don't be surprised to see Booth serve stints on the 2nd line with Ryan Kesler and Cody Hodgson until Mason Raymond returns from his spinal fracture. Booth has never seen post-season acton in the NHL.
Reinprecht will almost certainly be a depth player for the Canucks, who are extremely deep at centre. Henrik Sedin, Ryan Kesler and Manny Malhotra have the top three pivot positions pretty much locked up – Cody Hodgson has already moved to the wing to play with Kesler. Reinprecht has 382 points in 663 career games, 10 of those points in 29 games with the Panthers last season. He has 20 points in 50 post-season contests with a handful of teams.
Booth is the latest high-profile player to come to the Canucks through trades with Florida. Regular players for the current Canucks squad who made their way here that way include Jennings-trophy winner Roberto Luongo (Todd Bertuzzi went the other way), Keith Ballard (part of the Steve Bernier salary dump) and Chris Higgins (acquired for D-man Evan Oberg).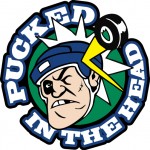 Jason Kurylo is the creator and co-host of Pucked in the Head, a hockey podcast with listeners on four continents, and blog that balances knowledgeable hockey analysis with an admittedly bent sense of humour. When he is not memorizing useless hockey trivia, Jason can be found making googly eyes at his wife Nadia and young daughter Milla. He is almost certainly eating a chewy chocolate treat at the very moment that you read this.
Jason [at] puckedinthehead.com