Entering Saturday's game against the Chicago Blackhawks with seven losses in a row, the Columbus Blue Jackets had just one mission. Win. That's it. No matter what it took.
---
---
Thanks in large part to their youth, the Blue Jackets were able to accomplish that mission. With that, they've opened a path to what a good rest of the season would look like.
Game Recap
Gus Nyquist scored twice. Emil Bemstrom and Kirill Marchenko each added goals as the Blue Jackets defeated the Blackhawks going away 4-1. Both of Nyquist's goals were scored shorthanded making him the first in franchise history to score two shorthanded goals in the same game.
But it was Bemstrom's and Marchenko's goals that each stood out on this day.
Bemstrom's goal tied the game in the first period on a power play. That marked goals in consecutive games for him since his recall from AHL Cleveland. Not only did that give him and his team confidence, he then proceeded to play perhaps one of the best overall games of his NHL career to date. He was a force on both sides of the puck.
---
Latest News & Highlights
---
Defensively, Bemstrom was in the right spots to make plays and disrupt the Blackhawks. His line with Nyquist and Jack Roslovic played very well together. Then when given the chance to shoot, Bemstrom did not hesitate. He looked like the player that led the AHL in scoring. Amazing what a little confidence can do.
"I was in the right spot at the time time today," Bemstrom said of his performance.
As for Marchenko, he scored a huge goal with just three seconds left in the second period to make it 3-1. This allowed the Blue Jackets to relax for the rest of the game while playing with a lead. His goal was his fifth of the season. His line with Kent Johnson and Johnny Gaudreau clicked from the start. Here's Gaudreau postgame on Bemstrom, Marchenko and the youth.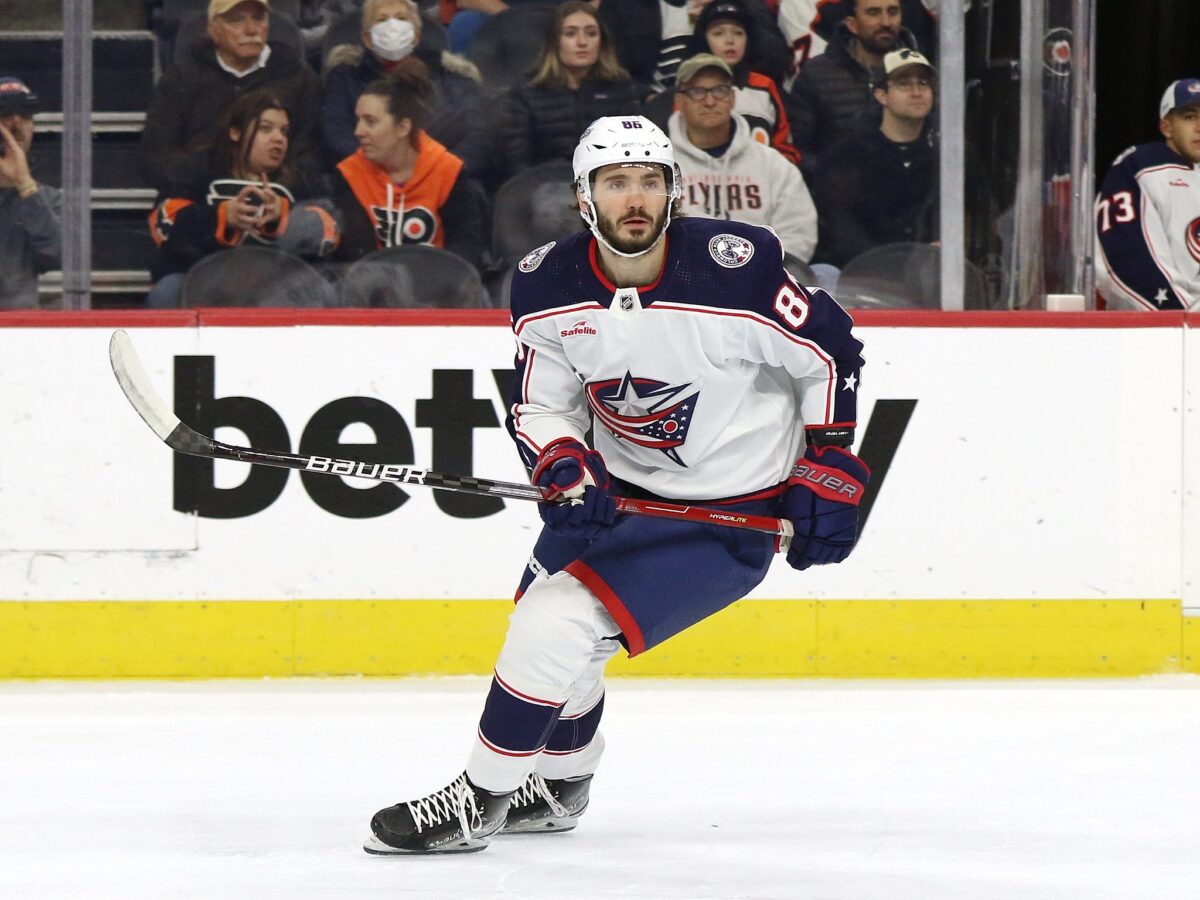 "We have a lot of young guys in the this locker room and we need them to keep being big parts of our team right now. With all the injuries and other players out, those young guys step up and play well for us. (They'll have) a good opportunity to win games for us this season."
Possible Excitement to Watch For
One of the big questions on the minds of fans and media alike was how many more games this season? As of Sunday morning, the Blue Jackets have 47 more games to play. They know they're very likely in the draft lottery discussion. Maybe now there's some exciting things to watch for especially if the youth continue to grow and develop.
Related: 3 Blue Jackets' Priorities For Rest of Season
Bemstrom needs to bring that kind of game with him everyday. Marchenko is showing he is quickly adjusting to the speed of the NHL. Johnson is playing valuable minutes as a number-one center alongside Gaudreau. Suddenly, what seemed completely unbearable now has some important silver linings.
There will still be many, many, many long nights ahead for the Blue Jackets. But if their young players continue to show tangible progress like they did on Saturday, that will ease some of the pain.
These players are not only important for the rest of this season, they are important for the future of this team. They need to be put in positions to succeed. They also need to enjoy success in the midst of all the losing. At least for one afternoon in December, they were able to do just that. Here's Brad Larsen postgame on the importance of just winning.
"One thing you learn is that winning never gets old, right? We needed it. We needed it for team morale, really. There were some good games early on. We didn't get any results. And the last few have been depleted of energy. That's what it looked it. So I think we had some good jump I thought and we found a way to get the win."
Overall, the 4-1 result was one of the Blue Jackets better overall games of the season on all fronts. They got timely scoring. They got another strong performance from Joonas Korpisalo. And they won the battle of special teams scoring a power-play goal and two shorthanded goals. They can now turn the page on 2022 and start looking ahead to brighter days thanks to their young players shining a light on a dark season.
Side Dishes
According to Dylan Tyrer of Blue Jackets Radio, Korpisalo has a .957 save percentage and a 1.38 goals-against average over his last four appearances.
Speaking of the goaltending, Daniil Tarasov did suffer an injury at practice on Friday and was not available Saturday. His status is day-to-day.
Was the team's message to Bemstrom shoot and shoot often? He had a very simple answer for that one. "Yes." Enough said.
You Might Also Like
With Boone Jenner out of the lineup, Gaudreau has been wearing an 'A' on his jersey. He leads by example. Here's Larsen on Gaudreau's leadership: "He's a leader. He's been around. He's a quiet guy. We've had more than one conversation about (where) he's just gotta be himself. He doesn't have to say a lot. Just do it with his energy, his legs, his play-making ability and his checking. That's something he can do and do well. I think the more he's here when you're in one place for so long, it takes to settle in. Everybody wants it to happen in five games. It doesn't. You move a family. He's got a young family, new teammates, all those things go into it. I think he will settle into that role quite nicely."
The Blue Jackets will enjoy New Year's Day off and will return to practice Monday morning in advance of their game Tuesday night against the Ottawa Senators.