The St. Louis Blues' 2022-23 season was a shocking disappointment for fans and management alike, leading to the team becoming sellers at the trade deadline and ultimately finishing in a draft lottery position outside the playoffs. So, who bears the blames for the team's failings? And who succeeded despite the team's struggles? That's what we'll look to identify in our 2022-23 Blues' Report Cards series.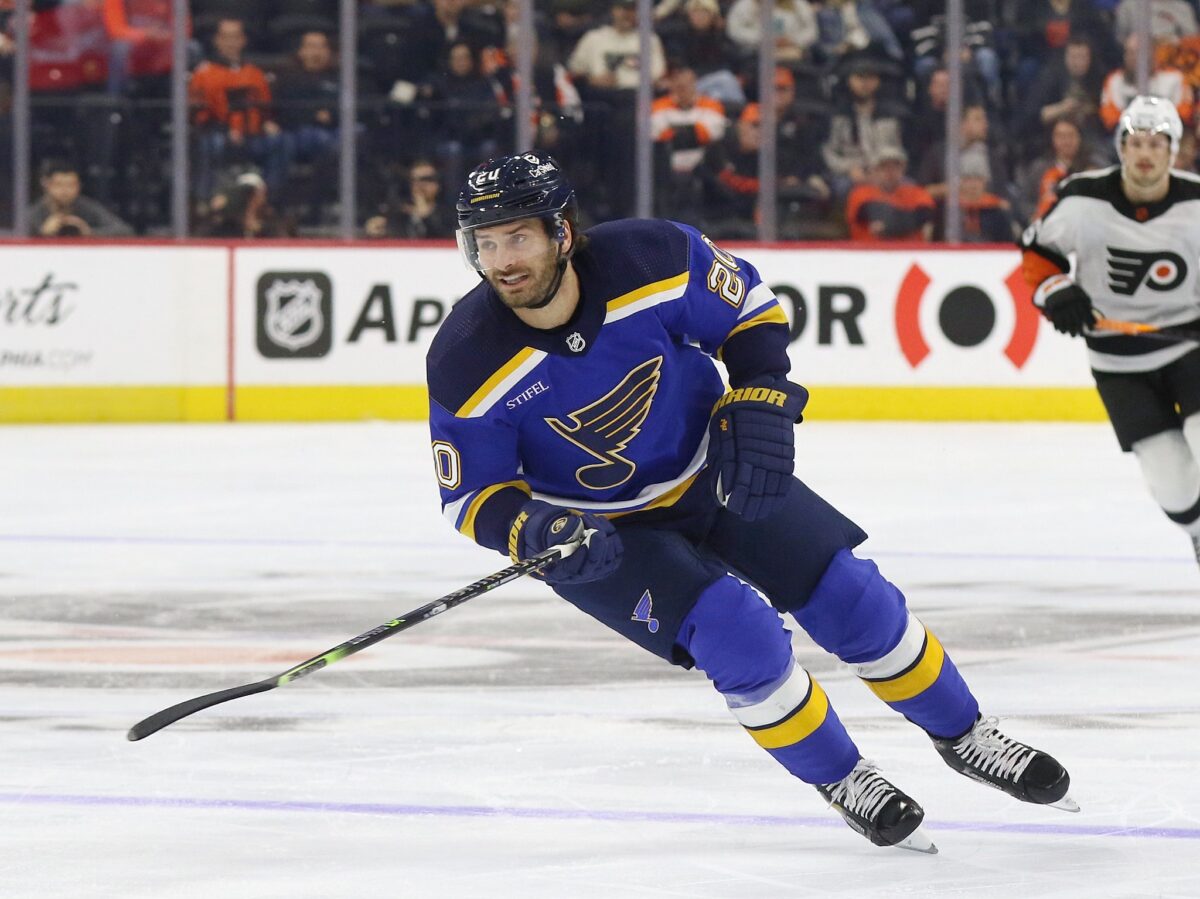 Despite having a regression in his overall point production, Blues forward Brandon Saad has been one of the most consistent goal-scoring forwards in his time in the NHL. While he may not light the world on fire on a nightly basis and be involved with the 40-plus goal scorers around the league, an expectation of approximately 20 goals each season has remained a healthy foregone conclusion each year for him.
What Went Right: Consistently Consistent
The veteran forward has, without question, remained a consistent scoring option for the Blues throughout his second season. While his offensive production has dipped (more on that later), Saad continued to score at a steady pace throughout the year. He remained on the top penalty-killing unit and was a go-to veteran player each night. We may be seeing the start of a decline in Saad's offensive production and instead seeing more of a transition to a supporting-cast role, in which he has been successful over his time with St. Louis.
What Went Wrong: Dip in Point Production
While Saad has been one of the more consistent goal scorers in the league throughout his career, like many Blues players, he did see a dropoff in production. While he saw an uptick in his point totals during the 2021-22 season, his goal-scoring production dropped by 20.8 percent year over year, and his overall point production dropped by 24.5 percent. In a season where the Blues needed the veteran's consistency once more this past season, Saad saw a regression and seemed to take a step back in his overall effectiveness.
---
Latest News & Highlights
---
From a statistical standpoint, his overall effectiveness on the power play also took a substantial hit. After scoring a career-high eight goals and 13 points on the man advantage during the 2021-22 season, he not only regressed to normalcy but below his career average as well. When reviewing his first year with the team against his second season, Saad's health and production remained relatively steady. He played seven fewer games during his 2022-23 campaign compared to his 2021-22, but saw a significant drop in his production and goal scoring. When adjusting his goal and overall points total pace to a 78-game season (the number of games he appeared in during the 2021-22 season), he was on pace to score only one additional goal (20), and four total points (41). The Blues will need the 30-year-old to not only play close to nearly a full season once more but to also pick up his performance once again and hover around the 45-50 point total by the end of the season to justify his $4.5 million per season contract.
Key Stats:
Shooting percentage remained at 15 percent for the second year in a row
Dropped from a plus-8 to a minus-11 rating year over year
46.7 Corsi-For percentage
Scored two shorthanded goals during the 2022-23 campaign
Final Grade: C
Saad's final grade, like the majority of his teammates, fell short of expectations. His effectiveness at even strength, as well as on special teams, left much to be desired for a man who only recently crossed over the 30-year-old threshold. He will need to rebound this coming season to get back in the good graces of many fans to justify his time on ice and contract.
What's Next For Saad?
After signing a five-year contract with the Blues in 2021, there were a lot of questions surrounding how well a player like Saad would age and whether his current price tag is justified. With three years and an average annual value of $4.5 million remaining on his contract, he will remain one of the Blues' key veteran forwards next season.
Related: Blues Have the Tools to Be Playoff-Bound Next Season
With a surplus of young forwards contending for a spot in the lineup, he will be a key member of the roster who can help guide and mentor the organization's next wave of core players. However, at his age, the Blues will need him to be more than just a mentor to the younger players and reclaim his offensive production from the 2021-22 season. Looking ahead to next year, he should be counted on as a player to, once again, score 15-24 goals and 35 or more points.