The St. Louis Blues' 2022-23 season was a shocking disappointment for fans and management alike, leading to the team becoming sellers at the trade deadline and ultimately finishing in a draft lottery position outside the playoffs. So, who bears the blames for the team's failings? And who succeeded despite the team's struggles? That's what we'll look to identify in our 2022-23 Blues' Report Cards series.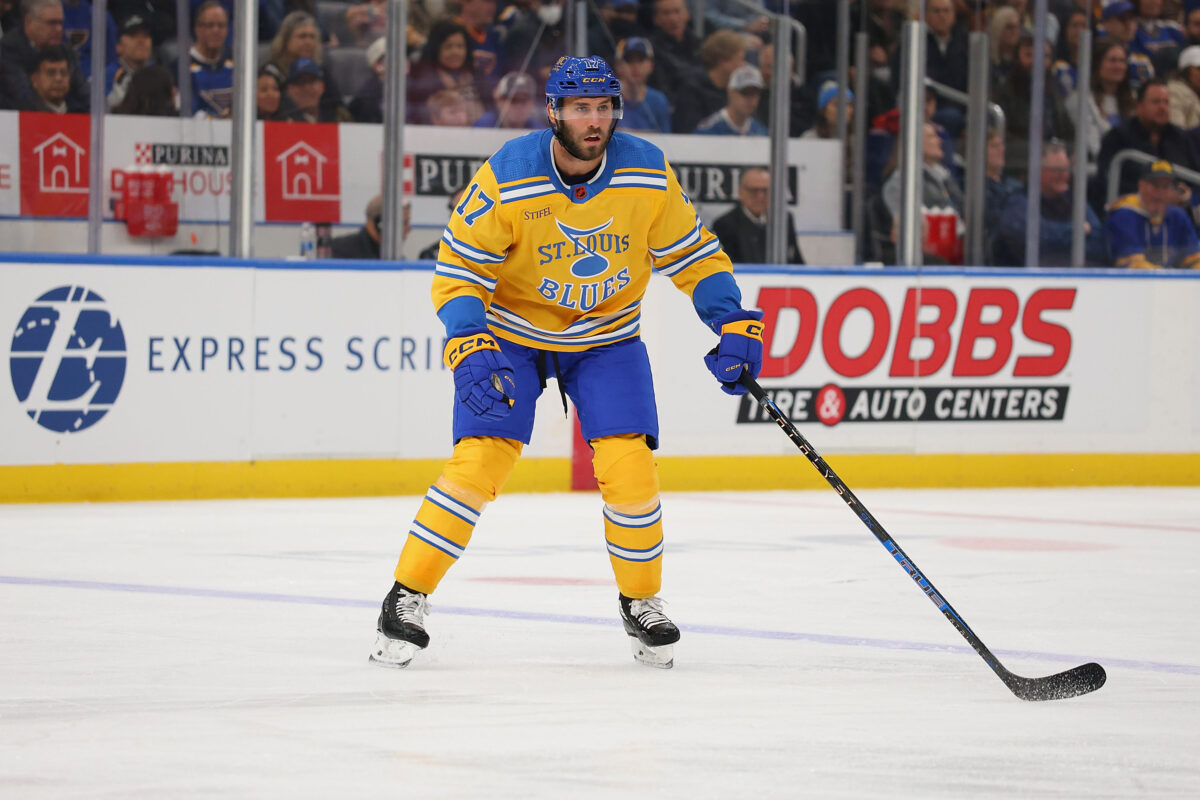 Fresh off a season in which he was named the American Hockey League (AHL) Playoff MVP, Josh Leivo signed a one-year contract with the St. Louis Blues, his fifth organization in four years. Hoping to prove he deserved a permanent home in the NHL, Leivo embarked on a season that would turn out to be a major disappointment for the Blues. But what role did he play in that letdown, if any? In this report card, we'll take a closer look at the 29-year-old's output and evaluate his performance with the team.
What Went Right: An NHL Home
During the 2021-22 season, Leivo spent the majority of his time with the Chicago Wolves, playing only seven games with the Carolina Hurricanes and 54 games with Chicago. Then, in the playoffs, he collected 15 goals and 14 assists for 29 points in 18 games en route to winning the Jack A. Butterfield Trophy as playoff MVP. In particular, Leivo's performance helped power the Wolves over the Springfield Thunderbirds, the Blues' AHL affiliate, in the Calder Cup Final. Presumably, Blues' scouts were in attendance and liked something they saw, as they then signed Leivo to a league-minimum one-year contract.
Leivo spent some time with Springfield this season but only appeared in two games (in which his stellar AHL form continued, tallying three goals and one assist). For the most part, he was in the NHL, playing in 51 games with the Blues. The Innisfil, Ontario native scored four goals and added 12 assists for 16 points in 51 games, not a bad total for a mostly-depth player. He even earned some time on the top line alongside Ryan O'Reilly before the captain was traded to the Toronto Maple Leafs near the deadline.
Beyond that, Leivo looked fantastic defensively, which was a rare accomplishment amongst his bedraggled teammates. He led the team in Corsi Against per 60 (CA/60), a metric that analyzes chance suppression. His defensive metrics looked incredibly strong across the board. For that alone, he should earn a look at an extension from the Blues. Very few players showed the two-way prowess he did, but he earned
What Went Wrong: No Trade Materialized
The biggest drawback to Leivo's season is simply that no trade materialized for him. Almost every other Blues player on an expiring pasture moved onto greener pastures. Vladimir Tarasenko and Niko Mikkola moved on to the New York Rangers. Noel Acciari joined O'Reilly on the Maple Leafs. And Ivan Barbashev got swapped to the Vegas Golden Knights. Leivo, on the other hand, had to stay on the sinking ship that was the Blues and unlike all those other players, got no opportunity to prove himself in the NHL playoffs — despite garnering some trade interest early in the season.
Related: Blues' Josh Leivo Could Be Surprising Trade Candidate
---
Latest News & Highlights
---
Now, the upshot of not moving is that a reunion with St. Louis might make more sense. And for most NHL players, staying in the same place from season to season is a big win in and of itself. But Leivo is a free agent this summer, so his future remains to be seen.
Key Stats
Team-leading (amongst players with 30-plus minutes) CA/60: 49.53
Led Blues' forwards in expected goals against per 60 (xGA/60): 2.38
51 games played (most since 2018-19)
Final Grade: A
Leivo was brought in to be a role player, and he played his role incredibly effectively. He brought a defensive edge unmatched by just about anyone on the team and proved capable of playing up and down the lineup. The former AHL playoff MVP proved he deserves a long-term home in the NHL.
What's Next for Leivo?
But he will have to confirm that future in the offseason. Leivo's one-year contract has expired, and he will become a free agent able to sign with any team. But it would make plenty of sense for the Blues to pursue a reunion. He will be a cost-effective addition to a squad that desperately needs defensive help. The Blues would be foolish not to try and keep him.