The Winnipeg Jets had an exceedingly up-and-down 2022-23 season. They had a strong first half, suffered a prolonged slide in the second half, recovered from it just in time to squeak into the playoffs, then were quickly dispatched in the first round by the Vegas Golden Knights.
In this series, we'll take a look back on the season, player by player, and grade their individual performances with an eye toward their future with the team.
Mark Scheifele turned in a second-straight inconsistent season for the Jets.
For the first time in his career, the Jets' first-ever draft pick surpassed the 40-goal plateau, firing home 42 and breaking his previous career high of 38, set in 2018-19. The number didn't come without ups-and-downs, though, nor did it prevent his future with the team from being questionable.
Scheifele Looked Re-Energized in First Half Under New Coaching Staff
Scheifele came into the 2022-23 season with much to do to rebuild trust. His 2021-22 season was strong from an offensive standpoint, but his laziness and defensive deficiencies hurt the team on too many nights, and too often, he was obviously dogging it.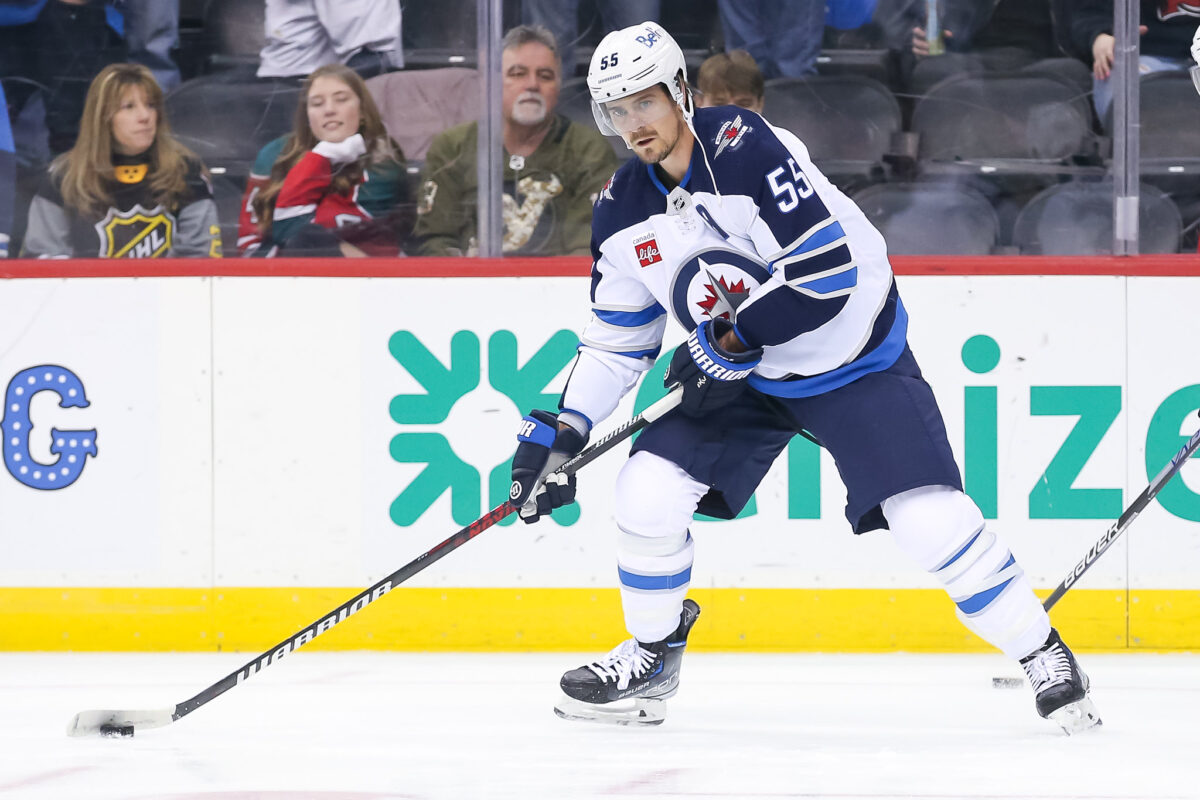 Scheifele talked the talk in training camp about desiring the accountability structure new head coach Rick Bowness immediately began to implement upon his arrival, an accountability structure that never existed under Bowness' predecessor Paul Maurice.
Bowness stripped Blake Wheeler of the captaincy in September, and for a few days before the new leadership core was announced, there was speculation Scheifele might lose his "A" as well. Bowness let him keep it, though, and Scheifele made good on the vote of confidence in the first half. Re-energized and recommitted, he gave full effort on both sides of the puck and reaped the rewards.
He was undoubtedly one of the Jets' top players as they surged to the top of the Central Division and even the Western Conference in January. By the All-Star Break, he had 31 goals, and 50 seemed within reach.
Scheifele Did a Second-Half Disappearing Act
As soon as the Jets hit turbulence, though, Scheifele reverted back to the problematic and lackadaisical 2021-22 version of himself. During the three-month slump that saw the team tumble down the standings, his drive, effort, and enthusiasm levels once again tanked.
---
Latest News & Highlights
---
In March, he went through a nine-game goalless streak and seemed to be lashing out against Bowness for making an example of him, showing that when push came to shove, he didn't really want accountability after all. He refused to speak to the media after Bowness benched the line of him, Kyle Connor, and Nino Niederreiter after they were on the ice for three-straight goals by the Carolina Hurricanes on March 14.
Related: Jets' Scheifele Has Quietly Quit on His Team; Trade Request Coming?
Bowness, at his wits end by late March as his team was in danger of being the first in NHL history to lead a conference more than halfway through the season but miss the playoffs, moved Scheifele to right wing for the first time in his 12-year career. Scheifele did well with less defensive responsibility, scoring four goals in his final seven games, finishing with 68 points, and helping the Jets snag the second Wild-Card spot.
Scheifele Knocked Out of Playoffs — Again
Scheifele was one of many Jets' stars who had a subpar playoffs. He scored one goal in the series against the Golden Knights — in Game 3, during the third-period comeback that eventually led to an overtime loss — before being knocked out in the first few minutes of Game 4 with an upper-body injury suffered by slamming into the end boards after a breakaway attempt.
He did not return for Game 5, making it the third-straight playoffs he's been knocked out of by either injury of suspension. He was knocked out in Game 1 the 2020 Qualifying Round against the Calgary Flames by Matthew Tkachuk's slew foot, and was erased from the 2022 second-round series against the Montreal Canadiens for charging Jake Evans in the final minutes of the game, receiving a harsh four-game ban.
Scheifele May Have Played His Last as a Jet
Last offseason, it seemed Scheifele could be shipped out after his bombshell exit interview where he openly mused about his future with the team. He refrained from saying anything incendiary at this season's garbage-bag day, but it still seems his 700-plus game tenure as a Jet could be at an end.
Scheifele, an unrestricted free agent after next season, was non-committal about his future, saying it was "too early" and "too hard" to talk about a long-term extension. He said the idea of playing his entire career with one team does mean something to him, adding that Steve Yzerman, his favourite all-time player, did that with the Detroit Red Wings.
"I think that's an accomplishment to play for one team, it means the team wanted you the whole time, I think obviously that's something you have to pride yourself on," Scheifele said. "At the end of the day, there's two sides to this whole thing so… a lot of it isn't up to me."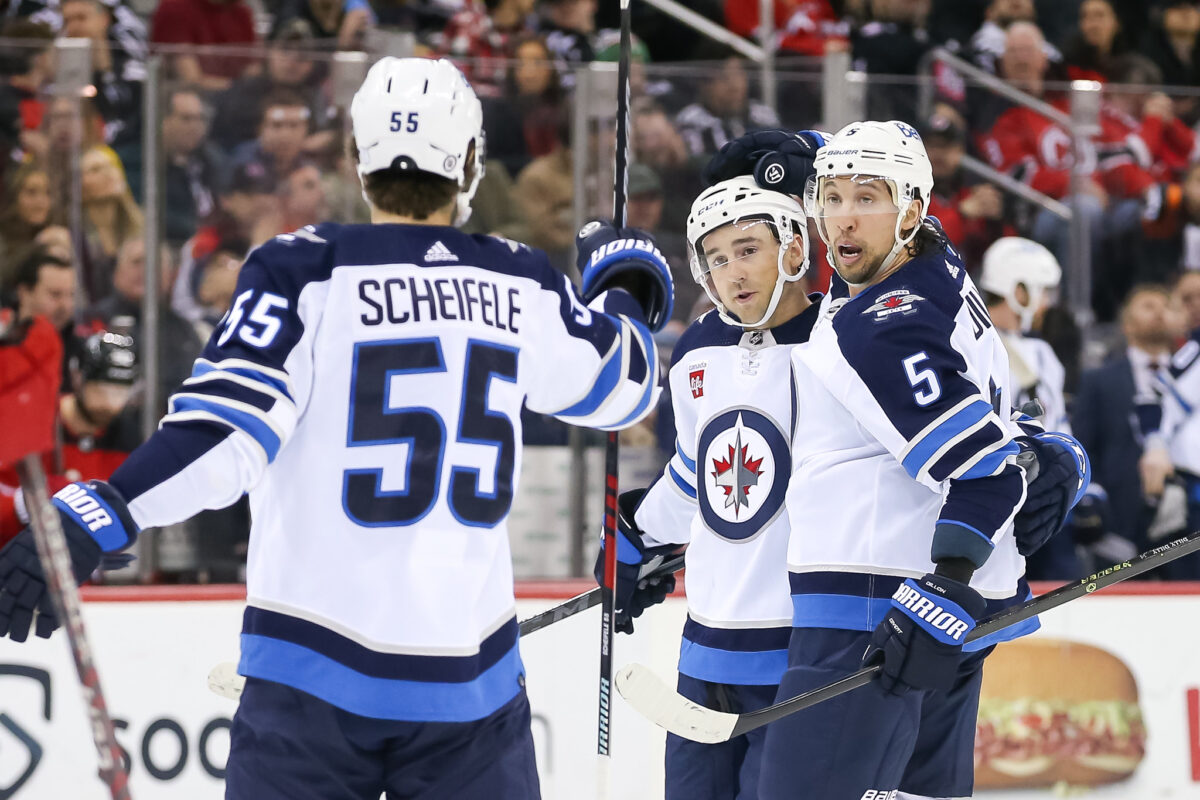 Scheifele added that what other core players choose to do will also factor into his decision, but as he acknowledged, a lot isn't up to him.
General Manager Kevin Cheveldayoff would not commit to a rebuild in his end-of-season comments and seems content to stick to the stale status quo once again. However, if he finally comes to the realization that big changes to the core are needed to get the team out of the mushy middle, he could trade Scheifele and the final year of team-friendly $6.125 contract, ending what's been a two-season roller-coaster ride.
Final Grade: C+