With the Winnipeg Jets falling 4-1 to the Vegas Golden Knights, the offseason begins with several questions. That being said, the problems that ended their season in the first place need to be identified. There wasn't one specific issue that doomed the Jets, but a combination of several shortcomings that ultimately cost them a chance at advancing.
So, as we reflect on Round 1 of the Stanley Cup Playoffs, it's important to understand why we're having this discussion. We're having it because the Jets find themselves eliminated again, and in order to move forward, some reflection is necessary to figure out the solutions.
Inconsistent Efforts
The entire first round seemed like a Jekyll and Hyde act for the Jets, who couldn't put together a consistent 60-minute effort. Their Game 1 was a thing of beauty and by far their best showing of the series. This appeared to be a statement game for the Jets, who had recently found their form after nearly two months of regular poor showings.
The statement appeared to have worked, as the Jets opened Game 2 with an equally dominant effort in the first period. That said, the dominance stopped there and wasn't seen for several periods as the Golden Knights took Game 2 and seemed to be on their way to taking Game 3. When things seemed out of reach, however, suddenly the Jets' team from Game 1 appeared and erased a 4-1 deficit in the third period to force overtime. Adam Lowry tied the game with just over 20 seconds remaining, and while they went on to lose in double-overtime, it felt as if they had a chance to keep pace and send the series back to Vegas tied 2-2.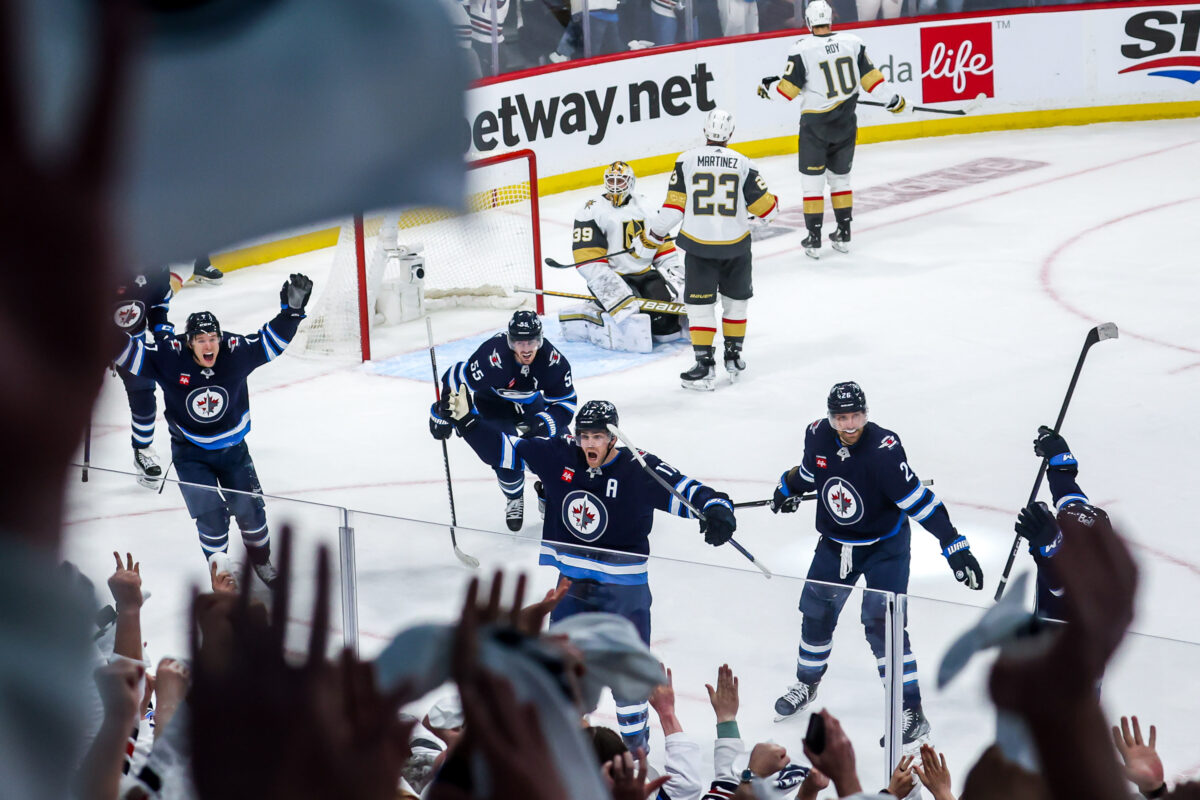 That turned out to be short-lived, as the Jets went on to lose Game 4 by a 4-2 margin and faced a do-or-die Game 5 in Vegas. Well, that Game 5 was perhaps the worst effort we've seen from the Jets in months, and once again raised questions of inconsistency. Where did the team that dominated Game 1 go? Regardless of where they went, they certainly didn't end up in Vegas for Game 5, as their inconsistency made that series more lopsided than it should have been.
"No Push Back"
Who could possibly sum up the Jets' Game 5 effort better than their head coach? Well, Rick Bowness let loose on the team in what ended up being a minute-long presser filled with anger and disappointment. The quotes that stood out the most, however, were the ones Bowness used when discussing the team's "push back."
Related: Bowness's Comments Reflective of Jets' 2022-23 Season
With a reference to their struggles in February, Bowness seemed to unleash his internal frustrations that he had been hanging onto for nearly three full months. This wound up striking a nerve with many players, with some even speaking out against the coach in their media availabilities after the series loss. The common theme from the players was that they hoped Bowness would have voiced his concerns to them directly. However, some acknowledged that Bowness is just very passionate about winning, and they understood why he was so vocal after the game.
---
Latest News & Highlights
---
Bowness isn't out of line to scold the team for their efforts, as Game 5 was full of disappearing acts from many of the Jets' best players. The team faced a great deal of adversity, and yes, they lost a lot of star power to the injury bug, but it's up to the players to step up in the face of adversity and many faded as the series progressed.
Jets Lost Star Power Battle
Bowness was also quite adamant that the Golden Knights' star players were much better than the Jets' stars. For many of the top Jets, this was the case. Players such as Pierre-Luc Dubois and Kyle Connor became increasingly frustrating to watch as it appeared their effort level was no longer on par with the Golden Knights. Both players got away from the games that make them both successful, with Connor even changing his shooting approach, often creating worse shooting opportunities.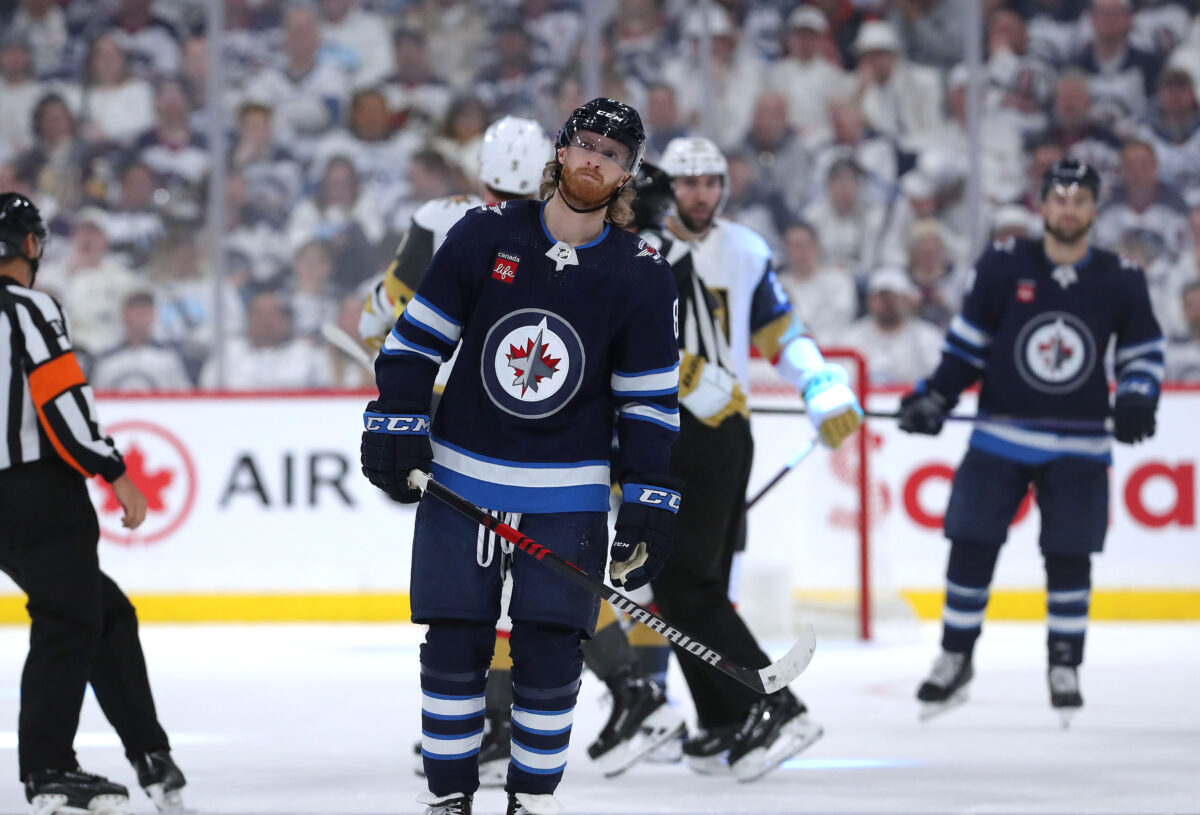 On the Golden Knights' side of things, they got their boost in the form of Mark Stone as a supplementary piece to their forward group. In addition to the impact Stone has on the game, they also received outstanding performances from other key forwards. Notably, Chandler Stephenson tallied eight points in five games, while both Jack Eichel and William Karlsson had five points.
Perhaps the biggest difference, however, was that the Jets' biggest star looked human. Connor Hellebuyck had a below-average series, and while he wasn't spotless, Golden Knights' goalie Laurent Brossoit won the duel between the two. Hellebuyck had another outstanding regular season, but much like other seasons, he was often the main reason behind the team's success.
Ultimately, in both regular season slumps and this year's early exit, the Jets have shown that they struggle to step up when they aren't getting outstanding goaltending. If they can't find ways to win when Hellebuyck isn't at a Vezina Trophy-winning level, then perhaps there's a deeper problem we need to be talking about.
The Jets' season is over and the questions are only just getting underway, but clearly, there are issues that need to be addressed. Few answers were provided in the media availabilities following the series loss, but one can hope the offseason will help address the issues that proved costly for the Jets in their short-lived playoff run this season.