In Game 4 of the first-round series between the Winnipeg Jets and Vegas Golden Knights, Jets fans — who have come up with plenty of fun chants over the years — chanted "you're a backup" to Laurent Brossoit, who won the starter's duties down the stretch for the Western Conference champion.
That chant aged like milk, as Brossoit — Connor Hellebuyck's number-two guy with the Jets between 2018 and 2021 — outplayed his old friend and helped his team move onto the second round.
Hellebuyck's Performance Was Subpar Compared to Regular Season
One of the storylines heading into the series was which former teammate would outplay the other. The Jets, with the past Vezina-winner Hellebuyck tending their crease, seemed to have the edge.
Hellebuyck made 64 starts in 2022-23, posting a 37-25-2 record, 2.49 GAA, .920 SV%, four shutouts, and a .688 Quality Start Percentage. Those numbers were all improved from a 2021-22 season that was subpar by his standards.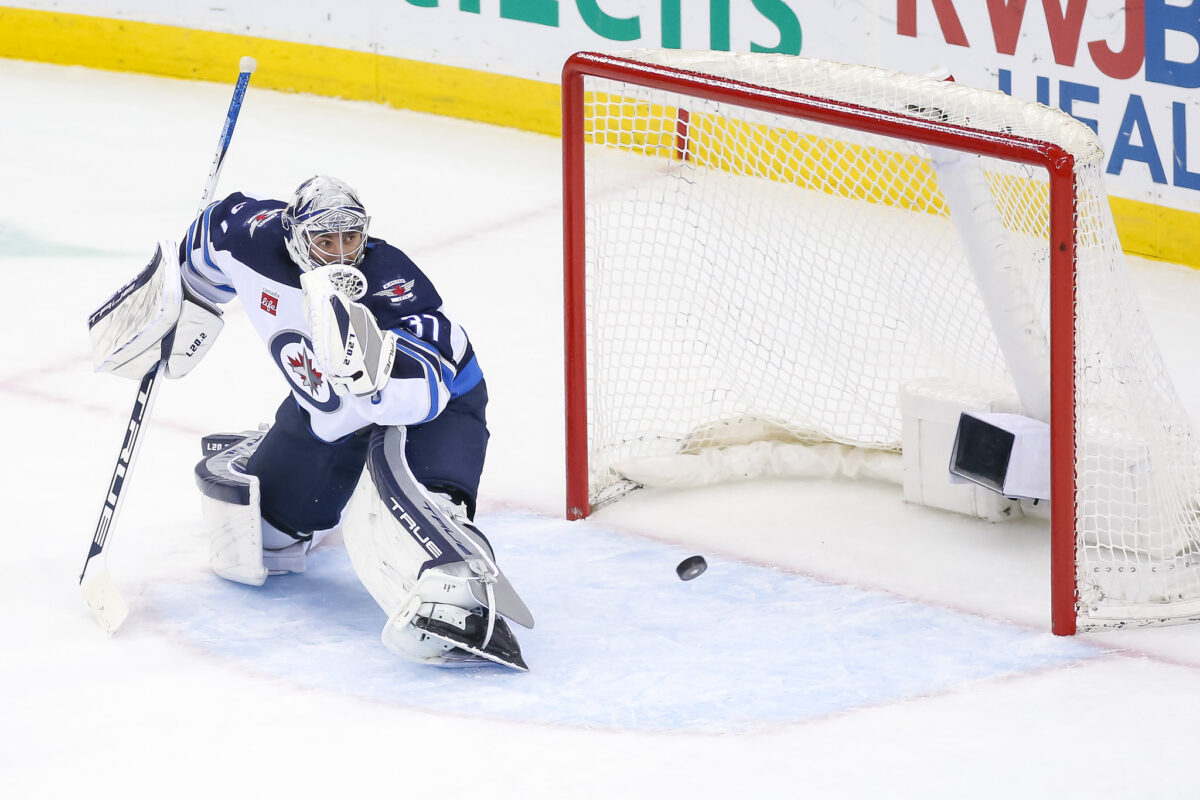 Taking a look at a couple more advanced stats, Hellebuyck's Goalie Points Share (an estimate of the number of points contributed by a goalie due to his play in goal) was 14.2, the best marker of his eight-year career, as was his Goals Saved Above Average of 30.7.
The perceived edge, though, never materialized. Although Hellebuyck was a key reason the Jets avoided the dubious distinction of being the first team in NHL history to lead a conference more than halfway through a season but miss the postseason, he was decidedly average throughout the first-round series.
---
Latest News & Highlights
---
While some blame can be laid on the injuries that piled up and put the Jets at a huge talent deficit and also on the sloppy play in front of him as the series progressed, Hellebuyck did not come close to stealing a game.
In Game 1, Hellebuyck didn't have much to do as the Jets totally shut down the Golden Knights, limiting them to 17 shots. In Game 2 and beyond, though, after the true Golden Knights showed up, Hellebuyck couldn't handle it.
He allowed three-plus goals in each of Games 2 through 5, and in Games 3 and 5, allowed goals on the first shot he faced (in fact, in Game 3, he allowed his first two shots against.) A number of the goals he surrendered were on chances he stops when he's at his best, and his angles, rebound control, and reactions all appeared duller than usual. That's all the Golden Knights' potent offence — led by Jack Eichel, William Karlsson, Chandler Stephenson, and Mark Stone — needed to take advantage.
Related: 3 Takeaways from Jets' Season-Ending Loss to Golden Knights
Hellebuyck finished with a 3.44 GAA, .886 SV%, and a negative-3 GSAA, by far the worst totals of his five playoffs.
Brossoit Improved As Series Went On, Outplayed Old Partner
Meanwhile, Brossoit had a shaky start to the series, allowing four goals on 30 shots in the Golden Knights' Game 1 loss.
The 30-year-old won the Golden Knights' playoff starting gig over Adin Hill, Jonathan Quick, and Logan Thompson by posting a 7-0-3 record with a 2.17 GAA and .927 SV% in his final 10 regular-season starts. There was some thought head coach Bruce Cassidy might go with Quick or someone else for Game 2, but he gave Brossoit a vote of confidence and an opportunity to rebound.
The 30-year-old, labeled by many in the media as Hellebuyck's former "protege" or "student" — despite being older than Hellebuyck — is not a top-10 starter in the NHL like Hellebuyck. However, he made good on Cassidy's trust in him and proved more than capable of keeping the Jets' top stars at bay.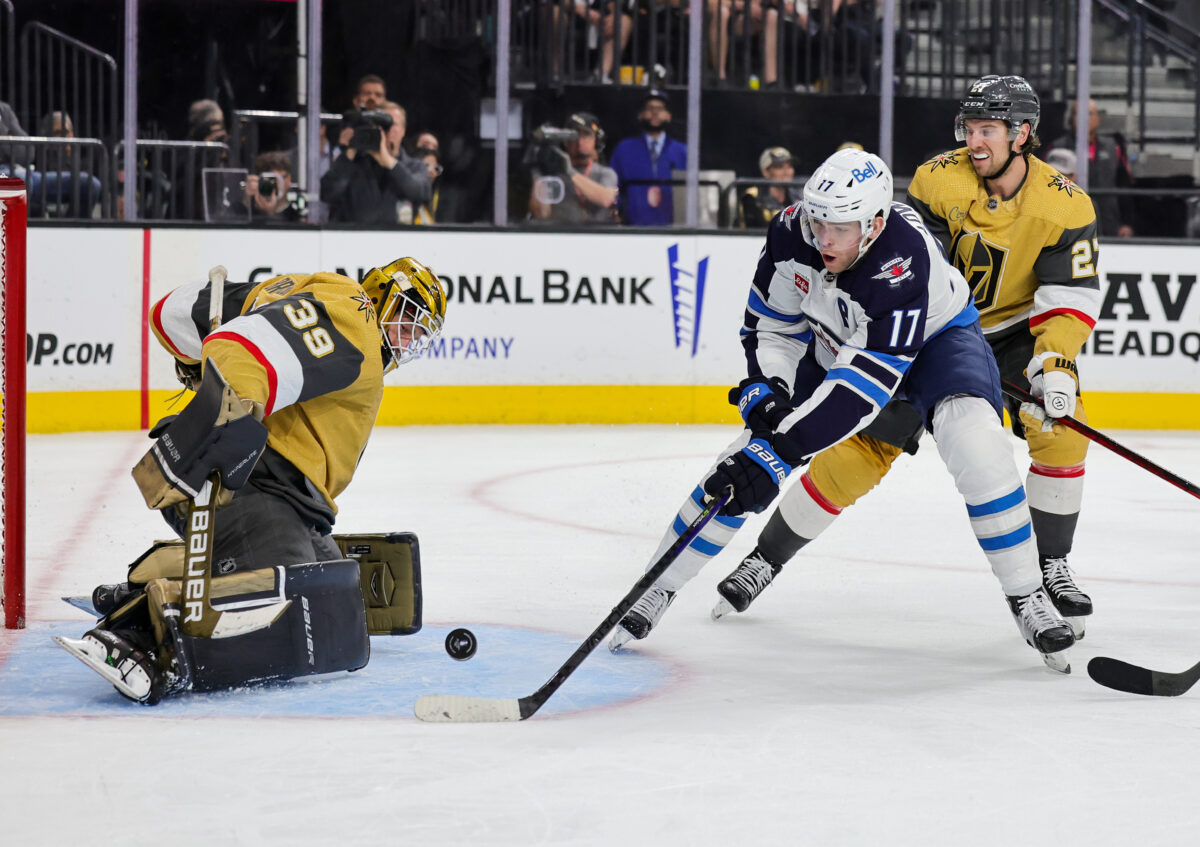 He stopped 31 of 33 in Game 2, 30 of 34 in Game 3 (where he did get a bit lucky with a couple of posts, including one in the first overtime.) He stopped 24 of 26 in Game 4 — the chant game — and postgame responded "I could hear' em. It's fuel."
In Game 5, Brossoit stopped 29 of 30 in a 4-1 win to make the Jets the first team to be eliminated from the postseason. He finished with a 2.42 GAA, .915 SV%, and 1.5 GSAA.
Hellebuyck Could Have Played His Last As a Jet; Brossoit Awaits Second-Round Matchup
Hellebuyck is an unrestricted free agent after next season and is on record saying he only wants to win a Stanley Cup. With a Jets' rebuild seemingly on the horizon to revamp the deficient core that obviously does not possess the strength of character to make a deep run, he could be traded or may request one if Pierre-Luc Dubois, Mark Scheifele, Blake Wheeler, another others are moved this offseason.
Related: Jets Should Not Be Satisfied With Season; Big Changes Required
Brossoit, meanwhile, is awaiting his team's second-round opponent, which will be either the Edmonton Oilers or Los Angeles Kings. He will be the starter — not the backup — as far as the Golden Knights go, barring injury. The chant surely isn't bothering him much anymore, if he remembers it at all.
After Game 5, Brossoit said he played with a chip on his shoulder to prove the doubters wrong, and had a lot of motivation after starting the season in the AHL with the Henderson Silver Knights.
"There's nothing I can control other than what I am doing on and off the ice… The opportunities came, and luckily I took advantage," he said. "And here we are."