The Winnipeg Jets opened the 2023 Stanley Cup Playoffs with a dominant road performance, defeating the top-seeded Vegas Golden Knights 5-1. Many experts predicted this series would feature close games, which made the Jets' opening statement all the more impressive.
Jets head coach Rick Bowness explained postgame that "Tonight was clearly the best game we've played against (the Golden Knights), for the full 60 minutes."
Dominant Performance Sees Jets Go Up 1-0
The Jets controlled play from start to finish, as they outshot the Golden Knights 31-17. Connor Hellebuyck made some big saves to begin the game, but he was not asked to do too much after the start of the second period; they held the Golden Knights to only two shots on goal in the third. When Winnipeg is playing at their best, they do not have to rely on their goaltender to win games. This game was a prime example of that and a recipe for success moving forward.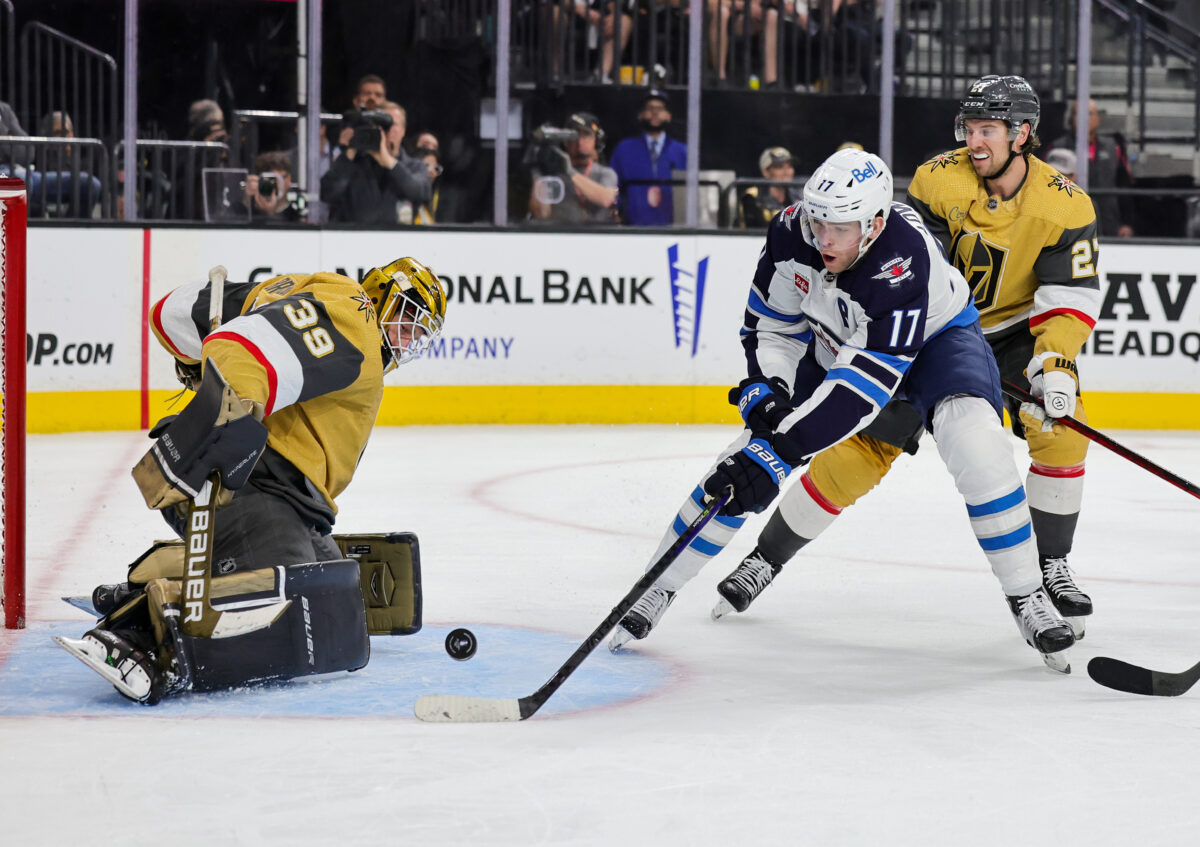 One crucial moment was when the Jets were able to snatch back the momentum after the Golden Knights made it 2-1. When Bowness was asked about it, he told reporters, "That was a huge kill that gave us momentum going into the third. There are timely kills, and that was a timely kill. Our penalty killers did a great job tonight. We have a ton of respect for their power play, and obviously, it's very good."
Related: 5 Keys to Jets Success in First Round Versus Golden Knights
---
Latest News & Highlights
---
The Jets had another timely kill with under five minutes to go in the third when they were called for too many men. The penalty kill went a perfect three-for-three, while the power play converted on one of their three attempts. When asked about the penalty kill, Adam Lowry told reporters, "Special teams are usually the difference in tight games, and we were able to get that kill and preserve the 3-1 lead. It was huge for us to get all three kills tonight."
Lowry, known for his shutdown ability on the third line, scored two late goals and played well on the penalty kill. He, along with his linemates, were difference-makers for the Jets and gave them a leg-up in the depth department, where the Golden Knights usually thrive.
Jets Top Line Stepped Up With Nikolaj Ehlers Out
Nikolaj Ehlers has yet to recover from the hit from Minnesota Wild forward Ryan Hartman, who was suspended for one game to end the regular season. With him out of the lineup for Game 1, the Jets leaned heavily on their top line of Kyle Connor, Pierre-Luc Dubois, and Mark Scheifele, and they responded with an impressive performance.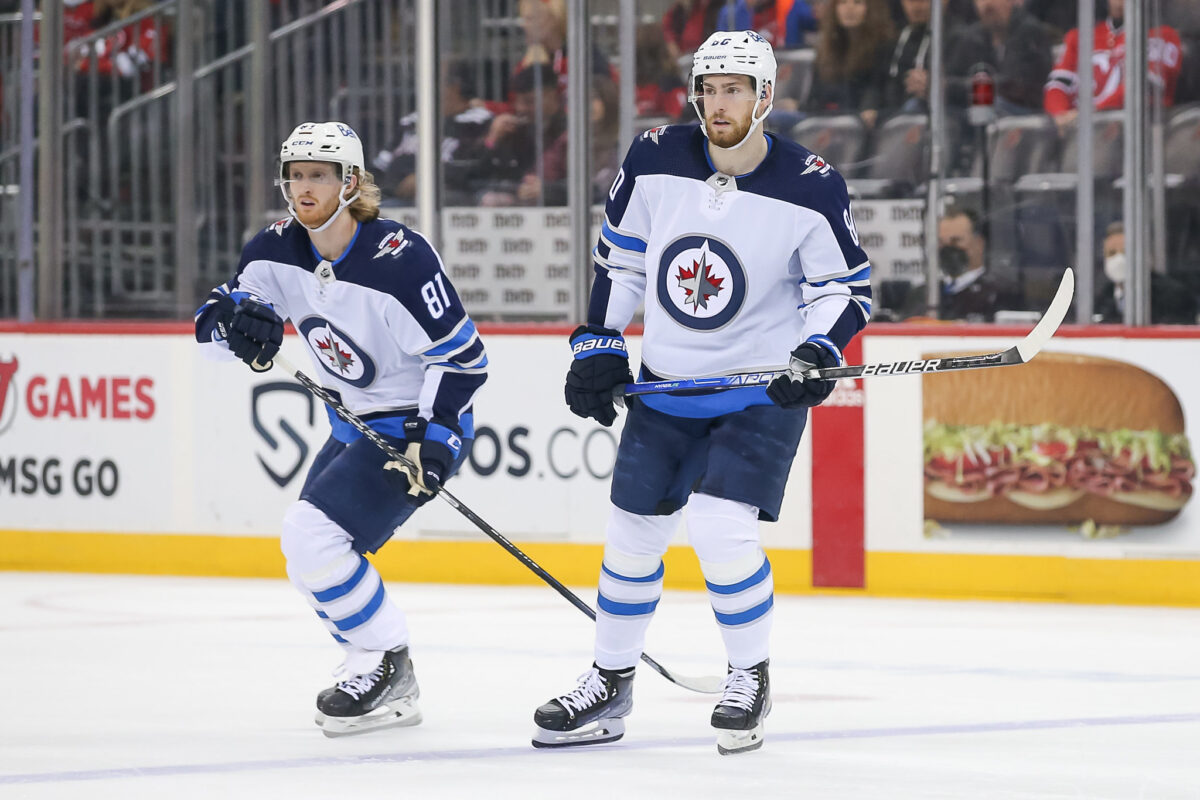 Dubois made the biggest impact on that line, pushing play and setting up Connor and Scheifele in prime areas of the ice throughout the game. He assisted on the opening goal and sniped a shot over the shoulder of Laurent Brossoit for the game-winner, all within 62 seconds early in the second period.
Given the Golden Knights' potent offence, the Jets needed to control play to win this game on the road, and they did just that. Their blazing start to the second was a major factor in the lopsided result, and Dubois echoed that to reporters: "We got two opportunities, put two in, and just like that, you're up 2-0, and they're chasing the game now."
After that line opened the scoring, Bowness went right back to them on the next shift. He explained that "I do like to throw them… anybody who scores a goal… we do like to go right back with them. They're feeling good about themselves, and it was actually a short shift when they scored."
Morgan Barron Reportedly Receives 75 Stitches and Returns
There was a scary moment when Morgan Barron was cut next to his right eye by Brossoit's skate amid a scrum in the Golden Knights' crease. According to Sean Reynolds of Sportsnet during the broadcast, Barron received 75 stitches before returning to the game. Bowness shared his exchange with Brossoit with reporters: "He came back and was looking at me and said, 'I'm ready,' and I said, 'Do you need a little skate or something?' Barron replied saying, 'No, I'm ready to go.'"
A very scary incident became uplifting when he was able to return to the game and make an impact on the third line. Barron has steadily improved throughout the season, and his first career NHL playoff game was no different.
Plenty of Question Marks Going Into Game 2 for Golden Knights
On the flip side, the Golden Knights have some soul-searching to do before Game 2 on Thursday night. Brossoit was phenomenal in the regular season, but how heavily will head coach Bruce Cassidy judge his pedestrian performance in Game 1? Will they turn to Stanley Cup-winner Jonathan Quick or reliable backup Adin Hill, or remain with Brossoit?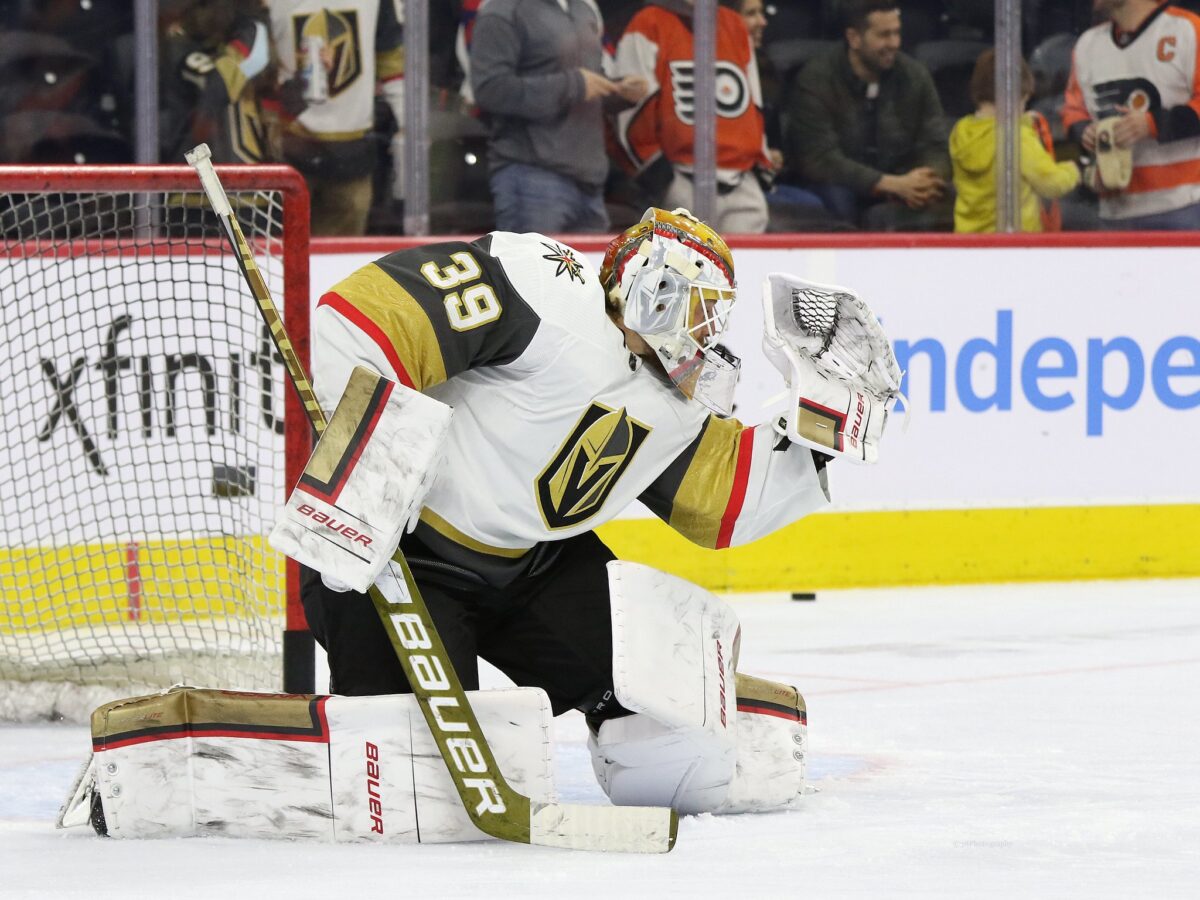 Barron, who received 75 stitches and missed over a period of game time, had more shots on goal than Jack Eichel and Mark Stone combined. The Golden Knights may come out swinging with a new forward group for Game 2, as they did not generate nearly enough to win this game. Stone is coming off a three-month hiatus while Eichel was playing in his first-ever Stanley Cup playoff game. Those two must play at an elite level if they want to get back on track in Game 2.
As the eighth seed in the Western Conference, it was paramount for the Jets to win one on the road and regain home-ice advantage. With the all-important Game 2 looming, they have an opportunity to come back to the "Winnipeg Whiteout" with a 2-0 series lead. The Golden Knights will come out with a vengeance in Game 2, but the underdog has now proven that they can hang with the favourites.