Winnipeg Jets fans who were expecting GM Kevin Cheveldayoff to admit the Winnipeg Jets have massive flaws or commit to a sea-change were sorely disappointed Sunday.
In a 40-minute availability following Saturday's "garbage-bag day," Cheveldayoff mostly said a whole lot of nothing, but that whole lot of nothing indicated something nonetheless — that he's happy to stick to the stale status quo that's gotten the franchise nearly nowhere.
Cheveldayoff Somehow Satisfied With the State of the Jets
Three days removed from an embarrassing no-show in Game 5 of the first-round series against the Golden Knights that saw the Jets eliminated, Cheveldayoff's comments indicated he's ready to stay the course, yet again, and that he's fine with the way the season played out.
"Standing here at training camp everyone asked if we were going to be a playoff team… I'm proud of the group that they battled through that gauntlet and got to that point of making the playoffs," he said, seemingly forgetting the way the Jets fell apart in the second half, tumbled from first place in the Western Conference to the playoff line, and took until the second-last game of the season to clinch the second Wild Card spot.
The only person who seems upset about that and that they were quickly dispatched in the playoffs is head coach Rick Bowness. The bench boss said he was "disappointed and disgusted" with his team's lack of effort in Game 5, only to have key players band together to throw him under the bus during Saturday's interviews. Mark Scheifele and Blake Wheeler, among others, complained he called them out in public instead of acknowledging he was right and taking accountability.
Cheveldayoff Rejects Assertion That Core Is Broken
When asked about what that indicates about team leadership, Cheveldayoff gave his players a pass.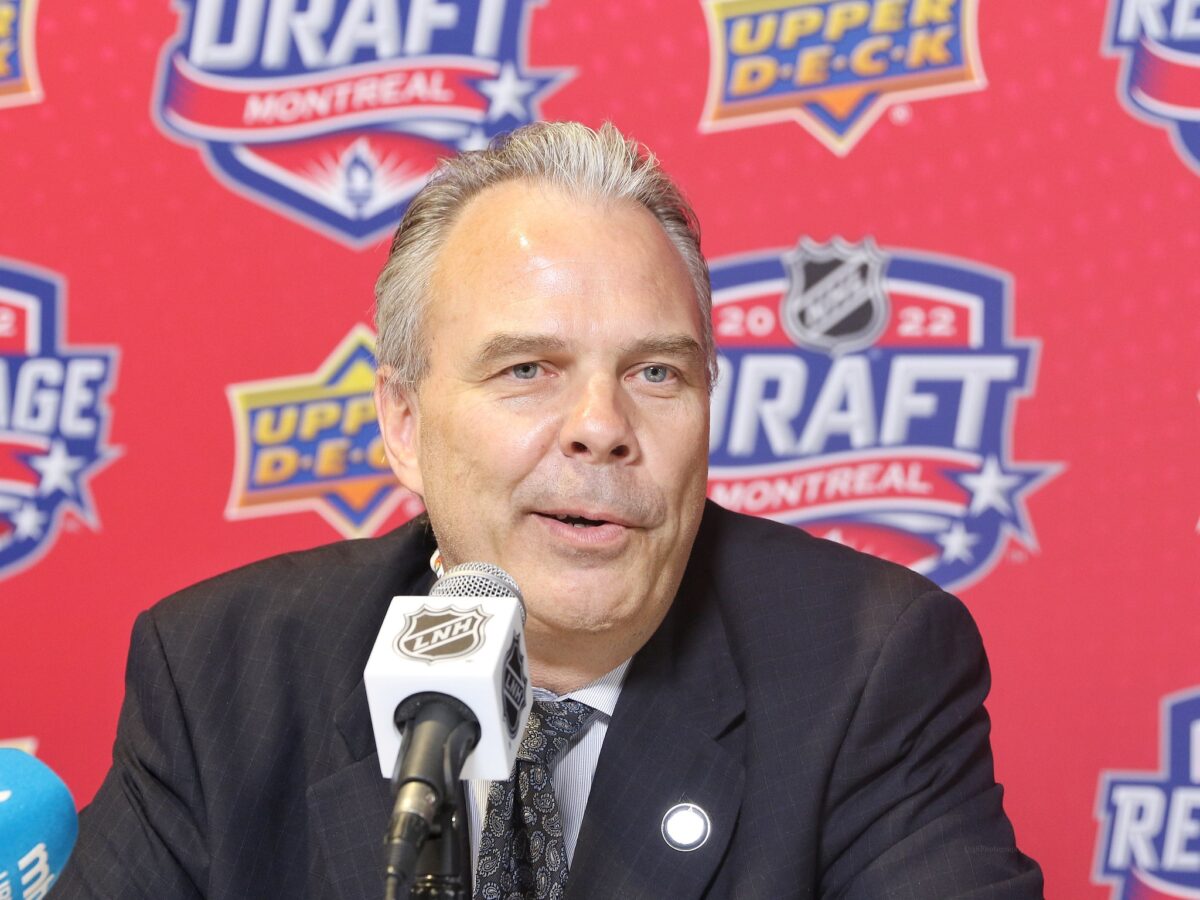 "There's a lot of good things that happened this last year," he said, referencing key games the Jets won down the stretch as signs the core is strong. "You come out on that side of it because you care, you come out on that side of it because you earn that right, and those are the same players, those are the same guys. There's 16 teams that would have given anything to be in that same situation as us."
Making the Playoffs Seems To Be All Cheveldayoff Aspires To
Cheveldayoff's comments show that as long as the teams makes the playoffs, even if they end quickly in a splat, is good enough for him.
"We stood here at the beginning of the season and there were a couple of players that commented that they relished the fact they were kept together to try to get to the playoffs, and that's what they accomplished. We're not sitting here waving any banners or anything like that, that's unfortunate, but there's a lot of good people in that room that pushed this organization to a good place."

Jets' GM Kevin Cheveldayoff
It's alarming Cheveldayoff thinks the team is in a good place and that he's either unable to see the problems or is trying to play the Jets' fan base for fools. The core's fragility and lack of character have prevented them from being anything more than a bubble team.
Related: Jets Should Not Be Satisfied With Season; Big Changes Required
When asked how much the lack of playoff success — just three series wins in 12 years, all with Cheveldayoff as GM — will factor into his offseason assessments, Cheveldayoff said the fact the Jets have made the playoffs more seasons than not since 2018 "can't be lost."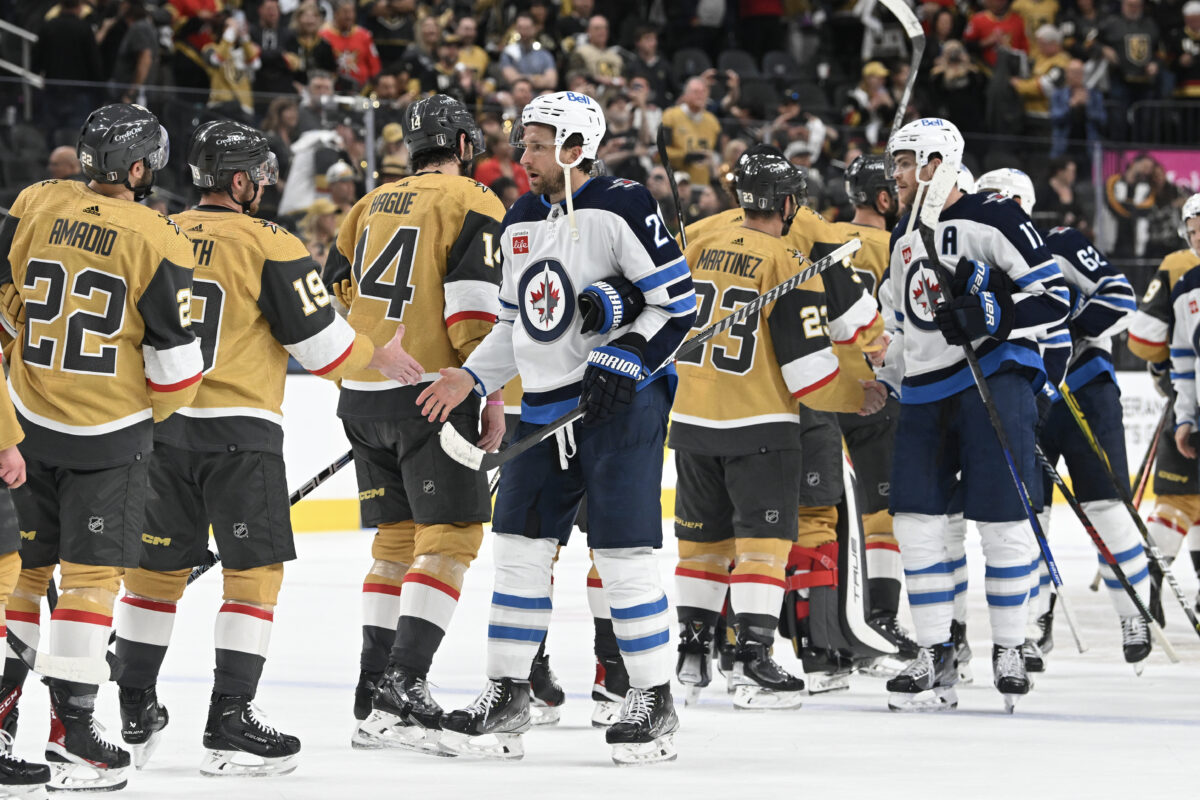 "You can take a collective look on a lot of things, but every team is different, every series is a different thing," he said. "Ultimately you're going to end up with losses if you're not the Stanley Cup champion, but again, that core got us to five out of six playoffs as well. That can't be lost. I don't know that there's a lot of teams in Canada that have played that many games in the playoffs over that course of time."
"You come into a season, I don't really read all the articles, but I'm not sure who predicted we were making the playoffs this year… We provided an opportunity for this team to have a level of competition to be in the conversation of making the playoffs and moving forward over the course of time," he said later.
Cheveldayoff Makes Excuses, Gets Testy
Cheveldayoff came armed with cliches, but also with excuses. He repeatedly mentioning injuries to Josh Morrissey and Scheifele as reasons for playoff losses, ignoring the fact the real reason for the losses were due to systemic issues that have gone unaddressed for years.
He got his hackles up a few times, first when asked why the players fell back on old habits in the second half and simply aren't very coachable when times get tough.
"I guess I disagree with you with the rebellion against Bones," he said to a reporter. "Maybe you guys are underestimating just how hard it is to make the playoffs and just how hard it is to build a group of professional athletes that obviously all have talent, all have throughout the course of their career, different successes at different things."
He added that in exit meetings, there was appreciation, not resentment, for the accountability structure Bowness tried to implement. He said the team is honest with each other and themselves behind the scenes.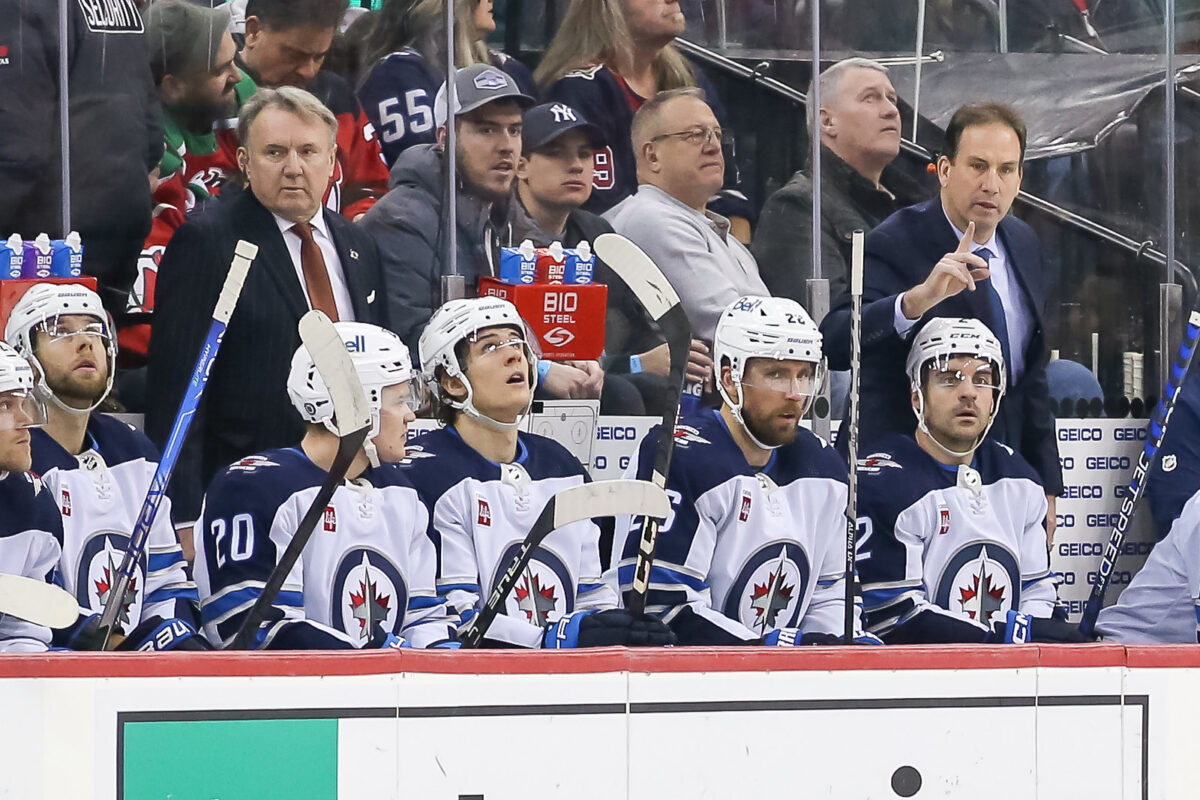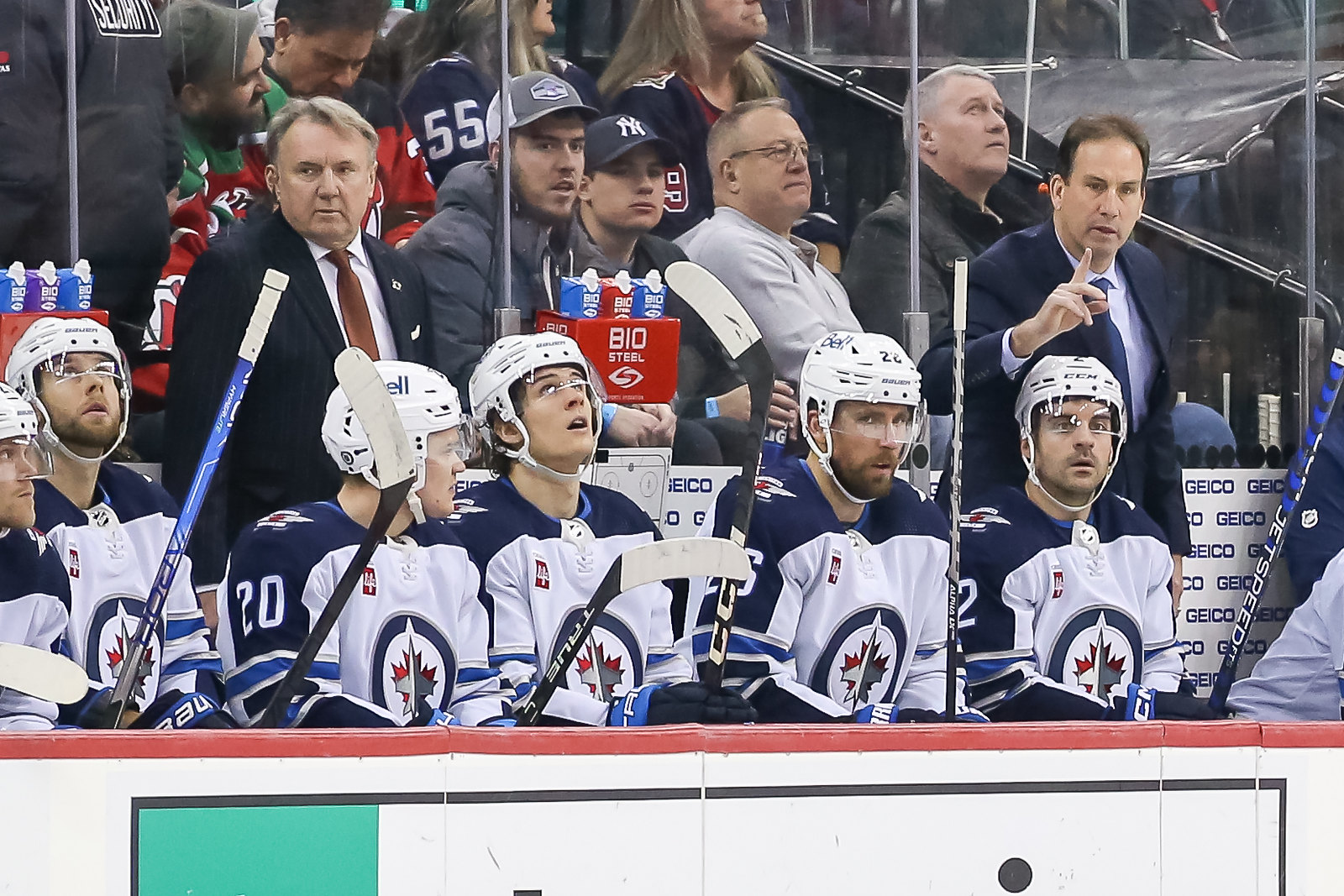 "We created a culture where more people could be honest… where we sat down at the beginning of the year and said it's ok to have tough conversations with each other," he said.
Cheveldayoff also got testy when a reporter suggested that adding a president of hockey operations as a buffer between himself and ownership could be beneficial. He said the team runs a tight ship and the track record of the current front office is good.
Cheveldayoff's Comments Don't Give Much Hope for Jets' Future
Based on online reaction, Cheveldayoff said exactly what Jets fans were expecting. Apathy has set in among a good portion of them, which should have True North exhausting all avenues to show they care about winning.
Cheveldayoff didn't give a single compelling reason for fans to (re)open their wallets, and it's clear the "honeymoon era" in Winnipeg is long gone. Jets fans are no longer satisfied to just have a team or squeak into the playoffs — they want to watch a competitive hockey on a consistent basis and their team to hoist a Stanley Cup one day.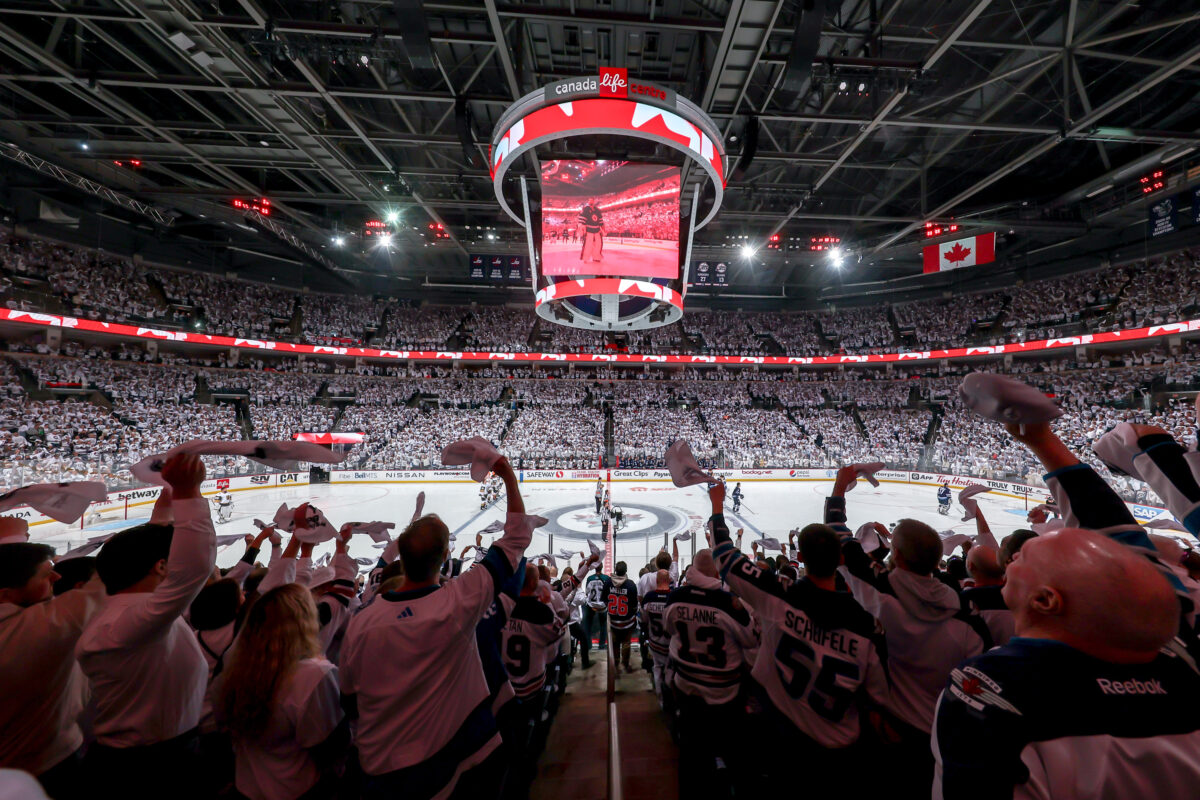 Many feel the overall product True North offers is not worth the price they charge, and the decreased attendance lays that bare. This season, despite not having any COVID-19 vaccination requirements for entry and the Jets marketing quarter-season packs and promotional prices aggressively, there were an average of 1,276 empty seats per night at Canada Life Centre.
True North didn't build itself any good will, either, with their recent "Forever Winnipeg" season ticket drive campaign. Many perceived the messaging and use of visuals in the ad of the Jets 1.0 leaving town in 1996 as a veiled threat the team could leave again if they don't buy tickets.
Cheveldayoff said he's acutely aware how fans are feeling since he lives in the community, but said "the fans want to make sure whatever decision are made, are made with a purpose. They're not made just to… create headlines (or) for Twitter clicks."
He also rejected assertions the fans aren't happy with the current state of affairs.
"I saw a lot of people out in streets a couple of days ago wearing white and I saw a lot of people in the stands a couple days ago wearing white that were pretty jacked up that we had an opportunity to get in there…" he said. "I hope they enjoyed that because it was an opportunity that was earned by the players and the coaching staff and the fact we kept a lot of those guys together."
Jets Don't Want to Rebuild, But They Need To
Many Jets players said Saturday they have no appetite for a rebuild, and Cheveldayoff wouldn't commit to one either.
"We're not at that point here yet to make any bold proclamations," he said, adding that more time to assess process is needed. "We'll go through the process and make those proper decisions."
It seems an increasing number of fans do want something bold to happen, though. They recognize a regime change and some lean years are ultimately necessary for their team to become a true contender one day.
---
Latest News & Highlights
---
Pierre-Luc Dubois, Connor Hellebuyck, and Scheifele are all pending UFAs after next season and none seem to have much interest in staying with the Jets. if Cheveldayoff were to commit to a rebuild, he would move them this offseason along with Wheeler and a defenseman or two.
Running it back again and finishing in the "mushy middle" would be much worse for the franchise long-term than acknowledging that the current players cannot get it done. Unfortunately, it seems Cheveldayoff is of the same mind as the guys on the ice in thinking they are good enough and did get it done.