The Winnipeg Jets are halfway through the 82-game schedule and have been one of the NHL's biggest surprises in 2022-23.
After a disappointing 2021-22, the Jets have rebounded in a big way under new head coach Rick Bowness' steely leadership. They fell in game 41 Tuesday against the Detroit Red Wings but have a 26-14-1 record and sit second in the Central Division.
Related: Jets in Good Position as Injured Players Set to Return
While it's difficult to find a player who hasn't contributed to the team's success in some way, five in particular stand out as the first half's top performers.
5: Mark Scheifele
Mark Scheifele is producing fewer points per game than last season, but is a much better player.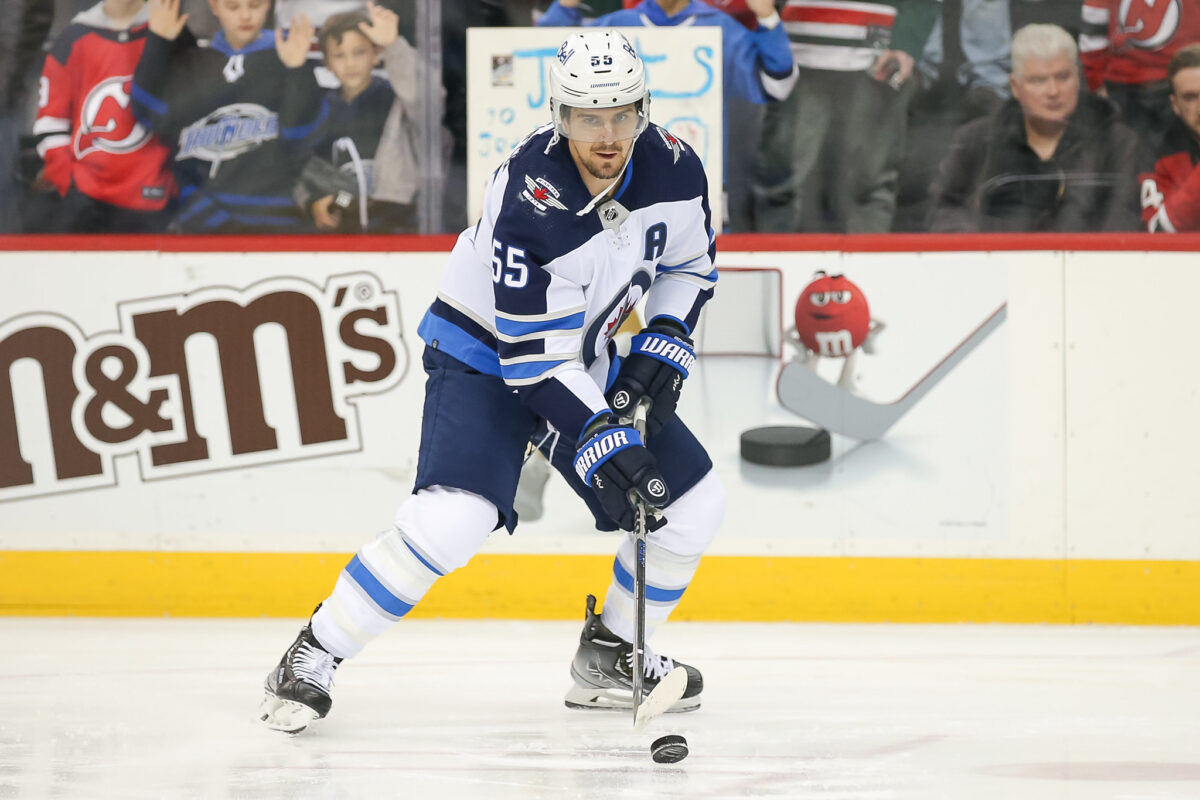 Scheifele entered the 2022-23 season with much to prove and a mountain to climb to regain the organization's trust. While offensively productive in 2021-22, he was a defensive disaster, with his poor play and laziness without the puck hurting the team on too many nights.
One of the big questions coming into this season — especially after Scheifele openly mused about his future in Winnipeg during an early offseason press conference and acted like an unrestricted free agent rather than a player under contract for two more seasons — was whether the top-line centre would respond to and rebound under a new coach.
He certainly has responded — and in a massive way — to Bowness' stern-but-nurturing coaching style that holds players accountable but allows them to be their best selves. His effort and hustle are noticeable, and while he's not a shut-down player by any means, his recommitment to working hard on both sides of the puck have made him a much more valuable player.
---
Latest News & Highlights
---
The fact Scheifele isn't on pace to be a point-per-game player for the first time in eight seasons doesn't mean he's been bad offensively. He's having a "Cy Young" season — his goal and assist totals (24-12) skew heavily to the goals side and look akin to the record of a very effective starting pitcher in baseball — and is on pace to break his previous season-high in goals in 38, set in 2018-19.
Interestingly, he is among the NHL's leaders in slot passes, meaning he should have a few more assists than he does.
4: Pierre-Luc Dubois
Pierre-Luc Dubois is an intoxicating mixture of size, strength, and skill, and is performing like the elite power forward the team thought they were getting when they traded Patrik Laine to the Columbus Blue Jackets for him two years ago.
There has been no such thing as a low-event game for the 24-year-old centre, who can be accurately described as a complete menace on the ice. If there's a thick of things to be in, he can be counted on to be in thickest part of it — he isn't afraid to go into dirty areas, mix things up, and use his 6-foot-3, 220-pound frame to his advantage.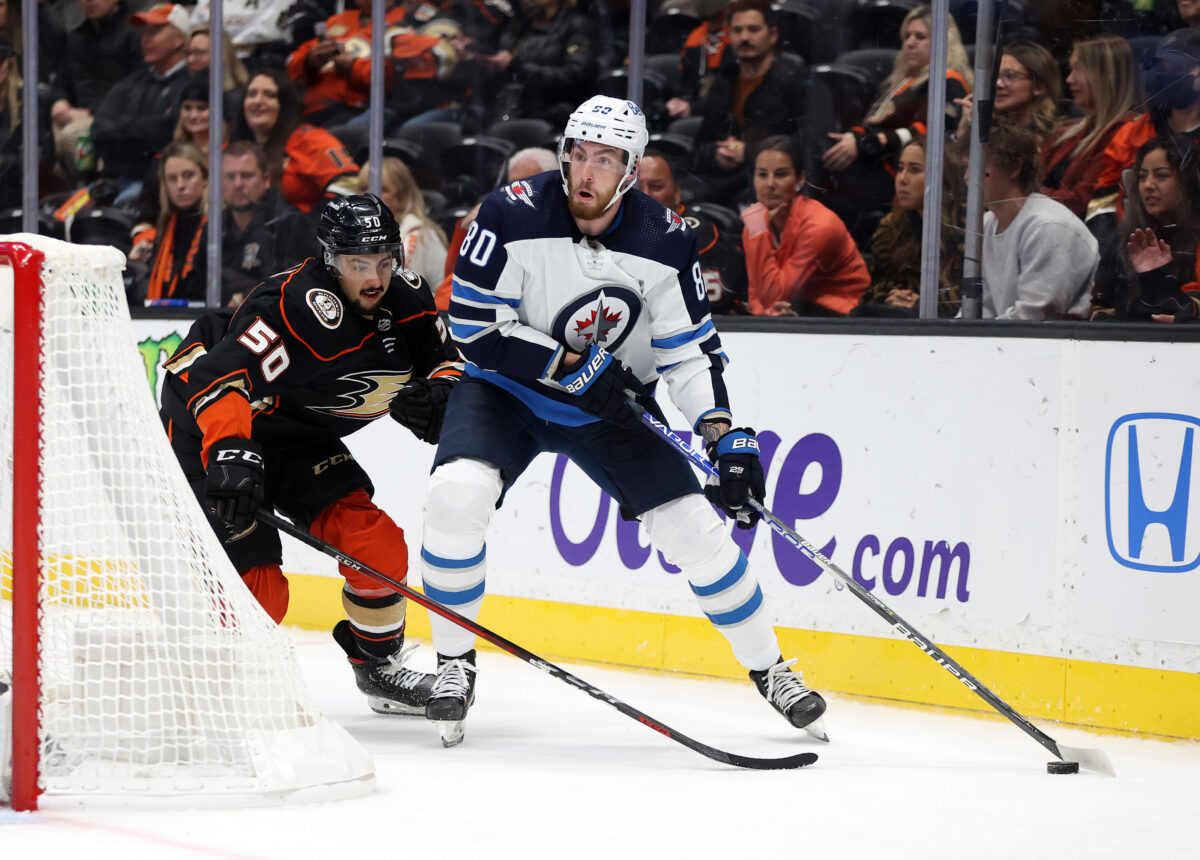 Playing a key role up the middle at 5-on-5 and on the power play, Dubois has 19 goals and 21 assists for 49 points, and is on pace to shatter his previous season-best point total of 61, set back in 2018-19 with the Blue Jackets. He had a career-best four assist game against the Vancouver Canucks on Jan. 8.
"He's been outstanding," Bowness said recently. "He keeps getting better. He's a big, strong, powerful guy. One thing you love about Pierre-Luc is he wants the puck. He wants the puck and he wants to make something happen with it. I love that about him."
Related: Jets Should Be Willing to Pay Dubois This Offseason
While the Jets would love nothing more than to have Dubois as a cornerstone to build around, whether he'll be with the team long term is unclear. He's a restricted free agent again this offseason and put GM Kevin Cheveldayoff in a bind last summer with bombshell comments about testing the unrestricted free agent market in 2024 and wanting to play for the Montreal Canadiens. For now, though, as the Jets seem set to make some noise, they should just be happy to have him.
3: Connor Hellebuyck
Connor Hellebuyck is coming off his worst start of the season — six goals allowed on 22 shots against the Red Wings — but has rarely been in anything but fine form.
After a subpar 2021-22 campaign by his own standards — one where he was run absolutely ragged — the goaltender is performing in an elite fashion once again.
Hellebuyck has started 31 games, posting a 20-10-1 record, a 2.42 Goals Against Average, .924 Save Percentage, and three shutouts, while sitting fifth in the NHL in both Goals Saved Above Expected and in Wins Above Replacement. Those numbers should put him firmly in the Vezina Trophy conversation along with the Boston Bruins' Linus Ullmark and the New York Rangers' Igor Shesterkin.
The key for Rick Bowness now is to manage his workload a lot better than Paul Maurice and Dave Lowry did — making sure backup David Rittich stays on pace for 20 starts — so Hellebuyck is fresh for the stretch run and potential playoffs.
2: Kyle Connor
Kyle Connor is having a bit of a different season than last but still a highly-effective one.
The sniper, with 20 goals, is not on pace to match the 47 he scored in his historic Lady Byng-winning 2021-22 campaign, but has contributed regularly to the offence nonetheless, as he has 30 assists and is on pace for 100 points.
Connor got off to an ice-cold and unlucky start with just two goals in his first 14 games but has found twine more regularly since, including a recent hat trick. He has also put his underrated vision and passing ability on display with greater regularly than in seasons past.
That playmaking prowess has been notably key to Scheifele's scoring success, as Connor has drawn an assist on 13 of Scheifele's 24 goals (they are on separate lines right now, however.)
Connor should be a candidate for the Lady Byng again as in addition to his point total has taken just three penalties all season, remarkable considering he logs 20-plus minutes per game. Funnily enough, six penalties minutes is two more than he took all of last season (what a goon.)
1: Josh Morrissey
The last thing on Josh Morrissey's mind two years ago, as his father Tom Morrissey was battling with brain cancer during the COVID-19 pandemic, was being an All-Star. "At that point in time, becoming an All-Star seemed pretty far away," he said of a 2020-21 season where he struggled on the ice.
He made those comments last week, a day after from being named just that — an NHL All-Star — for the first time in his career. "I think about my dad. He's not here to see this. He always thought that was something I could become in the league and achieve," Morrissey said of his father, who died in 2021. "It just meant a lot to me to know that he's watching. I'm sure he's very proud and looking down."
The accolades are well-deserved as Morrissey — now nicknamed Josh "Norrissey" for the calibre of his play — has been the Jets' best player all season, performing in a revelatory fashion on both sides of the puck and racking up points at a torrid and historic pace.
Bowness unleashed a beast by telling the d-man he wants to see him in the top five in Norris Trophy voting and by allowing him to jump up in the offence with regularity. Morrissey responded to the challenge and simply seems a step ahead of his opponents, with his skating, decision-making, and puck-moving skills turning heads, flummoxing opponents, and capturing league-wide attention. Morrissey is third on the the Jets in points with 46, and second in assists with 29.
he's already smashed his previous career-high mark of 37 points, and holds a plus-10 rating while logging an average of 23:19 per game. The battle for the Norris between him, the San Jose Sharks' Erik Karlsson, and the Buffalo Sabres' Rasmus Dahlin will be fun to watch in the second half.
What do you think of our list? Comment below!