The Patrik Laine era has come to an end in Winnipeg.
The Jets sent their star sniper and highest first-round pick ever to the Columbus Blue Jackets for fellow 2016 first-rounder and 22-year-old Pierre-Luc Dubois in a blockbuster trade Saturday morning.
The Jets also sent Columbus native Jack Roslovic, who was an RFA holdout, to the Blue Jackets and received a 2022 third-round draft pick.
It's an interesting move that is far from the staid status-quo the Jets usually operate under, and it's controversial. But it was also a necessary move that has potential to pay off.
Moving Laine is Sound Asset Management
Jets fans took to social media with virtual pitchforks Saturday morning decrying the deal, but some perspective is needed.
PLD is an excellent addition to the Jets. Roslovic made it clear he was never playing for Winnipeg again. Laine didn't see a future with the Jets beyond this season. This is asset management. 20+ teams expressed interest in Dubois.
As much as fans want to believe Laine saw a long-term future for himself in Winnipeg, the truth of the matter is this: The only reason for Kevin Cheveldayoff to pull the trigger on a deal now — just a week into the 2020-21 NHL season — is that he knew for certain Laine wouldn't re-sign in Winnipeg.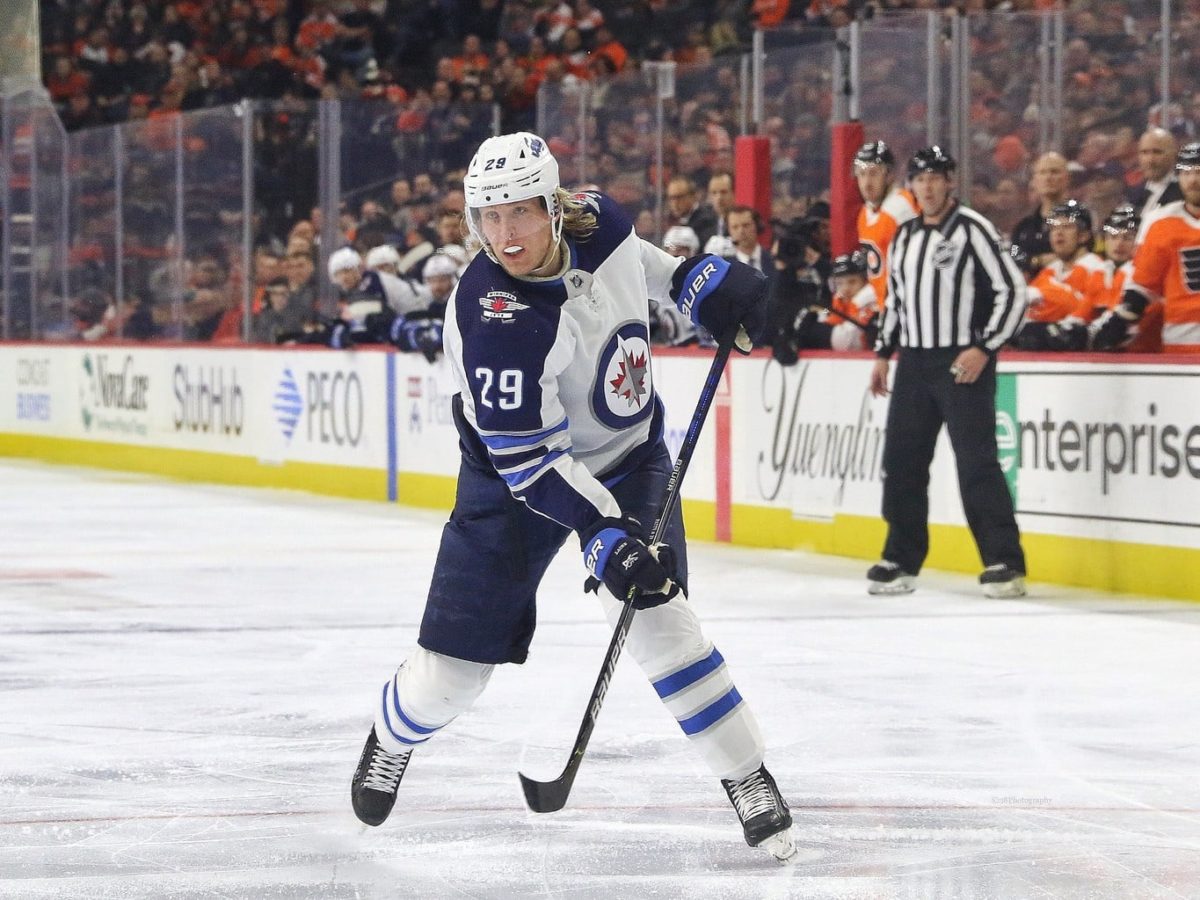 Once other teams know a player wants out of a certain market, that player's stock goes down. When Cheveldayoff was last faced with such a situation — in 2019 when Jacob Trouba made it clear he didn't want to play long-term in Winnipeg —  the GM waited too long to find a trade partner.
He ended up being forced to accept an offer from New York Rangers that was perceived at the time as quite lowball (that trade, which netted the team Neal Pionk and the pick they used to select Ville Heinola, looks much better for the Jets now than it did in the immediate aftermath.)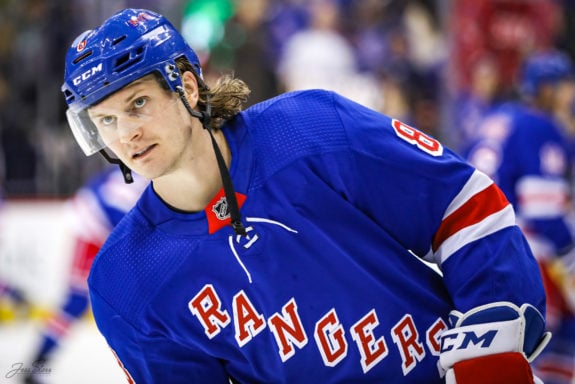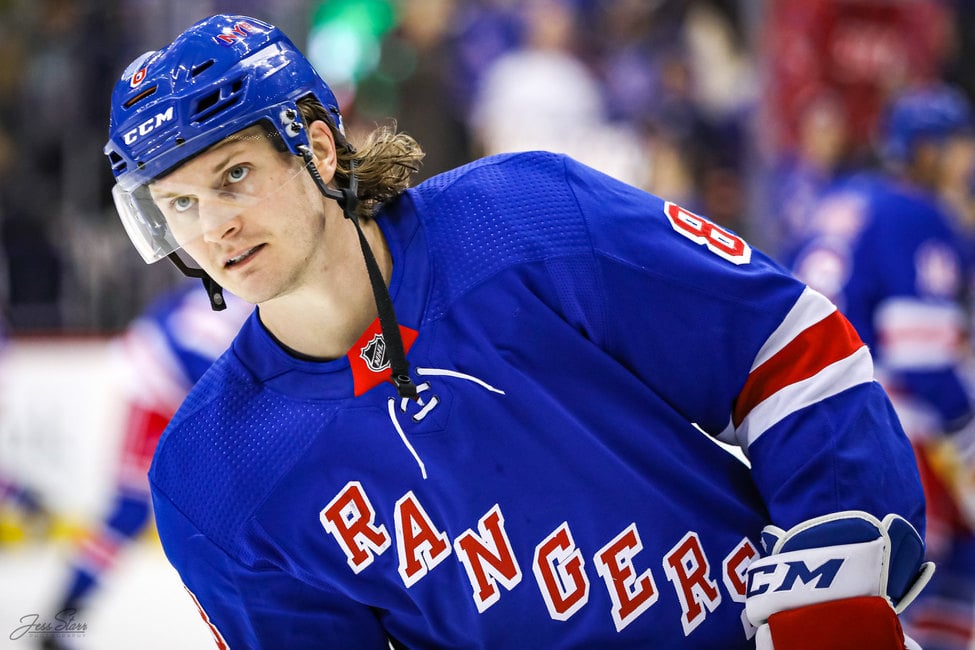 This time, Cheveldayoff acted much more quickly on a deal he liked and felt would help the team.
"To get a top centre in this environment is pretty much unheard of," Cheveldayoff said on a conference call Saturday. "That's why the bidding was fast and furious" for Dubois, who Cheveldayoff said is coming into his prime as a top centre.
We wouldn't have moved a Patrik Laine for anyone who didn't fit that certain criteria of a top centre-man or top defenseman," he continued. "When that opportunity presented itself, I felt it was necessary that we make that move.
Dubois Brings Jets Size, Scoring Touch up the Middle
While the Jets lose Laine's laser shot, they gain a power forward with great size and outstanding offensive instincts.
Dubois, selected third overall — right after Laine — in the 2016 NHL Entry Draft, has recorded 66 goals and 93 assists for 159 points in 239-career NHL games. He led the Blue Jackets in points for the past two seasons.
Prior to his professional career, he enjoyed three successful seasons in the QMJHL with the Cape Breton Screaming Eagles and Blaineville-Boisbriand Armada, recording 199 points in 164 games between the two clubs.
Standing 6-foot-3 and weighing in at 220 pounds, he has also dished out 329 hits.
His father, Eric Dubois, is an assistant coach for the Manitoba Moose. "We know the type of person he is because of the family who brought him up," Cheveldayoff said. "That was never a question."
An impressive play-driver at 5-on-5, the Quebec-born Dubois possesses, according to Blue Jackets team reporter Jeff Svoboda: "a hard-to-find blend of raw power — few players if any in the league can knock him off the puck thanks to his remarkable strength and size — and scoring touch and appears capable of taking over games as he did at times."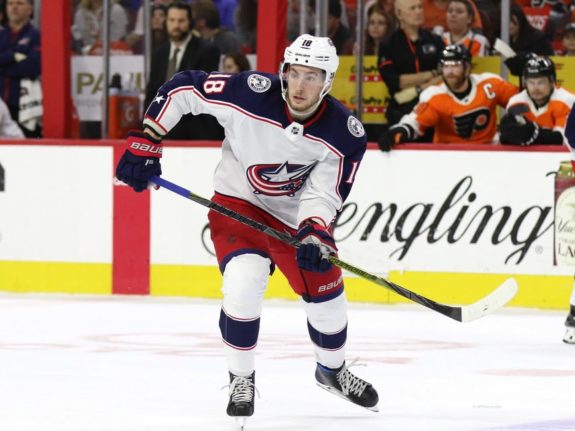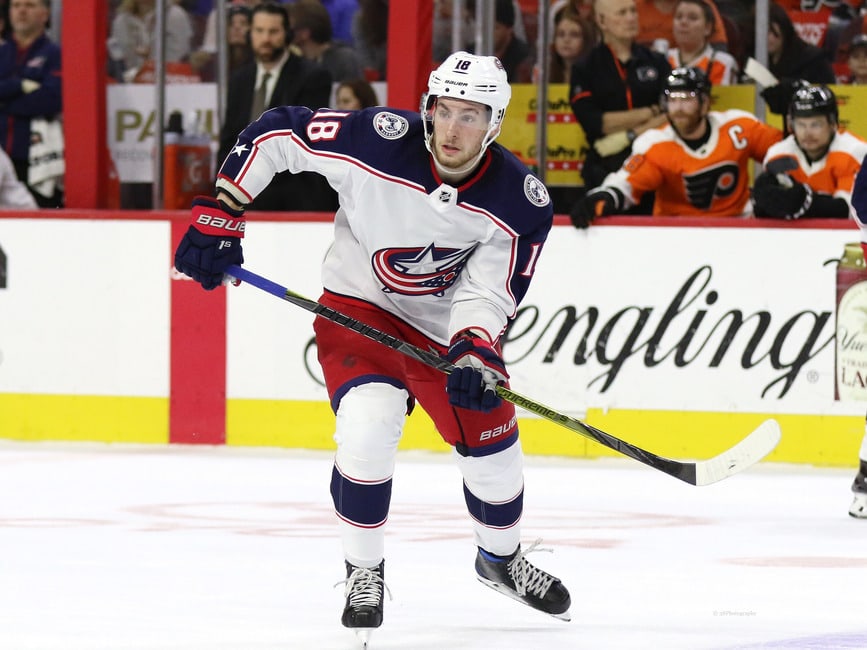 THW's own Mark Scheig, a credentialed writer who covers the Blue Jackets, told me:
"Pierre-Luc Dubois will be a force for the Jets. He has the rare combination of size and speed that can be a nightmare for defences to contend with. He can drive the play and can do a lot of damage 5-on-5. He has the ability to take over a game when he wants to."
Two things he will need to work out over time are his consistency and his play defensively," Scheig continued. "He can sometimes be unmotivated and can go stretches where you have a hard time finding him. And while he's gotten better defensively under John Tortorella, he has a ways to go away from the puck. But if I'm a Jets fan, you know you have center ice locked up for the foreseeable future… while he isn't going to win scoring titles, he will consistency put up 60 to 80 points a season when he puts his best foot forward.

THW's Mark Scheig on Pierre-Luc Dubois
Cheveldayoff, meanwhile, said "If you look at Pierre-Luc's analytics, you look at how he drives play through he middle of the ice, you look at his performance through the playoffs, those are enticing things."
Jets Have Options In Deploying Dubois
It was a bit surprising to see Dubois traded to a Canadian market, since he'll have to quarantine prior to joining the team. With just 56 games this season and very few off days, the currently-mandated two weeks in isolation is a considerable chunk of time.
Cheveldayoff said Saturday they're "hopeful" a modified seven-day quarantine might apply as it did during training camp, which would hasten Dubois' Jets debut.
Once Dubois completes his self-isolation period, whether it's seven or 14 days, he'll either slot in as the second-line centre or the second-line left winger.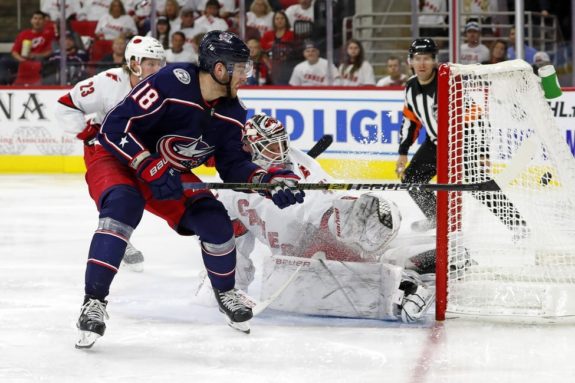 If Dubois takes over at centre, Paul Stastny — who was pegged to be in that role this season— could be bumped down to third-line centre duty, which would bump Adam Lowry down to fourth-line centre.
If Dubois takes over on the wing, Stastny could stay in his current spot and Nikolaj Ehlers could take over the right side vacated by Laine.
 The move will also allow the Jets to be more patient with Cole Perfetti, who was chosen 10th overall in the 2020 Entry Draft and is pegged as the second-line centre of the future. They won't have to rush him to the NHL next year if he's not ready.
Dubois Comes With Question Marks
Dubois signed a two-year, $10-million deal with the Blue Jackets recently but wanted out of the Ohio capital, with many believing he either wanted to play in a bigger city or didn't mesh well with old-school hard-ass John Tortorella. On Wednesday, THW Live host Mark Scheig and The Athletic's Aaron Portzline had a lengthy conversation on the possible reasons Dubois had for wanting a change of scenery.
Winnipeg is an even smaller city than Columbus. Paul Maurice is cut from the same retro cloth as Tortorella. Dubois will pay more in tax in Canada than in the U.S. He'll be more scrutinized by Winnipeg's scribes and ardent fan base than he ever was by Columbus'.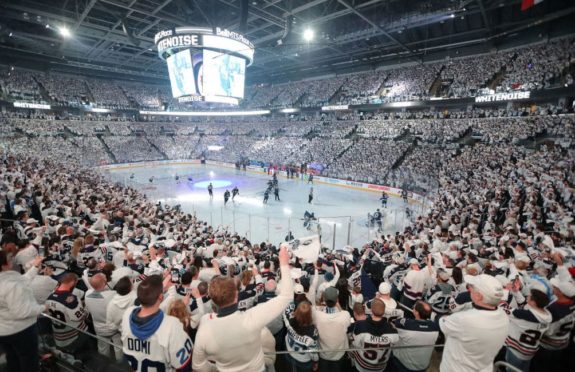 So there's some question as to whether Cheveldayoff, in less than a year's time, will be in the same situation with Dubois as he was with Laine: the owner a pending RFA, who is in the last year of a two-year bridge deal and wants out.
His talent is undeniable, but, the whole hockey world saw last week what happened when Dubois was unhappy. He phoned it in early in the Blue Jackets' game against the Tampa Bay Lightning on Thursday, which led to his benching and ramped up the urgency for Jackets' GM Jarmo Kekalainen to move him ASAP.
Cheveldayoff believes the market will be a good fit. He said "we're hopeful that it's a long-term relationship" and that "(Pierre-Luc) is looking for that opportunity to play in a market that's crazy about hockey, he's kind of a hockey nut himself."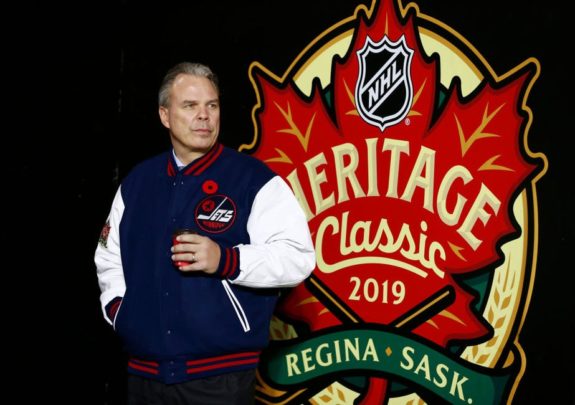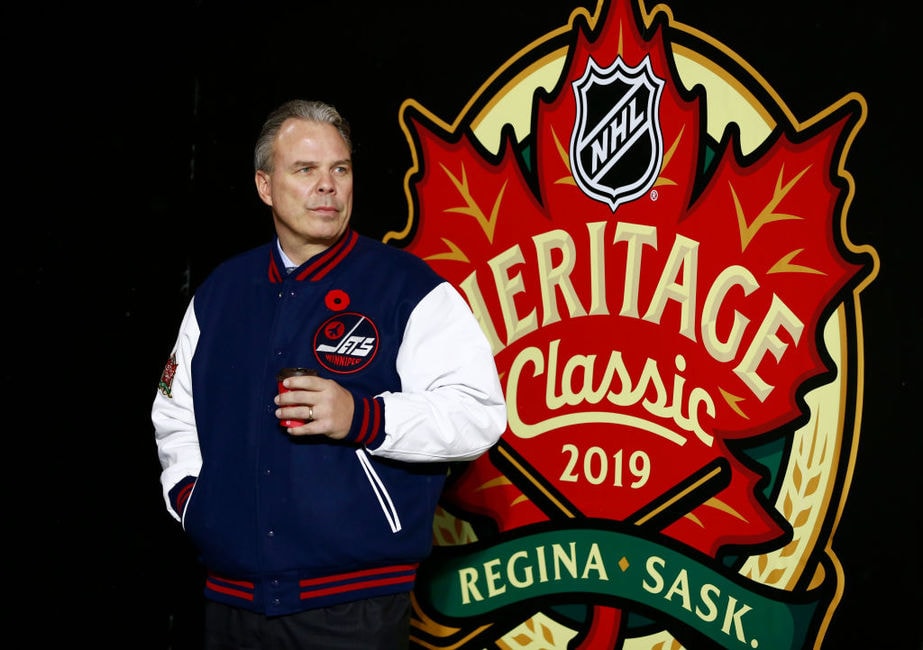 Dubois' father Eric, who has been with Moose since 2016, will likely play a role in showing his son that the Jets' organization is a good one worth staying with.
The assertion that Winnipeg has a recurring young-talent retention problem, though is a bit overblown. Yes, Laine and Trouba wanted out, and many players will never consider signing as a free agent with the Jets simply because Winnipeg's not Florida, New York, or Las Vegas.
But many players, including Kyle Connor, Connor Hellebuyck, Josh Morrissey, Mark Scheifele, and Blake Wheeler have committed to the city long-term. They'll all play a role in convincing Dubois to do the same.
It's too Early to Determine a Trade Winner
Patrik Laine is a superb sniper with a once-in-a-generation shot. With 140 goals and 250 points in his career, not many players have accomplished what he has by age 22.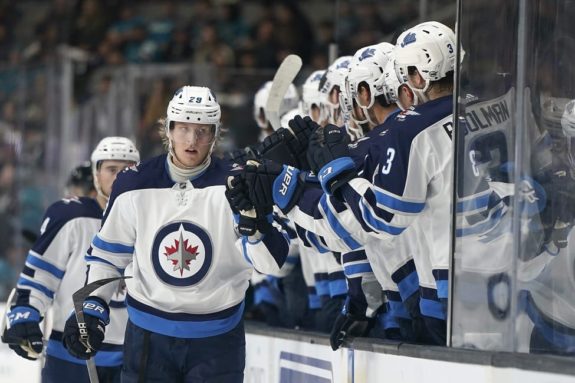 But he is also an enigma who doesn't eat, breathe, and sleep hockey like Scheifele or Wheeler. He likes candy and video games and takes a laissez-faire approach to being a professional athlete. Perhaps he and the Jets' leadership core didn't see eye-to-eye, and that's why he didn't see a future for himself in Winnipeg.
Wheeler, for the record, stated Saturday he had some regrets about the way he handled his relationship with Laine, stating that "if I communicated better maybe it would have made things better."
Despite that, the captain also said: "He has nothing but a fan in me. I'll be cheering for him, no doubt about that."

Blake Wheeler on Patrik Laine
Despite his easygoing personality, Laine is no one-trick pony and begun last season to evolve into a complete player. There's little doubt he'll be a star for many seasons to come and will probably score 50 goals sooner than later.
It's tough on Jets fans and Laine's former teammates alike to lose such a unique player. The gnashing of teeth from the fanbase is understandable. Anger is a valid response to loss; many Jets fans had an emotional attachment to the Finnish phenom who once wrote "Winnipeg is good."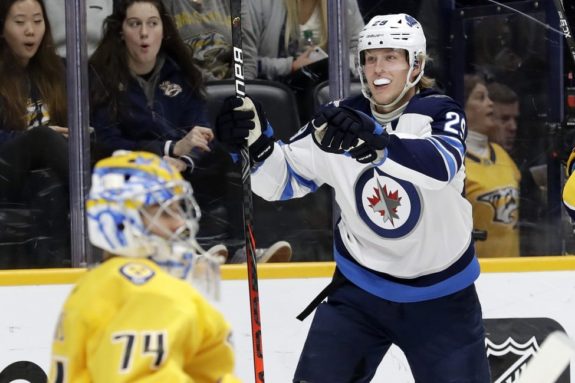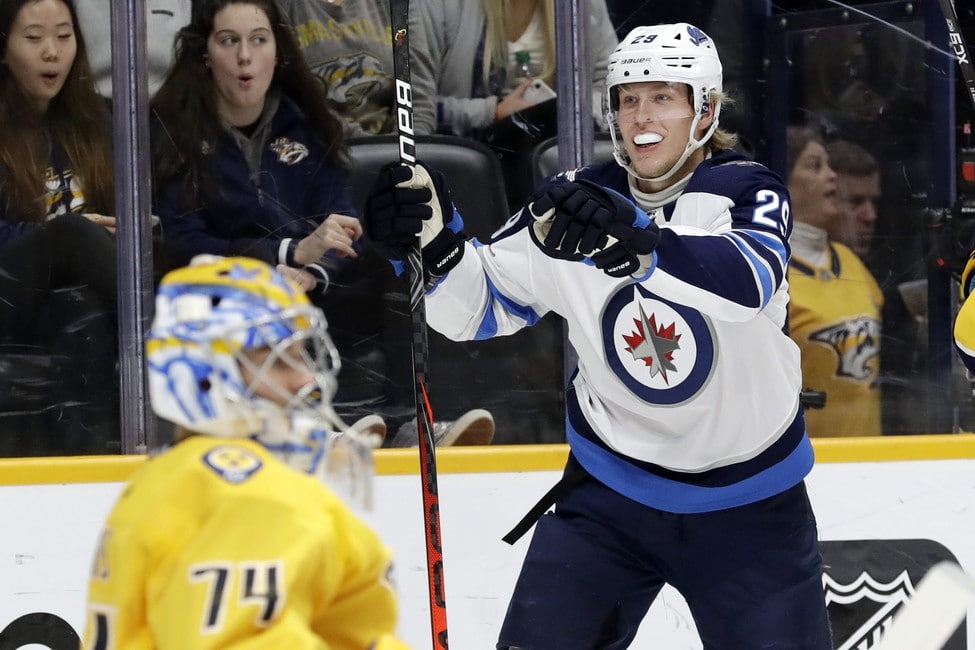 However, it's too early to say the Jets were "fleeced" or "robbed." Only in a few years — after we see what Dubois can bring to the team and what happens after both Dubois and Laine once again become RFAs — will we be able to truly judge who "won" the trade.
---
---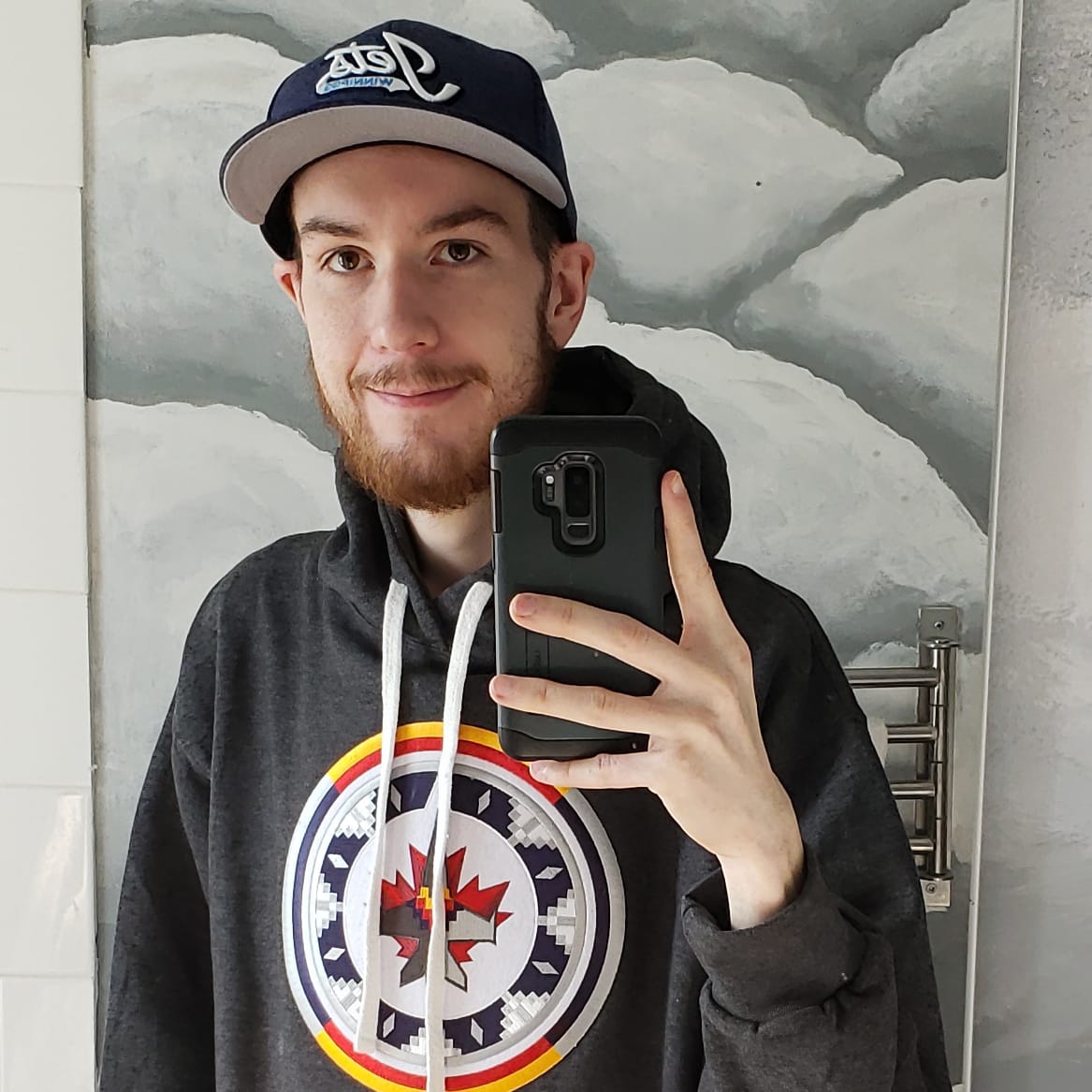 Declan Schroeder is a 27-year-old communications specialist and freelance journalist in Winnipeg, Manitoba. He holds a diploma in Creative Communications with a major in journalism from Red River College and a bachelors in Rhetoric and Communications from the University of Winnipeg.
Deeply rooted in the city's hockey culture, the original Jets skipped town when he was two and the 2.0 version came onto the scene when he was 17.