Pierre-Luc Dubois will start the NHL's 2020-21 season as a member of the Columbus Blue Jackets. Despite his desire to move on to another team, it appears that his new two-year contract did not come with a bus ticket. Columbus general manager Jarmo Kekäläinen negotiated a very club-friendly agreement with the young center.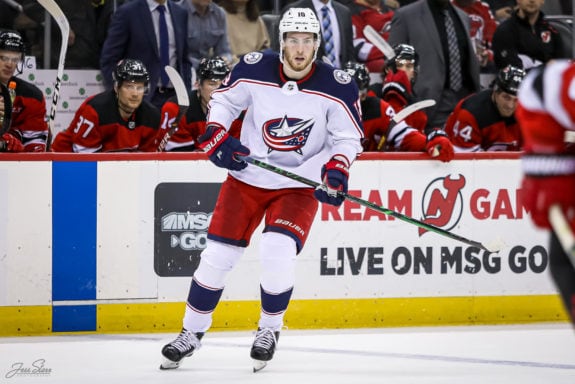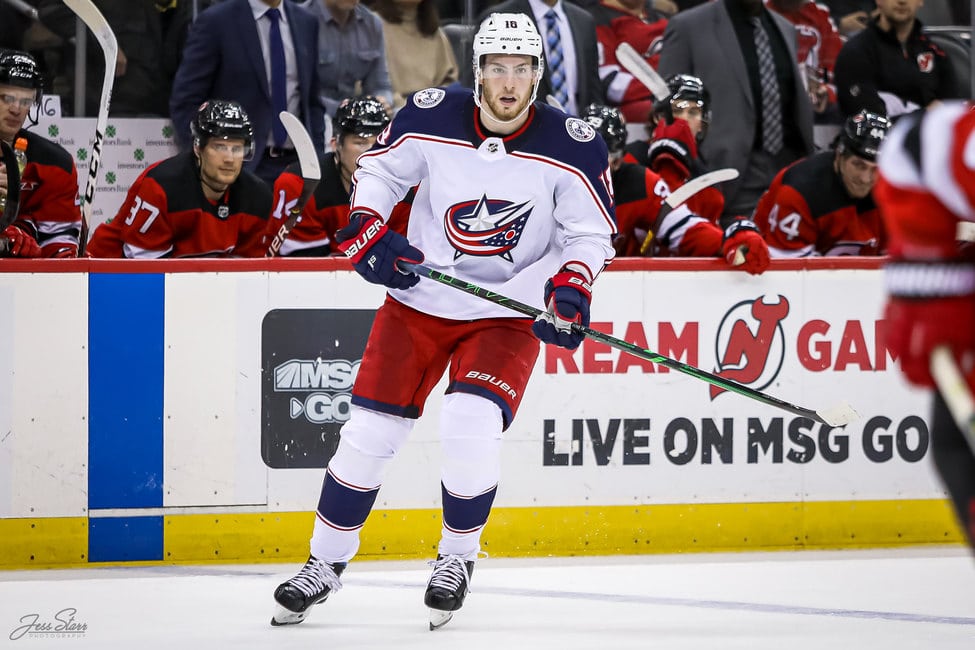 The negotiations dragged on far longer than most fans wanted and reports that Dubois wants a trade are solid. He has proven to be a very durable player, and his production and overall play seem to be reaching for the sky. Not only did he lead the team in points during the 2019-20 regular season, his 10 points in 10 postseason games (including four goals) were tops among the Blue Jackets.
Terms of the Dubois Contract
The club and the player could have agreed on a contract for as long as eight years. With Dubois coming off his entry-level contract (ELC) at age 22, he was negotiating from a somewhat weak position — not only did the club have control of the player as a restricted free agent (RFA), Dubois was not eligible for arbitration.
Related: Blue Jackets Enter Camp With Several Questions
Dubois and agent Pat Brisson finally agreed to a two-year contract with an annual cap hit of $5 million. There are no bonuses built into the contract. It pays Dubois $3,350,000 this season and $6,650,000 for 2021-22. At the end of the contract, he'll be an RFA again.
How the Contract Favors the Blue Jackets
There are a number of ways that the club benefits from this contract (in contrast to contracts that Dubois may have been offered and that he may have rejected).
Cash Outlay
The club is actually paying Dubois less this season than he made in 2019-20. Last season's base salary and bonuses totaled $44,166 more than he'll make for 2020-21.
Bargain Basement Buy
At an annual average value (AAV) of just $5 million, Dubois is quite the bargain. Before word leaked that Dubois wanted to be traded, I guessed that a three-year "bridge deal" would pay perhaps $6.5 million for each of three years. Or the club might have worked out a long-term (seven- or eight-year) contract that paid of between $7 million and $8 million per year. 
And let's not forget that just weeks later the Blue Jackets signed winger Oliver Bjorkstrand to a five-year extension. It kicks in next season and has an AAV of $5.4 million. It also includes a modified "no trade" agreement that gives the player some control over where he might play (other than in Columbus).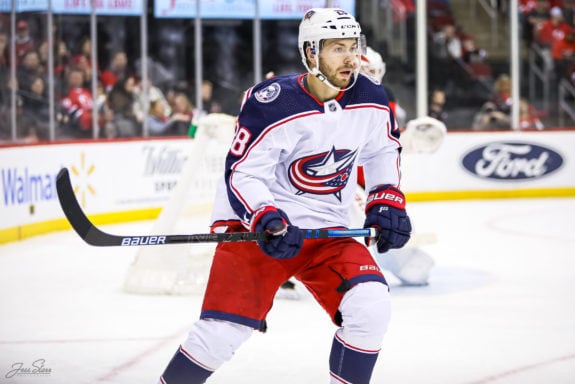 Both Dubois and Bjorkstrand became regulars in the Blue Jackets lineup in 2017-18. In the three seasons since, Dubois has played 234 regular season games and scored 158 points with 65 goals. Bjorkstrand has played 208 games, scoring 112 points, with 55 goals. In the playoffs over the past three seasons, Dubois and Bjorkstrand have both played all 26 games. Dubois' stat line is eight goals and 11 assists for 19 points. Bjorstrand's line is 6-5-11.
Dubois has better stats, but Bjorkstrand has a bigger contract.
Short Term
The contract is only for two years. With Dubois unhappy in Columbus, any team acquiring him in a trade gets to work out the terms of a long-term deal. That should make him easier to peddle. 
Should the unlikely happen and Dubois decides he actually wants to stay in Columbus, the club will be negotiating with an RFA who's only 24 years old. If he had signed an eight-year deal now, he would likely have been at his prime, age 30, and looking for a long-term contract to take him to retirement during the next negotiations. Situations like that often seem to result in contracts that pay top dollar for the player's remaining prime years, but continue to pay big bucks when the player is winding up his career.
Qualifying Offer Rights
Should Dubois remain with the Blue Jackets through the end of this two-year contract, the club will still be in the catbird seat in one respect. Dubois will be an RFA again, this time with arbitration rights, but the club need only make a simple qualifying offer to lock in compensation when another team signs him. Columbus can offer just a one-year deal with a salary of $6 million (120% of the current contract's AAV), as described in the Transition Rules signed prior to this season. (For information on the MOU, the Collective Bargaining Agreement, and the 2020-21 Transition Rules, see Players Contract Implications for the 2020-21 NHL Season.)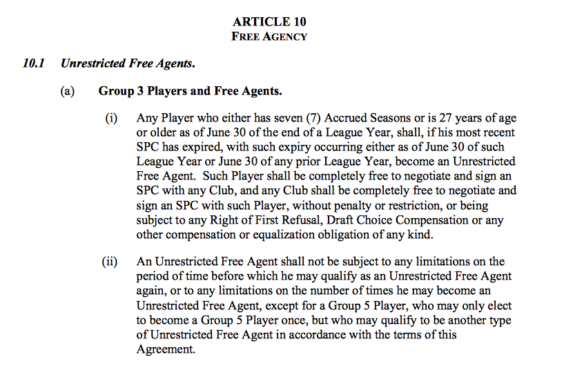 Once the offer is made, the Blue Jackets qualify for compensation from any club that signs Dubois. That compensation comes in the form of draft picks. How many picks, which picks, and when depend on the size of the contract Dubois signs with that team. The actual details depend on the average annual salary of all players in the league. (With the salary cap remaining flat for the next two seasons, these are estimates.) Dubois' contract with a new team would result in this compensation:
$6.3 million to $8.7 million: Columbus would receive a first-round, a second-round, and a third-round draft pick.
$8.7 million to $10.9 million: Columbus would receive two first-round picks, plus a second- and a third-round pick.
Over $10.9 million: Columbus would receive four first-round picks.
One other benefit to tendering a qualifying offer at the end of the current contract: Columbus will retain exclusive negotiating rights automatically. If Dubois can be convinced to stay, that simplifies matters. There is also the possibility of a sign-and-trade deal, in which Columbus signs Dubois to a contract acceptable to a trade partner, then sends him on his way for an appropriate package of players and picks.
Johansen: The "Untouchable" Who Wasn't
The Dubois situation is reminiscent of former Blue Jacket Ryan Johansen. In May 2015, former THW writer Andrew Bensch listed the "most untouchable player for each team." For Columbus, he named Johansen. My colleague Domenic Lunardo last year picked Dubois as the player around whom Columbus should build. Here's what Andrew had to say about Johansen in 2015:
While a contract dispute last offseason made many wonder about Johansen's future, the Jackets would be crazy to trade their best player. Johansen is one of the brightest young stars in the game today. He can score goals all on his own from incredibly tough angles. He is a super duper star in the making. On a bad Columbus team this year Johansen finished with 71 points.
Eight months later, in the middle of the 2015-16 season, Johansen was a former Blue Jacket. The team sent him to the Nashville Predators for Seth Jones in a one-for-one trade. At the time of the deal, Johansen was, indeed, the Blue Jackets' top center, with no obvious replacement in the system.
Player Agent Pat Brisson's Client List
Blue Jackets management has a mixed history with clients of player agent Brisson of the Creative Artists Agency. He represents Dubois, as well as former Blue Jackets Alexander Wennberg and Matt Duchene, both of whom were unhappy in Columbus.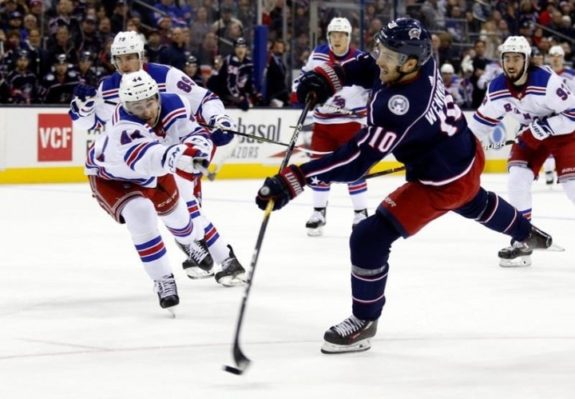 However, he also represents the Blue Jackets' star defensemen, Jones and Werenski, who seem to be perfectly happy where they are. (Brisson also represents former Blue Jackets Jack Jones and Derrick Brassard, as well as superstars Sidney Crosby, Patrick Kane, Jonathan Toews, and John Tavares.)
But what about Dubois? What is his ceiling? Lisa Dillman of The Athletic has some input:
I asked one NHL scout on Friday how good Dubois can become. The text message came back quickly. 'Top five centers in the league.'

–Lisa Dillman, "Should the Kings try to trade for Pierre-Luc Dubois? Here are the pros and cons," The Athletic, Jan. 8, 2021.
And what do top five centers earn these days? NHL.com's Fantasy Hockey staff recently ranked the top 50 centers in the league. Here's their list, along with the AAV of their current contract (from our buddies at CapFriendly.com):
Nathan MacKinnon (Colorado Avalanche) $6.3 million
Connor McDavid (Edmonton Oilers) $12.5 million
Leon Draisaitl (Oilers) $8.5 million
Auston Matthews (Toronto Maple Leafs) $11,640,250
Sidney Crosby (Pittsburgh Penguins) $8.7 million
Dubois was ranked No. 25. on that list. That puts him smack dab in the middle of Brayden Schenn (St. Louis Blues, $6.5 million), Bo Horvat (Vancouver Canucks, $5.5 million), Tomas Hertl (San Jose Sharks, $5,625,000), and Logan Couture (Sharks, $8 million). Of course, there are other lists that rank players in other ways (points, CORSI, etc.), but this list will do for these purposes.
There's no doubt that MacKinnon is an incredible steal and will get a huge raise after the 2022-23 season. (MacKinnon told Jordan Horrobin of Forbes.com "I have no regrets" about being underpaid in today's NHL.) Draisaitl is an example of how the Dubois negotiations might have gone. Following his ELC, the former No. 3-overall draft pick (2014, Edmonton) signed a maximum-length, eight-year contract with his original team.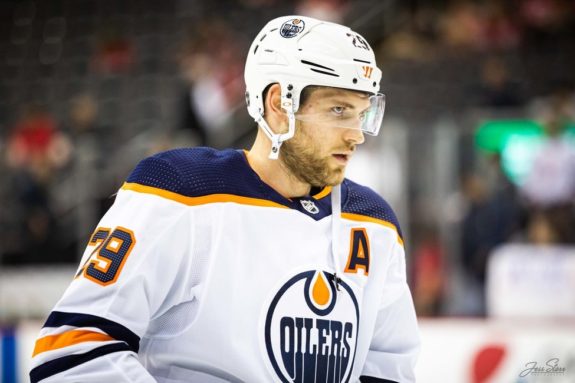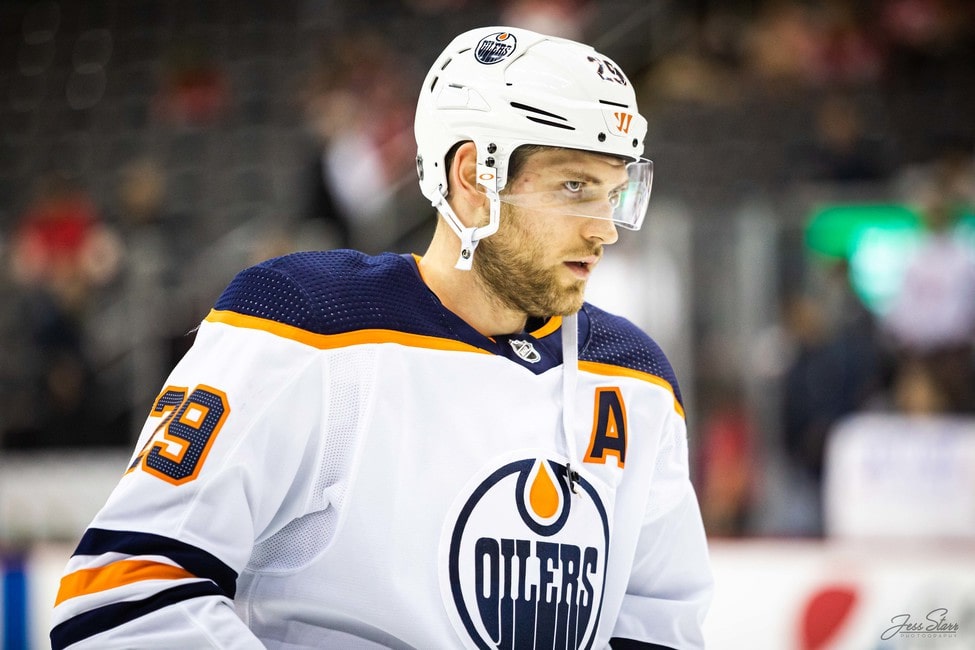 Had Dubois, who was also a No. 3-overall pick, been willing to do the same, it's not unreasonable to think his AAV might have been comparable to Draisaitl's second contract. At the end of his third year, Draisaitl had played 191 games and scored 137 points (.71 points per game). Dubois, at the end of his third year, had played 239 games and scored 158 points (.66).
The Bottom Line of the Dubois Contract
Dubois' two-year, $10 million contract is a great bargain for the Blue Jackets and for any team willing to pony up enough to trade for him. And while his play on the ice over the next two years will be the primary factor in his next contract, the club negotiating that contract (whether it be Columbus or another) will be talking with an RFA who has arbitration rights.
Management won't have all the leverage that was available in reaching this most recent contract, but they should be able to make Dubois happy. Let's make that "happy in dollars and contract length," and leave the "happy to be with this team" up in the air for now. 
---
---