It wasn't pretty, but the New Jersey Devils found a way to grind out a win against the Metropolitan Division-leading Carolina Hurricanes. For the second time in as many games, they erased a two-goal deficit to come away with two points to close the gap to two points on the Hurricanes in the division standings. Led by Dawson Mercer and Jesper Boqvist's big nights, here are some key takeaways from the Devils' 5-3 win in Carolina. 
Mercer & Boqvist Led the Way
The first two periods had not gone well for the Devils. That is until Mercer and Boqvist sparked the comeback with less than a minute remaining in the second frame. With 52 seconds left before the second intermission, Mercer went to work on the forecheck and scored a scrappy goal by sneaking in the puck through Pyotr Kochetkov's five-hole. 
Just seconds later, he made a slick pass to Boqvist, who made no mistake on a deke by sliding the puck through Kochetkov's five-hole again. Mercer saved his best for his last as he made one heck of a move to get around Kochetkov to put the puck in the back of the net for the eventual game-winner: 
Boqvist tallied an assist on Mercer's second goal, making for multi-point nights for each player. Mercer finished with a game score of 3.11, second best among all skaters, while Boqvist finished first with a game score of 3.13. Michael McLeod, who ended the game as their center, also picked up two assists and had the third-best game score. 
With the Devils struggling at five-on-five, head coach Lindy Ruff shook up his bottom-six, combining Boqvist, McLeod and Mercer as the third line. The result was the Devils outscoring the Hurricanes 3-0 and controlling 91.31 percent of the expected goals from the final minute of the second period onward with this trio on the ice. It's hard to argue with those results, so expect Ruff to stick with them against the Anaheim Ducks on Friday evening. 
Devils Locked It Down in the Third Period
After sparking the comeback in the last minute of the second, the Devils locked the Hurricanes down for the final 20 minutes of regulation. Through the first 40 minutes, the Hurricanes had a 46-18 shot attempt advantage over the Devils at five-on-five and had controlled 66.2 percent of the expected goals. 
Related: Devils' Hughes Has Reached Superstar Status
---
Latest News & Highlights
---
It was a different story after New Jersey tied the game, as it seemed to stun the Hurricanes. Instead of heading into the second intermission up 3-1, it was suddenly tied at 3-3. In the final frame, shot attempts were an even 13 at five-on-five, and the Devils controlled 80.42 percent of the expected goals. They shut down the Hurricanes' forecheck and did not let them generate any quality chances. As head coach Lindy Ruff said after the game, he thought the team played their best third period of the season, and he may be right about that. 
Ruff Still Searching for Consistent Line Combos
Questionable line combinations are rarely the sole reason a team gets outplayed at five-on-five. After all, the Hurricanes have been bludgeoning most teams at that game state this season. With that said, Ruff's line combos to start yesterday probably didn't help. The Devils began with a lineup of:
Ondrej Palát – Nico Hischier – Jesper Bratt
Erik Haula – Jack Hughes – Tomáš Tatar
Miles Wood – McLeod – Mercer
Yegor Sharangovich – Boqvist – Fabian Zetterlund
The Hischier line was the only combo that finished with an expected goals percentage above water; 72.91 percent, to be exact. Every other trio was underwater, including Hughes' line, as they only controlled 33.96 percent of the expected goals.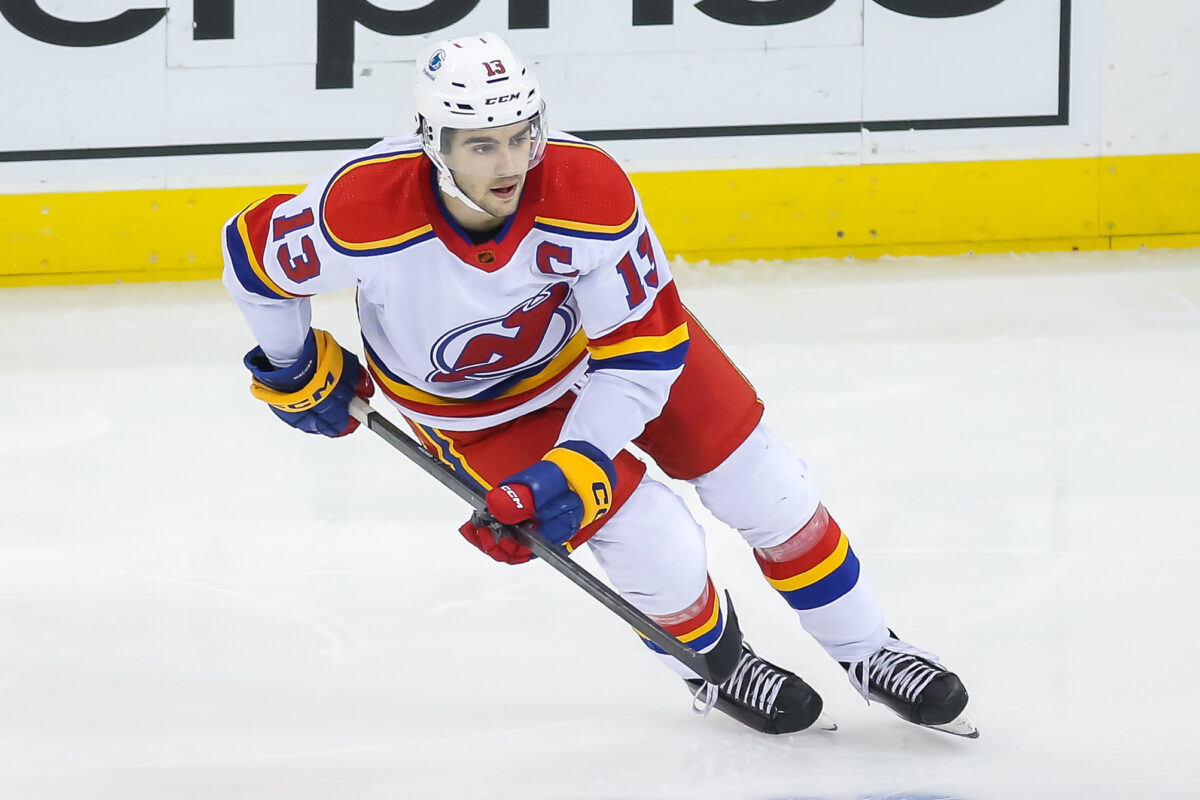 At the risk of sounding like a broken record, Ruff seriously has to consider moving Haula off Hughes' wing. It's not that Haula is playing poorly, but at this point, he's not in a position to succeed. Why did Ruff shake up the bottom-six yesterday? Because they were struggling. One way to fix that? Put Haula back in the third-line center role they acquired him to be. 
For starters, there won't be as much pressure on Haula to score since he's in a third-line role. Two) the Devils' depth improves significantly with him as their third-line pivot. Since it's a good bet that Boqvist, McLeod and Mercer start the next game, moving Sharangovich to complement Hughes and Tatar while Haula centers Wood and Zetterlund should help improve the Devils' depth until some reinforcements make their way back into the lineup. 
Devils' Power Play Struggled
Part of the reason the Devils fell behind by two goals was their power play struggled mightily. They gave up two shorthanded tallies and looked incredibly sloppy while up a man. Granted, the Hurricanes have a pretty strong penalty kill, but that's even more reason why the Devils needed to be sharp on the man advantage. 
Fortunately, their power play had been playing well before yesterday's effort. Hopefully, it's just a blip on the radar and they return to their scoring ways of the previous few games. Playing against the Ducks, the worst defensive team in the NHL, should present an opportunity for the power play to rebound.
With that said, Ruff has to figure out what to do with the second unit. They lost a faceoff clean in their own end on the Hurricanes' first shorthanded tally, and they've generally been a blackhole this season. With Palát back from his injury and Mercer's big game, they're options to help improve the second wave. Nathan Bastian's impending return could also help as a net-front presence. But regardless, it does need a shakeup. 
Devils Quick Hits
While Vitek Vanecek did allow three pucks to get past him on 28 shots, he had another very strong outing. The Hurricanes may have only had 28 shots on net, but they still generated 4.04 expected goals at all strengths, leaving Vanecek with a goals saved above expected of 1.04. It was the fifth-straight start where he's made more saves than he should have. There's no doubt that he's the team's No. 1 option between the pipes.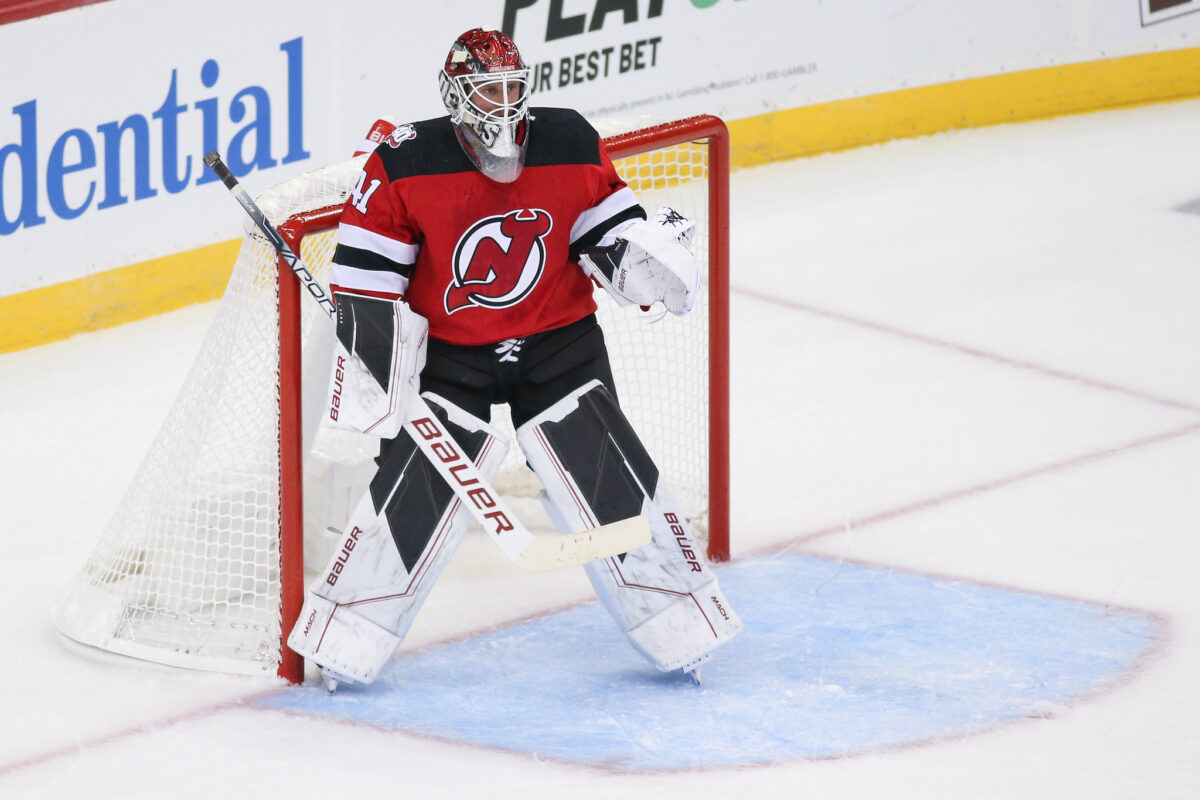 Jack Hughes did not finish yesterday with a point. That would've been a death sentence in any other Devils game over the last month, but their depth scoring showed up. In addition to multi-point efforts from Boqvist, McLeod and Mercer, Jonas Siegenthaler added a goal, while Tatar and Haula had assists. They'll need more of that moving forward. 
Quietly, Nico Hischier also had a multi-point outing (1 goal, 1 assist). He drew a penalty on a breakaway with the Hurricanes' net empty as they looked to tie it up, resulting in his tally. His game score of 2.12 was fourth-best among Devils skaters and fifth-best among both teams. Just another day at the office from the team's captain. 
The Devils will begin their west-coast swing Friday night against the struggling Ducks ahead of showdowns with the Los Angeles Kings on Saturday and a Monday matineé versus the San Jose Sharks. They wrap it up in Seattle against the Kraken on Jan. 19. If all goes right, they could return home in a very comfortable spot in the Eastern Conference. 
* * *
Advanced stats from Natural Stat Trick, Hockey Stat Cards